Vegan Recipes: More than 30 ideas for Breakfast, Lunch, Dinner or as a Snacks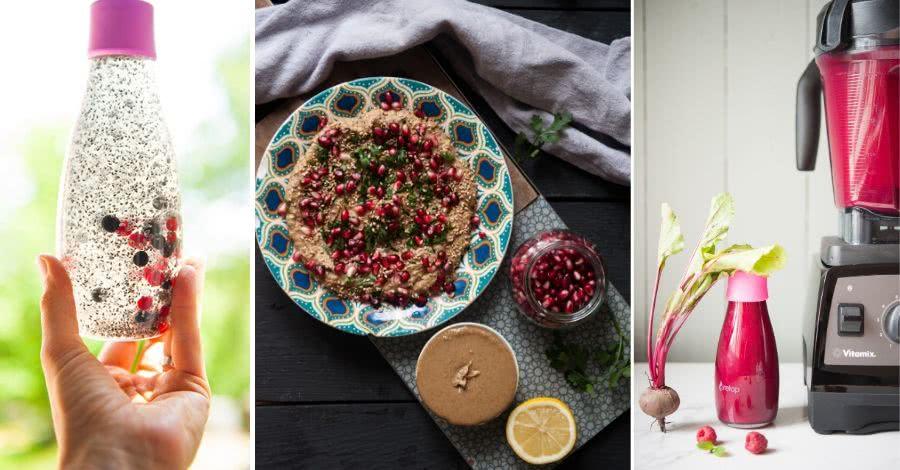 For many people who live vegan, the renunciation of animal products has come from an environmental consciousness - from the rejection of factory farming and animal husbandry that is not appropriate to the species. For others, vegan recipes are simply interesting because they want to consume fewer animal products. Whether out of a sustainability mindset or for health reasons.
We love vegetables, fruits, salads and herbs - It doesn't matter, whether it is in a green smoothies, freshly squeezed juices or in other variants. Vegan is our favorite, in addition to many smoothie and juice recipes we have created over 30 vegan recipes - for breakfast, lunch, dinner or as snacks which you can easily and quickly try out. For most vegan recipes you should have a high-speed blender and for the freshly squeezed juices we recommend a slow juicer.
Our vegan recipes at a glance:
Vegan recipes for breakfast
Vegan smoothies
The fastest and healthiest vegan breakfast is a green smoothie. Leafy greens like lettuces, herbs, spinach or cabbage meet ripe fruit and some water - this is all you need for your healthy breakfast.
Smoothies bowls, chia puddings, porridge
If you like smoothies, you'll definitely like smoothies bowls - for that extra kick of antioxidants try our delicious Acai Bowl with banana and blueberries. Chia seeds are a good vegan start into the day, they can easily be integrated into porridge or puddings - we show you our favorite variations:
Vegan almond milk
If you're looking for a vegan milk alternative, we recommend almond milk. It goes well in coffee, with cereal or in porridge. It is also delicious to enjoy fresh almond milk in a shake with cocoa, fresh strawberries or as a chai latte for breakfast.
Vegan recipes for lunch or dinner
Our favorite vegan meal for lunch or dinner is a Buddha Bowl. If you're looking for a quick vegan lunch or dinner, vegan soups are a good choice - for example, a vegan cream of tomato soup or even a raw vegan mushroom soup. We can also recommend any form of vegetable cream like baba ganoush or mush from legumes - like our heavenly creamy hummus. These are vegan recipes for lunch or dinner that satisfy the need for umami or depth in vegan eating. With a high-speed blender, you'll get a smooth and creamy consistency which is just perfect for hummus and vegetable creams. Below you'll find more tasty recipes like: butternut squash from the oven with kale or a quinoa bowl with mint pesto and pomegranate seeds.
Vegan recipes for in between
There is a lots of delicious, healthy vegan snacks - for example, energy balls or kale chips. If it should be healthy and light, vegetable smoothies or freshly squeezed juices are ingenious vegan meals for in between - especially if you are on the go.
Vegan recipes for desserts
Do you like to eat ice cream? Then be sure to try our Nicecream variants - all of them are industrial sugar-free, gluten-free and, of course, vegan - so delicious! You can also bake vegan - for example, gingerbread. If you're looking for a dessert with plenty of energy, try our Energy Balls.
We appreciate your Feedback!