Green Smoothies Workshop for Beginners
Due to the pandemic, there are currently no workshops.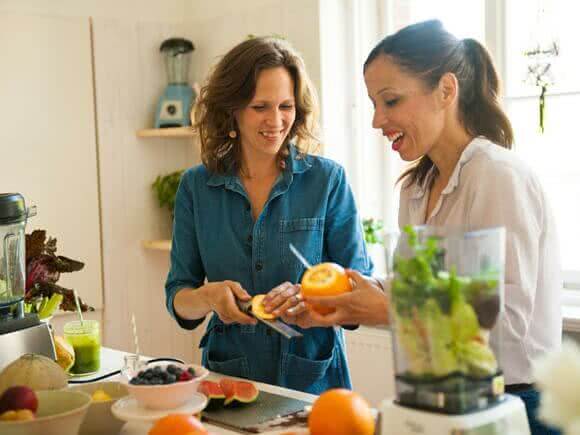 What is it about?
Green Smoothies - Want to learn more about this green tasty nutritional miracle of leafy greens and fruits? you've come to the right place. We, Svenja and Carla from GrueneSmoothies.com, invite you to our Green Smoothies Workshop for beginners in our smoothie kitchen in Berlin-Kreuzberg.
You will learn everything you need to know about our favorite green breakfast: We will introduce you to different ingredients and three very diverse recipe creations of ours, give you lots of tips and tricks for the preparation and tell you what is important when starting with green smoothies. We will blend in small teams using several blenders.
The number of participants is limited to 15. We therefore ask for booking. Please bring an identification document or a copy of the order confirmation / invoice to the workshop.
Topics at a glance:
What is a green smoothie?
How do I prepare a green smoothie?
(Small) ingredient knowledge incl. shopping and storage tips
Important tips for getting started with green smoothies
Culinary tips for the perfect green smoothie
Get inspired: Tasting & recipe ideas
We always use ingredients from controlled organic cultivation (kbA) for our workshops and tastings. You will receive a comprehensive handout with more recipes along with the workshop.
Your green smoothie instructors
Svenja & Carla: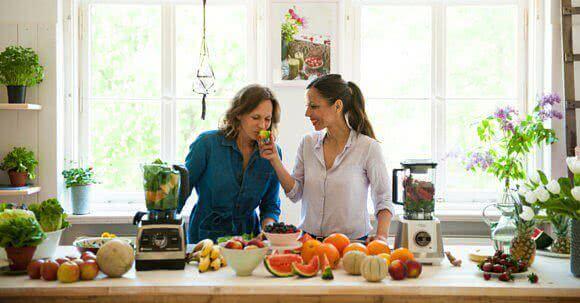 Together we have mixed over 5000 (!) liters of Green Smoothie in the past 5 years, provided our families with it and fed many people. The result is an incredible number of recipes and tips and tricks that we would like to share. At the same time, we want to share our fascination with the tantalizing ingredients of fruits, herbs, flowers, salads and wild plants that make green smoothies our favorite breakfast.
Venue & Directions
GrüneSmoothies.de, Urbanstraße 177a, 10961 Berlin
Open Google Maps route planner
Directions by public transportation:
Subway: U7, U-Bhf. Gneisenaustr.; U1, U-Bhf. Prinzenstr.
Bus: 140, M41, stop Urbanstr./Baerwaldstr.
Questions & Answers about the Product
Ask a question
Total 2 question(s)
Hello dear ones,
do you already have new dates for your workshop? I would like to register. Thank you for your short feedback. Many greetings, Maike
Question submitted by Maike on July 5, 2019 at 09:42 o'clock
Dear Maike,

thank you very much for your curiosity.

Unfortunately, there are no new dates for our Green Smoothies workshops yet.

Many greetings

Your GrueneSmoothies.com team
Beanwortet am 07.05.2019 um 12:55 Uhr
Hi, I would love to take a smoothie class with my 2 kids. What would it cost & when would be a date? I could mobilize other participants if necessary....
VG, D.McRae
Question submitted by McRae on January 2, 2019 at 22:11 o'clock
Ask a question
Write Your Own Review