2008 - 2023 | 15 years GrueneSmoothies.com - the original
---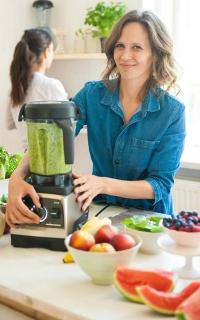 The Best Blender
Rarely have we fallen in love with the look of a blender as much as we have with the Vitamix Pro 750 (also Vitamix Professional Series 750). Its timeless, well thought-out design, It is not only a visual upgrade for every kitchen, but also fits under any kitchen cabinet - on top of that, it is the best blender for creamy green smoothies with dessert factor.
Highlights of the Vitamix Pro 750
Creamiest green smoothie consistency compared to any blender we've ever tested, thanks to the highest blade tip speed (shared with Vitamix Smart blenders).
Space-saving miracle: Fits under any kitchen counter, the practical container can be filled, cleaned and emptied in no time at all.
Quiet: In comparison, the quietest Vitamix (at maximum speed).
Design: A noble eye-catcher with a very well thought-out operating concept
7-year Vitamix full warranty on all parts incl. container and tamper (for private use only)
Overview
Preparation possibilities with the Vitamix Pro 750 (Vitamix Professional Series 750)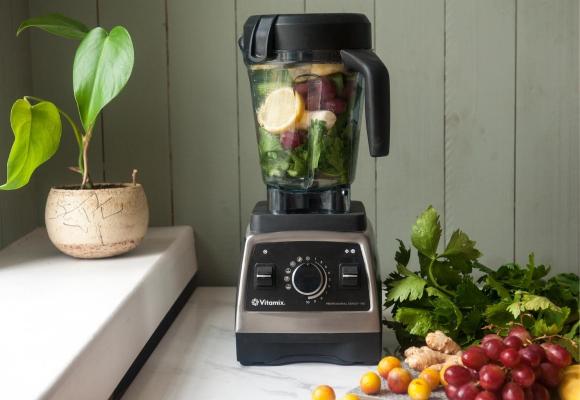 First and foremost, the Vitamix Pro 750 is probably the best smoothie blender in the world (as of 10/2019). We have tried countless blenders and have not yet discovered a blender that can compete with it. The taste experience of the fine, creamy homogeneous green smoothie is simply overwhelming. Besides smoothies, the Vitamix Pro 750 is also capable of many other creations:
Ultra-fine, creamy green smoothies
Fruit and vegetable smoothies
Delicious vegan milks, such as almond or hazelnut milk
Healthy, whole-food vegan juices
Fresh pestos, dips and sauces
Sinfully delicious ice creations (fruit and milk ice cream, vegan ice cream), sorbets (fruit ice cream), frozen yogurt and nicecreams
Crushed Ice
Hot soups, sauces, fondues and chocolates heated by friction heat in minutes
Raw food: creations of all kinds, such as chunky salsa, Italian pesto, chopped vegetables, soups or chopped nuts and almonds
Healthy, fresh, vital baby porridge
Homemade nut butter or nut puree
Chopped root vegetables for salads, such as carrot salad
The scope of delivery of the Vitamix Pro 750 also includes a Vitamix recipe book.
Vitamix Pro 750 recipes
Carla from GrueneSmoothies.com tested the Vitamix Pro 750 for a day - there was a lot to discover on this culinary journey. Let yourself be inspired:
Operation & handling of the Vitamix Pro 750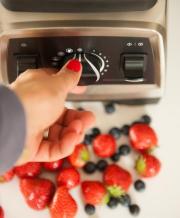 Vitamix stays true to its design roots with the Vitamix Pro 750, delivering a modern, well-thought-out operating concept. The manual controls allow you to select a speed and then press the start/stop button once. The pulse button can also be used to start the blender. Unlike many manufacturers, the pulse button maps the speed selected with the dial instead of the maximum speed. This allows precised preparations.
In addition to manual control, the Vitamix Pro 750 offers a total of 5 time programs, which Vitamix calls "Smart Blending".
Smart Blending with the Vitamix Pro 750: 5 time programmes that leave more time for the important things in life.
Smoothies: In 45 seconds the (green) smoothie is ready!
Ice cream: The ice cream programme creates ice cream with perfect consistency in only 55 seconds.
Warm soups: Filled with raw vegetables, the Pro 750 creates a hot soup in 5:45 minutes. Caution: let the soup cool down a bit or you'll burn your tongue!
Puree: In just 60 seconds, everything is processed into a fine puree. This programme is ideal if you like fibrous ingredients (e. G. wild herbs) and extremely fine smoothies. The perfect consistency also gives the smoothie an even better, rounder taste.
Cleanup: The Pro 750 takes care of stubborn residue itself. Simply fill with water and two drops of detergent and activate the cleaning program, rinse afterwards, done.
The programs have also proven themselves in practice. They are well thought out and deliver what they promise. Apart from ice cream preparation, where constant manual tamping is unavoidable, the timed programs allow you to leave the room without anything boiling over. When you return to the kitchen, the soup or your smoothie is already waiting for you.
Ecological: The Vitamix Pro 750 has a "real" on/off switch on the right - no standby energy is wasted.
Is the Vitamix Pro 750 loud?
Overall, it is within the green range in terms of volume, with 83 dB at maximum speed fully loaded. This makes it the quietest Vitamix ever (as of 10/2019).
Cleaning the Vitamix Pro 750
Cleaning the Vitamix Pro 750 container
Cleaning the Vitamix Pro 750 is very easy. After emptying the container, simply rinse it under running water and you're done. For example, if you have prepared a white smoothie with fatty ingredients such as avocado, nuts or oil, fill the container with water and a drop of detergent - the cleaning program will do the rest. You only need to rinse the container briefly afterwards.
Cleaning the Vitamix Pro 750 motor block
The rubber mat on the motor block is is easily cleaned with a damp cloth and can also be removed for cleaning if necessary.
Due to the smooth surface, the rest of the motor block can also be easily wiped with a damp cloth.
Recommended accessories for the Vitamix Pro 750
Vitamix Aer Disc Container Classic
The Vitamix Aer Disc Container Classic is a real upgrade for your kitchen, TV gourmet creations are no longer unreachable. Perfected for emulsifying, foaming, stirring and whipping, it can be used to make hollandaise sauce, fine emulsions and gourmet foams or simply cream.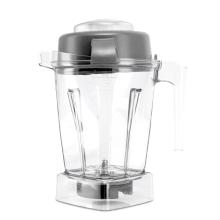 Vitamix Aer Disc Container Classic
Vitamix 1.4 Liter Container Classic for smaller preparation quantities from 250 ml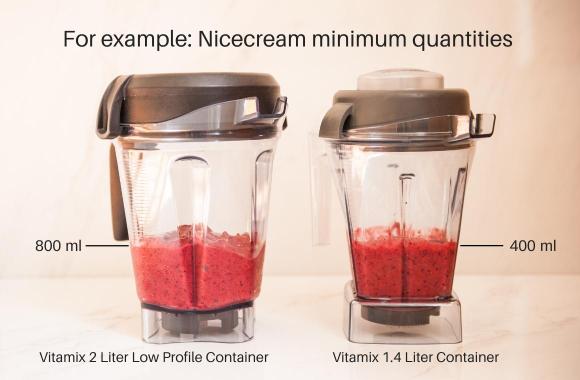 If you also want to prepare small quantities (smoothies & pestos from 250 ml, (n)ice cream & nut puree from 500 ml - 800 ml), you should consider the Vitamix 1.4 Liter Container Classic. With the purchase of the 1.4 litre container you are "fully equipped".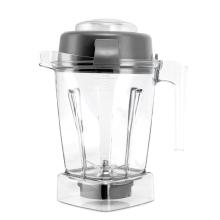 Vitamix 1.4 Liter Container Classic
Vitamix Dry Grains Container Classic for coffee or cereals
If you regularly grind coffee or cereals, the Vitamix Dry Grains Container Classic (dry container) is recommended. For occasional grinding, the normal "wet" containers are also suitable. The containers may become blind/cloudy over time, making it difficult to see the containers content. This may not matter when grinding, but when blending pesto, which needs to have a very specific consistency, it is important to see when this consistency is reached in order to stop the blender at the right time.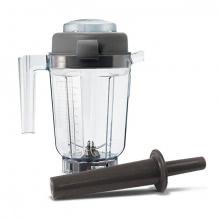 Vitamix Dry Grains Container Classic
Technical specification of the Vitamix Pro 750
Blade tip speed: 302 km/h (with 1.5 l of water)
Power: 2.2 horsepower; 220 - 240 volts / 50 Hz - 60 Hz; 1200 - 1400 watts
Revolutions: 1500 rpm to 23000 rpm. (throttled)
Dimensions (width x height x depth): 19,6 x 44,2 x 23,9 cm
Weight: approx. 5.6 kg
Material: Stainless steel, Tritan plastic (BPA-free); Suitable for temperatures up to 100°C
Controls: Jog dial with 10 variable speed settings and 5 time programs for smoothies, ice cream, soups, pureeing, cleaning, on/off switch on right, pulse button on left side.
Container: 2.0 liter container Pro incl. tamper (medium)
Container volume: 2.0 liters
Blade type and material: Laser-cut stainless steel blade with 4 blades (9.7 cm diameter)
Safety features: Overload and overheating protection
Safety features of the Vitamix Pro 750
Overheat protection: to protect the motor from overheating, the Vitamix Pro 750 shuts down the motor before it overheats. After just a few minutes the blender is ready for use again. In normal use, this only occurs with viscous-sticky preparations, such as dough. The viscous preparations slow down the blades, which leads to heat generation.
Vitamix Pro 750 Scope of delivery:
Vitamix Pro 750 motor block
Vitamix 2.0 liter Pro container made of BPA-free plastic (Tritan™)
Lid incl. cap
Instruction manual in English
"First Blends" recipe book in four languages
Warranty of the Vitamix Pro 750
For purely private use:
Motor block: 7 years
Container: 7 years
Tamper: 7 years
Complete warranty conditions »
Vitamix Pro 750 Test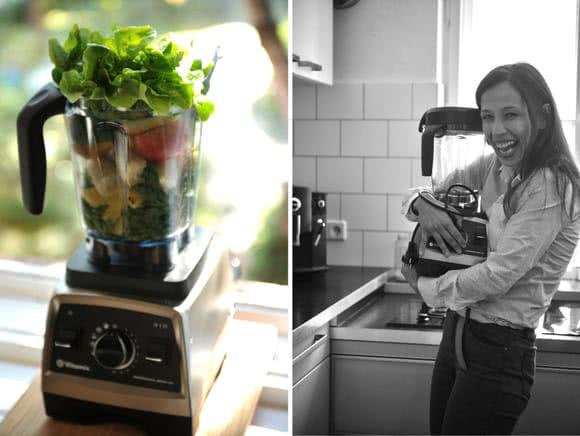 Today we're talking about our high-speed blenders - or rather, a new one, the Vitamix Pro 750. I'm going to write this blender review, because I've been in a relationship with a Vitamix TNC 5200 for five years and still feel daily blender bliss. However, the arrival of the Vitamix Pro 750 sparked interest in a new blender for the first time. Why?
Vitamix Pro 750: Perfectly shaped and more handy
Spontaneous reaction when unpacking: Wow - what a compact and perfectly formed look. The container is wider and lower than on other Vitamix models - but still holds 2 liters. This makes cleaning easier and also is more suitable for small kitchens. At the same time, the Pro 750 really smiles at me with its elegant stainless steel look (NEW: stainless steel housing incl. no-touch coating). The design immediately makes me think about where the stylish blender will find its place in my flat. After all, it has already won several awards in this category ("Kitchen Innovation of the Year" 2014 and "Plus X Award").
More power, more convenience
In terms of power and versatility, Vitamix promises a new blender era with the Pro 750. Five time programs for smoothies, ice cream, soups, purees and cleaning provide significantly more convenience. The infinitely variable speed control and the pulse function draw on a whopping 1,200 watts. At 9.7 cm, the blades are the longest among all our blenders - these two aspects are unique selling points among Vitamix blenders. The scope of delivery of the Vitamix Pro 750 also includes a Vitamix recipe book. An absolute multi-talented, for: raw, vegan, vegetarian - ah, EVERYTHING preparation!
Second thought: This could become my new favorite blender.
Vitamix Pro 750! Show what you can do!
For our Vitamix Pro 750 test, our entire team put the blender under the microscope. We let it chop, grate, knead, crush, grind and of course puree. "A day with the Vitamix Pro 750" is our summary of the extensive test - it was extremely fun.
8 a.m.: Espresso Macchiato with almond milk foam
Good morning Vitamix Pro 750! Will you please make me almond milk for my espresso foam? Super-smooth, creamy almond milk is easily prepared in the Vitamix Pro 750 and can then be processed into fluffy foam in no time at all.
Here is the recipe:
4 cups water
1 cup almonds (soak overnight in water)
3 medjool dates
1 pinch of cinnamon
1 pinch vanilla
(More Almond milk recipes)
Place all ingredients in blender, blend on level 10 for about 2 minutes. Then pass the milk through a filter (such as a Nut Milk Bag or cheesecloth) to remove the almond flour (can be used for baking). The almond milk will keep in the refrigerator for at least 2 days. It won't survive one day in the fridge anyway...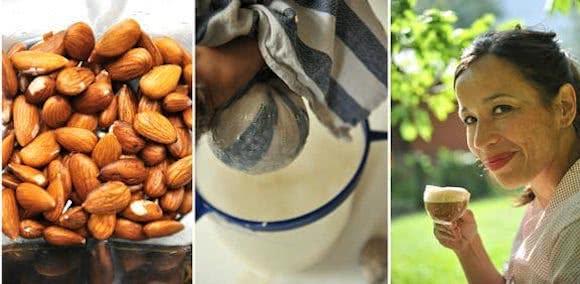 11 am: Green Bowl from the Vitamix Pro 750
If the Pro 750 really wants to be taken seriously, its smoothies must be at least as creamy as those of the Vitamix TNC, if not better. My favourite breakfast, the best breakfast ever, will be the benchmark.
The wider container allows the ingredients to be larger, therefore less effort is required when cutting. A convenient benefit. For example, you could easily put a whole apple in the Pro 750 or even half a pineapple. It's easy to fill the container through the generous opening. We also add a good portion of wild herbs - to give this super blender a fibrous challenge.
Now we select the "Smoothies" program and let the Pro 750 do its thing. After 45 seconds, the blender turns off - the green smoothie is ready. This is spooned as a Green Bowl to gorge on the texture. "Creamy fine, this is how my Green Smoothie must be..." The Green Smoothie becomes even smoother, even creamier than with the TNC or even with the Vitamix Pro 500. It must be the wider container, which in combination with the slightly longer blades can grip and smash the ingredients even better. Am I dreaming? Another test in direct comparison with my TNC: we keep it simple - only apples, water and lettuce - these ingredients have already robbed some smoothies of their creaminess. Blended on maximum for 1 minute each. Close your eyes, taste - the difference is there again. The green Apel smoothie from the Pro 750 seems even a tad smoother.
Here are the ingredients:
1 handful spinach
½ bunch parsley
1 handful of lettuce
1 handful of wild herbs
½ avocado
1 banana
1 small pear
1 apple
1 large slice of orange with peel
1/8 lemon
300 ml water
As topping I used hemp seeds, coconut flakes and small cut Medjool dates. Alternatively and depending on the supply situation cacao nibs, flower pollen, goji berries or just small cut fruits also fit "on top".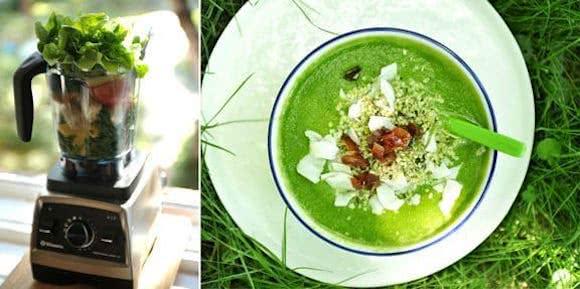 Lunch with the Vitamix Pro 750: Pizza Magherita
For lunch, pizza. The curiosity whether pizza dough can be prepared quickly with the blender is huge. Since I rarely eat pizza, I invited an external tester: Berlin chef and cooking class instructor Guido Vinci. Italians of his ilk can master the art of pizza baking in the literal blink of an eye. The blender is supposed to do the job for Guido. Can it really knead? will the dough really rise? Scepticism is in the air. While the dough is given time to rise, Guido prepares the raw tomato sauce with the Pro 750. This comes without onions and garlic, instead the Italian adds a good portion of fresh herbs and the best Himalayan salt. Tastes simply amazing. Good products, good tools, good Guido. That's how it has to be in the kitchen. The rest of the pizza procedure is familiar: Pizza dough on the tray, spread, cover - into the oven.
Result - come il Maestro dice: "We should have left the pizza in the oven a little longer, but the mixed dough works." Crispy - light and delicious. A great alternative when you really need to be fast or when you have a lot of hungry pizza mouths to feed. Grazie Guido, grazie Pro 750!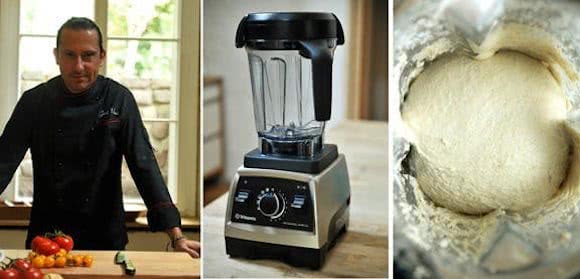 Here is the recipe for the dough:
375 g flour
2 teaspoons of dry yeast
1 teaspoon of Himayala salt
320 ml hot water
4 teaspoons olive oil
Put the flour, yeast and salt in the container and close the lid. Slowly increase the speed to speed 8. Mix for 5 seconds. Turn off the appliance and remove the cap. Turn the control jog dial to speed 3. Press the pulse button 60x times within about 45 seconds, slowly pouring the oil and water through the opening until a ball forms. Aha - so this is how a high-speed blender kneads - don't forget how to count. Oh, suddenly the blender goes off, despite pressing the pulse button no movement. An unpleasant smell also spreads through the room. That's probably the overheating protection. After a few minutes, the blender continues. In fact, a ball forms, now press the pulse button again for 10 to 15 seconds and the blender dough is ready. Dust your hands with flour, remove the dough from the container and form it into a round ball. Place the dough in a greased bowl and roll it to grease all sides. Let the dough rise for about 10 minutes. Roll out into desired pizza form. Bake for 12 to 15 minutes.
Phew, since the blender needed its cooling break, it took longer than expected. Kneading dough is certainly not his favorite discipline. Next time I will probably knead by hand. That also keeps me from having to clean the container. Let's see how the tomato sauce turns out.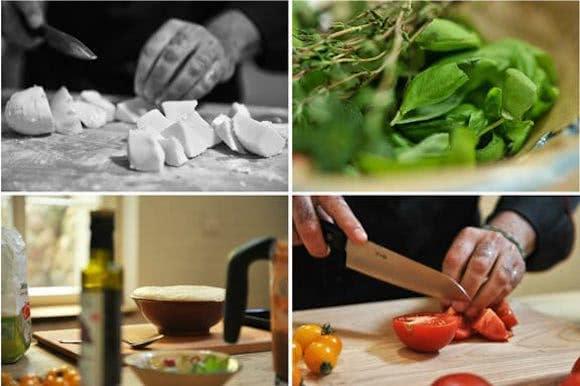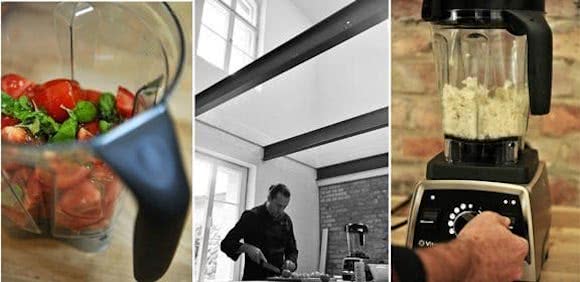 Here is the recipe for the tomato sauce:
250 g tomatoes
40 ml olive oil
Big handful of herbs (basil, marjoram, thyme... and whatever your Mediterranean heart desires)
Himalayan salt
Put all ingredients in blender and slowly turn up to maximum/speed (10) - blend for about 1 minute. Done. If you have some extra sauce, you can also turn the tomato sauce into a delicious (raw vegetable) soup. Just blend the rest on maximum speed for 2 minutes - it should steam slightly. Season and Enjoy your meal!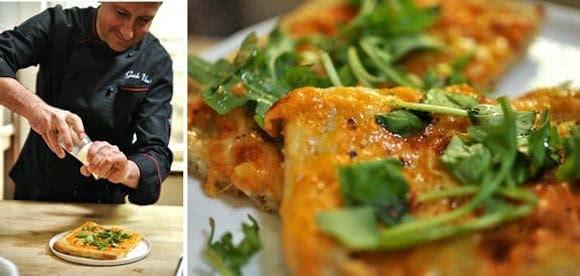 2 p.m. - Dessert: Orange sorbetto from the Vitamix Pro 750
I let the afternoon end with an orange sorbetto Italian. So I can immediately test the ice function.
Here is the recipe:
2 oranges peeled, halved with seeds
1 teaspoon orange zest
2 tablespoons coconut blossom sugar
960 ml ice cubes
Put all the ingredients in the Vitamix container in the order listed and use the Frozen Desserts programme to transform them into orange sorbetto. While the program is running, I use the pestle - also called tamper - to move the ingredients towards the blades.
After 55 seconds, my sorbet is ready and enjoyed immediately. Mmmhh! After years of getting by without time programmes and occasionally abusing the TNC for too long - I had to get to the door, the phone or a children's runny nose, I am delighted by this convenience.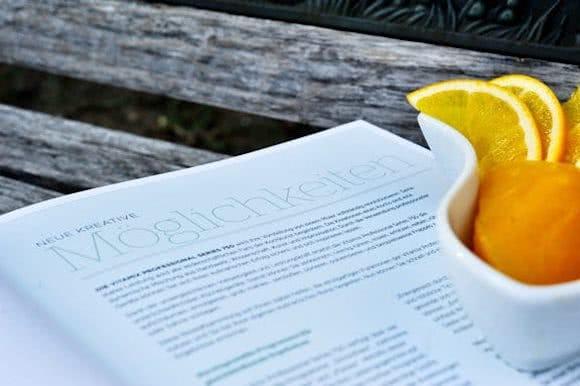 4 p.m. - Snack: Kids' salad with almond paste
The kids are home and they're hungry. Help, nothing there, nothing prepared! How about a finely chopped salad... After all, that's what the Vitamix Pro 750 is supposed to do.
We prepare a fresh almond paste as dressing. Half an hour later, the small group is satisfied, loud smacking noises can be heard. Just in time!
Small point of criticism from the blender front: The nut puree turned out exactly the way I wanted it to! However, the wide container of the Pro 750 needs a fair amount of ingredients to be able to grab them. A similar thing happens with pestos, for example. If you don't have an old vitamix with a narrow container, purchasing the Vitamix 1.4 liter container is recommended, especially for small portions.
Here is the recipe for the almond paste:
400 g roasted almonds
70 ml rapeseed oil
1 pinch of Himalayan salt
Put all ingredients in the blender and start the puree program - 60 seconds later, perfect almond puree can be poured from the container of the Pro 750.
Here is the recipe for the children's salad:
1 apple
1 carrot
½ fennel
Squeeze of lemon
Put all the ingredients in the container, turn the speed dial to level 5 and then use the pulse button 10 times until the ingredients are coarsely chopped. Then pour the salad into the bowls and drizzle with some almond paste.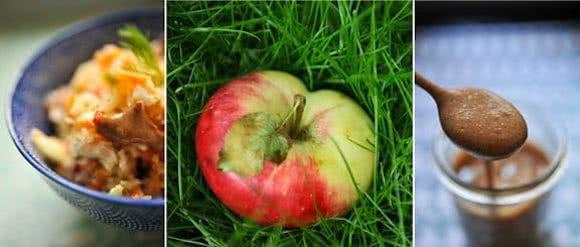 18.30 - Dinner: Thai pumpkin soup from the Vitamix Pro 750
For dinner we go from Bella Italia to Southeast Asia: Thai pumpkin soup. Contrary to my expectation, this is not really raw like our 1a tomato sauce for lunch. However, pumpkin with its starch is also such a thing. We coat it with olive oil and pre roast it in the oven - 180 degrees for about 20 minutes. As soon as the pumpkin has browned tips, it can be taken out of the oven. This creates great roasting aromas.
We then blend it with the puree program. It takes 60 seconds. Done. This soup is very creamy and tasty....
Here is the soup recipe:
2 tablespoons olive oil
160 g chopped onions
1 tablespoon tomato paste
1 medium pumpkin - oven 180 degrees, 20 minutes
2 tablespoons fresh chopped ginger
1 clove of garlic, peeled and chopped
720 ml water
180 ml coconut cream
180 ml coconut milk
1 tablespoon chopped green chillies
1 tablespoon lemon juice
Himalayan salt & pepper
Before going into the blender: saute onions in olive oil until soft. Add tomato paste, pumpkin, ginger, garlic, water, coconut cream and coconut milk. Heat while stirring. Transfer mixture to blender, add chili peppers and lemon juice. Start the puree program. Then season with pepper and Himalaya salt.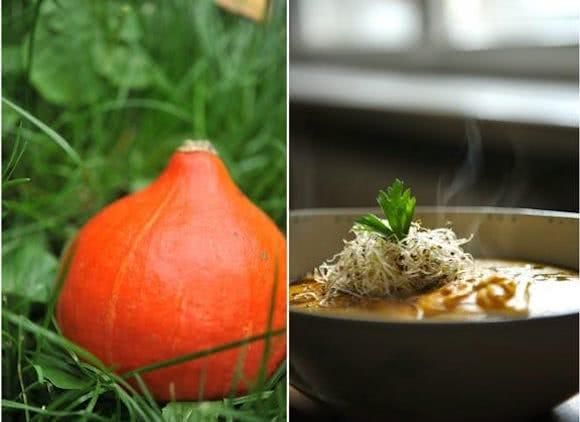 21 o'clock - nightcap
It's getting autumnal in Berlin. I need something to warm me up from the inside, especially in the evenings. Oh yes - I'm testing the Pro 750 today. Can it conjure another nightcap for me?
There's still some almond milk left over from the morning. I froth up some of it. The rest goes into the blender, plus the following spice mixture according to personal flavor preference: e. G. star anise, cinnamon, vanilla, orange zest, cardamon, cocoa. Blend on maximum speed (10) for about 1 minute until the nightcap is slightly warmed. Then strain out any spice residue. Pour into a cup, fill with foam and garnish with a pinch of cinnamon. What a great way to end the day!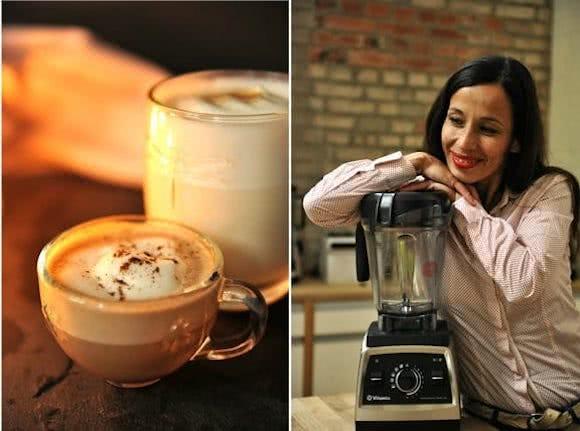 CONCLUSIONS:
A day comes to an end and I've arrived in the Pro 750 era. I wouldn't have thought so, the price is justified and the blender has earned its place in my kitchen . It can do pretty much everything and still remains a specialist for green smoothies. Other multifunctional devices often have the problem of being able to do everything, but nothing really. This one is definitely different. It makes it easier to eat more raw and healthy food. And it's fun, a significant ingredient in cooking.
Vitamix Pro 750 Alternatives
Vitamix Pro 750 vs. Vitamix A3500i
The flagship model of the classic line and the "Ascent series" have a lot in common, but differ in detail. First of all, what they have in common: The creaminess of the smoothies is unrivaled, no other blender blends so finely. The main reason for this is the large container diameter and the extra long blades.
Now to the advantages of the Pro 750:
Dimensions: The Pro 750 cuts a slimmer figure. It has 4 cm less "belly". This is noticeable.
Acoustics: It is about 3 dB quieter (1500 ml at maximum speed). This makes the Pro 750 the quietest Vitamix. Your ears will be grateful.
Optional accessories: For certain preparations, such as nut puree, a 1.4 liter container is very helpful. No such container is available for the A3500i.
No radio frequency radiation: the Pro 750 does not include wireless radio technology, such as Bluetooth or NFC. This is the price A3500i owners have to pay for their perfect blend app
However, the A3500i does have a few advantages:
Cleaning: The containers of the Ascent series are all dishwasher safe. Even though rinsing under the tap is probably much faster. Cleaning the container in the dishwasher once a month can't be wrong.
Safety: The blender only starts when the lid of the container is in place.
Warranty: 10 years, 3 years longer than the blenders in the Smart series.
Control: The timer always exactly shows you how long the blender has been running.
In conclusion, we tend to recommend the Pro 750. This may simply be because we have been looking at the Pro 750 for too long and have become accustomed by its cute design. It may also be due to the fact that the A3500i comes with a few "worse for wear" improvements as well as some improvements. However, from our point of view the most important argument is that the 1.4 liter container for the A3500i still hasn't been launched in Europe and it is unknown whether it will be launched at all (as of 12/2019). Therefore, we think that everyone should choose the suitable device according to their preferences.
Vitamix Pro 750 vs. Vitamix Pro 500
The Vitamix Pro 750 is aimed at those who want to have the ultimate green smoothie experience and enjoy the following benefits:
Indulgence: The green smoothies from the pro 750 are a little creamier than those from the Vitamix Pro 500. The ultimate taste experience.
Practical: The compact 2.0 liter container has several advantages over the higher 2.0 liter container:

The large opening, makes it very easy to fill.
When blending, it is less likely that something will get stuck in the container. While the ingredients can get stuck in the narrow container of the Pro 500, they automatically fall down to the blade, without having to be tamped, in the Pro 750.
If residues get stuck under the blade (possible with thick ingredients), you can reach the bottom of the container better.
Cleaning is a pleasure - Due to its small size, it fits in every sink without coming into conflict with the faucet.

Quieter: The Vitamix Pro 750 is a bit quieter than the Pro 500, and it's noticeable in the volume.
Disadvantages compared to the Vitamix Pro 500:
Second container necessary: For small preparation quantities (250 - 500 ml smoothies; 500 - 800 ml nut purees, ice cream,…), an additional container, such as the Vitamix 1.4 liter container is needed. The included Vitamix 2.0 liter container on the Pro 500 is suitable for both small and large quantities. Therefore, a second container is not necessary. From this point of view, the standard version of the Pro 500 is more of an all-rounder, while the Pro 750 can show its strength when it comes to smoothies.
Questions & Answers about the Product
Ask a question
Total 34 question(s)
Ask a question
Reviews
[5 of 5 Stars]


I am very satisfied with the Vitamix

Thank you for the fast delivery

[5 of 5 Stars]


I won't give it up anymore!

We purchased our Vitamix Pro Series 750 7 years ago (after contemplating this purchase for two years, and my husband couldn't bear to hear my concerns about the high purchase price anymore :-)) and we are still thrilled with it! It may sound dramatic, but it has truly changed our lives. Especially if you want to follow a plant-based diet, the Vitamix allows you to reach a whole new level: spreads, cashew and almond milk and their "creams," creamy soups and veloutés, dips, ice creams, nut butters - all with an incredible consistency and quality.

It is truly worth the investment.

[5 of 5 Stars]


If you want incredibly creamy smoothies, there is no alternative. Also processes avocado pits completely.

[4 of 5 Stars]


Why not?

Proud price but good quality. Fast delivery without problems. Thank you.

[5 of 5 Stars]


Rating without text

[5 of 5 Stars]


Smoothies, soups, creams are mega creamy/foamy. Pastes become sensational.

After first trying another model, I returned to the recommendation of GrueneSmoothies. I am highly satisfied in all respects. The Pro 750 is much quieter than the other Vitamixes. And it is simply worlds better than my old Bianco di Puro Originale, with which I was also very satisfied for many years, except for the volume and the high speeds.
The great service and advice from the team should also be emphasized.

[5 of 5 Stars]


Incredibly great repair service and super friendly handling

GrueneSmoothies is a great company: we have just experienced a more than fair, super-generous response when we forgot a spoon in the new blender jug on the first (!!) day of use and thus the device was initially scraped. Of course, no warranty case, we were to blame - but GrueneSmoothies.com has helped us immediately, repaired the motor block and also sent us a new cup - both free of charge and all that even in a totally friendly tone - Stefan from GrueneSmoothies says, because it was the first day and we have honestly admitted that it was the spoon ... a super interaction.
It is a Vitamix Pro 750 - the best blender ever. Super is the wider, flatter cup. The blending results are perfect, the handling is simple. But most convincing is the company GrueneSmoothies itself :-)

[5 of 5 Stars]


Food Processor Attachment

No question, I love this blender! But why does the food processor attachment not fit on the Pro 750? It would be great if the food processor attachment would be available for this blender!

Editor's note:

Unfortunately, according to our current information, the Food Processor attachment will not be released in Germany and the US version is not compatible with European 220-240 volt appliances. Aside from that, the Food Processor is also only compatible with Ascent Smart Mixers in the US. This is because the Ascent Smart Mixers can throttle the speed depending on the container attached, which would be necessary for the Food Processor attachment.

[5 of 5 Stars]


Immediately in love with the first application

I just bought it, the Pro 750 and also tried only once, but I am thrilled. I look forward to many wonderful years with millions of smoothies and all the other goodies. He is visually very beautiful and also super powerful. I'm sure it won't let me down. Thanks to the seller for being so honest. So the decision was quite easy and it was definitely the right decision.

[5 of 5 Stars]


Do you have money? Buy this one!

Had the A3500i before, which was the already really good, he returned due to a rare engine failure and ordered the Pro 750 and what can I say. In my humble opinion, it is a lot better.
I think this is partly due to the different design of the 2 l container and secondly, the tamper also fits better, making Nice Cream, Nutbutter and frozen / viscous things are easier to make.
The noise level is also a bit more pleasant than with the A3500i.

Was sad to return the A3500i but hallelujah the Pro 750 has erased that feeling immediately.

If you have the money there is no better option than the Pro 750.

[5 of 5 Stars]


Would buy again at any time

We bought our blender here half a year ago and I have not regretted the purchase a day despite the price. We are 4 people, so the size is very good. The blender is also wonderful to clean thanks to its cleaning program

[5 of 5 Stars]


absolute buy recommendation

I have the Pro 750 for some time and am completely thrilled! The smoothies are amazing. Previously I tried a lot of blenders and tried to love the smoothies. Either the ingredients were not properly pureed or the smoothie has disintegrated after a few seconds in the glass back into its individual parts. Enjoyment was never the case when drinking. With the Vitamix everything is different, no matter what ingredients, a smoothie or puree comes out in the end. The container is perfect, smooth inside and hardly any leftovers remain in it. So no ingredients are wasted as with conventional blenders. Cleaning with the automatic program is perfect. I have never needed so little water when cleaning a blender

[5 of 5 Stars]


Fast delivery in only 28 h

Unfortunately, I can not yet report anything about the application and results. Only so much... it went super fast from order to delivery just under 28 hours. I am impressed. I blend since 5 years regularly green smoothies and have now opted for this device. It just looks great. I will report my experience later
Thanks

[5 of 5 Stars]


Great blender that also looks stylish

I have now waited a few months with my evaluation to test the blender first.
First: I have very long considered whether I get a Vitamix and when this decision was made, I actually tended to the Creations or TNC - simply because of the price. After further long research, it has then become the Pro 750. The deciding factor for me was actually the automatic programs. With a baby and toddler, I find these incredibly practical. If I have, for example, the baby in the carrier, I start the blender and go into another room (which is not bad at the volume ;)). Or I can briefly clean up the kitchen again in the time
So for us, the extra price was definitely worth it!
In addition, the look of the Pro 750 is really beautiful, but that was not the deciding factor for me

I am consistently happy with the blending results. So far I have conjured smoothies, ice cream, soups, nut puree and milk, as well as various spreads and everything was very tasty. The blender is actually in use every day. It's definitely the best investment I've made in years and will definitely make us happy for a long time to come

Many thanks also to your team and your service. I can only recommend you! Your recipes are also great. The ginger shot helps us well druch the cold season and the hummus - a dream.
Keep up the good work!

[5 of 5 Stars]


Clear buy recommendation, super service

I received my Vitamix Pro 750 today ( was super fast!) and was totally happy about it after the eternally long research! I have really long thought and researched whether it is worth the money and whether I really need the Pro 750. With a roommate I had tested him a few years ago and was thrilled. Now I was finally ready to invest so incredibly much money. I have used it only one day and already (almost ;-)) forgotten how expensive it was, because it is just so good! I immediately made hazelnut puree, as well as Nice Cream and a green smoothie and everything was amazing in terms of taste and creaminess. Thanks for the great smoothie cards, the very first of your green smoothies blew me away. A very clear buy recommendation and I think if you want a decent blender that makes especially also nut puree, better invest once so much than twice...
By the way, the color copper is a real eye-catcher and peps up the kitchen landscape significantly. Already alone this friendly color and high-quality processing makes you want to use it
Thanks also to GrueneSmoothies that you have sent me directly the 1.4l wet container at my request, since I will first prepare rather small quantities. I'm keeping the option open for the large optimized 2l container and with a larger kitchen will hopefully upgrade soon:-)
Thank you very much for this informative site. I never really comment, but this site has helped me a lot in my decision :-)

[5 of 5 Stars]


You can not do better

We had considered whether we want to treat ourselves to this piece of jewelry for a long time and at some point the penny dropped. So far, we have not regretted a second. Can only recommend!

[4 of 5 Stars]


A dream for the smoothie lovers

For the price very solid. Mixes well with.

[5 of 5 Stars]


Best purchase decision of the year!

I have never(!) eaten such creamy smoothies. And it almost doesn't matter what ingredients you put in it. Apple, banana, pear, even passion fruit and raspberry become so fine that you no longer have to / can chew the seeds, even if you can still feel them very slightly. In soups that I puree, for example, with carrots and tomatoes everything becomes so creamy that you think a very good shot of cream is in it. Nope, it is not and your body shape is happy!

[5 of 5 Stars]


Would buy this blender again and again

Super processing, elegant design and the best: mega-creamy smoothies. Use the Vitamix Pro 750 also for my protein shakes and homemade almond milk - also super! Would buy this blender again and again.

[5 of 5 Stars]


It blends and blends and blends....

I bought the Vitamix about 1.5 years ago and have not regretted the purchase decision for a moment. The blender is simply not at all to compare with all the models from the electronics stores.

High-quality workmanship, incredible ability to pulverize the ingredients and also a real feast for the eyes!

I can recommend the blender despite the price tag to anyone who regularly blends or intends to do so.

[5 of 5 Stars]


Best and most beautiful Vitamix!

Every morning when I get up, I look forward to preparing my smoothie with the Vitamix Pro 750. The wide container is easy to fill and the blending result is a creamy dream. Even my beloved kale smoothies are blended perfectly fine. Yummi! Even though this blender is quite expensive, I think it's worth every penny. Because it blends not only super, but is a real eye-catcher in my small kitchen. For me definitely the most beautiful and best Vitamix!

[5 of 5 Stars]


A poem!

Stylish design and super performance, what more could you want. A poem! Quasi the Porsche among the high-speed blenders!

[5 of 5 Stars]


The absolute dream blender!

Today, the blender arrived and was already tested by me to the marrow. I had in my anticipation already bought all the ingredients before to then, when he arrives also can start right away! First, I can say that it is a real beauty! Visually, the Pro 750 has convinced me, like many others, very much! However, he not only looks beautiful, but also a lot of power! The smoothies are just wonderfully creamy and super fine! Also soup, Nice Cream and almond paste is blended just greatly. The taste experience is every time simply the madness! Since I eat a large part of raw food, this device is just ideal for me. I love this blender and all that it has to offer! A real dream!

[5 of 5 Stars]


The best investment we have made

The Vitamix pro 750 one of the best purchases we have ever made ,
it is simply absolutely amazing and daily in use, be it for the so fine smoothies, for soups, for ice cream - Nice Cream,Frappé or our beloved almond mousse!
It is so easy to use, we are thrilled and never want to miss it, it was worth the price!
I highly recommend it for everyone !
Also a big praise to you.
very fast shipping to Switzerland, everything went smoothly and thanks for all the recipes and tips here !

[5 of 5 Stars]


An investment worth the money

Three years ago, we bought a Bianco di Puro Primo so that we wouldn't have to spend almost a thousand euros on an appliance that we didn't know how long we would really use consistently. If we had known back then that the blender would become the centerpiece of the kitchen within a very short time, we probably would have invested in the top of the line right away

The Bianco di Puro Primo makes great green smoothies, but it's not designed for much more than that due to the lower motor power (and that's perfectly fine at the price). We quickly realized that the applications for a professional blender are incredibly diverse and therefore, after a good year, we switched to the Vitamix Pro 750, which we have supplemented over time with a dry container and a 0.9 liter wet container

Each blender jar is useful for its respective tasks and we really haven't regretted the - admittedly expensive - investment once. Making hot soups, ice cream, hummus, pesto, grinding grains, coffee beans, kneading dough, blending sauces, pureeing soups, chopping vegetables, making nut milks, juicing, whipping cream, and of course, smoothies - it's hard to imagine our everyday kitchen life without the Vitamix. We make a lot more food ourselves than we used to and know exactly what's in it. We also throw away much less, since the fresh quantities can be adjusted quite well.

In the USA, there is now an even newer generation of Vitamix machines on the market, whose accessories include extremely small blender jars, which would be perfect for an onion, a handful of peppercorns or similar. We very much hope that they are compatible with the motor block of the 750 Pro, because this container size is really the only wish that has remained open so far.

As for the eternal topic of "plastic or glass": apparently, no manufacturer of high-speed blenders has yet managed to develop a glass container that can withstand the enormous stresses generated by such a high number of blade rotations. The desire of customers for a glass container that is free of scratches and abrasion is certainly known to the companies, but is simply not feasible for safety reasons. Of course, we would also prefer a blender jug without plastic, but we do not want to miss the advantages of an otherwise so well thought-out and powerful device and are therefore willing to make this compromise.

[4 of 5 Stars]


I would like to join my predecessors

I would like to join my predecessors. Super device - BUT unfortunately no glass container! We have measured the residue with the fruit acid and yet residues remain in the smoothie. Glass containers are simply more acid resistant !!! I do not want my family to continue and still waiting for a product with the same speed and the same good quality - - BUT with GLASS CONTAINER ! SO my gentlemen of creation - For men maybe okay but women usually have more sense of responsibility towards their children. How does it look actually with their environmental thought? If the machine must be disposed of, what happens to the plastic? Burn it? Okay for one container, but how many have you sold? The emission goes into the air, maybe also into the groundwater. This fact could be avoided by producing a glass container. I am looking forward to your activity to develop the glass container with a good company. If you could even buy the glass container afterwards - you would not regret to have produced it.

[4 of 5 Stars]


Own the Vitamix for half a year

Own the Vitamix for half a year and would now like to share my opinion with others. It is my first high-speed blender, so I lack the comparison. The positive aspects have already been explained enough, I can only agree with them. The price is reasonable for the motor block and in view of 7 !!! Years warranty reasonable. However, I see the biggest shortcoming in the cup. I am surprised that this has not yet been addressed. On the one hand, the cup does not feel very valuable, the handle is very simply processed. Even more disturbing to me is the fact that it is made of plastic. Just in view of the fact that the Vitamix is bought to a large extent by health-conscious people, it is very surprising that this does not seem to bother anyone. It is BPA free. Wonderful, only whether that's so much better is up for debate. The cup is already clearly covered with many small scratches after half a year of use. Where scratches are, abrasions occur, which then end up in the smoothie. Why can't the buyer choose between a plastic and a glass version ? I'm not an engineer, but there are now very light and shatterproof glass? As I said, engine block super, cup not optimally solved and the premium claim not appropriate.

[5 of 5 Stars]


I am an enthusiastic Green Smoothie drinker

I am an avid green smoothie drinker, and by now I can't imagine a day without a green smoothie.
The first time I drank a green smoothie, which was made with a high-speed blender (now a good 1 year ago), I decided to sell my KitchenAid and ordered me a Bianco di Puro. The Bianco di Puro gave a great result and quickly I began to make the green power bombs daily.

Here in the office, I also infected many colleagues with the Green Magic Potion, so the question quickly arose as to which blender we should purchase here. After I saw the review of the Vitamix Pro 750 on your site, my decision was made quickly. The compact construction, the great design and of course the 7-year warranty convinced me to buy.

Compared to the Bianco di Puro convinced me the Vitamix 750 pro by its robust processing and the simple design. But also the smoothies are much creamier and maybe it just seems to me, but I think they taste better too. The 750 Pro is quieter and also easier to clean due to the wider container

All in all, I can recommend the Vitamix pro 750 to anyone who is seriously concerned with a healthy diet and puts claim to design and workmanship.

[5 of 5 Stars]


Dream device

The Vitamix Pro 750 is an absolute dream! Am more than satisfied with it. Also big praise to you for the smooth processing and super fast shipping!
Write Your Own Review