Green Smoothies while Pregnant - Does it affect Breastfeeding?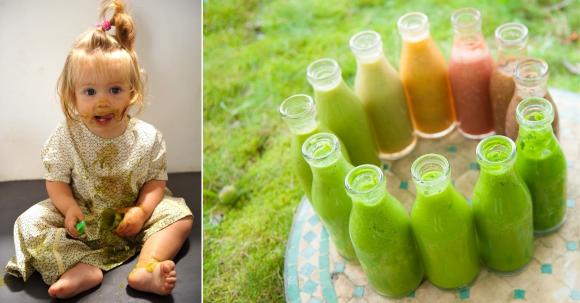 Realizing "I'm pregnant!" is the beginning of one of the most exciting times in a woman's life. The excitement of a little, new human being growing in your own body is huge and fundamentally changes your whole life. At the same time, great responsibility and many questions arise - especially with regard to a healthy and balanced diet. To conclude our beginner series, we would like to talk about a topic that is particularly important for all of our team members and everyone who has young children: Green smoothies during pregnancy, breastfeeding and for our little ones.
High-quality source of folic acid and iron
Many women already put their diet to the test when they start thinking about having a baby. During pregnancy, the focus then shifts to the question of what should be eaten and what should rather be avoided. If a baby is planned, a sufficient amount of folic acid (vitamin B9) is essential, it is important for both: the formation of red blood cells and for the production of the hormones norepinephrine and serotonin. In addition, folic acid is one of the few nutrients that reduce the risk of the severe neural tube defect "spina bifida" in the fetus.
Green smoothies are true folic acid suppliers, they are wonderful for replenishing the storages of pregnant women and new mothers. Especially lamb's lettuce, spinach and various types of cabbage as well as strawberries and cherries provide a rich supply.
By the way, the bioavailability in living food is much higher than in supplements. This is why the body can better absorb the nutrients from green smoothies. They are a perfect supplement to the folic acid supplements that are usually recommended by your doctor.
Green smoothies also have the edge over fruit smoothies, as leafy greens contain plenty of plant protein and iron. Iron is especially important because the mother's blood volume increases by 50 % during pregnancy. Leafy greens also contain many minerals such as magnesium and calcium, which are essential for the fetus' bone formation. Due to the high vitamin C content in the ripe fruits, our body absorbs the iron and minerals much better. This is another reason why green smoothies should be part of a balanced diet during pregnancy.
Effective digestive aid
Almost every pregnant woman struggles with digestive problems, especially constipation, at some point. Green smoothies can put an end to the misery - The absorption of the many fibers they contain is the best prerequisite for normal bowel movements. Our tip: Replace the bananas in your smoothie with some flax seeds, the constipation should soon disappear.
Caution with herbs
As a pregnant woman, you should still pay attention to a few things when enjoying your daily smoothie.
Most importantly, always wash fruits and vegetables! Otherwise, they may contain pesticides and bacteria that can transmit listeriosis or toxoplasmosis. It is also important to vary the fruits and leafy greens. This way you will have a varied diet and provide your baby with all the nutrients it needs to grow.
Some ingredients - especially herbs - should generally be consumed very moderately during pregnancy. Our wild herb expert Gabriele Leonie Bräutigam recommends being cautious, especially during the first three months, because "effects and side effects of 'whatever' have not been evaluated for this stage of life." She also advises to generally use lower doses of herbs during pregnancy. For more tips and a detailed list of problematic herbs, see her article"Wild Herbs in Pregnancy."
Getting through the breastfeeding period
During pregnancy, the body of a pregnant woman performs at its best. Even after birth it continues without a break: Young mothers have a high nutritional need. Especially when breastfeeding - perhaps for a long time - the body needs lots of minerals, trace elements, vitamins, fiber and amino acids. Many breastfeeding mothers who do not pay as much attention to their diet suffer from a variety of deficiency symptoms such as hair loss, brittle nails, leg cramps or persistent fatigue in the long run.
In order to replenish the reserves as quickly as possible, a balanced diet is of utmost importance. The mothers in our team swear on green smoothies during breastfeeding and always feel well nourished by their daily smoothie.
Now you can add lots of herbs to your smoothie. The only thing we would be careful with is cabbage - it often causes colic in newborns.
Green smoothies for our little ones
Green smoothies are a wonderful way for our kids to get vital nutrients. Most children will enjoy drinking green smoothies, especially if you increase the ratio of fruits to vegetables . Depending on when babies are used to complementary foods, they can usually start with green smoothies from 6 months of age. It is important to start with only a few sips to avoid overwhelming your baby's digestive system.
In our experience, you can also get older children excited about green smoothies - if they are involved in the preparation. Even with toddlers, it's possible to go on beautiful wild herb walks or go fruit picking together. Kids also have fun choosing their own green smoothie ingredients at the store and then preparing them for the blender themselves.
Beginners recipe: Mother's Little Helper
Finally, for all you young or expectant mothers, Here's an iron-folic acid kick that will give you a boost throughout your day.
Mother's Little Helper
Green smoothie with spinach, apple and banana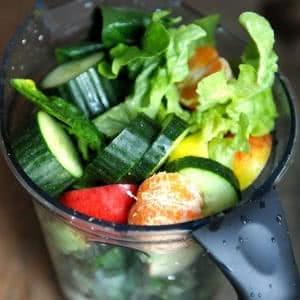 Ingredients
1

handful of spinach

1

handful of lamb's lettuce or lettuce

1

large apple

1

banana

1

orange

alternatively: 2-3 tangerines

1/2

cucumber

1/2

lemon

150

ml water
Instruction
Wash spinach and lamb's lettuce, remove ends if necessary. Wash apple and cucumber.

Peel banana and orange, cut into pieces and place in container.

Cut the apple into pieces that fit your container (core can also go in), the same goes for the cucumber.

Then squeeze 1/2 lemon and add the fresh lemon juice to the container as well. Add leafy greens and fill with water.

Slowly increase the speed of the blender to the highest speed level and blend for about 45 to 60 seconds until you reach a creamy fine consistency.

Enjoy with all your heart!
PS: On the picture you can see Anne, 6 months pregnant, she had a lot of fun with this topic. :-)
We appreciate your Feedback here!