2008 - 2023 | 15 years GrueneSmoothies.com - the original

Anniversary bonus: Green Smoothies Recipe Card Set

More »
Svenja & Carla show you their 12 best green smoothie recipes. The recipe cards come in a handy postcard format and also feature 3 clean-eating recipes.

« less
---

45-Days-money-back guarantee

More »
We love green smoothies and only offer what we can re­commend without reser­vation. If our blender re­commen­dation doesn't stand up to your every­day test, we'll take the blender back within the first 45 days of purchase. Full terms »

« less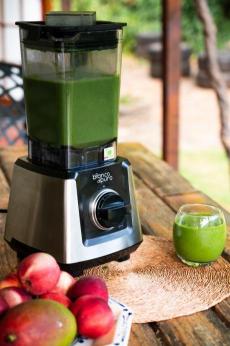 Smoothie specialist for beginners!
Is there actually a smoothie blender that makes sensationally creamy smoothies and costs less than €300? Yes, the Bianco Primo was the first high-performance blender designed specifically for green smoothies. In the latest version, the Primo S, has been upgraded again and thanks to the wing blades of the container, the smoothies are now pureed even finer.
What has remained: the intuitive handling with jog dial and the practical dimensions. With less than 40.5 cm height, including the container, the Primo S fits under any wall cabinet and the container, with 21 cm height, can be conveniently cleaned in any sink. It couldn't be simpler.
Highlights of the Primo S
Powerful: max. 28000 revolutions per minute - 1200 watts
Easy handling with jog dial: right infinitely variable speed control, left pulse function
Ideal for green smoothies, fruit smoothies, soups, plant milk, crushed ice. With additional container Uno excellent for fruit ice creams (Nicecreams), pestos and all kinds of vegan preparations.
Compact: high-performance blender that fits under any kitchen counter.
Top smoothie maker under 300 €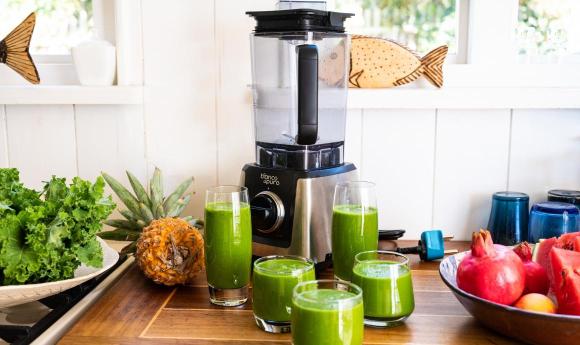 Overview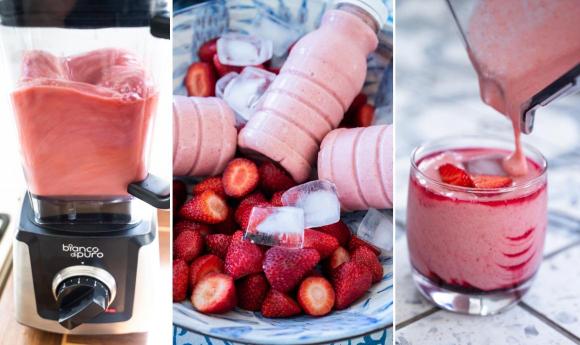 Preparation possibilities with the Primo S
The Primo S is the smallest blender with the intelligent speed control "iPMS". This allows him in combination with the Square+ container first-class, creamy, homogeneous mixing results. The Primo S can be used for the following preparations:
smooth, creamy green smoothies
Fruit and vegetable smoothies
delicious vegan milk, such as almond or hazelnut milk
hot soups, sauces, fondues and chocolates heated by friction heat in minutes
Crushed ice
The optional Uno container can be used to additionally prepare the following dishes:
sinfully delicious ice creations (fruit and milk ice cream, vegan ice cream), sorbets (fruit ice cream), frozen yogurt and nicecreams
Raw food: creations of all kinds, such as chunky salsa, Italian pesto, chopped vegetables, soups or nut and almond slivers
healthy, fresh, vital baby porridge
chopped root vegetables for salads, such as carrot salad
fresh dips and sauces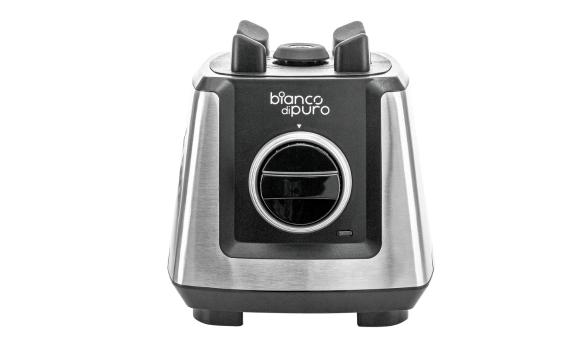 Handling and operation of the Primo S
The operation is done by means of a simple jog dial. If you turn to the right, the Primo S starts with a gentle 1500 rpm and can be regulated up to 28000 rpm by turning further. If you turn to the left, the Primo S starts at 28,000 rpm and runs until you release the dial (pulse function).
Primo S recipes
Green smoothie in the Primo S:
1/2 avocado
1 large, sweet apple
1 ripe banana
1/8 unpeeled, unsprayed lemon
1 piece of ginger
2 handfuls of spinach
300 - 400 ml spring water
Preparation: mix for about 45 seconds
Greenery Smoothie in the Primo S:
Ingredients for 1500 ml:
2 handfuls (approx. 130 g) spinach
1/2 avocado, peeled, pitted
1 large handful of grapes
2 green kiwis without peel
1 apple with peel
1/4 lime with peel
Juice of one large orange
approx. 300 ml water
Preparation: mix for about 45 seconds
Click here for the Greenery recipe for the Primo S "
Is the Primo S loud
?

According to its performance, the Primo S is somewhat quieter than comparable stand mixers at 83 dB (decibels) when filled with 1.5 liters of water in the container.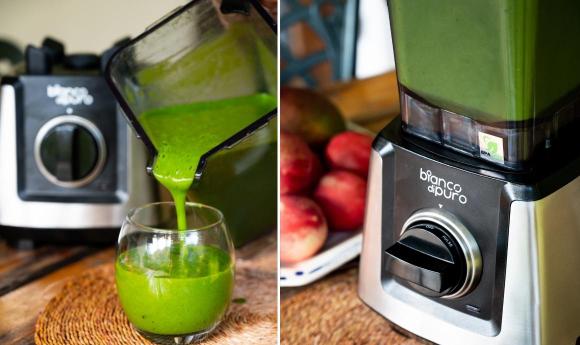 Cleaning the Primo S
Cleaning the Primo S container
Cleaning the Primo S is very easy. After mixing, it is best to empty the container immediately so that nothing dries. Then rinse the container in the sink under running water. This is usually enough.
If you have used greasy ingredients such as coconut oil or avocados, you can fill the blender with water and add a few drops of detergent to the container before rinsing. Then blend on high speed for at least 20 seconds.
Cleaning the Primo S motor block
The motor block can be easily wiped with a damp cloth. If necessary, the rubber mat can be removed for cleaning.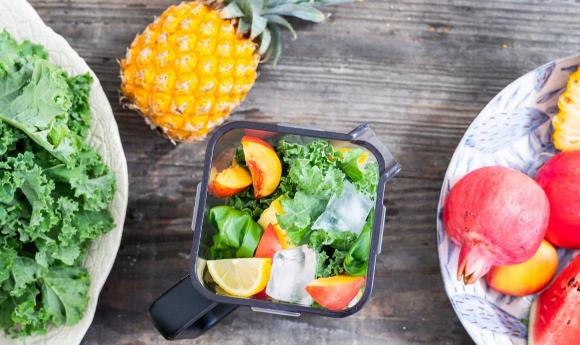 Recommended accessories for the Primo S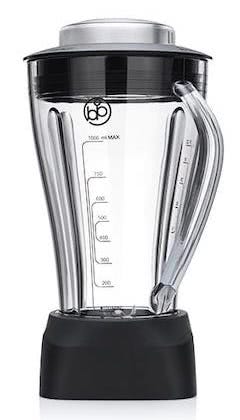 Container for small quantities
If you like to make fresh small quantities of dips, spreads, baby mush, pesto, etc., you should definitely check out the Uno container. For us, the absolutely ideal complement to the Primo S
.
If you're interested in the Uno container, it's best to buy it with the Primo S right away and get an attractive combination discount. As soon as the Primo S and Uno container are in the shopping cart, the discount is automatically deducted from the final total.
Cleaning brush for Primo S
For cleaning the blender jug - especially for thick preparations - we recommend our practical cleaning brush

.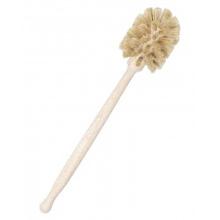 Cleaning Brush for Containers, Juicers & Bottles
Power saving plug for Primo S
Since the jog dial of the Primo S also lights up red in stand-by mode, we recommend using a power-saving adapter: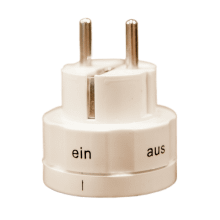 Technical specification of the Primo S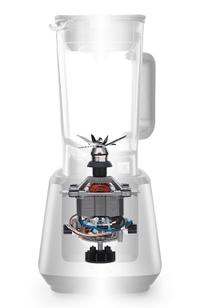 Blade tip speed:
248 km/h (with 1.5 l water)
Power:
1.6 hp power; 220 - 240 volts / 50 Hz - 60 Hz; 1200 watts
Revolutions:
1500 rpm. (speed 1) to 28000 rpm. (stage 10)
Dimensions (width x height x depth):
19.7 x 40.5 x 21.0 cm
Weight:
approx. 4.3 kg
Material:
100 % Tritan plastic (BPA-free); food can be heated up to 100°C
Container: Bianco Square+ container incl. TS tamper
Controls:
Jog dial with 10 variable speed settings and pulse function, standby LED
Maximum liquid volume of the blender jug:
1.5 liters
Bladetype and material: high-speed stainless steel blade; HCS (Japan)
Safety:
overheating and overload protection, blender jar detection sensor
Certification / Standard:
CE, EMC, LVD, PAH
Safety features of the Primo S
Overheat protection: The Primo S constantly measures the motor temperature and automatically shuts down before the motor can be damaged from overheating. This only happens if very solid ingredients, such as frozen bananas or nuts are mixed with too little liquid.
Overload protection: the clutch is provided with a predetermined breaking point so that it breaks if the blades in the container are blocked by a spoon, for example. In this case, the coupling can be replaced at low cost by the manufacturer's customer service. This predetermined breaking point protects against a total loss of the motor.
Container sensor: If the container is standing on the motor block, the stand-by LED and start/stop/pulse button light up and the stand mixer is ready for use. If the container is not on the motor block, it cannot be switched on. The LEDs flash and signal that the container is missing.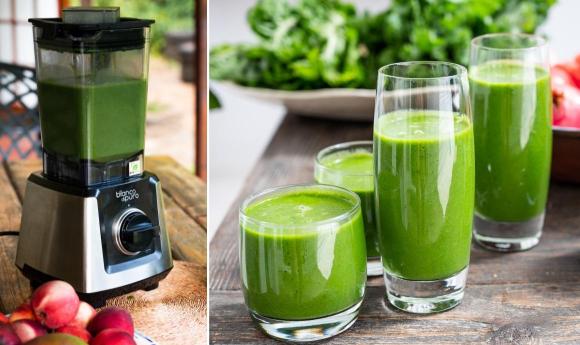 Primo S Scope of delivery:
Primo S
motor block
1.5-liter mixing bowl Bianco di Puro Square+ made of BPA-free plastic (Tritan)
matching Bianco TS tamper
Lid incl. lid insert
Instruction manual in German/English incl. recipe ideas
Warranty of the Primo S
Motor block: 5 years
Container: 5 years
Tamper: 5 years
(for purely private use)
Complete warranty conditions »
Primo S alternatives
The Primo S is a very good choice, even compared to other blenders from "bianco di puro". Especially if you particularly value a fine smoothie consistency and appreciate the compact dimensions.
Primo S vs. Wartmann blender
The Primo S has some advantages over the Wartmann blender:
Size: At 42 cm, the Primo S is 6 cm smaller than the Wartmann. Therefore it fits under any kitchen counter.
Filling and emptying the container:Here, the Primo S is very uncomplicated. Since the container walls run vertically, nothing can get stuck and it is very easy to reach the blades with the cleaning brush. A tamper is also usually superfluous.
There still remain disadvantages compared to the Wartmann blender:
Design: unlike the Wartmann blender, the Primo S does not have a cord wrap.
Versatility: The Wartmann blender follows the "one-container-for-everything" principle and handles preparations from 250 to 2000 ml thanks to its excellent container. If you want to prepare thick or chunky foods with the Primo S, you will need the optional Uno container.
Questions & Answers about the Product
Ask a question
Total 67 question(s)
Ask a question
Reviews
[5 of 5 Stars]


Rating without text

[5 of 5 Stars]


Quiet and good price/performance ratio

Nice support in choosing the right machine, pleasantly quiet compared to our previous machine and absolutely creamy green smoothies! The size of the container is borderline for us as two people, as we produce on average 1.5 liters. With our quantity, the lid is therefore always dirty from the inside and we have an increased cleaning effort, but the device is pleasantly small and does not seem so clunky in the kitchen, especially since the device is permanently there. For us, a larger container would therefore be pleasant. For a household with more than 2 people from our point of view therefore not suitable for green smoothies. However, the price / performance ratio is very good! Thanks to the Green Smoothie team!

[4 of 5 Stars]


Good product

Too small vessel, but otherwise super


[5 of 5 Stars]


Best blender!

I got this blender today. I can only say it is amazing! Until now I had 2 cheaper blenders that have broken down and my Thermomix makes green smoothie not so fine. I am very satisfied and can only recommend the Primo S. Thank you to this site. Everyone is friendly and does everything with love and conviction! Shipping was incredibly fast!. Thanks again!

[4 of 5 Stars]


Great blender - but why no on/off switch?

I also finally treated myself to a high-speed blender, and it became the Bianco di Puro Primo Plus, because it fits under my wall cabinets in the kitchen. The device makes really wonderful smoothies, even for me as a beginner to make easily, if you follow the suggested recipes exactly. My expectations were more than met.
The only criticism would be the lack of an on/off switch to make the unit powerless. The On/Off symbol on the rotary switch is somewhat misleading in this respect. I noticed it only when putting into use that you can not really turn the blender "OFF" with it. Then I have read again and again long and wide in the manual and looked at the device itself on all sides, even under (!) - no, NO off switch there. Well, then you have to get a socket switch, so that you do not always have to pull the plug after use.
But otherwise, the Primo+ is a great device, I would not want to miss it.

[5 of 5 Stars]


A very good blender at an affordable price

I used a blender from WMF (up to 24,000 revolutions) for a few years. When he gave up the ghost, I was really looking forward to my Bianco di Puro Primo. - The first few days I was almost disappointed. My WMF blender also blended the smoothies very creamy, so the explosive change I expected didn't happen. I did notice that they smoothies might actually be a little smoother, but I imagined it differently. Until today. Today, I blended up a pineapple. Wow, there are no hairs in it! The smoothie is just heavenly. Creamy. It doesn't compare to what I've known before. It's not just the consistency - the taste is just different because of the perfect chopping, it's not "vegetable and fruit match" but a real smoothie. - So if anyone really blends often, and uses more "difficult" ingredients like pineapple, mangoes (they can be fibrous too), kale, savoy cabbage, etc, I highly recommend the Bianco di Puro Primo. Really a very good blender, at an affordable price.

[5 of 5 Stars]


Bianco di Puro Primo top

I have had my Bianco di Puro Primo for about 3 months now. He looks just great and I am still totally thrilled. I used to have a small blender that often did not get the ginger small. You don't bite chia seeds, carrots or grapes now either. Now everything is so delicious creamy and even my husband is thrilled, who has always thought the small blender is good :-)

[5 of 5 Stars]


Pure enthusiasm

First of all, a huge praise to the uncomplicated processing and super-fast delivery. Love at first sight. The green Bianco di Puro Primo looks even better "in real" than in the pictures. And the first test.....mmmmh. How could I prepare for years my beloved green smoothies only in a conventional "high-speed blender"? Love and many, many thanks for the first class service.

[5 of 5 Stars]


Kale smoothies made easy

While kale smoothies with the blender always resulted in a mush that was suitable for chewing but not for drinking, I tried my luck in the supermarket. Here there is now quite a large selection of smoothies. Anyone who has ever tried them knows: sugar, sugar, sugar and hardly any fiber. However, they had one advantage over my porridge: they could be drunk without chewing!
So I looked for ways to get my homemade smoothies, where you know what's in it, finer and first came across Vitamix, which is probably "the" brand in the premium blender area, so to speak. But they also charge better than the competition and with my kitchen and current smoothie drinking habits, I thought more than three times, whether I want to put such a large device in the kitchen and want to spend so much money, with the risk that it just stands around unused.

Since I wanted a small blender and the Bianco di Puro Primo was just within budget, I decided to go for the blender. When the package then arrived, first positive surprise. In person, I find the stainless steel look even higher quality than in the pictures. That's a good start.

Then the first smoothie in the new blender: WOW. I can really get used to that. It's great to drink, has lots of fiber, and leaves no pieces left to chew. This is exactly what I was dreaming of. I am really very happy with the blender and use it currently really at least once a day!

[5 of 5 Stars]


Smoothie will be better than in the Thermomix!

Consistency-unique! My girlfriend, as a proud Thermomix-user, has had to admit after a weekend that the Thermomix does not create this green smoothie consistency - the result was that she then took the Bianco di Puro Primo from your showroom and like me is super satisfied with it.
This is not an advertisement - just an advice, if you like the green smoothie, then invest - your health will thank you! The appetite behavior "regulates", for example, the craving for sweets settles on the "normal measure" or decreases or nuts are rather in the race than Chocolate, etc..
Really a great blender, we are both thrilled!

[5 of 5 Stars]


Nothing to complain about

Use the blender now for about half a year and am completely satisfied. Purrs like a kitten and the smoothies are blended super fine. Thumbs up!

[5 of 5 Stars]


Absolutely recommendable!

I use my Primo now for 1 year daily and find him just great. The blending result is top - absolutely recommendable for green smoothies. I also like to use it for quick soups or nut milks. Also goes super easy. Great blender!

[5 of 5 Stars]


Super blender, easy to use!

The blender is very easy to operate. In principle, there is only one control element: This is the jog dial.

The more you turn it up, the faster (and louder) it gets.

Now the most important thing: Can it chop avocado seeds and what is the performance like?

So compared to my previous Philips blender: worlds!
While I needed toothpicks for some, creative smoothie creations, this is completely absent with the Bianco di Puro Primo. I honestly had not expected that and am therefore even more convinced of this blender!

Avocado seeds, crush ice, even almond paste according to the recipe here on the site has actually worked (please do not omit the roasting, otherwise it takes FOREVER!!!).

For me, this blender is a safe bank, because I know he really gets everything small. I did not know that from blenders until now.... TOP recommendation!

[5 of 5 Stars]


Top blender!

Easy operation, technically flawless, ingenious-creamy smoothies! What more could you want!

[5 of 5 Stars]


A Primo

Small for the kitchen and for the wallet, but big for the smoothie and the pleasure. Thank you, Bianco di Puro!

[5 of 5 Stars]


Super device, super price-performance ratio!

After I had to struggle with some blenders, I have now purchased the Bianco di Puro Primo and I must say, it was really worth it! Finally, I can enjoy smoothies that are really so creamy fine, as it is always described in the high-speed blenders. The difference in the blending result is really very noticeable. Also the cleanup is super fast! Simply add water and a bit of dishwashing liquid to the container, put the lid on and let the device run for a short time. Then turn off the device and pour out the contents, possibly rinse again with clean water. The customer service is impeccable and helped me a lot in the decision! Thanks for that and also for the fast delivery!!! All in all - super device! Super price-performance ratio!

[5 of 5 Stars]


Simply thrilled!

We have had the Primo for about 1 week and are thrilled.

[5 of 5 Stars]


I am thrilled!

Hello,

since yesterday I can also count myself among the happy owners of a Bianco di Puro Primo.

I am still a real novice in the field of green smoothies and have so far always shied away from an expensive high-performance blender. But this device really blows me away! It blends such creamy smoothies that taste unlike smoothies from conventional blenders. I'm really amazed at how fiber-free the Bianco di Puro Primo presents its result and how well all ingredients blend.
The decisive factor for the purchase was your video comparison between the Bianco di Puro Primo and the OmniBlend. I was immediately impressed by the result and at the price I honestly did not think twice. And you have not promised too much!
Overall, a really great device for the preparation of tasty green smoothies!

P.S. Your site overall is really helpful for me as a newbie. It provides a great overview of a wide variety of topics! I am really excited and will recommend you guys! :-)

Best regards
Maria

[5 of 5 Stars]


Super blender

Hello,

I have also tested the blender extensively and find it very good. The problem with the standby power can only be solved with a socket switch. There are for a few euros in the hardware store.

Ralf

[5 of 5 Stars]


Hooray, it's here!

The first green smoothie was not quite homogeneous, because I had taken a bit too much water, that is: It has settled a bit at the bottom. But as I said, that was my mistake.

The comminution is despite "only" 28,000 revolutions of absolute madness - not a SINGLE fiber was recognizable anymore. Even hard -18 ° C ice cubes have left the device literally cold.

As for the volume: it is really bearable. I recently stood in a smoothie store, where a business Vitamix rattled, which I found with (!) Soundproof housing as at least as loud.

What could be improved, however (has also been written here) is the missing spout, although this is not really bad. So far, in any case, was not spilled.

Really not particularly well thought out, on the other hand, is the lack of an on/off switch - the few cents certainly wouldn't have been too much of a loss on the profit margin. The device is always in standby as soon as the jug sits on the motor. Of course, this can be remedied by pulling the plug (but if it's routed under a kitchen counter with a bezel, this proves a bit difficult), or by not placing the pitcher directly in the bezel, but turning it a bit so that it sits on the rubber feet instead of sliding between them. This prevents the contact from closing and puts an end to the annoying blinking next to the dial.
I hope Bianco di Puro improves this as soon as possible! After all, they write sustainability big on the flag.

However, these criticisms do not affect the performance of the mixer. I am absolutely satisfied and I would advise anyone who is looking for a device for beginners to take advantage of the introductory price!

[5 of 5 Stars]


A worthwhile purchase!

I am also super satisfied!
However, I would have a suggestion for improvement: I would like it better if the blender jar would be made of glass! Possibly also as an extra accessory to buy or that you could order the blender alternatively with plastic or glass container.

[5 of 5 Stars]


Waited far too long to purchase....

I have been drinking green smoothies for quite a long time and have done so long before it became so popular in Germany. This form of nutrition and being well supplied with nutrients really convinced me in the long term and is doing it again very much.

Over the years, I have tried several blenders:
I started with an ordinary used household blender. By filling hot soup into the glass container, this cracked and it was a new acquisition :-(.
It became the Personal Blender from Keimling. A great little particle, whose cup I still like to use for transporting smoothies. Through my many years of regular use, however, I know the weak points. The seals from the blender lid wear out too quickly for me, and then there's quite a mess: at the very least, the smoothie spills into the machine, sometimes onto the countertop...
It turned out that someone gave away his used Power Mill cheap.
So I finally got a high-speed blender, too. It broke down after faithful years because of a worn ball bearing. The manufacturer does not offer a repair service.
Now I have the Bianco di Puro Primo for about a month and daily at least once in use.
I am very enthusiastic about him. The smoothies become very nice and creamy and "fluffy" and that, although I like to take wild herbs. Extra to try I had even bought now in the summer black cabbage and even with it the shake is unheard of tender and nice homogeneous. So tasty, although I had a high-speed blender before. With that I really had ear protectors on. Now I no longer need them!
My new friend has been been "infected" by my diet, notices the difference between eating salad and enjoying a green smoothie and has a real craving for the fruity-green mixture.
The higher purchase by my standards is really worth the price because of the good results. Especially when the free and nutrient-rich wild herbs are added, because they have never been so small and finely distributed with me.

The Primo does what it should, namely amazing green smoothies and I think it's great!

[5 of 5 Stars]


top device

a super high performance blender for smoothies and soups

[5 of 5 Stars]


Hello dear team of Green Smoo...

Hello dear team of GrueneSmoothies,

i have been using the Bianco di Puro Primo for a good year now and I am still fully enthusiastic because of the good price/performance ratio. The fresh smoothies in the morning taste very good and have a great creamy consistency. They have changed my "menu" permanently and really positive. Your customer service has thrilled me because even a small replacement part issue was quickly addressed and answered in an uncomplicated manner. Gladly again.

Thank you very much - best regards, Ingo

[5 of 5 Stars]


Have the Primo now for two days

Have the Primo now for two days and have already tried superviel. The smoothies are viieell better than with my blender - that I had so really not expected. Now I'm looking forward to your next 21-Day-Challenge and your recipes. Looking forward to it and will mix what the stuff holds ;)

[5 of 5 Stars]


Use the Bianco di Puro Primo now for more than a week

I've been using the Bianco di Puro Primo for a little over a week now and the results are well above my expectations. The smoothies that conjures the Bianco really live up to their name. Very fine consistency no pieces, no matter with what ingredients the smoothie is prepared. Had previously a classic blender and the difference is huge. Price / performance is absolutely top. Smoke development is also very moderate and cleaning is super fast. So the time required for a fresh smoothie, which you prepare in the morning, is very limited. Full points from me. The team from GrueneSmoothies did not promise too much in the comparison test.

[5 of 5 Stars]


Got me for Christmas the Bianco di Puro Primo

Gave myself the Bianco di Puro Primo for Christmas, after I have prepared my green smoothies for half a year with a normal household blender, which slowly but surely mixed worse and worse. Now I ask myself, why did I wait so long? A difference like day and night! Super, I look forward every morning to mix and am super happy with the Bianco di Puro Primo!

[5 of 5 Stars]


Hello dear ones.

Hello dear ones. I wanted to thank you again at the end of the year for your great advice in your store. Over a year we "drink" now already green smoothies that we get with the Bianco di Puro Primo great. I also prepare almond paste for some time with it..and he has also convinced me very much. Thanks also for getting to know the Trapango. Crazy, never thought it would work like that. Thank you and all the best for the next year, your loyal customer Gudrun Müller

[5 of 5 Stars]


i like to drink smoothies very much ...

i like to drink smoothies or just a shake and I'm a barfer, that is I prepare vegetables raw and that must then be finely pureed. Previously had a WMF blender that has unfortunately given up the "ghost" in the raw vegetables. Am so far super satisfied with the primo...let's see what he does with my vegetables that I have not yet tried ;-)

[5 of 5 Stars]


We are very satisfied

We are very pleased with the Bianco di Puro Primo, a great blender for a small price. Shipping was very fast!

[5 of 5 Stars]


Great compliment

Hello! First of all a big compliment: delivery in 36 hours! Store easy to use, device neatly packaged. This is my first high speed blender, have long struggled with me so much money to spend on a blender. But it's worth it, I've never had such a creamy smoothie! With my 79 € blender that has not worked! In addition, it leaked when I added lettuce. So I'm really looking forward to experimenting further and enjoy smooth smoothies!
Write Your Own Review