Hummus recipe: heavenly creamy pleasure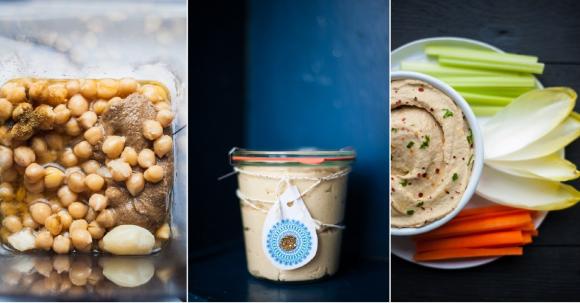 Our homemade hummus from the high-speed blender is a heavenly-creamy pleasure, this hummus recipe can also be called a culinary treasure from 1001 Nights. Even if we prepare large amounts to have some backup in stock, the oriental chickpea paste usually does not survive more than a week in the refrigerator. The attraction is simply too great. But that doesn't matter, because hummus has a lot of good things to offer - including vegetable protein, zinc, magnesium and iron, as well as plenty of fiber. Our favorite way to eat it is as a dip with a variation of vegetable sticks. This way you can enjoy hummus at work - just put it in a jar and take it with you.
Hummus recipe
Heavenly creamy chickpea puree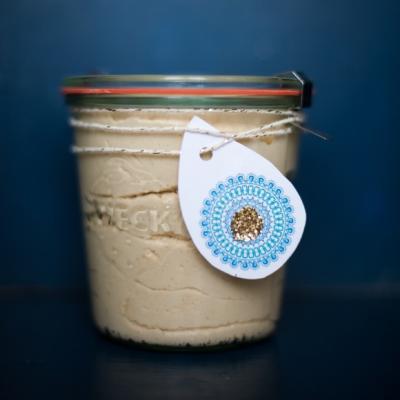 Ingredients
250

g chickpeas

1

pinch of baking soda

for soaking

1

teaspoon sea salt

for cooking

4

garlic cloves

peeled

½

garlic clove

fresh, peeled

3-4

tbsp. tahini

light sesame paste

1

level tsp cumin

ground

4

tbsp lemon juice

fresh, for the hummus

3-4

tbsp. olive oil

sea salt

to taste

500

ml cooking water
Instruction
Soak the chickpeas in water with a pinch of baking soda for at least 12 hours. The soaking and the pinch of baking soda will significantly reduce the cooking time and make the chickpeas easier to digest.

Optional: You can make the chickpeas even healthier by sprouting them for at least 24 hours to three days. Sprouting increases their nutrient content and makes them even easier to digest. To do this, use a sprouting jar or a simple kitchen sieve and water them 3 times a day. We also find that sprouting the chickpeas just makes them taste even better!

Now boil the chickpeas together with the peeled garlic cloves (leave whole) in about 1 liter of water for about 1 hour until soft. Let the chickpeas boil on the highest setting with the pot closed, and then reduce the heat. Foam will form at the beginning; simply remove it with a skimmer.

The chickpeas are soft enough when they can be easily mashed with two fingers.

Keep a small handful of whole chickpeas as decoration.

Now add the softly cooked chickpeas to the blender container together with about 500 ml of cooking water, including the garlic cloves that were cooked with them. Add half a clove of fresh garlic, tahini, cumin, lemon juice and olive oil. Start the blending process on the lowest speed level and slowly increase the speed to the highest level.

Use the tamper to push the mixture towards the blades and blend until the hummus reaches a creamy and relatively liquid consistency - it will thicken as it cools down.

Season to taste: add more cooking water if necessary and season with salt and optionally a dash of toasted sesame oil. Blend again.
Tip: Keep some of the cooking water in the fridge. If you find that over time the consistency of the hummus has become too thick, simply pour the mixture back into the blender, add some cooking water, and puree to the desired consistency.
Vegetable sticks
from carrots & co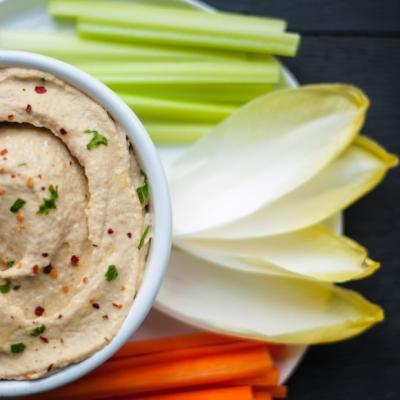 Ingredients
1

celery stalk

2

carrots

medium

1

chicory heart
Instruction
While the hummus cools down, you can now prepare the vegetable sticks for dipping.

Peel the carrots and cut them into sticks; wash the celery and cut it into narrow sticks.

If necessary, remove the outer leaves from the chicory and pluck the inner leaves for dipping.

Of course, you can cut other vegetables for dipping - such as peppers or fennel.

Tip: In summer, fresh tomatoes and red onions also go very well with hummus.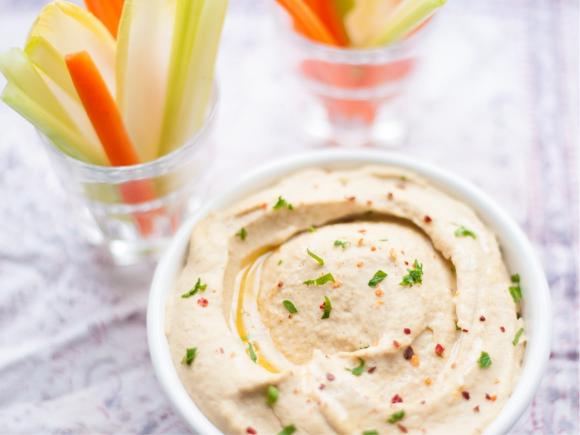 Hummus recipe dress with lemon juice, olive oil and chili:
Pour the hummus into a bowl and add chickpeas as a topping. Then drizzle with some fresh lemon juice and olive oil. To top it all off, add a pinch of chopped parsley and some chili flakes. You can either arrange the vegetable sticks on a large plate or fill them into various small bowls or drinking glasses.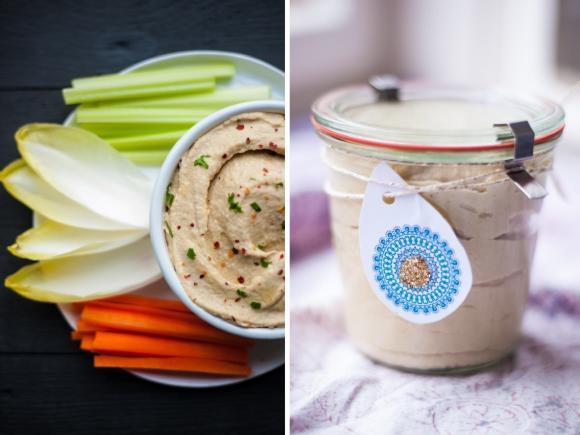 Have you ever made your own hummus in a blender?
We appreciate your Feedback here!
Hummus Recipe in a PDF file
Yes, I would like to subscribe to the newsletter and receive the Hummus Recipe as a printable PDF file for free.

Please send me e-mails, according to the privacy policy, on a regular basis. The Newsletter contains information about kitchen appliances, utensils, recipes and preparation tips, this is revocable at any time.