2008 - 2023 | 15 years GrueneSmoothies.com - the original

Anniversary discount
On the occasion of the 15th anniversary of our website, we have currently reduced the Bianco Volto N by 55.55 €. Offer valid until Monday, 9th October 2023.

Anniversary bonus: Bianco recipe book Mix Hits

More »
The book "Bianco Recipe Book Mix Hits" introduces you to the extensive world of professional mixing. This recipe book shows you how to prepare smoothies, appetizers, main dishes or desserts with ease using the Volto N 500.

« less

Anniversary bonus: 500ml smoothie bottle, made of glass

More »
Green smoothies are our favorite breakfast, at home or to-go. Purchasing this high-speed blender, you'll receive a 500ml retap to-go bottle, with a green lid of course ;-)

« less

Anniversary bonus: Green Smoothies Recipe Card Set

More »
Svenja & Carla show you their 12 best green smoothie recipes. The recipe cards come in a handy postcard format and also feature 3 clean-eating recipes.

« less
---

45-Days-money-back guarantee

More »
We love green smoothies and only offer what we can re­commend without reser­vation. If our blender re­commen­dation doesn't stand up to your every­day test, we'll take the blender back within the first 45 days of purchase. Full terms »

« less
What makes the Bianco di Puro Volto N so special?
Bianco di Puro Volto N - a great high-speed blender from Bianco di Puro
The intelligent speed control offers a wide range of applications
8 time programs and 10 speed levels for manual control
1.400 W and up to 32,000 rpm. (idle speed)
The Bianco di Puro Volto N is the right high-speed blender for anyone looking for a chic, modern-looking blender.
The program functions make working with the Volto N very convenient: choose your preparation method, and the blender/program does the work. This simplifies the preparation and reduces the work effort! The reason: The speed is determined by the program, depending on the program, the speed is precisely adjusted to the ingredients. Just watch and enjoy while the blender does all the work. Preparation methods can be selected quickly, easily and, above all, conveniently.
Those who don't want to work with automatic programs can rely on the manual mode of the Volto. Manual operation offers 10 speed levels, which can be controlled and adjusted at any time, i. e. even during preparation.
Overview
iPMS - Intelligent Power Management System
Intelligent speed control allows the Volto N to use more power when there is resistance in the container. This is advantageous when processing viscose consistencies like: ice cream, hummus or nut butter.
Preparation possibilities with the Bianco di Puro Volto N?
The Bianco Volto N is an "all-rounder" in which the processing of medium (from 650 ml) to larger quantities (1,500 ml) succeeds very well. In addition to the time programs, the IPMS allows precise control during the blending process. The time programs do not extend the preparation possibilities, but they certainly make processing liquid preparations such as smoothies, shakes, soups and sauces, cereal and nut milks more convenient. The Volto N can also prepare ice cream, crushed ice, grate vegetables and grind grains, etc. Furthermore, the following liquid preparations are no problem for the Volto N:
Smooth, creamy green smoothies
Fruit and vegetable smoothies
Delicious vegan milk, such as almond or hazelnut milk
Healthy, whole-food vegan juices
Fresh pestos, dips and sauces
Delicious ice cream creations (fruit and milk ice cream, vegan ice cream), sorbets (fruit ice cream), frozen yogurt and nicecreams
Hot soups, sauces, fondues and chocolates
Raw food: creations of all kinds, such as chunky salsa, Italian pesto, chopped vegetables, soups or nut and almond slivers
Healthy, fresh, vital baby porridge (baby food)
Homemade nut butter or nut puree
Chopped root vegetables
There are hardly any limits to the cooking possibilities: raw food preparations of all kinds are just as simple as cooked food preparations! This is a distinctive characteristic of a good high-speed blender.
Handling, operation and cleaning
Operation: Either use the left jog dial to select a time program, or when in manual mode, use the right jog dial to adjust the speed. Alternatively, you can simply hold down the pulse button on the right - the blender operates at maximum speed. The display on the top always shows the program, the speed level and the remaining time.
Handling: easy and comfortable! The container feels good in the hand, it is equipped with a drip-free special spout. A splash guard lid with removable opening sits on top of the container. A high-quality seal ensures that no leakage occurs.
Cleaning the Bianco Volto N: simply rinse with (warm) water and you're done! If greasy ingredients such as oil, avocados or nuts have been used - add a drop of detergent and blend for 30 seconds on the highest speed level... done!
The following program functions are available:
Smoothie (fruit smoothies)
Level H for 8 seconds, stop for 2 seconds, 3 repetitions.
Running time in mm/ss: 0:30
Cleaning tip: if rinsing with water doesn't help: add 3 drops of detergent and water and start smoothie program.
Nuts (Grind)
Level 5 for 5 seconds, then level 8 for 2 seconds and 1 second stop, 10 repetitions.
Running time in mm/ss: 0:35
Soy Milk (Soy Milk)
Level 5 in 5 seconds, level 5 for 25 seconds, then level 8 for 30 seconds, level H to end of run time.
Running time in mm/ss: 6:00
Vegetable (Green Smoothies/Vegetables)
Level H for 30 seconds, stop for 2 seconds, level 6 for 10 seconds, stop for 2 seconds, level H for 60 seconds, stop for 2 seconds, level 6 for 10 seconds.
Running time in mm/ss: 1:26
Our tip: Use the Sauce program, instead of the Green Smoothie program, to perpare green smoothies!
Sauce (Sauces)
Level 8 for 2 seconds and 1 second stop. A total of 5 repetitions. Then level H for 45 seconds.
Running time in mm/ss: 1:00
Our tip: Use the Sauce program, instead of the Green Smoothie program, to perpare green smoothies!
Bisque (soups)
In the first 10 seconds, the speed increases from 1 to maximum (level H). Level H is maintained until the end of the program.
Running time in mm/ss: 4:20
Frozen treats (ice cream)

Running time in mm/ss: 0:40
Frozen Drinks (Frozen yogurt)

Running time in mm/ss: 1:10
The Volto N allows you to chop, grind, puree or blender either manually or automatically!
The manual mode of the Volto N offers a total of 10 speed levels, which can be set via the right-hand jog dial. The speed level can be changed at any time, even during the blending process.
Recommended accessories
The spatula - is used to get the ingredients out of the container. The spatuala is especially useful for sticky, viscous preparations (ice creams, nut purees, pestos, dips, sauces).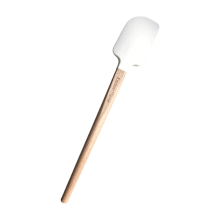 Kitchen Clever Spatula 5 cm wide
We recommend purchasing the power-saver-plug with almost all our devices. Some devices do not have a real on/off switch and therefore consume energy even when plugged in/standby mode. The power-saver-plug disconnects the devices from the power grid - therefore the device does not consume any energy: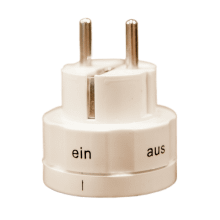 Bianco Volto N - Set with additional UNO container
The Bianco di Puro UNO container is the perfect complement to the scope of delivery of the Volto N. It is designed for processing small quantities such as:
pesto, hummus
baby food, ice cream, nut butter
dressings, dips and sauces.
Tip: The UNO container is a great addition to the Volto N and is worth the extra investment, especially if also like to prepare smaller portions from time to time.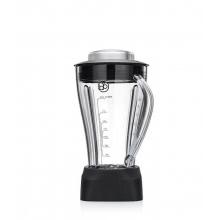 Bianco di Puro Uno Container
Technical specification of the Bianco di Puro Volto N
Power: 2.0 horsepower; 220 - 240 volts / 50 Hz - 60 Hz; 1,400 watts
Revolutions: 1,500 rpm. (level 1) to a maximum of 32,000 rpm. (level 10)
Dimensions (width x height x depth): 18.8 x 47.6 x 19.95 cm
Weight: approx. 5.5 kg
Material: 100 % Tritan plastic (BPA-free); Suitable for temperatures up to 100°C
Max. temperature tamper: 125 °C
Controls: 8 time programs, pulse function, on/off button, jog dial for program selection, jog dial for speed levels, display.
Container: 1.5 liter container Cube made of Tritan - BPA-free - with 6 blades incl. tamper with patented temperature Indicator!
Volume of container: 1.5 liter
Blade type and material: 6 cutting blades made of stainless steel; HCS (Japan)
Safety features: overload and overheating protection, container detection
Certification / Standard: CE, EMC, CB, LVD, CCC, PAH
Warranty: 5-year warranty on motor block, 2-year warranty on container,
2-year warranty on tamper - excluding battery
Power supply: Battery type CR 2032
Consumption in standby: 0,339 Watt
The performance features at a glance
The motor: The Bianco Volto N is equipped with a powerful motor. Its performance: 1,400 watts at up to 32,000 revolutions per minute (idle)...
High wattage and rotational speed are indispensable prerequisites for grinding fruits, vegetables and leafy greens to microscopic size. Only "micro-grinding", which is not possible without high-speed blender, releases the vitamins, minerals and antioxidants contained in the plant fibers. The result: The digestion effort decreases, the bioavailability of the nutrients (absorption) increases! Another advantage, not only in terms of health, but also in terms of taste: the release of flavors!
Note: A "normal" kitchen blender has about 8,000 revolutions per minute, professional high-speed blenders work with around 30,000 revolutions. This difference affects the green smoothie quality. Find out more about the difference between normal kitchen stand mixers or immersion blenders and high-speed blenders here.
The blade base of the Bianco Volto N is made of hardened Japanese 18/8 stainless steel. Excellent performance and maximum durability.
The speed control is performed in two ways:
Variable speed adjustment with jog dial
Automatically - 8 time programs
The Bianco Volto N is equipped with a 1.5 liter container made of Tritan plastic (BPA-free).
The Bianco Volto N is available in the following colors: Champagne Gold, Matt Silver, Metallic Grey and White.
The Volto N comes with a tamper with temperature indicator - perfect for raw foodists.
Scope of delivery of the Bianco Volto N:
Bianco Volto
1.5 liter Cube container made of BPA-free Tritan
Tamper T42S with temperature indicator
Battery for tamper
Lid
Instruction manual in German and English
Mixhits - recipe book, with recipes and tips, especially for the Volto N
Warranty of the Bianco Volto N
The bianco Volto N impresses from both the outside and the inside - all parts are very high quality
Workmanship: Bianco di Puro only uses high-quality components - custom-made parts, robust cables, unbreakable seals and welds.
Safety features: a device suitable for continuous use must have "life-supporting" features. All Bianco di Puro devices have overheating and overload protection. The overheating protection automatically switches off the motor in the event of excessive heat generation - the motor can be used again after a short cool-down; The overload protection protects the motor in the event that the blades in the container are blocked. (e. G. tough dough, forgotten spoons or forks,...). The design of the motor base does not allow water to enter the housing.
Bianco's warranty promise is in line with this image: there is a 5-year warranty on the motor block and a 2-year warranty on the container, as well as tamper.
Complete warranty conditions »
Summary:
Variety of applications: wet and dry preparations of all kinds
Easy handling: manual and automatic speed control
Bianco di Puro performance winner!
Have fun with the Bianco di Puro Volto N!
Questions & Answers about the Product
Ask a question
Total 7 question(s)
Hello,
what about crushing ice cubes? Does the Volto N manage this without any problems?
Many greetings
Question submitted by Uta on October 21, 2021 at 18:28 o'clock
Hello Uta,
thank you for your request.
You can make crushed ice with the Volto N or add ice cubes when making fruit smoothies or green smoothies.
Best regards,
Your GrueneSmoothies.com Team
Beanwortet am 22.10.2021 um 09:26 Uhr
Hello, dear team,
Some Bianco users report that the container becomes blind after prolonged use, even if you do NOT clean it in the dishwasher as recommended. How can this be avoided? And how much would a new container cost?
Thanks for your help!
Question submitted by Michael Bessert on July 30, 2021 at 13:04 o'clock
Hello Michael,
thank you very much for your question.
The phenomenon of "going blind" affects all brands and all Tritan containers.
The effect occurs particularly quickly if you frequently grind cereals or coffee.
But also when blending other hard ingredients, such as frozen fruits.
The Various essential oils in the ingredients, e.g., from citrus fruits, also cause the Tritan to go blind.

However, all other stubborn residues can be removed with a basic cleaning.

Best regards,
Your GrueneSmoothies.com team
Beanwortet am 30.07.2021 um 15:34 Uhr
Hello team of gruenesmoothies.com,
I am a new owner of a Volto N and would like to know if it is possible to grate Parmesan with it. Is this only possible with the Uno container? What speed setting should I use?
So far, I am very satisfied with this fantastic device!

Best regards C.Franke
Question submitted by Dr. Carsten Franke on January 3, 2021 at 20:45 o'clock
Hello Carsten,

Thanks for your message, we are pleased to hear that you had such a great start with your Volto N :- )

There are two ways to prepare grated cheese with a high-speed blender.

First, cut the cheese into pieces about the size of a chestnut, put them in the container and work with the pulse button. The more often the pulse button is pressed, the finer the cheese becomes!

The other option would be to throw the chestnut-sized pieces through the opening of lid while the blades are already rotating at medium speed.

Best regards from Berlin,

Betsy from the GrueneSmoothies.com team
Beanwortet am 02.03.2021 um 10:38 Uhr
Hello Dear Team, I own the Volto N and wonder which container is best suited for the preparation of nut butter.

All the best,
Sylvia
Question submitted by Sylvia Marchner on June 27, 2020 at 08:36 o'clock
Hello Sylvia,

thank you very much for your message

You can prepare nut butter in your Cube container – just have an eye on the minimum preparation quantities here.
Have a look at our nut butter recipe, the page also offers several preparation tips.

Alternatively, the Uno container from Bianco also is suitable for preparing small quantities of nut butter, creams, and pastes.

Best regards from Berlin,

your GrueneSmoothies.com team
Beanwortet am 27.06.2020 um 11:25 Uhr
Hello!
You have helped me many times. I hope this time too. I bought the bianco di puro VOLTO. Now I wrecked my container because I absent-mindedly tamped without a lid :((((
Can you guys recommend a new container? I prepare smoothies daily.
Thank you for your help and advice
Many many thanks
Andrea
Question submitted by Andrea on March 2, 2020 at 11:02 o'clock
Hello Andrea,

thank you for your message.

Very viscous dishes, such as energy balls, pizza dough, etc. are rather not suitable for high-speed blenders, as the devices are designed for speed. Of course, there are little tricks to make Energy Balls, for example, soaking dates and nuts in water for a few hours beforehand. You can also find a recipe for this on our website.

When preparing bread dough, the blender will reach its limit. Mixed doughs for cakes, waffles and pan cakes, on the other hand, are no problem!:-)

We would recommend the Cube container – the container you have been using up to now.

Best regards from Berlin,

Your GrueneSmoothies.com team
Beanwortet am 03.02.2020 um 17:14 Uhr
Hello,
I also ordered the Volto from you a few years ago. Is the Volto N now the follow-up model? And why so much cheaper? Does that affect the quality? How is the new container in handling? Is it better in terms of results? Do you have a tip for the preparation of thick pastes, e.g. dates.... Energy balls.... Would be great if you could answer my questions.

Thanks
Best regards Patricia
Question submitted by Patricia Eisenlauer on February 13, 2019 at 23:42 o'clock
Hello Patricia,

thank you very much for your questions.

The Volto N is the successor model of the Volto "without N" and has the Cube container instead of the Premium container.

Due to the successful market launch and establishment of the Volto, the manufacturer was able to recoup the initial costs for development and production and then decided to pass the cost advantage on to the new customers. This has no impact on the build quality.

The new container matches the Volto engine block quite well, especially visually, but it also has advantages as well as disadvantages compared with the premium container.

Smoothies do become a bit creamier in the Cube, but its major weakness is in the preparation of small quantities and thick preparations, where the use of the tamper is essential. The Premium container is much better at this. Overall, it can be said that the Premium container is more versatile, with the Cube container being the better choice for people who exclusively prepare smoothies in the blender.

The Cube also is more convenient to clean. It's easier to get to the bottom of the blades, and it doesn't bump into the tap when rinsing, simply because it's smaller. If an additional container of this type appeals to you, our tip would be the Square container. It is even more specialized in purely liquid products, such as smoothies (it really can't do anything else).

Both Square and Cube containers fit on your Volto engine block.

As for the thick pastes, only additional liquid will help. High-speed blenders" are not really made for this. The Volto and all other "high speed blenders" are optimized for fast turning and not for slow powerful turning. Therefore, only experience and intuition help to hit the point where the mass is still hard enough. In case of doubt, liquid should be added.

Best regards,

Your GrueneSmoothies.com team
Beanwortet am 04.12.2019 um 11:26 Uhr
Hello,
does the Volto N really not have a cable winder?

Can I use it to grind chickpeas and whole coffee beans and if so what container is best?

Thank you
Question submitted by Uta on March 7, 2019 at 14:41 o'clock
Hello Uta,

thank you for your questions!

Indeed, the Volto (N) does not have a cable winder. With Bianco di Puro, cord wrap is not a standard feature. Some blenders have it, others do not.

Grinding works perfectly in all containers, only one slightly worse than the rest. Ironically, the Flower container.

Best regards,

Your GrueneSmoothies.com team
Beanwortet am 03.07.2019 um 16:40 Uhr
Ask a question
Reviews
[5 of 5 Stars]


ALL GOOD


[5 of 5 Stars]


Right decision made

One of my friends bought the Bianco di Puro Tune Pro from you. She made me my first green smoothie, and from then on it was clear to me: I need a high-speed blender. The price of the Bianco di Puro Tune Pro is decent so I had to look for an alternative. With the Bianco di Puro Volto N, I hit the bull's eye. It also masters my somewhat crazy smoothie creations perfectly.

[5 of 5 Stars]


Highly recommended

Blender was delivered quickly and fully meets my expectations
Chic, classy design and very good blending results. Even green smoothies and fibrous vegetables become super creamy. Only the lid of the container is a bit difficult to open, but this will certainly improve over time, I guess.


[5 of 5 Stars]


Highly recommended for green smoothies

I have worn out four blenders in the last three years and finally got around to ordering my dream blender. Even though I had hoped that the blending quality would increase compared to my previous devices, I had not expected this increase. Especially my green smoothies become much finer and more aromatic. The only thing I would have liked to see in the Volto N is a cord winder for the power cord.
Write Your Own Review