Which Blender is best for me? What different types of Blenders are there?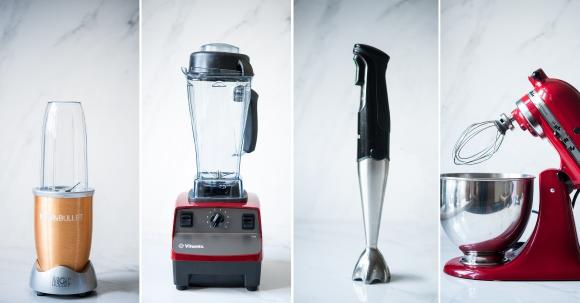 Hand blender, immersion blender, stand blender, food processor or Thermomix - all these kitchen appliances are called blenders. All of them can blend but the differences between these kitchen appliances are enormous. We introduce you to the different designs of blenders and explain which preparations are suitable for which type of blender. Find out which blender you actually need as you identify the similarities and differences.
Overview
Immersion blender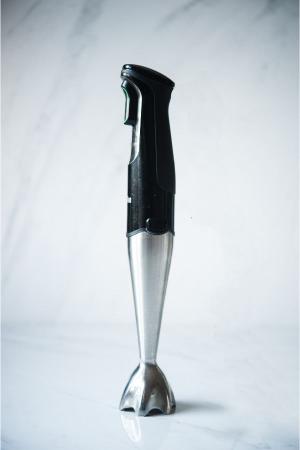 Preparing fresh pesto, pureeing soups, blending shakes - a immersion blender - also called a blender stick - can be used to puree a wide variety of foods. A immersion blender is even used for mincing meat. It is an electric kitchen appliance for the hand, whose fast rotating cutting blades are fixed under a cover at the lower end of the stick. It is used to puree the mixture - e.g. directly in the soup pot. If you want to puree masses with a low liquid content, such as cooked chickpeas, it can take quite a bit of effort to make a delicious hummus. Immersion blenders are sometimes offered with interchangeable attachments such as different types of blades, therefore they are versatile. However, for the fine, creamy processing of raw ingredients or frozen foods, food processors or stand mixers are better suited.
Advantages:
handy size
easy to store
simple operation
Disadvantages:
can become exhausting during longer operation
not all foods can be chopped to a creamy consistency
Device quickly reaches its limits
Handmixer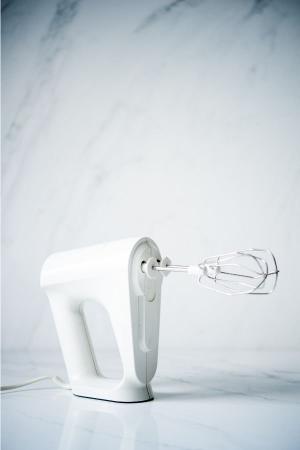 Whipped cream or beating egg whites, stirring cake batter or whisking something - a hand mixer can be used primarily to make batter or liquid preparations. The electronic device has a handle, which is usually attached to the top. The ingredients are mixed or kneaded into dough or whipped into cream by two beaters that rotate against each other. In order to operate, the ingredients have to be placed in a bowl. Depending on how long and what is being mixed, working with a hand mixer can be energy-sapping. A button for automatic ejection of the beaters is available on most models. Some devices also have various attachments such as straining rods, puree sticks or even universal choppers. The last two are also available individually.
Advantages:
quick and easy cleaning
Device is easy to handle
some devices offer several attachment options
Device is easy to store (small size)
Disadvantages:
can be energy-sapping during longer operation
if you want to mix and chop as well as stir, you need to use additional attachments
not suitable for blending smoothies
Food processor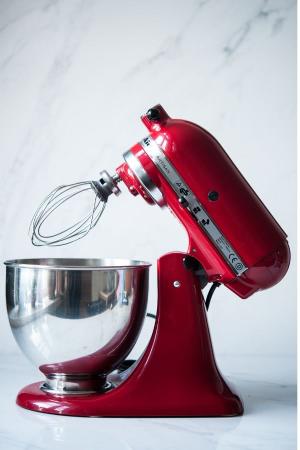 Kneading, grating, stirring, pureeing or even juicing - a food processor is an electronic kitchen appliance that, depending on the model, can be used for many different purposes. The food processor is mainly used when larger quantities have to be processed. Especially when a handmixer or a immersion blender are no longer sufficient. Modern food processors mainly consist of: a base unit, which usually also contains the electric motor; a container or mixing bowl made of metal or plastic: as well as various attachment options. The container / mixing-bowl can usually be removed from the device for cleaning. Food processors come in either plain or more elaborate designs. High-quality appliances are able to reach all areas of the container / mixing-bowl - this is achieved with a planetary mixer in which the mixing tools are moved eccentrically.
The possible accessories:
Container with whisk (for liquids or egg whites)
Grain mill
Mixing-bowl with stirring hook
Knife
Fruit press
Mincer
Flow heater
Blender attachment
Advantages:
fast chopping of all kinds of food
large quantities can be processed
Disadvantages:
is not suitable for green smoothies and smoothies in general, as the blending results are insufficient
All-round devices need more space with each additional function
loud background noise
not all functions are used or needed in every household
Cleaning of the attachments can be time-consuming
requires a lot of storage space, most device are not compact
Thermomix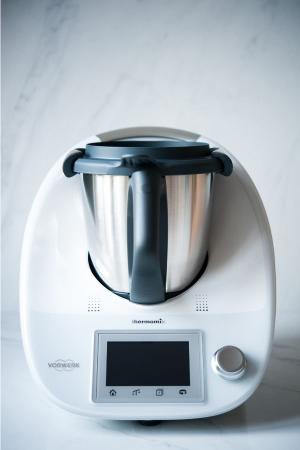 The Thermomix can mix, grind, chop, beat, blend, stir and knead. This multifunctional food processor is even capable of cooking, steaming and weighing. According to the manufacturer, there are 12 functions that make the Thermomix a unique kitchen appliance. The device consists of a basic unit, which is composed of an electric motor and a control unit. In addition, there is a removable mixing bowl or blender jar made of stainless steel, which has an integrated heater. The mixing bowl holds the blade base, its 4 knives are in charge of chopping the ingredients. If the container is in counterclockwise rotation, ingredients are only mixed - If the container is in clockwise rotation the ingredients are chopped. This is accomplished by the blades being blunt on the left side and sharp on the right. The scale integrated into the appliance also makes weighing ingredients convenient. The Thermomix stands for faster, easier and digital cooking. The latest model, the Vorwerk Thermomix TM6, has been on the market since 2019 and features a touchscreen that makes the device operable and programmable. Different recipe programs can be connected to the device, they guide the user through the virtual recipe world, giving him step by step instruction on each individual recipe. The recipes are precisely matched to the Thermomix, so that only the ingredients need to be added. The appliance then sets the times and temperature itself.
Advantages:
Food processor that combines many functions in one appliance to replace others: cooking, steaming, pureeing
less cooking utensils as many steps can be done in only one appliance
easy and convenient cooking thanks to digital recipe instructions
Time saving, as some preparation steps are automated by timer → you don't have to be "there" the whole time
Disadvantages:
not a specialist for green smoothies, with fibrous leafy greens the result is more of a chunky, fibrous consistency
high noise level - in a test Stiftung Warentest says: "When grinding almonds, the inspector measured a sound level of almost 97 decibels for a short time. That's so loud it hurts."
Cooking generates a lot of steam, best to put the Thermomix under an extractor hood
frying is not possible
very high purchase costs
only 2 years warranty by Vorwerk (as of April 2018)
requires a lot of storage space
Universal chopper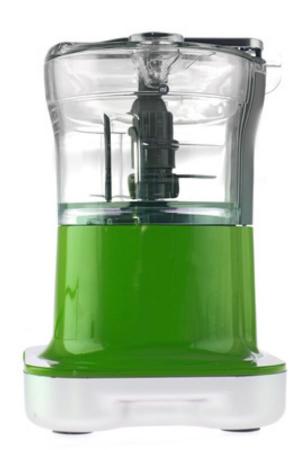 A universal chopper, also called a blitz chopper, multi-chopper or moulinette, can be used to chop, shred and mince a wide variety of foods. The term originates from the French word moulin (mill) and can be translated into "small mill". The device is made of a sturdy stand block with non-slip rubber feet, in which the electric motor is housed. On top of the housing there is a removable container, which is usually made of plastic. Often these devices have an on/off switch, as well as a push button to start the shredding process. Some models, the operation can be started by putting pressure on the container. However, multi-choppers also come in inverted versions, where the motor block is located on top of the container. The container then forms the base, while the device can be operated from the motor block. The electric motor is responsible for the rotation of the cutting blades during the shredding process, the various ingredients are then shredded, chopped or pureed in different ways. For example, nuts, parsley, onions, peppers and other vegetables can be chopped also hummus or even baby food can be prepared. There are larger and extensive models with various cutting blades, as well as smaller less expensive versions. However, most devices are kept very compact and can therefore also be easily stored in the kitchen. Devices without electric motors are even more compact. These small kitchen aids are suitable for manually chopping walnuts, parsley or onions, for example. The chopping process is started by applying pressure on the top of the device. The blades, which are positioned vertically on the base of the chopper, put pressure on the ingredients which are then chopped and drop into the container.
Advantages:
easy cleaning of the removable container
quickly chops, minces and purees a wide variety of ingredients
Disadvantages:
not suitable for blending smoothies, as ingredients can only be chopped or pureed into small pieces for a short period of time, but not finely blended
can largely only process smaller quantities
Stand mixer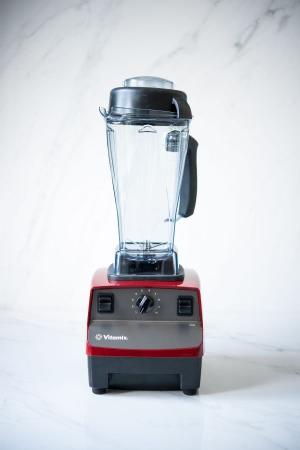 Green smoothies, fruit smoothies, nut milks, nicecream, soups, dips or nut purees - the supreme discipline of a stand mixer is the mixing and pureeing of ingredients with different consistencies. The more powerful and the more sophisticated the blender, the creamier and finer it´s results will be. High-speed blenders are the absolute blending specialists among stand mixers, they can prepare the finest green smoothies in seconds. Even ingredients that are difficult to puree, such as: nuts, seeds, kale or wild herbs turn into creamy green smoothies. Ingredients that are problematic for normal blenders e.g frozen foods and legumes are processed in the blink of an eye. Less powerful stand mixers are more reduced to easily pureed ingredients such as fruits, pre-cooked vegetables, etc. and require more time to achieve a good blending result. When buying a high-speed blender, you should know what you want to prepare with it! Technically, stand mixers are built as follows: a plastic/glass container that sits on top of the motor block. The motor block houses an electric motor. Depending on the model, the blades that cut the food are either permanently attached to the container or removable. Before the blending process is started, the ingredients are filled into the container and the container is closed with a lid. The ingredients are chopped by the rotation of the blade around its own axis. As described above, the quality of the blending result depends on the power of the particular stand mixer. On Our next page on the topic stand mixers, you can find out which differences there are and which stand mixer is suitable for which preparations.
Advantages:
quick and easy preparation of healthy meals
takes a lot of work off your hands during preparation
hard to chew and fibrous ingredients can be finely pureed (this is especially true for high-speed blenders)
High-speed blenders offer a wide range of preparation possibilities: smoothies, nicecream, nut mush, vegetable milk, dips, sauces, dressings, various desserts
easy operation
quick and easy cleaning
Disadvantages:
partly high acquisition costs for high-performance blenders
More info on the topic of blenders:
We appreciate your Feedback!