2008 - 2023 | 15 years GrueneSmoothies.com - the original

Introductory offer
To celebrate our 15th anniversary, we have reduced the Blendtec Professional 800 in black by 50 € to 1199 €. Offer valid while stocks last.

Anniversary bonus: nut milk bag

More »
Our nut milk bag extends the range of use of your Blendtec Professional 800 even further: Filtration produces fine nut or cereal milk. The nut milk bag can also be used to prepare completely fibre-free celery juice.

« less
---

45-Days-money-back guarantee

More »
We love green smoothies and only offer what we can re­commend without reser­vation. If our blender re­commen­dation doesn't stand up to your every­day test, we'll take the blender back within the first 45 days of purchase. Full terms »

« less
Quietest high-speed blender
The Blendtec Professional 800 is an interesting option for smoothie lovers looking for a quiet high-speed blender. With its integrated sound cover, the Blendtec Professional 800 delivers world-class performance at the touch of a button.
Blendtec Professional 800 Product Highlights:
Quiet: Significantly lower noise level than devices in its performance class
Clockwise: Those who prefer "clockwise" rotation for "esoteric" reasons will get their money's worth with Blendtec
Easy operation: Touch panel with 6 time programs
Secured investment: 10-year warranty on all parts for private use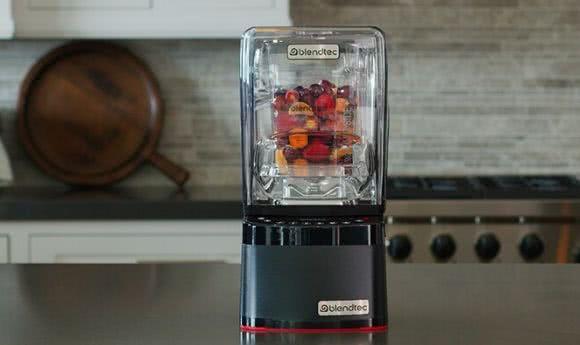 Overview
Preparation possibilities with the Blendtec Professional 800
Creamy green smoothies
Delicious fruit and vegetable smoothies
Vegan plant and nut milks such as fresh almond milk
Shakes such as protein shakes made from nuts and plant milk
Hot soups heated by friction heat, such as cream of tomato soup
Liquid dough preparations - e. G. for pancakes, muffins or crepes
Chopped vegetables for salads
Freshly ground coffee or freshly ground almond flour
Sorbets made from frozen fruits (mangos, bananas,…)
Crushed ice
Handling & operation of the Blendtec Professional 800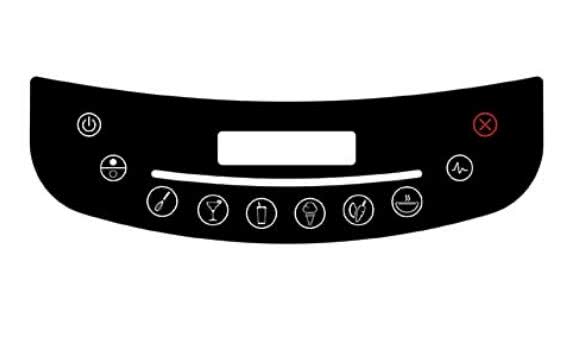 The touch panel of the Blendtec is very easy to operate. Customers have even told us that they have fun activating and controlling the blender via the touch panel. To start the blender, press the on/off button on the far left of the control panel. The button on the right is used to choose between manual and automatic mode (time programs).
6 time programs
The Blendtec's automatic mode offers 6 time programs that are activated by tapping the corresponding icon.
Mixed dough - liquid doughs or dips
Mixed drinks - e. G. milk shakes
Smoothie - fruit smoothies
Sorbet - sorbets made from frozen fruits
Juice (from whole fruits) - can also be used for the preparation of green smoothies
Hot soup - Soup preparation using friction heat
Once the program has finished, the blender automatically stops operation. If you want to stop the blending process before the time program has ended, just tap the stop button on the far right.
Manual speed levels
If you switch to manual mode using the shift button - The touchscreen now allows precise control of the 11 speed levels of the Blendtec Professional 800. The speed level can be adjusted variably during the blending process, even skipping speed levels is no problem at all.
Pulse function
The pulse function is located on the right side of the touchscreen. When pressing the pulse mode button, the blender operates at maximum speed until the button is released. We like to use the pulse function for chopping, shredding or stirring already finished blender preparations. For example, if you want to blend in some oil or spices. A valuable function, which of course must not be omitted on the Blendtec Professional 800!
Sound cover
The sound cover makes the Blendtec Professional 800 the quietest high-speed blender currently on the market. After the container has been filled and the time program or speed level has been selected, the hood is simply closed to reduce the noise during the blending process. If you've ever tried to make a phone call while your high-speed blender was running, you know how valuable this sound cover is.
The sound cover consists of two parts - body and flap - which can easily be removed without tools - e. G. for cleaning.
Cleaning the Blendtec Professional 800
The best way to clean the Blendtec Professional 800 is directly after use, as long as no food residues have dried on the container walls. In most cases, the container can be cleaned by rinsing it with lukewarm water. If oily or somewhat thicker ingredients have been blended, simply fill the container (one-third full) with lukewarm water and add 1-3 drops of detergent. Then run at medium to maximum speed for 30-45 seconds. Rinse the container again and dry it with a kitchen towel if necessary. If there is still food residue - especially underneath the blades - simply clean it with our handy cleaning brush.
Recommended accessories for the Blendtec Professional 800
Our cleaning brush is particularly practical when cleaning the container after preparing sticky viscous dishes.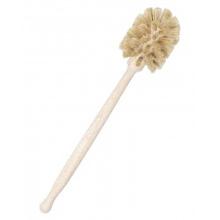 Cleaning Brush for Containers, Juicers & Bottles
Technical specification of the Blendtec Professional 800
Power: 1,800 watts, 240 volts, 3.8 hp maximum output
Dimensions (width x height x depth): 21.8 x 43.9 x 22.9 cm; height with opened sound cover: 62 cm
Weight: approx. 7.2 kg
Material: 100 % Tritan plastic (BPA-free); Suitable for temperatures up to 100°C
Controls: 6 time programs; manual speed control - 11 levels, pulse function, LCD display for time control
Container: 2.7 liter container made of BPA-free Tritan; recommended maximum capacity: 2.0 liters
Blade type and material: 2 blades made of laser-cut stainless steel; HCS (Japan)
Safety features: overheat and overload protection
Safety features of the Blendtec Professional 800
Overheat Protection/Overload Protection: To prevent the Blendtec Professional 800 from overheating, it has a built-in overheat and overload protection. This ensures that the blender switches itself off immediately in the event of overloading or overheating. The Blendtec professional 800 is ready for use again after a short cool-down phase.
Blendtec Professional 800 Scope of delivery:
Motor block
Sound cover
2.7 liter container "Wildside+ Jar" made of BPA-free plastic (Tritan™)
Lid incl. cap
Instruction manual incl. recipes
Warranty of the Blendtec Professional 800
For purely private use:
Motor block: 10 years
Container: 10 years
Complete warranty conditions »
Write Your Own Review