2008 - 2023 | 15 years GrueneSmoothies.com - the original
---
Gastronomy with Gusto
The Bianco Gusto is the first blender with Brushless DC motor from "Bianco di Puro". In addition to the typical features of brushless DC motors, such as low noise, lower power consumption, high, constant torque, the Gusto also scores with its easy-to-clean, grooveless touch panel and extensive scope of delivery. Ideal for the catering industry! In our opinion, the Gusto also is the price-performance winner among high-speed blenders with brushless DC motor.
Highlights of the Bianco di Puro Gusto
Noise level: The gusto pro with its brushless DC motor is 6 db quieter - at maximum speed - than comparable blenders (10 dB already means 50 % volume reduction).
Powerful: Thick preparations such as almond butter turn out perfectly. Thanks to the high torque, the blender can operate without going into overheat protection so quickly.
Energy-efficient: The Bianco Gusto uses up to 30 % less power than conventional high-speed blenders with alternating current (AC) motors.
Low motor wear: Since there are no parts rubbing against each other in the motor, natural wear is very low and the service life is correspondingly long.
Flexible operation: in addition to 6 time programs, the touch panel also offers manual mode.
Bianco Gusto Video
Overview
Preparation possibilities with the Bianco Gusto
Creamy green smoothies
Delicious fruit and vegetable smoothies
Vegan plant and nut milks such as fresh almond milk
à la minute ice cream creations like fruit sorbets, frozen yogurt or healthy nicecream
Dips and sauces
Heavenly creamy hummus made from chickpeas or beans
Hot soups heated by friction heat, such as cream of tomato soup
Healthy and vital baby porridge
Homemade nut butter
Liquid dough preparations - e. G. for pancakes, muffins or crepes
Freshly ground coffee or freshly ground almond flour
Crushed ice
How to choose the right container: Premium or Uno?
Premium container - medium preparation quantities
The scope of delivery of the Bianco Gusto includes the Canto (1.5 liter) and the 2.0 liter Premium container. The double wing blade with its large diameter makes the Bianco Canto container the best smoothie/soup/shakes container made by Bianco di Puro. The premium container on the other side is ideal for preparing small to medium quantities. Therefore, the combination of these two containers makes sense, as the Canto's minimum preparation quantity of approx. 750 ml is quite high.
Uno container - smaller preparation quantities
If you already know that smaller preparation quantities like pesto, nut butter or hummus are your thing, we recommend choosing the Bianco Uno container. Viscous preparations are possible from 250 ml, liquid preparations require even less: 150ml. In addition, the Bianco Uno has a removable blade base. This is practical when cleaning the container. In our opinion, the Uno container is therefore the better complement to the Canto container.
Handling and operation of the Bianco di Puro Gusto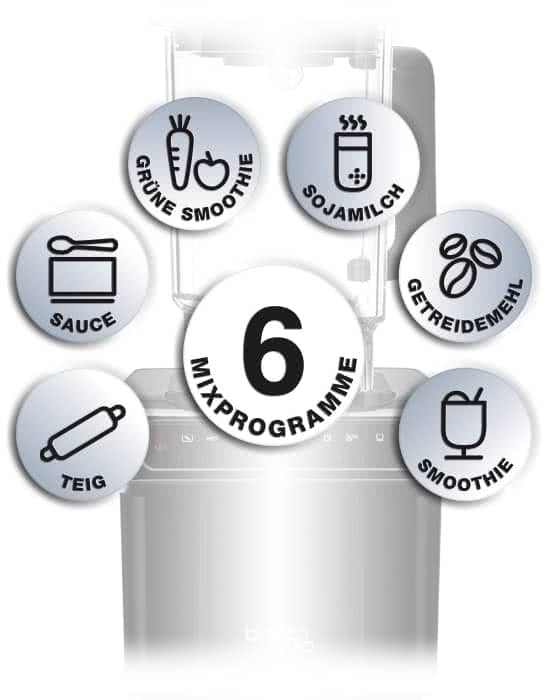 Questions & Answers about the Product
Ask a question
Total 7 question(s)
Hello,
Is possible to operate the Gusto with wet hands?
Greetings Marco
Question submitted by Marco on August 23, 2022 at 14:22 o'clock
Hello Marco,
thank you very much for your message.
Users can also operate the Gusto with wet hands via the user interface.
Best regards,
Your GrueneSmoothies.com Team
Beanwortet am 23.08.2022 um 15:57 Uhr
Dear Green Smoothies Team,

i would like to use the Gusto to make date-almond-oatmeal balls. Can all the ingredients go in the container at the same time or should I follow a certain order?

Many greetings
Renate
Question submitted by Renate on September 9, 2021 at 14:36 o'clock
Hello Renate,

thank you very much for your message.

The nuts should be roughly chopped in the blender beforehand. You can then process the nuts together with the other ingredients.

We have a recipe with the preparation instructions here in our webshop. Follow the link: simply click here.

Enjoy it and best regards! :- )

Betsy from the GrueneSmoothies.com team
Beanwortet am 09.09.2021 um 15:03 Uhr
Dear Green Smoothies Team,
I am looking for a high-speed blender which can prepare: nut purées, vegan mayo, spreads, vegan cream cheese, etc.
Now I am wavering between the Bianco Gusto or a Vitamix (A3500i or Pro 750)
It is important to be able to prepare smaller quantities (250 ml). What would you recommend me?
Many greetings, Petra.
Question submitted by Petra Schlegel on June 22, 2021 at 22:42 o'clock
Hello Petra,
thank you for your question.
In your case, the Gusto with UNO and Canto container would be the best choice.
With its brushless DC motor, it has a high torque even at low speeds, which is optimal for viscous preparations such as nut butter.
In addition, you can prepare the smallest quantities with the UNO container (liquids from 125ml, viscous from 250ml.)

Best regards,
Your GrueneSmoothies.com Team
Beanwortet am 22.06.2021 um 10:54 Uhr
Can I prepare warm soy milk with the Bianco Gusto?
Best regards,
Anke
Question submitted by Anke Stoffers on June 16, 2021 at 19:44 o'clock
Hello Anke,

Thank you very much for your message.

The Bianco Gusto has a soy milk program, with which you can prepare warm soy milk.

Best regards from Berlin!

Betsy from the GrueneSmoothies.com team
Beanwortet am 17.06.2021 um 09:35 Uhr
Can the Bianco Gusto also shred hard vegetables, and if so, how full should the container be? Which program is the right one for this?
Question submitted by Dagmar on December 5, 2021 at 00:42 o'clock
Hello Dagmar,

thank you very much for your message.

You can also shred hard vegetables with the Gusto and the two containers that come with it. You must put enough water in the container so that the ingredients float, then work with the pulse function briefly.

For the large Canto container, you should add at least 700-800 ml of water. For the small Uno or Premium container, 400-600 ml is sufficient. When the ingredients have been ground to the desired size, you can pour off the water – and you have chopped vegetables!:-)

Best regards from Berlin!
Betsy from the GrueneSmoothies.com team.
Beanwortet am 12.05.2021 um 10:39 Uhr
Am I right in assuming that the product is not the Gusto-S but the predecessor Gusto? What are the differences, apart from the lack of compatibility of the sound cover?
Thank you very much!
Question submitted by SK on December 2, 2021 at 12:37 o'clock
Hello,

thank you very much for your question.
The difference between the Gusto and Gusto S only is the sound cover on the Gusto S. The sound cover does not come with the Gusto S and must be ordered separately.

Many greetings,
Your GrueneSmoothies.com – Team
Beanwortet am 12.02.2021 um 12:45 Uhr
What are the minimum preparation quantities for each container.
Question submitted by Luka Bartel on September 30, 2020 at 22:25 o'clock
Hello Luka,
thank you very much for your message.
The Bianco Gusto comes with the Premium container and a Canto container.
If you blend liquids in the Premium container, e.g. smoothies or vegan milk, you would have to process at least 250ml.
If you want to make ice cream or hummus, foods with a more viscous, solid consistency, you'll need 450-500ml.
The Canto is the expert for blending liquids and for grinding processes. The minimum preparation quantities here is 350ml.
Best regards,
Your GrueneSmoothies.com Team
Beanwortet am 30.09.2020 um 14:29 Uhr
Ask a question
Reviews
[5 of 5 Stars]


Very good service. My Bianco gusto has landed. I'm very impressed. I started with a hot soup and it whas fantastic.
Many thanks

[5 of 5 Stars]


Shipping to Ireland?

Excellent website, excellent team. I live in Ireland and wondering, would you send the Bianco Gusto to Ireland, I can't find a website here, I would be pleased to get some feedback.
Kind Regards Amira Solbach

Note from the editor:
Hi Amira,

yes, we also ship to Ireland! No problem!

Best regards

Your GrueneSmoothies-team

[5 of 5 Stars]


Good choice

So far we are absolutely thrilled and completely satisfied. You have given us excellent advice regarding blenders. We wanted a purchase for life, but even here there are a lot of options on the market. As a technician, I then chose the very powerful Bianco Gusto with a DC motor, although it only makes 15,000 revolutions according to the data sheet, it has a very high blade speed at the tip in the Canto container due to the long blades, you do not need the tamper and it makes a wonderful creamy green smoothie. The 2nd container (Uno) has already made us great soups, ice creations and pastes like hummus in no time. Your companionship and also the 7 day kick start is very informative, thank you for that. We will continue to experiment, grow and gather wild herbs and enjoy the product and amazing possibilities. The green smoothie has currently replaced our cereal in the morning. Let's see how it helps to lose some weight. Thanks to the team and sunny greetings from Regensburg from Stephan and Simone

[5 of 5 Stars]


Sascha thank you very much - a great advice a great product - Thank you.

I purchased the beautiful device from you with the Canto and the Uno container, a highly recommended combination. It already runs quieter and very well.
Since I just have a white tooth surgery behind me, there is delicious smoothie - but I think that many other things will succeed outstanding. I have chosen the device in black - there is not much to say about it - The containers are of a great quality - the two sizes are perfect - I look forward to the spring and summer - to make a lot with it and experiment.

[5 of 5 Stars]


Very nice and competent team.

Ordered and already shipped. Great device the Gusto, had previously the Omniblend V. Mixed at first green smoothies and already notice the difference.

[5 of 5 Stars]


molto bene

The design of the Bianco Gusto is awesome! He has upgraded our kitchen and also my recipe horizon has grown. Especially my homemade tomato sauce is extremely creamy in the Bianco.
Write Your Own Review