2008 - 2023 | 15 years GrueneSmoothies.com - the original

From passion to profession

More "
Our website went live in 2008, since then we blog about our experience, this has led to a rise in popularity of Green Smoothies in Germany. Over time, our passion became our profession and we became the largest distributor of high-performance blenders in Europe. ;-)

" less

To celebrate the 13th anniversary of our website , we have reduced the Bianco Premium by 30 € to 149 €. Offer valid while stocks last.

Anniversary addition: More » Cleaning the container is easy with our brush. As a special offer, we include our brush free of charge with the Bianco di Puro Premium Container. « less
What distinguishes the Bianco di Puro Premium Container?
The blade base of the Premium container is made of high-quality stainless steel. The Premium container differs from the standard container in the material used for the blades. The stainless steel base is very easy to clean, which can be considered an advantage.
Overview
Preparation possibilities
Blending fine green smoothies, fruit and vegetable smoothies, vegan milk, sauces, dips, salsas, pestos, cold and warm soups (up to 125°C) from 250 ml, as well as ice cream and nut purees from approx. 700 ml. For the preparation of warm soups, raw foodists use the T42M tamper with temperature display to control the temperature. A tamper is also needed for the preparation of ice cream and puree - as the viscous mass has to be pushed back to the blades during the blending process.
TIP: no additional container is needed for smaller quantities.
Grating root vegetables, such as carrots, beet, parsnip or Parmesan cheese, the Bianco Premium container is best used in combination with the Bianco Volto N, as it has an improved speed control that also allows "slow" rotation at 1,500 rpm.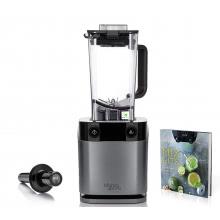 Bianco di Puro Volto N
"Modern"
Regular Price: 449.00
Special Price 394.35 €
Compatible blenders
Bianco Panda
Bianco Forte
Bianco Puro S
Bianco Diver (Square)
older Bianco blender models:
The Bianco Premium container is included as standard with:
Bianco Forte
Bianco Puro
Bianco Puro 1
Bianco Puro 3
Bianco Puro 4
Bianco Volto
Bianco Diver
Compatible accessories
Stuffer T42RL (with patented temperature indicator and LED light)
Technical specification
Material: 100 % BPA-free plastic; Suitable for temperatures up to 100°C
Volume of container: 2.0 liters
Height: 32,5 cm
Blade type and material: 6 blades
Scope of delivery
Bianco Premium container made of BPA-free plastic
Lid with removable silicone seal and measuring cup insert
Questions & Answers about the Product
Ask a question
Total 3 question(s)
Hello :-)
I have an old Bianco Forte,
the container is now broken, what replacement container is compatible with this model? VG
Question submitted by Celina Dolecsek on November 12, 2021 at 10:21 o'clock
Hello Celina,
thank you for your message.
The Premium container is compatible with the Forte, but your original container was the Solito container.

Best regards,
Your GrueneSmoothies.com Team
Beanwortet am 11.12.2021 um 10:36 Uhr
As a smoothie newbie, my mother gifted me here old Bianco Forte, but the container is defective.

Which one should I buy?
Actually, I wanted the Square because I also want to make wild herb smoothies.

However, I also would like to prepare Nicecream, the blender attachment of my (high quality) food processor does not manage this preparation. Furthermore, raw food doughs from nuts and dates, should also not be a problem.
Which container would you recommend, Standard or Premium?

The Premium is more expensive, is it worth the extra expense???

LG Schnorcheletta
Question submitted by Schnorcheletta on July 18, 2018 at 15:59 o'clock
Hello dear snorcheletta,

thank you very much for your question.

You don't need a tamper with the Square container, or rather it's hardly any help.

For nice creams, nut butter, etc. we would clearly recommend the standard container. It is also somewhat quieter than the Premium.

If you are still itching, the Square can be useful as a second container for smoothies.

Best regards,

Your GrueneSmoothies.com team
Beanwortet am 18.07.2018 um 16:02 Uhr
Hello,

I would like to prepare dough for raw brownies using ground pecans, dates and cocoa.
Which container do I use for this – Premium or Flower?
Thanks for the feedback

Kind regards
Nic
Question submitted by Nic on October 16, 2017 at 12:43 o'clock
Ask a question
Write Your Own Review