2008 - 2023 | 15 years GrueneSmoothies.com - the original

Anniversary bonus: 500ml smoothie bottle, made of glass

More »
Green smoothies are our favorite breakfast, at home or to-go. Purchasing this high-speed blender, you'll receive a 500ml retap to-go bottle, with a green lid of course ;-)

« less

Anniversary bonus: Green Smoothies Recipe Card Set

More »
Svenja & Carla show you their 12 best green smoothie recipes. The recipe cards come in a handy postcard format and also feature 3 clean-eating recipes.

« less
---

45-Days-money-back guarantee

More »
We love green smoothies and only offer what we can recommend without reservation. If our blender recommendation doesn't stand up to your everyday test, we'll take the blender back within the first 45 days of purchase. Full terms »

« less
For kitchen professionals
The Bianco Gusto Pro is the premium version of the Bianco Gusto. Not only does it have a low-wear brushless DC motor that makes it quiet, powerful and efficient, but also offers 5 customizable programs in addition to 5 installed time programs. The Gusto Pro grows with the needs of its user! Perfect for the demands of private and professional kitchen professionals.
Highlights of the Bianco di Puro Gusto Pro
Quiet: The Gusto pro with its brushless DC motor is 6 db quieter - at maximum speed - than comparable blenders (10 dB already means 50 % volume reduction). The Gusto Pro can be equipped with a sound cover to further reduce the noise level.
Powerful: Thick preparations such as almond butter can be made in no time at all. The Bianco Gutso pro is less prone to overheating due to its high torque.
Energy efficient: The Bianco Gusto Pro consumes up to 30 % less energy than conventional high-speed blenders.
Low motor wear: Since there are no parts rubbing against each other in the brushless DC motor, natural wear is very low and the service life is correspondingly long.
Flexible operation: in addition to 5 time programs, 5 additional programs can be customized and saved to make your favorite blender preparations even easier.
Bianco Gusto Pro Video
Overview
Preparation possibilities with the Bianco Gusto Pro
Handling and operation of the Bianco Gusto Pro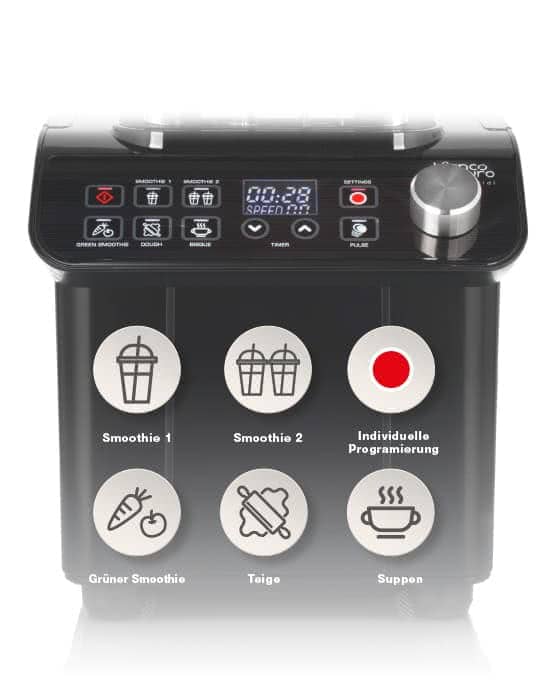 Reviews
[5 of 5 Stars]


I am very satisfied with this blender.

Although the mix result is not quite as fine as my Vitamix Pro 300, but still really very fine and creamy.

But for this you have the following advantages:
1. The device with sound cover is much quieter than the Vitamix. This I had used with silicone earplugs, which I had stored directly with the device (recommendation for users of loud blenders!), I do not have the need with this device.
2. With the Gusto Pro you can blend in a vacuum to preserve the vitamins, which I do and is not a chore.
3. Removing the contents and cleaning due to the two-bladed blunt blade is much easier.

I ordered 2 additional containers for this purpose, namely the Uno for small quantities and the Flower for grinding, because it would have bothered me if my main mixing container would have been blinded by micro-scratches from the hard ground material, that was a very, very good decision.

I am really very happy with this blender and look forward to using it every day!!!

[5 of 5 Stars]


Great blender

My wife is very sensitive to noise, so we decided to use the Gusto Pro.
We only blend smoothies so far, we haven't tried everything else yet. The noise produced by smoothies with frozen fruit can be described as comparatively pleasant. We had previously tested a blender for €179 from Amazon, so the comparison is of course unfair, but because of the much quieter and better result: clear purchase recommendation.
Write Your Own Review