2008 - 2022 | 14 years GrueneSmoothies.com - the original
---

45-Days-money-back guarantee More » We love green smoothies and only offer what we can recommend without reservation. If our blender recommendation doesn't stand up to your everyday test, we'll take the blender back within the first 45 days of purchase. Full terms » « less
World class!
The Vitamix A3500i makes everything easier: the best smoothie creaminess, maximum ease of use with touchscreen and timer, and maximum safety. The Vitamix A3500i only starts when the container is sitting on the motor block with the lid firmly closed. And: You can't go wrong - your purchase is backed by a 10-year warranty. Simply world class!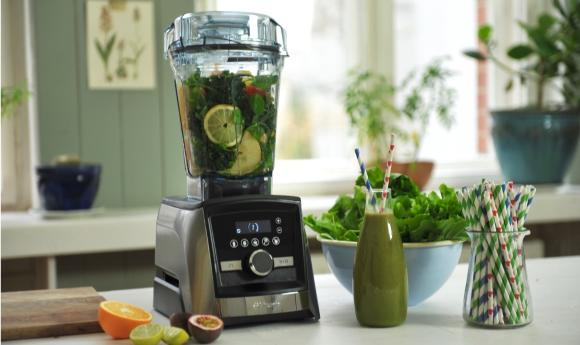 Vitamix A3500i Ascent Series Product Highlights:
Creamiest green smoothie consistency compared to any other manufacturer's blender we've ever tested.
Maximum safety: SELF-DETECT technology detects if a container is on, which container it is, and if the lid is closed. The blender can only be used if all these properties are fulfilled.
State-of-the-art controls: Vitamix finally launches the touchscreen on the German market. Chic & practical!
Attention to detail: snap-on transparent lid, easy-to-clean lid insert, dishwasher-safe container, precise control at low speeds..
Vitamix A3500i Ascent Series Video
Overview
Preparation possibilities with the Vitamix A3500i Ascent Series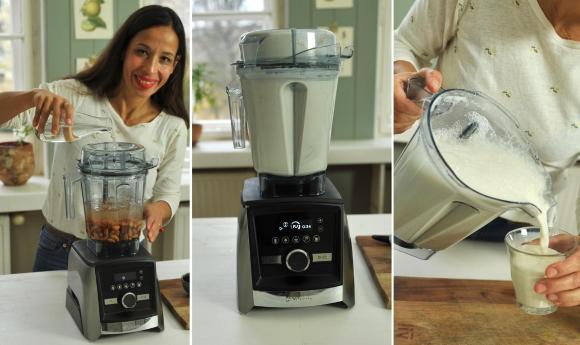 Ultra-fine, creamy green smoothies
Fruit and vegetable smoothies
Delicious vegan milk, such as almond or hazelnut milk
Healthy, whole-food vegan juices
Fresh pestos, dips and sauces
Sinfully delicious ice creations (fruit and milk ice cream, vegan ice cream), sorbets (fruit ice cream), frozen yogurt and nicecreams
Crushed Ice
Hot soups, sauces, fondues and chocolates heated by friction heat in minutes
Raw food: creations of all kinds, such as chunky salsa, Italian pesto, chopped vegetables, soups or slivered nuts and almonds
Healthy, fresh, vital baby porridge
Homemade nut butter or nut puree
Chopped root vegetables for salads
Also included with the Vitamix A3500i, as with all Ascent Series models - the Vitamix Ascent Series recipe book.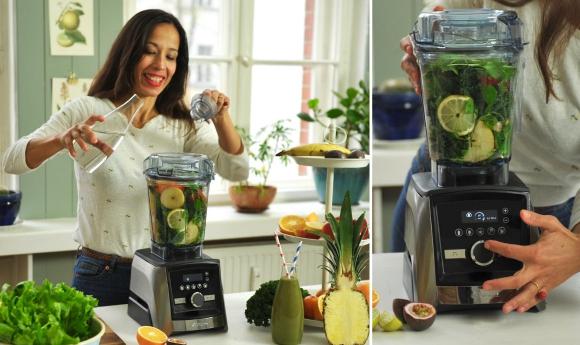 Handling & operation of the Vitamix A3500i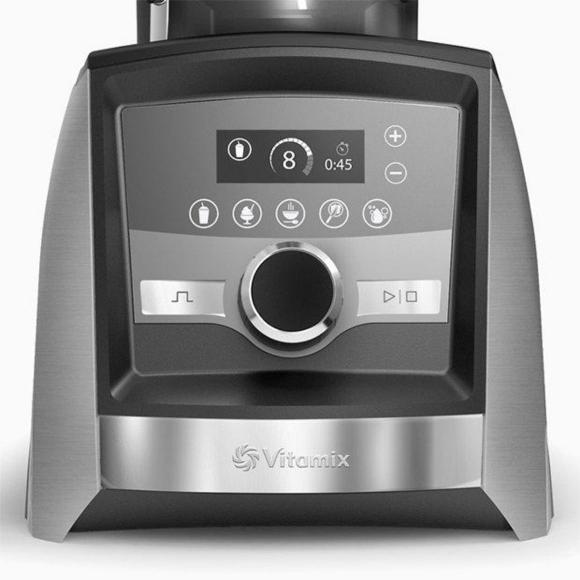 Vitamix has consistently improved its operating concept. In addition to the tried and trusted choice between the "manual" and "time program", a third has been added: Customizable programs. This program is particularly suitable for preparing soups. Unfortunately, the installed "soup" program does not calculate the blending time based on the amount of ingredients in the container. If the container is full, one blending run may not be enough; If there is not enough soup in the container, the soup is boiling hot after the bending process. The programmable timer allows you to adjust the length of the blending time to your individual needs based on your own experience. Thus, the Vitamix operating concept leaves nothing to be desired.
Jog dial and touch panel are used as operating elements. These controls are supplemented by a display, which always provides up-to-date information about the running time and speed, as well as the running program.
In addition to the manual control and the programmable timer, the Vitamix A3500i offers a total of 5 time programs, which Vitamix calls "Smart Blending":
Smart Blending in the Vitamix A3500: 5 time programs that leave time for the important things in everyday life
Smoothies: in 45 seconds the (green) smoothie is ready!
Ice: creamy smooth ice cream consistency is reached within 55 seconds
Warm soups: filled with raw vegetables, the A3500i creates a hot-to-drink soup in 5:45 minutes. Caution: let the soup cool down a bit otherwise you'll burn your tongue!
Dips/spreads: everything is finely pureed in 60 seconds. This program is also ideal for you if you like particularly fine green smoothies or use a lot of fibrous ingredients, such as wild herbs. The smoothie will then be even more rounded.
Cleanup: The A3500i takes care of stubborn residue itself. Simply fill with water and two drops of detergent and activate the cleaning program, rinse, done.
The programs are tried and tested. They are all well thought out and deliver what they promise. Apart from ice cream preparation, where constant manual tamping is unavoidable, the timed programs allow you to leave the room without anything boiling over. Once you started the blender, all you have to do is pour your soup/smoothie/nice cream into a bowl/glas after the timer runs out.
Ecological: The Vitamix A3500i has a "real" on/off switch on the right. The button is hidden under a cover, no splashes can get into the grooves. No standby power is wasted. Thumbs up!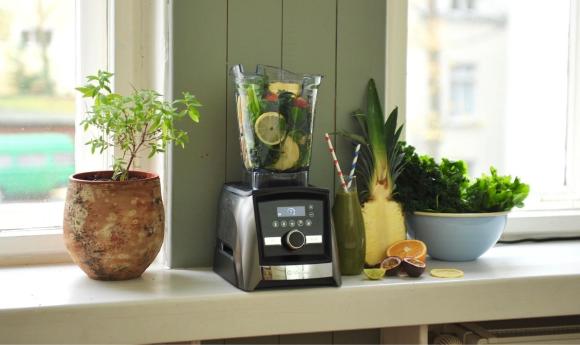 Is the Vitamix A3500i loud?
Overall, the A3500i's noise level is within the normal range for its performance class at approx. 87 dB with a filled container at maximum speed.
Cleaning the Vitamix A3500i Ascent Series
Cleaning the Vitamix A3500i container
Cleaning the Vitamix A3500i is very simple. After emptying the container, simply rinse it under running water and you're done. For example, if you have prepared a white smoothie with fatty ingredients such as avocado, nuts or oil, fill the container with water and a drop of detergent - the cleaning program will do the rest. Then rinse the container under running water.
Cleaning the Vitamix A3500i motor block
The rubber mat on the engine block can easily be cleaned with a damp cloth, it is also possible to remove the pat for cleaning.
The smooth surface allows the rest of the engine block to also be cleaned with a damp cloth.
Recommended accessories for the Vitamix A3500i
The Vitamix family set is the perfect complement to the A3500i. It features a 600 ml container and a 225 ml container for small preparations such as pesto or nut butter.
To ensure that the tamper is always within reach, there is a practical, small tamper holder to match the blender. You can attach it to the left or right side of the motor block.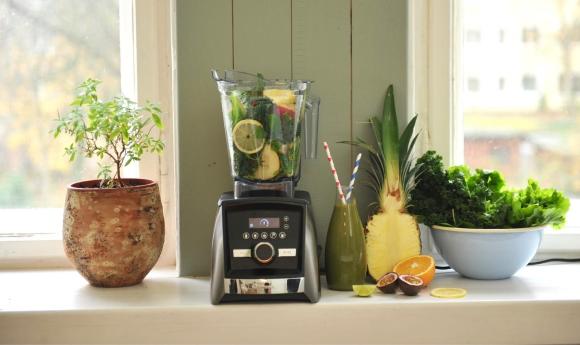 Technical specification of the Vitamix A3500i
Blade tip speed: approx. 300 km/h (with 1.5 l water)
Power: 2.2 horsepower output; 220 - 240 volts / 50 Hz - 60 Hz; 1200 - 1400 watts
Revolutions: Measurement commissioned
Dimensions (width x height x depth): 20 x 43 x 28 cm
Weight: approx. 6,8 kg
Material: 100 % Tritan plastic (BPA-free); Suitable for temperatures up to 100°C
Controls: Jog dial and touch panel with 5 time program buttons, pulse button, start/stop button and plus/minus buttons to set up timer
Container: 2.0 liter container Pro incl. tamper (medium)
Volume of Container: 2 liters
Blade type and material: Blade made of durable, laser-cut stainless steel with 4 blunt blades with 9.7 cm diameter
Safety features : Overheating and overload protection, NFC container detection SELF-DETECT
Certification / Standard: ITS -GS
Safety features of the Vitamix A3500i
Overheat protection: to protect the motor from overheating, the Vitamix A3500i has an overheat protection feature that shuts down the motor when it gets too hot. This only happens with viscous-sticky preparations, such as dough, which slows down the blade a lot. After a break of several minutes, you can continue. In general, however, when preparing dough, we rather advise using a food processor or kneading by hand. Liquid dough for crepes or pancakes are not a problem.
Container detection: If the lid is not attached, the blender won't turn on. The intelligent container detection (that's what the "i" in the name stands for) not only detects whether the lid is on, but also the container type. When using the small to-go containers, the speed is throttled to prevent excessive pressure in the container.
Vitamix A3500i Scope of delivery:
Vitamix A3500i motor block
Vitamix 2.0 liter Ascent Series container made of BPA-free plastic (Tritan™)
Transparent lid incl. cap
Instruction manual in English
Recipe book
Starter booklet
Warranty of the Vitamix A3500i

For purely private use:
Motor block: 10 years
Container: 10 years
Tamper: 10 years
Complete warranty conditions »
Vitamix A3500 or A3500i? What is the correct designation?
You can find information about the Vitamix A3500 and the Vitamix A3500i on the Internet, therefore the reasonable question occurs: What is the difference? The A3500i is a version of the A3500 known in the US, it has several safety features that the US model does not have. One of them being a safety mechanism that only allows starting the blender when the lid is closed. In addition, this variant also is GS-certified. In order to distinguish the two product variants and to make it clear that the A3500i variant is "smarter", the much-loved "i" is attached to the original name. Unfortunately, this also means that the US containers cannot be used on an European motor block.
The increased level of safety also means that German models are not compatible with the (additional) containers from the USA. So anyone interested in the additional containers will have to wait until they are introduced to the European market.
Vitamix A3500i alternatives
Vitamix A3500i vs. Vitamix A2500i
The Vitamix A3500i is more or less the deluxe version of the Vitamix A2500i:
The A3500i comes in a high-quality stainless steel casing.
The controls, both the jog dial and the touch buttons, have a better overall quality.
2 additional time programs enable the convenient preparation of dips and spreads, as well as the automatic cleaning of the container.
The only disadvantage compared to the Vitamix A2500i: For the A3500i, you have to be willing to spend about 200 € more.
Vitamix A3500i vs. Vitamix Pro 750
The Vitamix A3500i is primarily aimed at those who want the latest of the latest:
Cleaning: The A3500i's new container is dishwasher safe, though the sealing fins should be cleaned separately from time to time.
Safety: The A3500i features SELF-DETECT. A container detection technology based on the NFC (Near field communication) known from smartphones. This means that the blender can only be started when the container is in place. The speed is throttled and the blending time is limited for smaller containers (250 ml or 600 ml).
Warranty: The warranty for all Vitamix Ascent models has been extended, further 3 years add up to 10 year warranty. Secured investment for a decade!
Usability: The pulse button reacts much faster on the A3500i. The proven Vitamix feeling, which is known from the analog classic TNC 5200, has been transported into the digital world. In addition, there is a degressive speed characteristic curve, which makes the use of the tamper increasingly superfluous, especially at low speeds (ice cream, nut puree, etc.). For the beginner, this may be hard to grasp, but once you start working with the device on a daily basis, you will appreciate these small details.
Disadvantages compared to the Vitamix Pro 750:
Appearance:This point is debatable, because beauty is in the eye of the beholder. We think that the Vitamix Pro 750 is visually very appealing.
Acoustics: The Vitamix Pro 750 is approx. 3 dB quieter than the A3500i (fully loaded maximum speed). In the long run, you will appreciate that.
Preparation possibilities: Due to the 1.4 liter container available for the Pro 750, hummus, ice cream and nut puree can be prepared in quantities as small as 500 ml. The A2500i requires at least 800 ml. Unfortunately, there is no 1.4 liter container for the A3500i and due to multiple announcements and backtracks, it is questionable whether it will ever be available.
Dimensions: The Vitamix Pro 750 takes up less space in the kitchen. It is 4 cm shorter.
Radiation: The Pro 750 simply does without any Bluetooth or NFC technology - so there is no high-frequency pulsed radiation.
What both blenders have in common is that they can perpare the creamiest (green) smoothies ever. There is no difference here. Unfortunately, in this country the ability to upgrade the A3500i is seriously limited, as there is no optional 1.4 liter container.
Questions & Answers about the Product
Ask a question
Total 13 question(s)
Hello, I am a proud owner of an A3500i . My question is this: is it possible to prepare Nicecream with the two small containers (600 ml and 250 ml)? They are simply best when fresh ! kind regards
Question submitted by Remund on September 9, 2021 at 14:50 o'clock
Hello Remund,

thank you very much for your message.

Unfortunately, you cannot process viscous ingredients, such as frozen fruit, in the small containers. The containers are closed and this makes it impossible to use a tamper to bring the food back to the blade. Until there is a 1.4 liter or 0.9 liter container for the Ascent series, you still have to eat ice cream in large quantities ... I'm sorry I don't have more pleasant news for you there.

Best regards from Berlin :- )

Betsy from the GrueneSmoothies.com team
Beanwortet am 09.09.2021 um 15:08 Uhr
Hello, can I also make Energy Balls with dates using the small additional containers of the A3500i? Unfortunately, this does not work in the 2-liter container. Or do you have a tip on how this could work? LG Gundula
Question submitted by Gundula Bunge on October 5, 2021 at 20:20 o'clock
Hello Gundula,

thank you for your question

Energy Balls are a real challenge for high-speed blenders. There are a few things to keep in mind here. We have written a recipe for Energy Balls ourselves with our tips and hints:

Our energy balls recipe.

You cannot use the small containers to prepare energy balls or viscous ingredients as they are closed at the top and you cannot use the tamper.

Please don't hesitate to let us know if you have any more questions!:-)

Best regards from Berlin!
Betsy from the GrueneSmoothies.com team
Beanwortet am 11.05.2021 um 10:32 Uhr
Hello,

when will the food processor attachment be available?

MfG Alex
Question submitted by Alex on July 1, 2021 at 12:15 o'clock
Hello Alex!
There are no plans to launch the new food processor in Europe. The reason is that the European devices differ from the American ones and therefore the new food processor cannot be operated on any Vitamix available in our country.
If and when the food processor will be available in Germany is unfortunately still completely unclear.

Best regards,
Your GrueneSmoothies.com team
Beanwortet am 07.01.2021 um 12:33 Uhr
Hello,
Do you guys now know when a smaller container for the Ascent series will be available on the European market?

VG
Stephan
Question submitted by Stephan on June 18, 2020 at 12:55 o'clock
Hello,
is there any news regarding the 1,4l container?

BR
Stefan
Question submitted by Stefan on February 27, 2020 at 14:45 o'clock
Hello Stefan,

Thank you very much for your message.

Unfortunately, there still is no news regarding the 1.4 liter container …

Best regards from Berlin!
Your GrueneSmoothies.com Team
Beanwortet am 27.02.2020 um 16:39 Uhr
Hello

Is it true that the 1,4 liter container won't be available on the European market?

Lg, maria
Question submitted by Maria on January 14, 2020 at 19:39 o'clock
Hello Maria,

thank you very much for your message

Unfortunately, there still is no binding commitment from Vitamix.
We recommend you to be patient and check our website from time to time!:-)

Best regards,

Betsy from the GrueneSmoothies.com team
Beanwortet am 15.01.2020 um 10:30 Uhr
Good evening,
do you have to add water to the a3500i to make crushed ice as well (similar to the 750)?

Greetings
Question submitted by David on July 1, 2020 at 21:12 o'clock
Hello David,

thank you very much for your question

It is recommended to add some water as a "carrier" when making crushed ice so that the ice does not get crushed completely!

Kind regards,

Betsy from the GrueneSmoothies.com team
Beanwortet am 08.01.2020 um 10:52 Uhr
Good morning,

I have had an a3500i for two weeks now and previously had a Pro 750. I love my Vitamix, BUT have now received bad news from the US: Vitamix has decided not to launch the 48 oz container in Europe. Do you have any more info on this? I am very upset and annoyed because the small containers that are already on the market are not comparable to the 32 or 48 oz containers.
Thanks for your answer
Kind regards Matthias
Question submitted by Matthias on April 11, 2019 at 13:18 o'clock
Hello Matthias,

thank you very much for your question

Currently, we have received neither a confirmation nor a promise from Vitamix as to whether the container will be launched on the German market. We hope to be able to include the product in our range soon!

Kind regards from Berlin,

Your GrueneSmoothies.com team
Beanwortet am 04.11.2019 um 16:18 Uhr
Hello,
I am interested in the latest Vitamix A3500i. Unfortunately, the 2L container is too large for me to prepare small amounts of smoothies. The 600ml container supposedly does not perform to the comparable quality. Do you know when the 1.4 L containers will be available for purchase?

LG
Jola
Question submitted by Jola on May 8, 2019 at 09:33 o'clock
Hello Jola,

thank you very much for your questions.

Unfortunately, we cannot confirm a date when the 1.4-liter container for the Vitamix A3500i will be available – and most importantly, whether it will be offered for the German/European market at all.

The 600 ml cups are a great addition to the 2 liter standard container – especially for small amounts of fruit smoothies, shakes, pestos, dips – but not suitable for green smoothies.

If you require any further assistance, feel free to contact us again.

Best regards,

Your GrueneSmoothies.com Team
Beanwortet am 05.08.2019 um 10:57 Uhr
Hi, can you tell me if the Perfect Blend scale can be used with the app in Germany? I have heard that this then does not recognize the attached container. Or do you have info on whether the scale also appears in D? Many greetings!
Question submitted by Frank Keller on July 31, 2019 at 05:18 o'clock
Hello Frank Keller,

thank you very much for the question.

Unfortunately, we have no information on the Perfect Blend Scale, nor whether the scale will be released in Germany.

All the best,
Your GrueneSmoothies.com team
Beanwortet am 31.07.2019 um 09:20 Uhr
Hello dear GreenSmoothies team.
In the technical data for the Vitamix A3500i it says that a measurement regarding the revolutions has been commissioned. Is there already a result for this?
In my research to buy a high-speed blender, I often hear that this should be at about 36,000 revolutions. Even dark green vegetables such as kale, broccoli, are broken down to their cell structure allowing the body to absorb them well. Is this true? What are your thoughts on this?
Last question: if I don't have a chance to prepare a smoothie fresh at work; how much time should there be between preparation and ingestion to lose as little vitamins, minerals, etc. as possible?
Thank you in advance for answering my questions. Kind regards, Annette
Question submitted by Annette on April 25, 2019 at 19:34 o'clock
Hello Annette,

thank you very much for your request.

Unfortunately, we do not yet have any measurement results for the Vitamix A3500i or the revolutions per minute under load.
In principle, the A3500i is technically identical to the Pro 750. We therefore do not expect any differences in the results. You can confidently assume that the Vitamix A3500i breaks up the cell fibers in the best possible way!

Regarding your further question: Of course, the nutrient content is highest immediately after preparing your smoothies. But it's no big loss if you prepare the smoothie in the morning and then drink it at work a few hours later. After all, that's how we do it.

Many greetings

Your GrueneSmoothies.com team
Beanwortet am 26.04.2019 um 12:58 Uhr
Hello dear GreenSmoothies.com team,
the 1.4L container for the Ascent series is now also available in the USA with Self-Detect. This should then also fit on the German Vitamix, right? So I understand that containers without Self-Detect do not work, but with should not be a problem or are there differences again?
Thanks in advance for an answer!

Kind regards,
Sabrina
Question submitted by Sabrina on April 13, 2019 at 07:28 o'clock
Hello Sabrina,

thank you very much for your request.

The US version of the 1.4 liter container for the Ascent Series is unfortunately not compatible with the Ascent mixers for the German market

Reason: Self-Detect in the USA means that the blender recognizes whether the container is fitted. In our country, the Self-Detect function includes more – an additional lid detection, i.e. the device detects whether the container, including the lid, is in place.
Many greetings

Your GrueneSmoothies.com team
Beanwortet am 16.04.2019 um 10:51 Uhr
Hello dear team of Green Smoothies,

I've had the A3500i for just under a year now, and I have to say: I LOVE IT!
Smoothies have become part of my daily routine. However, for dips, spreads, etc. the 2l container is too big.

Meanwhile, do you know when the 1.4l container will be released? The small ones (250ml and 600ml) are too small for my purposes….

Thanks,
Elena
Question submitted by Elena on January 3, 2019 at 23:04 o'clock
Ask a question
Reviews
[5 of 5 Stars]


The best blender we have ever had

The best blender we've ever had. It's flexible, sturdy, powerful and easy to use. We do not find it particularly loud. Sure, it can't be whisper quiet with the power, but we have significantly weaker blenders that are equally loud. The accessories of the anniversary model also make perfect sense. We are satisfied all around.

[5 of 5 Stars]


Absolute recommendation

In December, after much deliberation, I ordered the Vitamix A3500i and since then it is really every day in use!
I have 4 years previously used the smallest Vitamix S30 (3-person household) and was also very satisfied with this, but now and then I wished to have a bigger and smaller container.
The fact that the A3500i in the Family Pack also has a 0.6 liter and two 225 ml containers in addition to the 2 liter container convinced me.
At first, I was concerned about whether we would need the large container with 3 people (the intermediate size seems to only be available in the US), but now it's in use practically every day for green smoothies and various doughs.
The small containers are also totally recommended, we make our own ketchup, salad dressings, chutneys, ginger shots and even almond paste in them! If I hadn't seen this in a Vitamix video, I wouldn't have thought it could be done without a tamper, but it went quite smoothly and within 1-2 minutes we had a creamy almond puree that was on par with what we got at the store!
The only "negative" point that comes to mind, which is similar with other powerful blenders: the device is very loud! We have therefore the noise protection mat Revo2Pads and can also highly recommend this to anyone who has neighbors :-)
Oh yes, on the Internet is often the talk about the fact that the different blending containers are not or not always recognized (that had initially deterred me a bit). With us, however, so far all containers were recognized immediately (it is important for the smaller containers that they are tightly screwed though).

[5 of 5 Stars]


Super!

The best product.

[5 of 5 Stars]


The blender is just great!

Hi, thanks a lot for your help and super advice. We love our Vitamix 750, I'm so glad I decided to use this device.The best, our Mario, who is severely disabled, loves smoothies, since we have this high speed blender. It makes such super creamy smoothies, oh you can hardly put it into words. You just have to experience it and taste it. I'm happy because Mario now also gets his vitamins and minerals through the smoothies. We don't need supplements anymore. Whoopee!!!! THANKS!!!!!

[5 of 5 Stars]


The device is almost a revelation :)

I've been testing almost everything (green smoothie, ice cream, soup, nut milk, ginger shot) for three days now. Everything creamy, fluffy, fiber free, delicious, fast, easy.... Just wondering why I waited so long to buy it! Almond paste as the supreme discipline I still have to test, but am already completely thrilled.

And last but not least, the great offer with water bottle, recipes, 45 days test and a super nice service with competent advice ... Amazing!

[5 of 5 Stars]


Total excitement!!!

I received the A3500i as a gift from my husband for my birthday. I am just thrilled. I always wanted to have the Vitamix, but since I already had another, which was also not so cheap, I have always postponed the purchase. Now my husband has taken over for me and I'm so happy. I tried it today for the first time in which I blended like every morning: spinach, celery, parsley, 1 banana, 1 apple, 1 pear with water and the juice from a lemon.... i was so thrilled with how fast and especially super creamy the unit got it done. I am just happy!!!!! The device is worth every penny!!!!!!!!

[5 of 5 Stars]


Probably the best blender you can imagine.

I have long considered whether to replace my 2015 also expensive purchased Kitchenaid Magnetic Drive Blender (2HP power) with a Vitamix, as I was not so satisfied with the former device in many disciplines.

And I did it after all...
The device was delivered mega fast. Monday evening ordered, Wednesday already received the device. TOP.

The unpacking alone is fun. The feeling when starting it, the rubber coating, the processing, noble and worth every penny.
Blending container robust, handy, very good opening (without lid) so that the filling of ingredients never misses.

What I immediately learned to appreciate is the tamper. Gone are the days of turning off the blender, laboriously scrape the walls free again and continue blending.
For this to work, however, you have to reach a certain minimum filling level - you just make twice the amount of nut puree, nicecream, etc...

Frozen bananas, prunes, cinnamon, cocoa, a pinch of salt - that was the first thing I tried. Unbelievable how quickly a homogeneous puree came about here.

The small distance between the container wall and the blade of my old blender annoyed me massively, because it made emptying with a spatula a cramp, but with the Vitamix A3500i it's a real pleasure. Here it works well with a medium-sized silicone spatula without permanently twisting the blades to get to the contents adhering to the bottom.

Next I made nut puree (200g cashew, 200g hazelnut, 200g almond - all roasted in the oven for 10 min and let cool).

Chopped on speed 1 and then up to full speed.
What stands out? Even at full throttle - Wow, it is quiet compared to the compared device above...

... and how fast it transforms the 600g nuts into a liquid, homogeneous puree... unbelievable...
The puree was only slightly warm, as was the container.

A quick raw vegetable salad (carrots, beet) on level 1 can also be prepared super - in record time.

in summary, I can at least say that I am very satisfied with the blender purchase. Not least because of the many information along the product description here on the site.

The only thing that is missing now are the accessory containers, the Vitamix Smartscale scale and a localized version of the app...

[5 of 5 Stars]


Great device that I no longer want to miss.

I would not want to miss my Vitamix A3500i. Have long thought back and forth (due to the high price), but am glad to have invested the money. Quite great results.

[5 of 5 Stars]


I am thrilled!

First of all, thank you for the nice competent advice and super fast delivery. For more than 5 years now, my day starts with a green smoothie, and my old blender had always managed that well. Actually, I did not need a new blender, but by the fact that I now make my own almond paste and my old blender had no speed control, I decided after much deliberation for the Vitamix A3500i, and that was the best decision ever! It really is world class! I didn't think you could taste the difference so clearly, but it's true, the consistency is super creamy and the smoothie tastes even better. My first blender experience was your tomato soup, it is an absolute hit, and is the first soup I have ever made in a blender. Thank you for these great recipes that inspire me every day. The cleaning brush is optimal and very practical. You can also clean the bottles wonderfully with it
I am already looking forward to the next challenge with my new super great Vitamix!!! I am totally happy :-)

[5 of 5 Stars]


Perfect

After a super short delivery time, I received the blender from you and was already excited about the stylish appearance when unpacking. And it fits together with blender jar (without lid, however) even on the countertop under the wall unit, which hangs quite low. So far we have made our beloved kale smoothies, which turned out just great. The see-through lid is nice. And it's reassuring that the unit really only blends when the lid is on. We have two children, you never know if they do not want to mix something sometimes.... I am really excited and look forward to the many recipes (a great recipe book is included, very classy and also from you a great booklet with all the summarized basics as well as the cards with the recipes are also prima!)
Thanks!

[5 of 5 Stars]


Really a strong device!

Yesterday, the new Vitamix Ascent finally arrived with me and the joy is huge! The device is quite impressive! Not only the new design with touch function and timer, but also the safety component has convinced me to wait for the device and now it is finally here. So far I've made smoothies, a pumpkin soup, a dip and also an ice cream with it and I'm so incredibly happy! The results were outstanding, the smoothies and the soup became super creamy and also the ice cream from frozen fruits were made very fine super easily. That's how I love Nice Cream! The unit really only starts when the lid is on! In addition, I also really like the new container with the transparent lid, because you can also view the blending process from above. Pretty cool!
The device is really a hit!!! I am happy!

Write Your Own Review