7-Day Kickstart: Become a Green Smoothie Expert within a week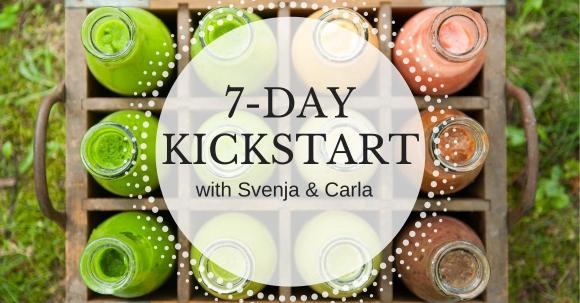 Register now for the 7-Day Kickstart
Yes, I would like to subscribe to the newsletter and take part in the
7-Day Kickstart for free.

Please send me e-mails, according to the privacy policy, on a regular basis. The Newsletter contains information about kitchen appliances, utensils, recipes and preparation tips, this is revocable at any time.
Learn everything about green smoothies in just seven days - that's possible with our free online course - GrüneSmoothies.de 7-Day Kickstart. we will share all our knowledge about this nutrient-rich trendy drink with you. A daily mail is letting you take a look into our smoothie kitchen in berlin kreuzberg. You receive detailed instructions for the preparation of green smoothies, information on ingredients and shopping options. In addition, lots of culinary tips & tricks as well as 7 delicious green smoothies recipes for beginners are waiting for you. After this online course you can call yourself a green smoothie expert.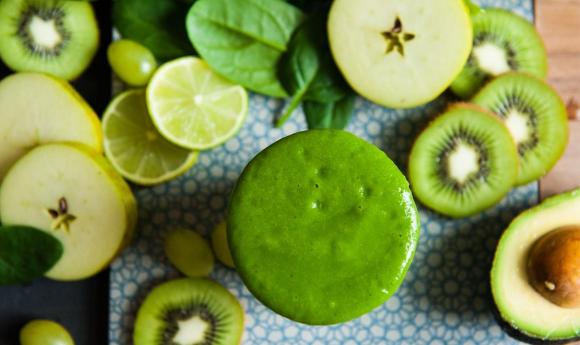 What can I expect?
Different topics in daily mails for a week , you will be comprehensively informed about Green Smoothies and their preparation. Furthermore there is a delicious and, above all, simple green smoothie recipe every day.
The topics at a glance: 7 days, 7 topics, 7 green smoothies recipes for beginners
Day 1: What is a green smoothie? How do I prepare a green smoothie?
Day 2: What ingredients do I use in a green smoothie?
Day 3: What ingredients do not belong in the Green Smoothie?
Day 4: The best place to buy smoothie ingredients and how to keep them fresh
Day 5: Important tips for getting started with green smoothies
Day 6: Culinary tips & tricks: How to make every Green Smoothie taste great
Day 7: Green Bowl Special: Get to know superfood toppings for your green smoothie
7 delicious and, most importantly, easy green smoothies recipes for beginners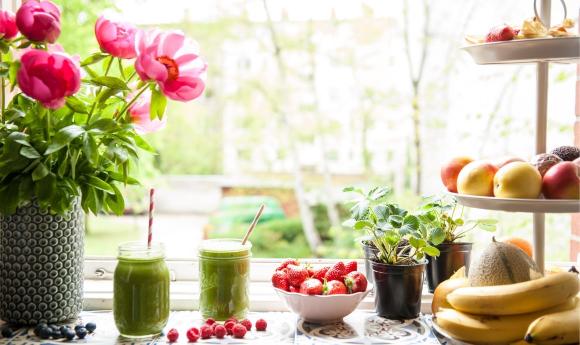 How can I participate?
You decide when to start your "GrüneSmoothies.de 7-Day Kickstart". By clicking on the registration link in the first mail, you confirm your registration. You will receive the first email on the day you filled out the registration form.
Register now for the 7-Day Kickstart
Yes, I would like to subscribe to the newsletter and take part in the
7-Day Kickstart for free.

Please send me e-mails, according to the privacy policy, on a regular basis. The Newsletter contains information about kitchen appliances, utensils, recipes and preparation tips, this is revocable at any time.
Who accompanies the 7-Day Kickstart?
We, Svenja & Carla from GrüneSmoothies.de, accompany you through the 7-Day Kickstart. Together we have mixed over 5000 (!) liters of Green Smoothies in the past 5 years. Besides our families, we have also taught many people how to prepare Green Smoothies in our workshops or during our Detox cleanse. We love developing new recipes for Green Smoothies as well as sharing our enthusiasm for this little nutritional miracle with others. Whether in our workshops or during the 7-Day Kickstart. The most important criterion for us is that the green smoothie is tasty - preferably as a healthy breakfast.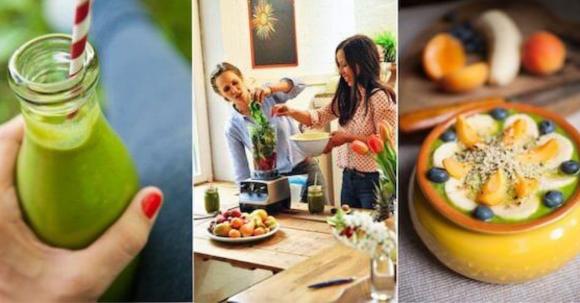 Register now for the 7-Day Kickstart
Yes, I would like to subscribe to the newsletter and take part in the
7-Day Kickstart for free.

Please send me e-mails, according to the privacy policy, on a regular basis. The Newsletter contains information about kitchen appliances, utensils, recipes and preparation tips, this is revocable at any time.
Do I need a high-performance blender for the 7-Day Kickstart?
During the Kickstart you recive 7 simple Green Smoothie recipes with very different ingredients. Some of them include very fibrous leafy greens, which can only be blended to a creamy fineness with a more powerful high-speed blender. If you don't have a high-speed blender at home, you can simply replace these ingredients with more easily to process leafy greens like baby spinach or lamb's lettuce.
We look forward to guiding you through your first green smoothie steps!