2008 - 2023 | 15 years GrueneSmoothies.com - the original
The Vitamix E320 is exclusively offered in the United States.
Our recommendation:
The Vitamix Pro 300 is almost identical in construction, a big difference between the two devices is the warranty period. The 7-year warranty on the Pro 300 speak for themselves and make it a real alternative.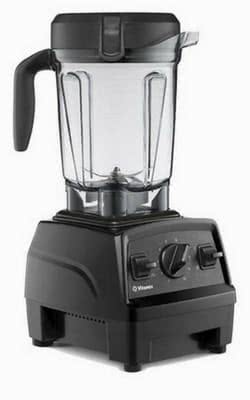 Powerful purist for creamy fine green smoothies
If you like it simple and uncomplicated, the Vitamix E320 is the best choice. Like all blenders from the Classic series, it does without extra technical features such as Bluetooth or NFC container recognition. Instead, the powerful purist concentrates on its core discipline - blending. Thanks to the tried-and-tested Pro container, the Vitamix E320 succeeds so well that it produces green smoothies with a fantastically creamy consistency.
The compact 2.0 liter container also has another advantage: It allows the Vitamix E320 to fit under any kitchen counter.
Vitamix E320 Product Highlights:
Perfect Green Smoothies: Creamiest green smoothie consistency compared to any other manufacturer's blender we've ever tested.
Fits in any kitchen: Thanks to the compact, wider container, the Vitamix E320 fits under any kitchen counter.
Culinary precision: Variable speed adjustment over 10 levels allows a wide range of preparation possibilities.
Easy to use: Easy-to-understand manual controls with no extra technical features.
Secured investment: 5-year Vitamix full warranty on all parts incl. container and tamper (for purely private use)
Overview
Preparation possibilities with the Vitamix E320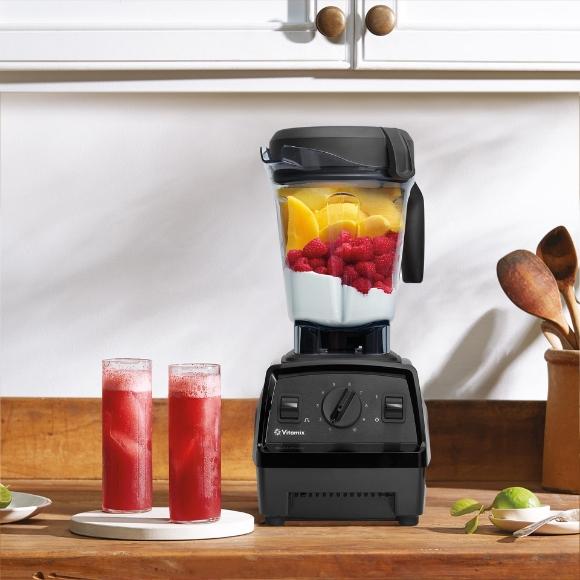 Creamy green smoothies
Delicious fruit and vegetable smoothies
Vegan plant and nut milks such as fresh almond milk
Fresh homemade juices
à la minute ice cream creations like fruit sorbets, frozen yogurt or healthy nicecream
Fresh pestos, dips and sauces
Heavenly creamy hummus made from chickpeas or beans
Boiling hot soups such as cream of tomato soup
Healthy and vital baby porridge
Homemade nut butter
Liquid dough preparations - e.g. for pancakes, muffins or crepes
Chopped vegetables for salads, e.g. carrot salad
Freshly ground coffee or freshly ground almond flour
Crushed ice
Handling & operation of the Vitamix E320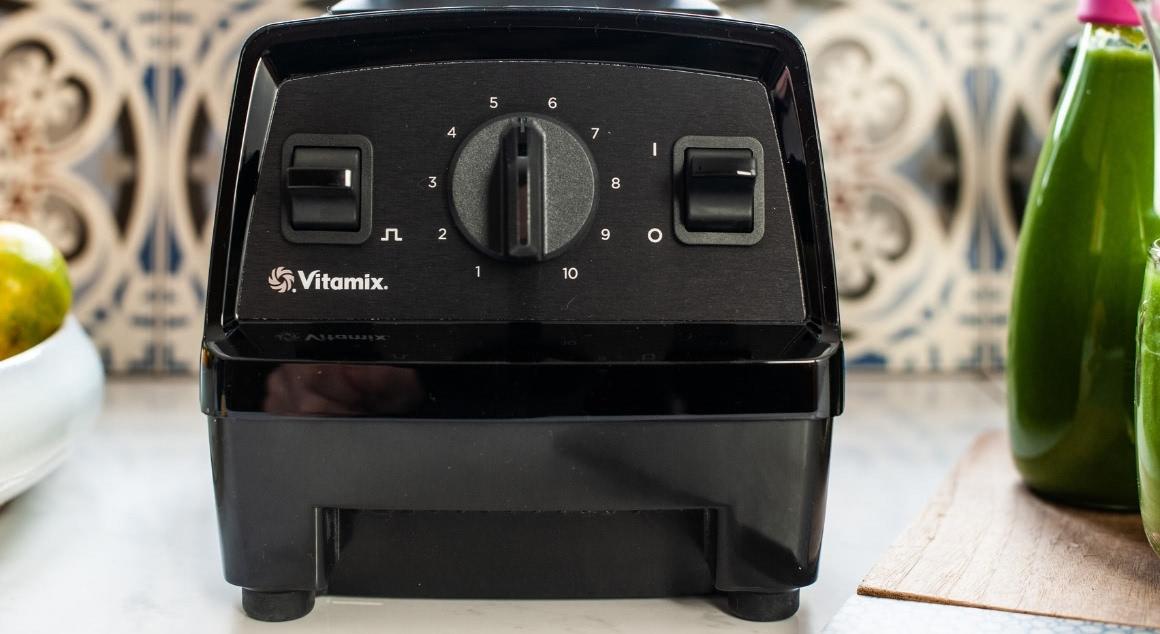 The Vitamix E320 has a simple and intuitive operating concept: the on/off switch on the right side starts the blending process. The blending speed can be controlled from 1 to 10 with the dial in the middle. The left switch starts the so-called pulse function, which directly activates the set speed level as long as the switch is held down. The same function also is possible using the on/off switch. Switching on and off once is sufficient here instead of keeping the button pressed during the blending process.
Container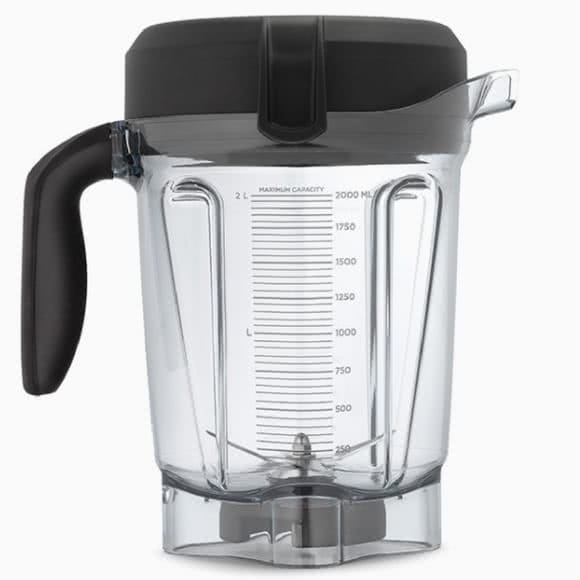 The Vitamix E320 is equipped with the 2.0 liter Pro container. This container is characterized by its lower height and a wider diameter than, for example, the container of the Vitamix E330, which also has a 2.0 liter volume, but is much narrower.
The Vitamix E320 has particularly long blades, these ensure excellent blending results. Green smoothies are not only fiber-free, but also have a wonderfully creamy and fluffy consistency.
The compact height of the container allows the Vitamix E320 to fit under any kitchen counter and make it easier to remove viscous preparations such as nicecream or hummus
However, the wider and compact container shape requires larger minimum quantities: For preparations that can be poured from the container, such as smoothies, almond milk or soups, about 500 ml are needed. For more viscous preparations such as almond paste or nicecreams (ice cream), about 800 ml are required. If this is too much for you, we recommend purchasing the 1.4 liter container, which allows you to prepare smaller quantities starting at 250 ml.
The lid of the container is equipped with the typical Vitamix lid insert. This can be opened during the blending process in order to push the Ingredients back to the blades of the container.
Cleaning the Vitamix E320
Cleaning the Vitamix E320 container
Cleaning the container is easiest if you rinse it immediately after preparing liquid meals such as green smoothies or almond milk. Then dry it with a kitchen towel if necessary. Done.
For thicker preparations, simply fill the container halfway with lukewarm water, add 1 to 2 drops of dishwashing liquid and blend on maximum for about 30 seconds. Then pour out and rinse with clean water. If there still is food residue - especially underneath the blades - we recommend the use of our practical cleaning brush.
Cleaning the Vitamix E320 motor block
Food residues or dirt on the motor block can easily be wiped off with a damp cloth. The rubber mat on the motor block can be removed for cleaning.
Recommended accessories for the Vitamix E320
If you're looking for a compact, powerful blender for medium and large preparation quantities, you'll be perfectly happy with the Vitamix E320. For smaller preparation quantities from 250 ml for liquid consistencies and 300 ml for thicker consistencies, it makes sense to purchase the 1.4 liter container.
For quick cleaning of the container - especially after preparing thick consistencies such as hummus - we also recommend our practical cleaning brush.
Technical specification of the Vitamix E320
Power: 2.2 horsepower; 220 - 240 volts / 50 Hz - 60 Hz; 1200 - 1400 watts
Dimensions (width x height x depth): 20.3 x 44.2 x 22.9 cm
Weight: approx. 4,76 kg
Material: 100 % Tritan plastic (BPA-free); Suitable for temperatures up to 100°C
Controls: Jog dial with 10 variable speed levels, on/off switch on right side, pulse button on left side
Container: 2.0 liter container incl. tamper (medium)
Volume of container: 2.0 liters
Blade type and material: 4 blades made of laser-cut stainless steel; HCS (Japan)
Safety features of the Vitamix E320
Overheat protection/overload protection: if the motor gets too hot due to overload, it switches off automatically - you can't overload the blender.
Vitamix E320 Scope of Delivery:
Vitamix E320 motor block
Vitamix 2.0 liter container made of BPA-free plastic (Tritan™)
Lid incl. lid insert
Instruction manual in English
Recipe book
Manufacturer warranty of the Vitamix E320

For purely private use:
Motor block: 5 years
Container: 5 years
Tamper: 5 years
For commercial use:
Motor block: 6 months
Container: 6 months
Tamper: 6 months
Write Your Own Review