Expert Opinion:
"The flow conditions in the container are optimal. Accordingly, the blending result is clearly above all comparable devices in this price range. The operation is very simple. The Wartmann blender is a great all-rounder and absolutely recommended."

Markus from gruenesmoothies.com
2008 - 2023 | 15 years GrueneSmoothies.com - the original

Anniversary Offer
On the occasion of the 15th anniversary of our website, we have reduced the Wartmann Blender compact by 33.33 € to 266.57 €. This offer is valid until Monday, 16th October 2023.
---

45-Days-money-back guarantee

More »
We love green smoothies and only offer what we can re­commend without reser­vation. If our blender re­commen­dation doesn't stand up to your every­day test, we'll take the blender back within the first 45 days of purchase. Full terms »

« less
How come the Wartmann is not that expensive?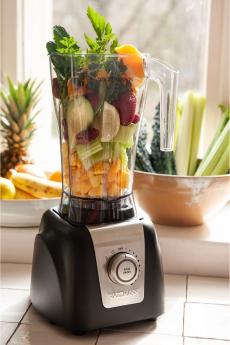 Are you looking for a powerful blender that is easy to use and with which you can prepare all popular blender preparations? Small as well as large quantities of green smoothies, ginger shots, almond milk or nicecream. And preferably at a low price?

One fulfills all your wishes: the Wartmann blender. To be honest, we were surprised by the comparatively low price for this blender.
Highlights of the Wartmann blender
Powerful motor: max. 30,000 revolutions per minute or 1,250 watts.
Multifunctional container: all blender preparations are possible, small as well as large quantities.
Easy operation with jog dial: 3 time programs on the left, variable speed control on the right, start/stop/pulse button in the middle.
Lightweight: Very light container (>1 kg) made of BPA-free plastic (Tritan).
Warranty: 2 years warranty on all parts! (Optionally 5 years)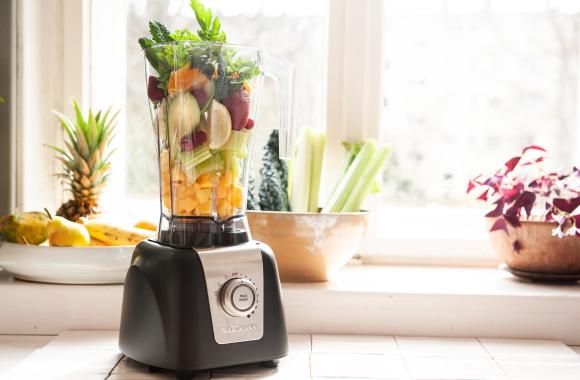 Overview
Preparation possibilities with the Wartmann blender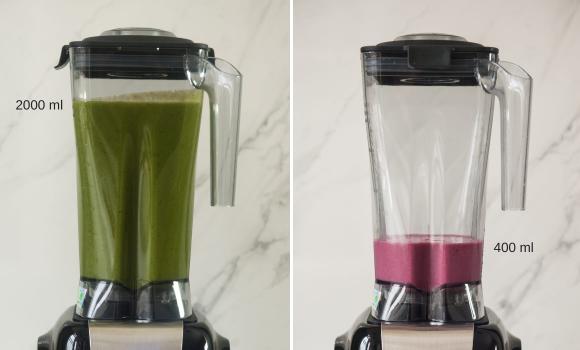 The Wartmann blender is an all-round blender. You can use it for liquid preparations such as smoothies, almond milk or ginger shots from 250 ml to 2 liters (Standard) or 1.4 liters (Compact). At the same time, the Wartmann blender can also be used to prepare smaller quantities of thick consistencies, such as nicecream, pesto or hummus - from approx. 400 ml. This is a clear advantage, as these preparations do not have a long shelf life - Nicecream for example should even be served and consumed à la minute.
Creamy green smoothies
Delicious fruit and vegetable smoothies
Vegan plant and nut milks such as fresh almond milk
à la minute ice cream creations like fruit sorbets, frozen yogurt or healthy nicecream
Dips and sauces
Heavenly creamy hummus made from chickpeas or beans
Hot soups heated by friction heat, such as cream of tomato soup
Healthy and vital baby porridge
Homemade nut butter
Liquid dough preparations - e. G. for pancakes, muffins or crepes
Freshly ground coffee or freshly ground almond flour
Crushed ice
Handling and operation of the Wartmann Blender
The Wartmann blender is equipped with a central jog dial that allows you to select either one of the 3 time programs (soups, (fruit) smoothies and green smoothies) or the manual mode with its 8 speed levels. To start one of the three time programs, simply turn the jog dial to the left and select a program. The button in the center of the dial starts the program and ends it if needed. If you turn the jog dial to the right, the Wartmann blender starts with a gentle 1500 rpm and can go up to 30000 rpm by turning the dail further.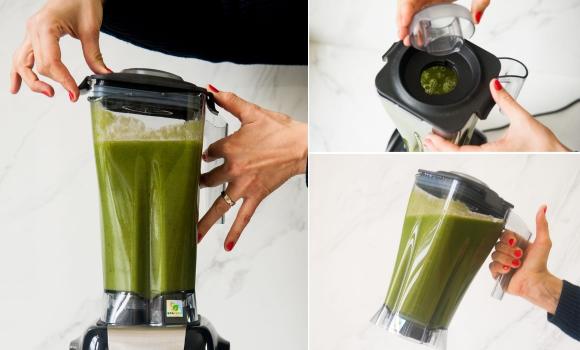 Handling the Wartmanns container also is very convenient: The lid noticeably locks in place and can be closed firmly. Due to its low weight of less then 1 kg, the container feels very comfortable in the hand even when filled to the maximum.
How loud is the Wartmann blender?
With 83 dB (decibels) at maximum speed and 1.2 liters of water in the container, the Wartmann blender ranks in the midfield of comparable high-speed blenders in its price range. However, the Wartmann blender produces a high-frequency tone at full power, which can be perceived as unpleasant for some people. Therefore, we recommend purchasing the Noise Cancelling Pad - Revo2Pads, which significantly reduces this sound.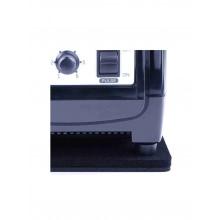 Noise Cancelling Pad - Revo2Pads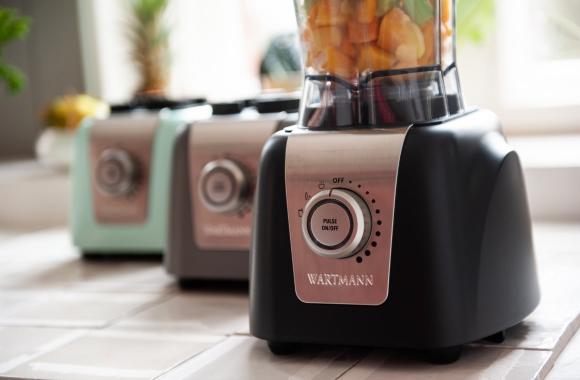 Recommended accessories for the Wartmann blender
Our cleaning brush is particularly practical when cleaning the container after preparing sticky viscous dishes.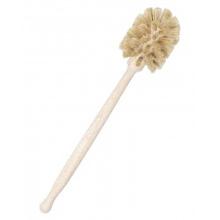 Cleaning Brush for Containers, Juicers & Bottles
To reduce high-frequency, shrill tones during blending, we recommend Noise Cancelling Pad - Revo2Pads.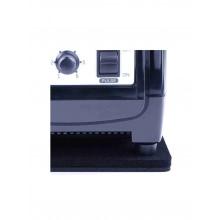 Noise Cancelling Pad - Revo2Pads
As with most blenders, we recommend the energy-saving plug. It is worth the money - it completely disconnects the device from the power grid while the blender is in stand-by mode: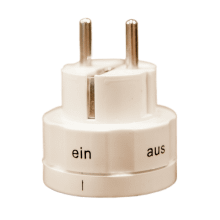 We recommend the Wartmann Grinding Container if you are planning to regularly grind coffee or grains. For occasional grinding, the included container is sufficient (!), but the container becomes blind/cloudy over time. A opaque container is a no-go for some preparations as the consistency must be closely observed during the blending process.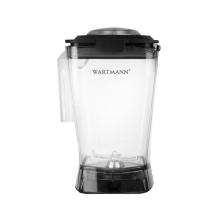 Wartmann Grinding Container
Technical specification of the Wartmann Blender
Blade tip speed: 215 km/h (with 1,2 l water)
Power: 220 - 240 Volt / 50 Hz - 60 Hz; 1250 Watt
Revolutions: 1,500 rpm. (level 1) to 30000 rpm. (level 10)
Dimensions (width x height x depth): 22 x 48 x 22 cm (Standard), 22 x 41 x 22 cm (Compact)
Weight: approx. 5,02 kg
Material: 100 % Tritan plastic (BPA-free); Suitable for temperatures up to 100°C
Controls: Jog dial with 3 time programs, manual mode and pulse mode
Container: Wartmann 2 liters container incl. tamper (Standard), Wartmann 1.4 liters container incl. tamper (Compact)
Volume of container: 2 liters (Standard), 1.4 liters (Compact)
Blade type and material: 4 stainless steel blades; HCS (Japan)
Safety features: overheating and overload protection, container detection
Certification / Standard: CE, EMC, CB, LVD, CCC, PAH
Safety features of the Wartmann blender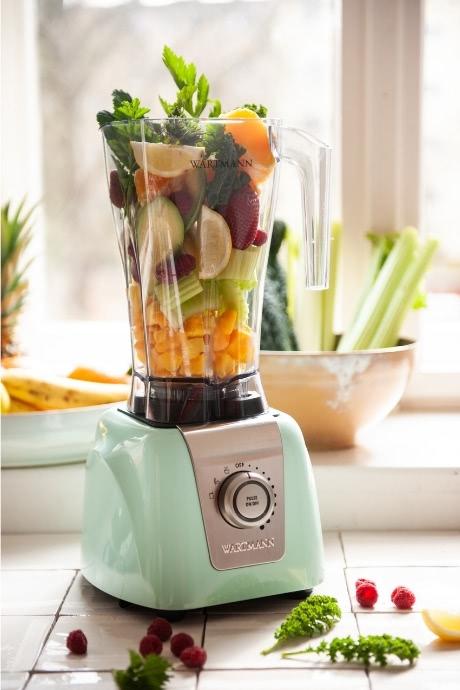 Overheat protection: if the motor is overloaded, which can happen with viscous preparations, the motor automatically shuts off to cool down. The Wartmann blender can be used again as soon as the motor has cooled down.
Container detection: The Wartmann blender can only be started when a compatible container is attached.
Wartmann blender scope of delivery:
Motor block
2 liters container made of BPA-free Tritan (Standard) or 1.4 liters container made of BPA-free Tritan (Compact)
Tamper
Lid incl. cap
Instruction manual in English incl. recipe ideas
Wartmann blender Warranty
Motor block: 2 years
Container: 2 years
Tamper: 2 years
Additional the warranty can be optionally extended to 5 years.
Questions & Answers about the Product
Ask a question
Total 27 question(s)
Ask a question
Reviews
[5 of 5 Stars]


We mainly use the high speed blender for smoothies. It does a very good job for that purpose.
We can only recommend it.

[5 of 5 Stars]


Quality as described. I am very satisfied!

[5 of 5 Stars]


Super device - had to change me a bit (from Bianco Piano) but the smoothies are super creamy and the advance advice & delivery was super nice and brilliantly fast !!!!

[4 of 5 Stars]


Better than a immersion blender, but does not manage to completely crush lemon and also small seeds, for example, of raspberries remain whole. However, the overall result is good.

[5 of 5 Stars]


Good blender

High quality of the blender, intuitive operation. Quite noisy because of the speed.

[5 of 5 Stars]


Very satisfied so far

Our smoothies have never been so smooth.
I also made soups in it already. Works great, I look forward to our zucchini soups.

[5 of 5 Stars]


A little noisy but very satisfied

After a lot of research and also previous wrong order of a high performance blender that does not meet the requirements, I have fortunately chosen the Wartman blender. I have him now about 1.5 weeks and am very satisfied. It is quite loud, but that is acceptable for me. I can definitely recommend it.

[5 of 5 Stars]


Rating without text

[4 of 5 Stars]


Overall satisfied!

I'll start with disadvantages:
Instructions for use not in German. Only in English.
Too small pieces the Smothies program does not capture all.

Advantage:
Is my first blender and making different smothies goes well (and is fun).
Even hot soup from the stove directly into the blender jar was no problem.


[5 of 5 Stars]


Recommendable!

I have this blender now for about 6 months and love it! Mainly I use it for smoothies but I also try out other recipes from time to time. For what he was also extremely helpful: orange marmalade with the steamed orange are blended completely with peel.
I think it's great!
Disadvantage is, of course, that it takes a little time with a mass with viscous consistency until everything is scraped out - but that's complaining at a high level. And I still give 5 stars.

[5 of 5 Stars]


Already sent.

Already sent.

[5 of 5 Stars]


Great blender and not so expensive

I have the Wartmann now for 9 months and mix with it almost daily a green smoothie. Also the soup recipes and almond milk here from you I have already tried. I am very satisfied. You just have to be careful that nothing hard gets stuck between the blade and the cup wall. Happens to me sometimes with carrot pieces. Then it smells a bit of motor (?). But he does not seem to mind. I am very satisfied and would buy it again.

[5 of 5 Stars]


Super

I am very fond of the blender, now I finally eat more salad

[5 of 5 Stars]


I can recommend the blender very much

Top device for smoothies and great advice on the phone. Here they try not to sell the most expensive, but what suits you best.

[5 of 5 Stars]


Enthusiasm

Super great blender

[5 of 5 Stars]


Ideal for us

We've had this machine for a week now, although we've been interested in a high-powered blender for a year
Many reports and information have brought us again and again on the one or the other Vitamix model. Nevertheless, it was just too much money for us for a blender

Since I trust the store here more than any anonymous reviews on Amazon, we have opted for the cheaper alternative, the Wartmann and are so far very satisfied.
We prepare in it daily exclusively green smoothies for two adults and the result is absolutely sufficient for us. For sure, other devices can blend even creamier and even finer, but that is definitely not worth the extra price of 300 - 800 euros to us.
The 5-year warranty is another point in favor of the model.

For the smoothie beginner who doubts 50 € blenders on the internet for good reason and but also 600 € are too much, this is the perfect choice.

Well done ;-)

[5 of 5 Stars]


Super

Am very satisfied with the purchase. Great advice, very professional. Recommendable!

[5 of 5 Stars]


Great all-rounder

When I bought the Wartmann blender, I had no experience, but definitely high expectations. And they were fully met in the last few days: I've made wild garlic pesto, hummus, ginger shots and almond milk in addition to several green smoothies and fruit smoothies in many variations - and I'm thrilled! And not only by the delicious results, but also by the high-quality finish and the ease of use of the device.

[5 of 5 Stars]


Energy package

Dear GrueneSmoothies Team,

i just wanted to take this opportunity to thank you again for your excellent advice
The Wartmann blender meets all my requirements for a blender - especially for my one-person household, the low minimum blending quantity is great.

[5 of 5 Stars]


Anytime again

I bought the Wartmann blender from your store two weeks ago. I must say: he has fully convinced me. Is of course great that you have the 45-day money back guarantee - but I do not give it away!
Since I'm a huge fan of the smoothie recipes, I put the blender in the last two weeks through its paces. With the 3 time programs I could even "just let him do" - extremely pleasant.

[5 of 5 Stars]


Top

The Wartmann blender has been in continuous use with us for two weeks now. Due to the current Corona situation, we have again started to prepare more in our own kitchen. With various recipes I have come again and again on high-powered blender as a useful device. In the meantime I have made hummus, almond paste, nicecream and smoothies (all according to your recipes). Didn't think it would all work so well. Of course, I can't compare to other blenders since this is my first high-powered blender. But I am completely thrilled.
Write Your Own Review