2008 - 2023 | 15 years GrueneSmoothies.com - the original

Anniversary discount
To celebrate the 15th anniversary of our website , we have reduced the Sana Juicer 606 in Black by 20 % to 391.20 €. Offer valid until Monday, 9th October 2023.

Now also optimized specifically for celery juice

More »
To optimize the juice yield of celery juice, Sana has now developed a new Juice Drum Cap for the Sana Juicer 606. This is now included in the regular scope of delivery.

« less
---

45 days money back guarantee

More »
We love green juices and only offer what we can recommend without reservation. If our slow juicer recommendation doesn't stand up to your everyday test, we'll take the slow juicer back within the first 45 days after purchase. Full terms »

« less
It could not be easier
The Sana Juicer 606 quickly and easily produces fresh, nutrient-rich juices from fruits, vegetables, leafy greens or grasses. The wide hopper barely requires the ingredients to be chopped - saving time when juicing!


Over 20 percent more celery juice: Sana has developed a celery juice end cap for the 606, which is included as part of the delivery. With this, the yield of celery juice could be increased by a little over 20 percent. Fantastic!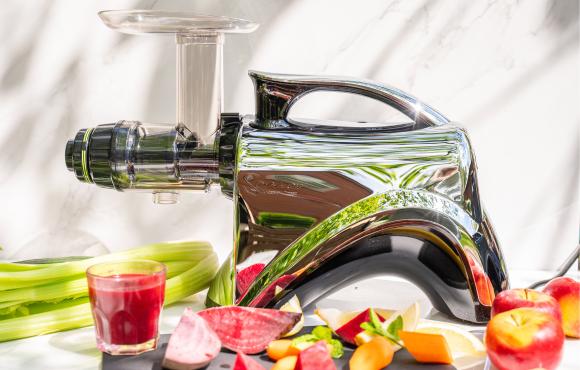 Sana Juicer 606 Product Highlights:
Easy Handling & Quick Cleaning: Assembles and disassembles quickly, is easy to use and uncomplicated to clean.
Better celery juice yield: Thanks to the wide hopper (4.6 cm x 4 cm!), the juice ingredients only need to be coarsely chopped. This saves time!
Wide hopper: Simply insert the new celery juice drum cap and much more juice from the green stalks ends up in the jar.
Multifunctional: The 606 comes with the puree insert and pasta set, allowing it to be used for preparing fresh nut milks, sorbets, baby food, grinding coffee, and fresh pasta.
Secured & Sustainable: 5 years warranty - 10 years on motor block & gearbox (Full conditions). Secure spare parts supply even after the warranty period has expired.
Overview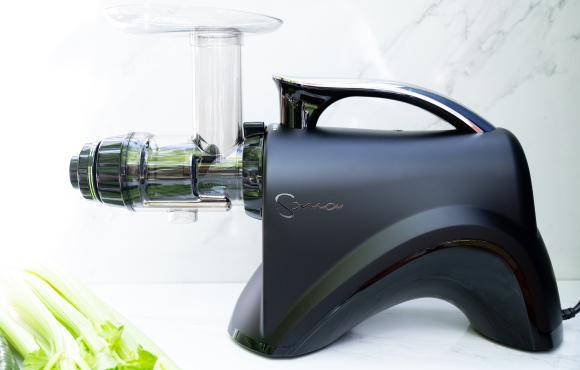 About the manufacturer Sana
Sana is a premium brand targeting health-conscious European customers. Together with the established juicer brand Omega, Sana has developed its first juicer, the Sana Juicer 707. After the groundbreaking success of the 707, they immediately developed a follow-up model that is even easier and more convenient to use: Sana Juicer 606. Most users never prepare pure juices from soft ingredients like mango, banana or pineapple, but they like mixed juices from soft and hard ingredients, therefore they have omitted the coarse screen for pure juices from soft ingredients. In addition, the innovative handle makes handling the juicer even more convenient.
How good is the quality of the juice?
The Sana Juicer 606 produces full-bodied, clear juices from fruits, vegetables, leafy greens, spice tubers or grasses. If the ingredients - especially fruits - are very soft, such as mealy apples or overripe pears, foam may form during the juicing process. As a horizontal juicer, we recommend it above all for freshly pressed juices made from leafy greens, grasses or mixed juices with a high proportion of leafy greens. Thanks to the new celery juice drum cap, not only does the juice turn out full-bodied and fibre-free, but the Sana 606 has become much more efficient in celery juice yield.
Clear green juices from leafy greens such as spinach, cabbage, wheatgrass
Celery juice from celery or celery stalks
Varietal or mixed fruit juices from apples, pineapples, grapes or pears
Pure or mixed vegetable juices from beet, carrots, tomatoes or cucumbers
Mixed juices from leafy greens, fruits and/or vegetables
Ginger shots and turmeric shots
Sauerkraut juice from raw sauerkraut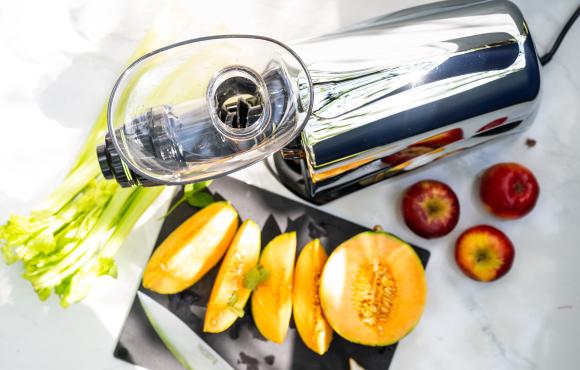 What other preparation possibilities are there?
The Sana 606 is not only suitable for juicing, but also for pureeing, homogenizing, grinding and making pasta. This is made possible by the generous scope of delivery of the Sana 606: a puree insert - also called a blank screen - and a 3-piece pasta set. The assecoirs allow the following preparations:
Fresh nut milks, e. G., from almonds and/or hazelnuts
Fruit purees made from cooked fruits - e. G. applesauce
Fruit sorbets and ice cream made from frozen fruits such as banana and raspberries
Nut porridge made from roasted nuts, such as peanuts or cashews
Baby food made from raw fruits or cooked ingredients
3 different pasta variations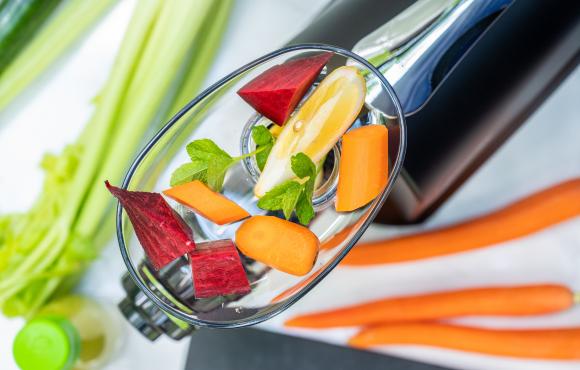 Operation & handling of the Sana Juicer 606
There are 5 parts that need to be assembled on the Sana 606: Hopper incl. juice drum, auger, screen insert, cap and pulp regulator. They are quick and easy to install - It may take 1 or 2 assemblies, but after that it's a breeze.
Before starting the juicing process, the ingredients are cleaned and, if necessary, cut to fit the size of the hopper - apples, for example, are quartered - chop fibrous ingredients such as celery into 1-2 cm long pieces. To start your device, turn the ON-OFF-REV switch on the back of the 606 to "ON", place the juice ingredients in the hopper and push them towards the auger using the tamper. The ingredients are first crushed by the auger and then squeezed against the screen with a maximum of 75 rpm. The juice drips out below the auger, directly into the juice jug. The Pulp comes out of the front of the slow juicer and ends up in the pulp jar. The juicing process is finished as soon as no more pulp comes out of the juicer. The slow juicer can now be switched off.
Tip: As the Sana 606 is a horizontal juicer and does not have a juice flap, it is recommended to leave the motor running for 1-2 minutes after the juicing process, as some juice might still come out.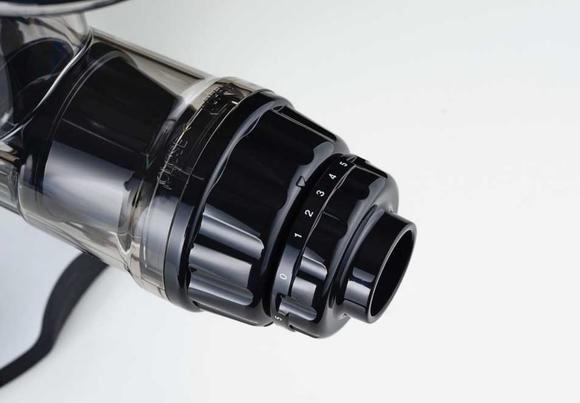 Before and during juicing: Select the right pulp control setting
The Sana 606 has a pulp regulator - a rotary control that sits on the cap. Five levels can be set, depending on the consistency and water content of the juice ingredients. Hard ingredients such as carrots, beet, crisp apples, celery or any type of leafy greens as well as grasses are juiced at level 5. Ripe pineapple can be juiced on level 2-3 while mealy apples and soft pears should be juiced on level 1. The pulp control prevents too much pressure building up during juicing and clogging the juice drum.
If you are preparing mixed juices from hard and soft ingredients alternately, the pulp control can remain at level 5. If the juice consist of soft ingredients only, such as ripe pineapple and pear, pulp regulation should be set between 1-3.

The celery juice drum cap is used for the production of celery juice. This increases the pressure when squeezing the celery stalks, resulting in a greater juice yield.
If the juice drum is clogged, press REV button
If the juicer clogs or overloads despite the pulp regulation, simply turn off the device. When the auger stops rotating, press and hold the REV position. Now the auger will rotate backwards and unjam the overloaded juice drum. When the jam is cleared, release the REV button. Wait until the auger has stopped before turning the juicer back on. If the juicer is started too early, the auger will rotate backwards.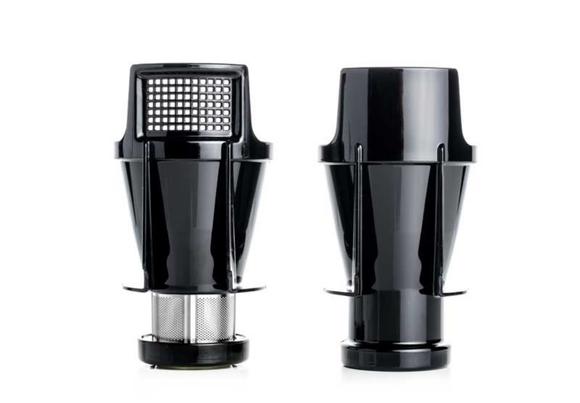 Fine screen insert and puree insert
The Sana 606 has 2 screen inserts: While the fine screen is used for juicing, the puree insert allows the slow juicer to grind, puree and homogenize. This creates fruit purees, sorbets, baby food or nut milks very quickly and easily.
Tip: Mixed juices from hard and soft ingredients are best produced when soft and hard ingredients are juiced alternately. This means you don't even need to change the setting of the pulp regulation, it can remain set to level 5.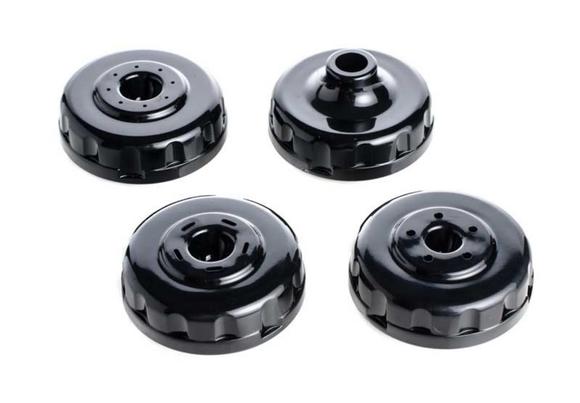 Puree insert in combination with pasta set
The Sana 606 has an ingenious additional function when the puree insert is combined with the 3-piece pasta set. This turns the slow juicer into a pasta machine that can be used to make 3 types of pasta - tagliatelle, spaghetti and angel hair pasta.
Cleaning the Sana Juicer 606
Sana Juicer 606 is a slow juicer belonging to the category - fast and easy to clean. To do this, disassemble the juicer into its individual parts. Remove any pulp residue on the cap, screen and auger with your hands directly above the organic waste or the pulp jar. Now rinse the parts under running water. To clean the screen insert, use the cleaning brush provided; to clean the hopper, we recommend our practical cleaning brush, which fits perfectly through the openings to easily remove residue. Either place all parts on a kitchen towel to dry or dry them by hand and reassemble the juicer.

Attention:

The juicer parts are not dishwasher safe!
Recommended accessories for the Sana Juicer 606
Sana oil press 702
When equipped with the Oil Press Attachment, the Sana 606 can be used to produce homemade, cold-pressed, fresh oils - e. G. linseed oil, almond oil or walnut oil.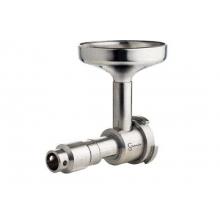 Cleaning brush
For convenient cleaning of the hopper or juice drum of the Sana 606, we recommend our cleaning brush - perfect for removing pulp residues. Of course, you can also use this cleaning brush for cleaning the juice jug and pulp jar or generally in everyday kitchen use. You will quickly no longer want to do without it!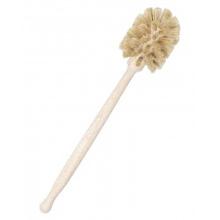 Cleaning Brush for Containers, Juicers & Bottles
Technical specification of the Sana Juicer 606
Model: Sana Juicer 606
Juicing method: horizontal - 1 Auger
Dimensions (height x width x length): 32 cm x 18,3 cm x 48,4 cm
Hopper: 4,6 cm x 4 cm
Weight: 5,7 kg
Power: 200 watts; 63-75 revolutions per minute
Voltage: 230 - 240 volts, 50 Hz
Material: BPA/BPS-free plastic, juice jug and pulp jar made of BPA-free plastic
Fuse: 250V 5A 50T
Sana Juicer 606 scope of delivery:
Motor block with power cord
Hopper incl. juice drum
1x Auger
Juice jug made of BPA-free plastic
Pulp jar made of BPA-free plastic
Fine juicing screen insert
Puree insert (also called blank screen)
4-piece set for nut mash and pasta
Closing cap
Celery Juice Drum Cap
Adjustable pulp regulator
Tamper with silicone sealing ring
Cleaning brush
Instruction manual
Warranty of the Sana Juicer 606
For purely private use:
Motor & gearbox: 10 years
All other parts: 5 years
Sana Juicer 606 vs. Sana Juicer 707
First things first: The two devices only differ by a few minor details, meaning: you can confidently choose the device that you find more appealing visually. At first glance, the 707 is a bit more extensively equipped: the pulp jar is made of stainless steel instead of plastic, and a coarse screen is included in the scope of delivery. Since the pulp usually ends up in the trash/compost and the coarse screen has never been used, at least in our practice, these points are easy to get over for most people. However, the 606 has a practical handle, which makes it easier to move. If the device doesn't have a fixed place in the kitchen, this is a real help - the matte black color makes it a real beauty. For us, the 606 has a very narrow lead.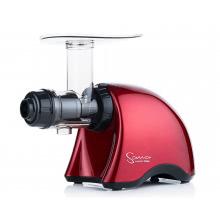 Sana Juicer 707
"Easy to go"
Price From:
Regular Price: 499.00
Special Price 449.10 €
Sana Juicer 606 vs. Sana Supreme 727
You could almost think you're comparing apples and oranges here. While the 606 is the entry-level juicer from Sana, the Sana Supreme is the top level juicer from Sana. Its brushless industrial motor, which juices quietly, saves power, is wear-free and has no runtime restrictions, is not only superior, but predestines the Sana Supreme for producing large quantities of freshly squeezed juice. This is by no means only of interest to professional caterers, but also to people who want to drink a lot of celery juice every day. Another practical feature of a horizontal juicer such as the 727 is the juice flap, which allows for spill-free juice pleasure. The Sana 606 doesn't have that either. BUT: The Sana 606 has an extremely attractive price - under 400 euros, which makes it a great entry-level juicer. The easy handling in combination with an average juice yield confirm this. Special advantage: We like the practical handle on the Sana 606, it makes it easy to store away.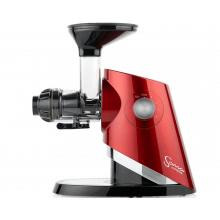 Sana 727 Supreme Juicer
"Supreme"
Sana Juicer 606 vs. Sana Juicer 828
Vertical or horizontal? You might think that's a big difference. Contrary to widespread rumors that horizontal juicers are better suited for wheatgrass or celery juice, the vertical 828 performs better in terms of juice yield than the horizontal Sana 606/707 and only slightly worse than the Angel Juicer or the Greenstar. Of course, this makes you wonder what other arguments there are for the 606: If someone is in a hurry while juicing, the 606 might be a bit easier to handle. The screen is several times smaller and can therefore be cleaned quicker. The 606 leaves the lasting impression: "Juicing is a breeze."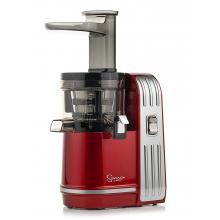 Sana Juicer 828

"Best vertical juicer"
Questions & Answers about the Product
Ask a question
Total 5 question(s)
Hi. How is it now with the glass bowl actually. In one (of their) videos it says that the manufacturer added a glass jug to it, but there is nothing about it in the scope of delivery.... Is it possible to purchase the extra?

LG Andrea
Question submitted by Andrea on February 11, 2021 at 14:35 o'clock
Hello Andrea,

thank you very much for your message.

Unfortunately, the glass juice container is not included in the scope of delivery

But you can order.

Best regards from Berlin
Your GrueneSmoothies.com – Team
Beanwortet am 12.11.2021 um 12:50 Uhr
Hi, I am very happy with the juicer so far. Now I have a question: Do I have to peel lemons and beet? So far I have always done it. But would it also work without peeling? Thank you and many greetings Nele
Question submitted by Nele on September 10, 2021 at 08:59 o'clock
Hello Nele,
thank you very much for your request.
You can juice both citrus fruits and beet with peel. However, with beetroot, the peel tastes much stronger than the tuber. Likewise, with citrus fruits, the bitter substances of the peel go into the juice, this can taste very tasty if you like it a little more tart.

Many greetings,

Your GrueneSmoothies.com team
Beanwortet am 09.10.2021 um 10:43 Uhr
Hi, I am interested in the Sana 606. I find it visually very appealing and since I always want to store it (no space in the kitchen), I find the handle very convenient. Now, however, we would like to make pure fruit juices (possibly with carrot) for the kids. Is it possible to buy the coarse sieve in addition and use it with this model?
Or which juicer do you recommend?
Thank you and many greetings Nele
Question submitted by Nele on August 25, 2021 at 21:53 o'clock
Hello Nele,
thank you for your message.
The coarse sieve is not available for this juicer.
However, you can make fruit juices by using the fine sieve and setting the pulp control to level 1, 2 or 3.
The softer the ingredients, the smaller the set level. The pulp control prevents too much pressure from building up during juicing and clogging the juice drum.
Alternatively, you can, of course, take a look at the Sana 707, which comes with a coarse strainer.
Best regards,
Your GrueneSmoothies.com team
Beanwortet am 26.08.2021 um 09:38 Uhr
Hello,

we are interested in the Sana EUJ606 and the Omega 8228. What are the differences?
We are a family of 6 and would like to make juices from carrots, apple, celery and beet, but also smoothie type juices with softer fruit. Cost should be around 400 euros max. It is difficult to choose the right device:-).

VG Miriam
Question submitted by Miriam on April 8, 2021 at 20:03 o'clock
Hello Miriam,

Thank you very much for your message.

Indeed, the two devices are quite similar!

However, the main difference is that the 8228 reaches a higher juice yield than the 606 due to the very narrow pulp regulator
However, since you also want to prepare fruit juices, I would recommend a juicer that is also equipped with a coarse sieve.
Take a look at the Sana 707. This juicer is equipped with three sieves and a great scope of delivery – The range of applications is therefore larger.

Best regards from Berlin :- )

Betsy
Beanwortet am 05.08.2021 um 09:45 Uhr
Hello dear team of gruene smoothies.

I have a question about the Omega Slow Juicers. Maybe you can help me? What are the differences between 606 and 707 and which one would you recommend for grasses, ginger, carrots and leafy greens?

With kind regards
Question submitted by Anatol on November 13, 2019 at 10:30 o'clock
Hello Anatol,

thank you for the question.

We have now added our assessment of the differences between the two devices to the product page.

However, both devices are capable of processing the mention ingredients.

Best regards,
Your GrueneSmoothies.com Team
Beanwortet am 13.11.2019 um 15:28 Uhr
Ask a question
Reviews
[5 of 5 Stars]


In my view, better than the Sana Juicer EUJ-707

A friend of mine has the Sana 707 and I'm glad I decided to go with the 606 after extensive research. The carrying handle is so convenient when stowing and the device is also slimmer. I am super satisfied.

[5 of 5 Stars]


Top for the beginning

Even though the Sana Juicer 606 is advertised here as a beginner model, I now feel like a professional. I have now tried several juice combinations with the 606 and was always satisfied.

[5 of 5 Stars]


Best purchase in a long time!

Have long thought about whether I should get a juicer.... Have not regretted it for a second. I look forward to the juices every time and so far everything has gone smoothly. Good luck! Assembly and cleaning is much easier than I thought, can only recommend it!
Write Your Own Review