Slow Juicers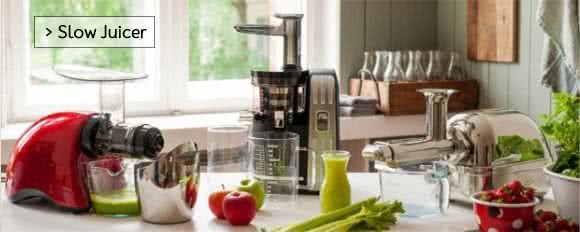 For us, almost no day goes by without preparing a freshly squeezed juice. Our favorite juices are celery juice and juices made from lots of greens and a little fruit. To ensure that your freshly squeezed juice tastes good, is as clear and particle-free as possible and also contains the maximum of nutrients and vital substances, we strongly recommend peparing it with a slow juicer.
Slow juicers are characterized by a nutrient-preserving - slow - juicing of the ingredients. This is the only way to reduce oxidation to a minimum and ensure maximum nutrient density. Therefore, we have specialized on slow juicers and only sell devices that we can recommend without reservation. Whether you're new to the colorful world of juicing or already know what kind of juice you're particularly keen on (e.g. celery juice): Every model we offer has been tested extensively and is rated as a recommendable slow juicer.
Information about Slow Juicers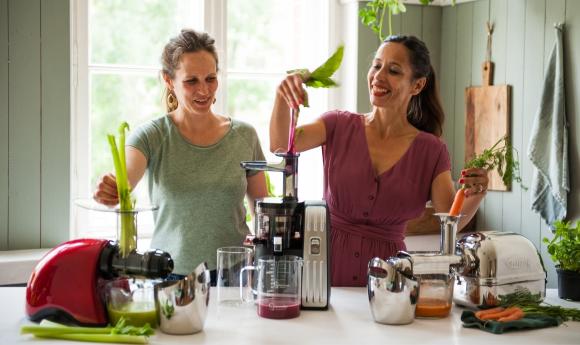 Why a Slow Juicer?
Slow juicers are the specialists when it comes to getting the maximum nutrients and vital substances out of the ingredients - they rotate slowly and gently. Four advantages of Slow Juicers:
Slow Juicer Advantage 1: Less oxidation protects nutrients and flavor
Juicing is all about minimizing oxidation to preserve nutrients. Slow juicers rotate slowly - hardly any oxygen is absorbed during the juicing process. Not only does this keep valuable nutrients alive, but it also affects the taste.
Slow Juicer Advantage 2: No heat generation
Nutrients are not only sensitive to oxygen, but also to heat. Since slow juicers work/rotate very slowly, heat development during the juicing process is prevented. This also explains the name that often is given to slow juicers: "cold juicer".
Slow Juicer Advantage 3: Higher juice yield
Slow juicers squeeze the ingredients such as fruits, vegetables or leafy greens against a screen with tremendous pressure, extracting every drop of juice from the ingredients. This makes slow juicing an efficient and high-yield juicing process that is very cost effective in terms of ingredient use.
Slow Juicer advantage 4: Grasses can also be juiced
Slow juicers not only juice fruits and vegetables such as celery stalks, carrots, and apples, they can also process healthy leafy greens such as spinach, wild herbs and grasses. Centrifugal juicers reach their limits here due to their design. They may be able to juice celery with significant oxidation and heat generation, but processing grasses ( e.g. wheatgrass) is not possible at all. In our tests, the juicing process generated enough pressure to explosively detach the lid of the juice drum from the device.
The best Slow Juicers
We drink freshly squeezed juices every day, therefore we test slow juicers every day. To help you navigate through the slow juicer market as quickly as possible, we've created a ranking of the 3 best slow juicers in their respective categories. There are three fundamentally different classes of devices in the world of slow juicers: Horizontal juicers with one auger, horizontal juicers with two augers and vertical juicers. Since all three device classes are different, the comparison and the TOP 3 ranking takes place within the respective groups. If you are looking for a slow juicer, you should first find out what kind of device suits your needs. The following paragraphs will help you decide which type of device is best suited for you: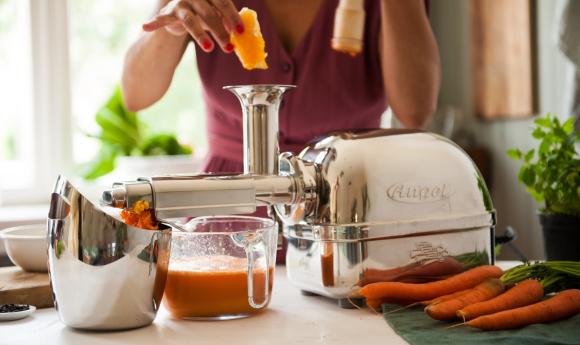 TOP 3 twin auger Slow Juicers
Slow juicers with twin auger press mechanism squeeze the ingredients between the two interlocking augers. This mechanism is best for grasses, herbs, wild herbs and leafy greens. If you are looking for a special taste in your juices, you will sooner or later end up with a twin-auger slow juicer - even if you mainly prepare fruit or vegetable juices. In our experience, all juices taste a little bit more aromatic and balanced when prepared with a twin auger slow juicer. The juice yield also is the highest here. When preparing juices only made of soft or very ripe fruit - such as pineapple or mealy apples - twin auger juicers do have some difficulties. The reason: The ingredients jam the hopper and the juicing process takes a bit longer. In addition, cleaning after juicing is more time-consuming than with single auger slow juicers. However, you are rewarded with a slightly higher juice quantity and a unique taste experience.
1st Place: Angel Juicer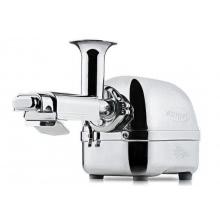 Angel Juicer 5500 / 7500 / 8500S
"Best juicer"
Regular Price: 1,319.00
Special Price 1,187.10 €
The Angel Juicer is actually in a class of its own. Due to its high-quality workmanship and appearance, as well as the sensational juice taste. The Angle Juicer is a must have for all green gourmet juice lovers.
---
2nd Place: Greenstar Pro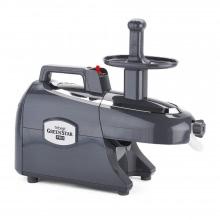 Greenstar Pro
"Professional greenery lover"
If you want a twin auger juicer but don't have a budget of more than 1000 €, go for the Greenstar. The Greenstar Pro is the better choice in our opinion. The metal augers promise a longer service life than the augers of the Greenstar Elite.
---
3th Place: Greenstar Elite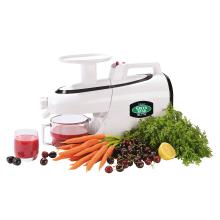 The less expensive Greenstar variant. Also recommended and well worth its price. The most popular slow juicer from Tribest!
TOP 3 Horizontal Juicers
Even though juicers with twin augers actually are horizontal juicers, we will only talk about horizontal juicers with a single auger here. Horizontal juicers with a single auger are generally more compact than those with twin augers, very versatile, easy to use and quick to clean. However, they don't quite match the high juice yield and flavor of good twin auger juicers. Rare exceptions: Sana Supreme-727, Omega 8228, Omega MM900, which are very easy to use and also achieve a celery juice yield that comes close to the Angel Juicer.
1st Place: Sana 727 Supreme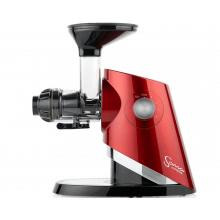 Sana 727 Supreme Juicer
"Supreme"
Relentless motor, easy cleaning, choice between high juice yield or express preparation - as fast as using a centrifugal juicer. The Sana 727 Supreme has a lot of advantages on its list. In our opinion, this makes it a good alternative to the Angel Juicer, especially if you prefer less cleaning effort.
---
2nd Place: Sana Juicer-707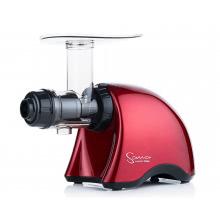 Sana Juicer 707
"Easy to go"
Proven over many years and our customers favorite - the Sana 707 convinces with its juice yield and very easy handling. The variety of colors and high-quality accessories also make the 707 the most popular model of all.
---
3th place: Omega Juicers MM900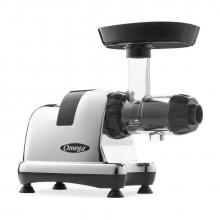 Omega MM900
"Anthony's favorite"
Regular Price: 449.90
Special Price 386.91 €
The celery juice expert par excellence, Anthony William, loves the MM900. It is optimized specifically for celery juice and produces an amazingly high juice yield. A fair price and the fact that it is very easy to clean make it a perfect everyday device.
TOP 3 Vertical Juicers
If green juices from grasses or celery are not your focus, vertical juicers are an interesting alternative to horizontal slow juicers. For example, if you are going to juice a lot of fruits that tend to be soft and of mealy consistency, a vertical juicer may be a good choice. The juice yield is very good and the space required for storage is comparatively small compared to vertical juicers. In use, however, you have to take into account that the pulp jar and the juice container still have to be placed directly next to the device.
1st Place: Sana Juicer 828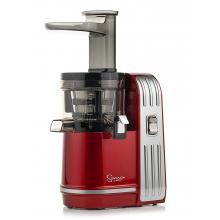 Sana Juicer 828
"Best vertical juicer"
The first space-saving vertical slow juicer variant in our TOP 3 comes from Sana. Its design is a major selling point for this model. The juice yield also is decent, as are the included glass containers for pulp and juice. Therefore, first place!
---
2nd Place: Hurom HZ-Alpha/H-AA
Second place goes to two Hurom devices. Both Hurom juicers are somewhat similar in terms of motor and gearbox; the only difference is the housing and the scope of delivery. The juice yield is identical, leaving it up to personal taste and budget to decide which device one prefers.
---
3th Place: Kuvings EVO820/B8200
The South Korean manufacturer Kuvings has recently set itself apart from its competitors, especially with its wide-mouth hopper. This allows more convenient filling of the juicer, but the juice yield is somewhat lower than with the TOP models. A second juicing run using the pulp can therefore be worthwhile. However, its high quality workmanship earned it this 3rd place.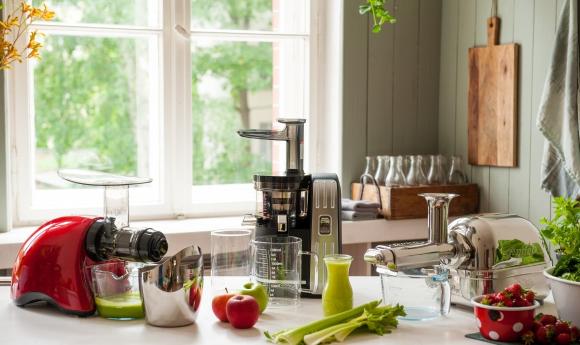 Conclusion: It depends on what you want to juice!
Not all slow juicers are the same! The different device classes - twin auger juicers, single auger horizontal juicers or vertical juicers - have different strengths and weaknesses in the operation and preparation of freshly squeezed juices. Therefore, it is important to know what kind of juice you want to prepare before purchasing a device. If you primarily focus on producing green juices from fibrous ingredients such as leafy greens, celery and grasses, sweetened with only a small amount of fruit, you may want to consider a slow juicer with a twin-auger, such as the Angel Juicer or the Greenstar models. These devices are absolute green specialists - maximum juice yield and maximum taste experience. You'll have to live with the fact that they're a little more difficult to clean.
If your slow juicer should be able to process all types of fruit, vegetables and leafy greens without any problems, be as easy as possible to handle and to clean - your best choice is a horizontal juicer with a single auger pressing mechanism. The juice yield is somewhat lower, the juice is not as fiber free as with a twin auger juicer and accordingly the juice does not have the same full bodied, round and smooth texture as with an Angel Juicer. On the other hand, horizontal juicers like the Sana Juicer-707 score with easy handling. Handling and cleaning are so easy that you can still enjoy your breakfast even if you already are 5 minutes late. We like to say that horizontal juicers with a single auger are the best way to enter the world of juicing.
If juicing is primarily about fruit - especially soft and overripe fruit - stylish vertical juicers might be an option. The design allows easy preparation of fruit juices, as gravity is more effective than with horizontal devices. Mixed juices of fruit, leafy greens and vegetables can also be prepared, but vertical slow juicers are less suitable for juicing large quantities of fibrous ingredients such as celery or leafy greens. These ingredients cause the juice drum and screen to clog frequently.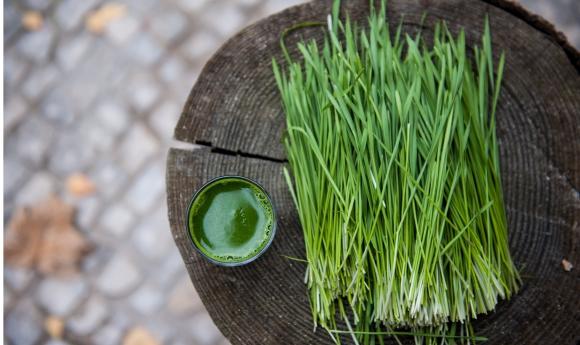 Slow juicer for wheatgrass juice, spelt grass juice, barley grass juice
If you have read the paragraph "TOP 3 Twin auger Slow Juicers", you can skip this part. Without a doubt, twin augers are best for all grasses. Once you start juicing, you will notice that the twin auger models are actually designed for juicing grasses. No wonder, the twin auger juicers produce a much higher juice yield than other models. Horizontal single auger juicers can also process grasses, but will never be as efficient in terms of juice yield. We don't recommend vertical juicers for producing grass juices in larger quantities, as the grass gets stuck in the housing. For those who want to enjoy freshly squeezed grass juice regularly, purchasing a twin auger slow juicer definitely makes sense. For those who only want to process wheatgrass or barleygrass from time to time, the single auger juicers might be a more cost-effective alternative.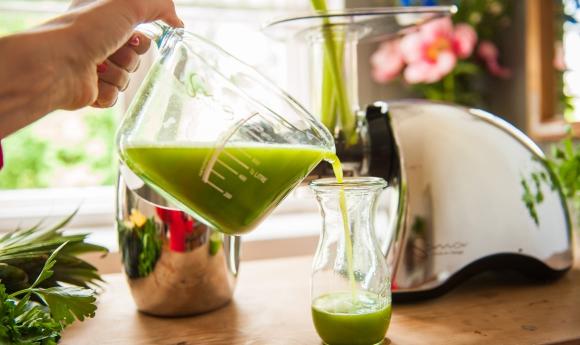 Slow juicer for celery juice
Celery juice can be produced easily with any juicer, even with a centrifugal juicer. However, if you want to enjoy a chunk-free and nutrient-dense celery juice, you should use a slow juicer. The Angel juicer simply outperforms all other juicers, but there are some single auger slow juicers that can almost achieve the same juice yield (see celery juice test). In terms of handling, however, horizontal slow juicers with one auger are much easier to use - especially when it comes to cleaning. Therefore, our current general recommendation for celery juicers: Single auger horizontal juicers.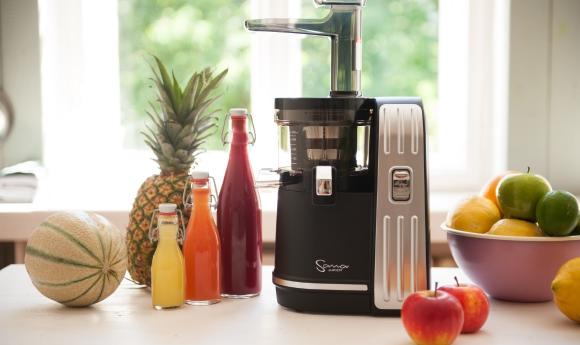 Slow juicer for fruits and vegetables
Even though we haven't done any exact juice yield tests on this, our experience can already tell that the twin auger juicers are less suitable for this discipline. Due to the hopper, the ingredients have to be cut into very small pieces and juicing produces a lot of foam. This is much more convenient with the single auger juicers. There is not as much foam and thus each juicing process is somewhat faster. However, the vertical juicers perform best here. As already shown in the conclusion to the slow juicer best list above, the vertical slow juicers use the help of gravity when preparing fruit juices or juices with a large proportion of soft or watery ingredients such as tomatoes and cucumbers, grapes, mealy apples and pears or cucumbers.
Slow juicers that are easy to clean
Of course, cleaning must also be mentioned when it comes to slow juicers. Especially if you want to "quickly" squeeze yourself a ginger shot, it is important to know whether the slow juicer can easily be cleaned or not. If you know cleaning will take too long, you won't do it at all. This means you miss out on the immune booster for in between and a more cleaning-friendly device would have led to much more intensive use.
In any case, the easiest to clean are the single auger slow juicers, like the Sana Juicer-707: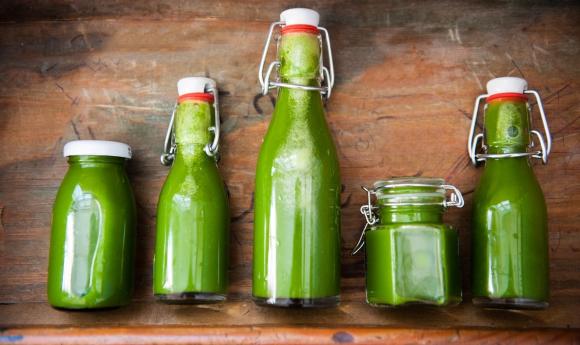 Slow Juicer vs. Centrifugal Juicer
Centrifugal juicers rotate quickly. Accordingly, larger quantities can be juiced in a shorter time. However, this generates significantly more heat and, above all, oxidation. Both lead to the juice losing nutrients and vital substances. The oxidation can be recognized by a grayish color of the juice, it is also noticeable in terms of taste. In addition, the juice yield is often lower, and the juice may still contain solid pieces. A slow juicer is gentle on nutrients, achieves a higher juice yield and, above all, produces a better tasting juice.
Our slow juicers
incl. VAT plus shipping costs.
Shipping to DE from 49.- free of charge.

Regular Price: 698.00

Special Price 599.00 €

incl. VAT plus shipping costs.
Shipping to DE from 49.- free of charge.

Regular Price: 1,319.00

Special Price 1,187.10 €

incl. VAT plus shipping costs.
Shipping to DE from 49.- free of charge.

incl. VAT plus shipping costs.
Shipping to DE from 49.- free of charge.

Regular Price: 449.90

Special Price 386.91 €

incl. VAT plus shipping costs.
Shipping to DE from 49.- free of charge.

Regular Price: 399.00

Special Price 299.00 €

incl. VAT plus shipping costs.
Shipping to DE from 49.- free of charge.

Regular Price: 239.90

Special Price 195.46 €

incl. VAT plus shipping costs.
Shipping to DE from 49.- free of charge.

Regular Price: 599.00

Special Price 459.00 €

incl. VAT plus shipping costs.
Shipping to DE from 49.- free of charge.

Regular Price: 379.00

Special Price 295.62 €

incl. VAT plus shipping costs.
Shipping to DE from 49.- free of charge.
If you have questions about our Slow Juicers, contact us here: