Nettle seeds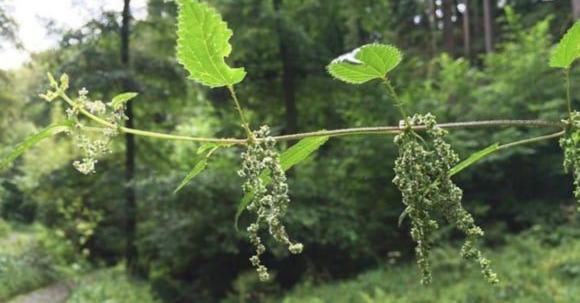 What matcha is for some, nettle seeds are for us. This super superfood is actually free and can be harvested almost everywhere from August to October - sometimes even November. At this point we would like to thank mother nature for this natural superfood. Unlike many superfood powders, nettle seeds also taste really good. With their slightly nutty flavor, they perfectly fit into green smoothies and many other dishes. Don't miss out on the harvest!
Ingredients and effect of nettle seeds
Since Ovid, the inconspicuous nettle seeds are valued as an aphrodisiac. For this purpose, the poet recommended a spicy combination of nettle seeds and pepper in a ratio of 1:1.
Packed with plant hormones, minerals, vitamins and protein, the small seeds are real vitality boosters used against general fatigue, exhaustion and poor performance. Due to their high protein content, they are recommended for athletes and especially for vegans. In addition, nettle seeds are said to provide strong and shiny hair and naturally support eyesight. Among others, nettle seeds contain:
approx. 30 % protein
25 % - 33 % oil
74 % to 83 % linoleic acid
approx. 0.9 % linolenic acid
Tocopherol (vitamin E): valued as a radical neutralizer
Mucilages
Carotenoids such as ß-carotene and lutein: both known as active ingredients for preserving vision and preventing macular degeneration.
Use of nettle seeds
We like to use fresh nettle seeds in green smoothies. This comes withe the advantage of enjoying them raw and preserving all the valuable nutrients. They perfectly fit in raw wild herb pestos as well.
You can also easily dry them (instructions in the next paragraph) and process them into powder with a blender. Nettle seeds are suitable for refining salads, soups, dips or sauces. In a 1:1 mixture with your favorite salt, a brilliant aromatic herb salt is made within no time. Got enough ideas for now, off to the harvest!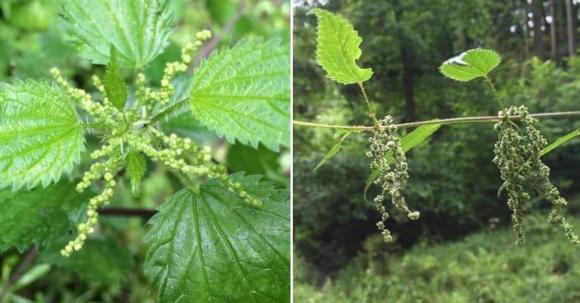 Harvest and dry nettle seeds
We didn't know this before either: there are male and female nettles (see photo collage). We prefer to harvest the fruits of the female nettles - they are said to be more nutritious. You can recognize them by the fact that they hang down from the nettles, just like panicles. In addition, most wild herb experts recommend harvesting the seeds when they are slightly brownish.
It's best to put on gloves for harvesting - that's how we do it! Then simply cut off the seed strands of the upper nettle sprouts and place them in a basket or larger bag for storage.
If you don't want to process the nettle seeds fresh, you can also air dry them and preserve them for about a year. To do this, spread the seeds on a baking sheet lined with bakingpaper and let them dry overnight. The drying process is finished when the seeds separate from the seed strands by themselves. Now sort out the seed strands. You don't need gloves for this anymore, they don't burn. Then pulverize the seeds, preferably with a high-speed blender. If you don't have a blender available, you can also press the seeds through a sieve - but it is much more time-consuming! Now fill the nettle seed powder into airtight jars, preferably protected from light, and store them in a dry place. So the nettle seeds are shelf-stable for at least 12 months.
Ready is your winter power food!
Have you ever eaten nettle seeds?
We appreciate your Feedback here!
You can find much more about wild herbs and how to use them in green smoothies in the book: Wilde Grüne Smoothies by Gabriele Leonie Bräutigam.
Wild Herb Smoothie Recipes in a PDF file
Yes, I would like to subscribe to the newsletter and receive the Wild Herb Smoothie Recipes as a printable PDF file for free.

Please send me e-mails, according to the privacy policy, on a regular basis. The Newsletter contains information about kitchen appliances, utensils, recipes and preparation tips, this is revocable at any time.