2008 - 2022 | 14 years GrueneSmoothies.com - the original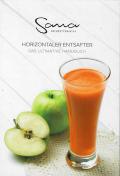 Anniversary bonus: Sana recipe book More » 140 pages will help you learn everything you need to know about your 707. The book features many application tips that are illustrated by numerous pictures. As you may have guesed, the recipe book also offers several simple recipes. « less
---

45 days money back guarantee More » We love green juices and only offer what we can recommend without reservation. If our slow juicer recommendation doesn't stand up to your everyday test, we'll take the slow juicer back within the first 45 days after purchase. Full terms » « less

Expert Opinion:
The Sana Juicer 707 is setting new standards, especially in terms of ease of use. The design is well thought out, solid and extremely easy to use and clean compared to other juicers. There is a reason why this slow juicer has been one of our best sellers for years.
Markus from GrueneSmoothies.com
Easy-peasy juicing for sloths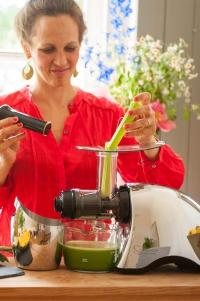 Child's play juicing, time-saving due to the wide hopper, very quick cleaning: The Sana Juicer 707 introduces you to the world of fresh, nutrient-rich juices in such a uncomplicated way that even "sloths" will look forward to juicing daily.
And all this at an extremely attractive price. Other plus points: The device is completely BPA- and BPS-free - glass juice carafe, stainless steel pulp jar! Moreover, if you wish, you can use it to prepare healthy nut milk or even spaghetti in no time. Everything you need is included!
Sana Juicer 707 Product Highlights:
Easy to use and quick to clean: Assembles and disassembles quickly. All parts can be cleaned under running water after juicing.
Time-saving thanks to wide hopper: Thanks to one of the widest hoppers (4.6 cm x 4 cm!) among horizontal juicers, ingredients only need to be roughly chopped.
High-quality basic equipment: Juice jug made of sturdy borosilicate glass and pulp jar made of high-quality stainless. The 707 is completely made of BPA and BPS free plastic.
Multifunctional Slow Juicer: 3 inserts - two for juicing (fine & coarse), one for pureeing - make the 707 a multifunctional device. Ingenious for making fresh nut milks, practical for pureeing raw and cooked ingredients, and for grinding coffee.
Secured & Sustainable: 5 years warranty - 10 years on motor block & gearbox (Full terms). Secure spare parts supply even after the warranty period has expired.
Preparing celery juice in the Sana Juicer 707
Overview
About the manufacturer Sana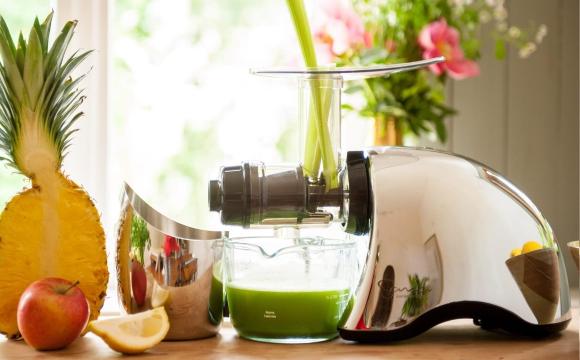 Sana stands for kitchen appliances that support a healthy lifestyle. That's why the company specializes in slow juicers that enable maximum nutrient-friendly juicing with a high juice yield.
In doing so, Sana benefits from the many years of experience that renowned manufacturers such as Omega and Hurom have gained. They work together in order to develop high-quality equipment that is tailored primarily to the needs of European customers: The plastic used is BPA/BPS-free, the equipment is made of glass and stainless steel, and the warranty period granted (Full terms) is comprehensive. That's why Sana convinced us right from the start when it came to selecting slow juicers for our store.
How good is the quality of the juice?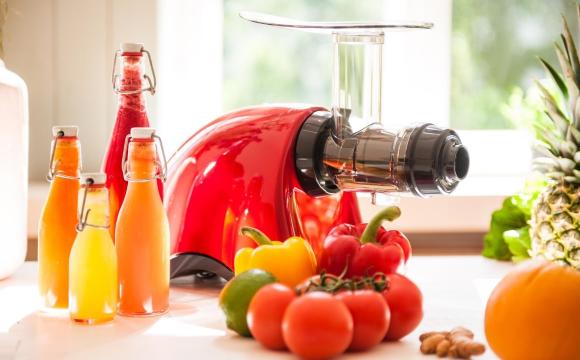 Clear green juices, full-bodied and almost without foaming
The Sana Juicer 707 produces clear, nutrient-rich and full-bodied green juices without foaming and with a good juice yield.
Fresh pressed celery juice
The Sana 707 can be used very well for the simple and fast production of celery juice. The freshly squeezed juice is clear and tastes intensely of celery. In terms of juice yield, other horizontal juicers are superior to the 707 - such as the Angel Juicer. You can find out more about this in our article on our celery juice juicer test.
Important preparation note: The celery stalks should be cut into 1-2 cm long pieces, allowing the pulp of the fruit to easily separate from the juice.
Vegetable and fruit juices - pure or as mixed juice
The 707 also achieves this clear juice consistency from hard and soft vegetables such as carrots, beet, fennel, cucumber, apples, pineapple, pears or citrus fruits.
Ginger and/or turmeric shots
The 707 can also be used to prepare ginger- or turmeric shots. The consistency is very clear and the taste is aromatic and spicy.
Fresh sauerkraut juice
Even fresh, raw sauerkraut can be juiced in the 707 - either as mono-juice or mixed juice with other ingredients. The juice consistency is beautifully clear without foaming. Definitely an ultra kick for a healthy intestinal flora - especially if you don't like fermented products.
Overripe fruit and thicker consistencies with the coarse screen
If you want to enjoy fresh juices that have a thicker consistency, simply use the coarse juicing screen insert, it is part of the scope od delivery of the 707. This also makes it easier to produce juices from overripe fruit such as soft bananas, mealy apples or pears.
What other preparation possibilities are there?
The generous scope of delivery of the 707 allows the slow juicer to be converted into a multifunctional kitchen appliance in no time at all. The puree insert enables you to puree one or more ingredients. In combination with a 3-piece pasta set, various types of pasta can be created. From our point of view, the 707 proves to be particularly practical when preparing nut milk. It takes just two runs to prepare the plant-based milk alternative - no extra filtering through a nut milk bag and no kitchen towel required!
Other preparations at a glance:
Fresh nut milk, e.g. from almonds and/or hazelnuts
Fruit purees made from cooked fruits - e.g. apple puree
Fruit sorbets and ice cream
Nut porridge made from roasted nuts, e.g. peanuts or cashews
Baby food made from raw fruits or cooked ingredients
3 different pasta variations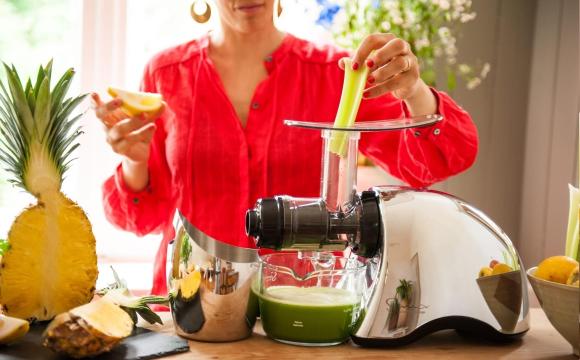 Operation & handling of the Sana Juicer 707
The Sana Juicer 707 is very easy to assemble. The juicing ingredients are cleaned, peeled if necessary, and roughly cut to fit through the hopper. The central ON-OFF-REV switch is located on the backside of the 707. The Slow Juicer is started, the ingredients are placed in the hopper and pushed towards the auger using the tamper. In the first step, the ingredients are crushed and then squeezed out by rotating them against the screen. The juicing process separates pulp and juice - it is finished once all ingredients have been processed and no more juice is dripping from the juice drum.
Tip: Let the motor run for another 1-2 minutes after all ingredients have been juiced and no more pulp comes out - a few drops of juice always take a little longer.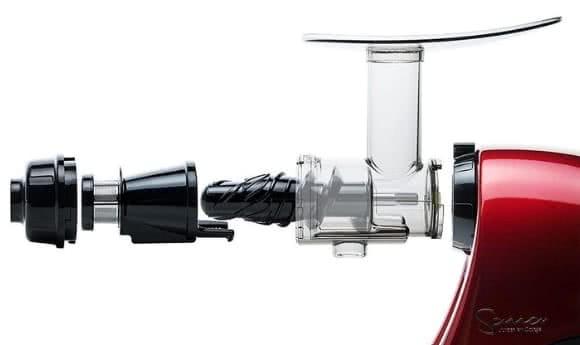 If the juice drum is clogged, press the REV button
In the event that the juicer is overloaded with pressed pulp and is no longer ejecting pulp or the drum is clogged, simply turn the device off and wait for the auger to stop rotating. Then turn the on/off switch to the REV position and hold it down. The auger will now rotate in the opposite direction, clearing the jam. When the drum is free again, the switch is released and goes back to the neutral position. It is important that the auger comes to a complete stop before the motor is turned on again. Otherwise, the auger will rotate backwards! There has to be a pause between switching from the REV function to the ON function.
Fine and coarse juicing screen insert
While the fine juicing screen insert is used for all types of vegetables and fruits and especially for chlorophyll-containing leafy greens such as wheatgrass, wild herbs, cabbage, etc., the coarse screen is recommended for processing overripe fruits or very soft ingredients. You can also easily change the screens during a juicing process if, for example, a very "mushy banana" is to be juiced.
Tip: For mixed juices, it is recommended to juice hard and soft ingredients alternately, as the hard vegetables clean the sieve and drum like a "pipe cleaner".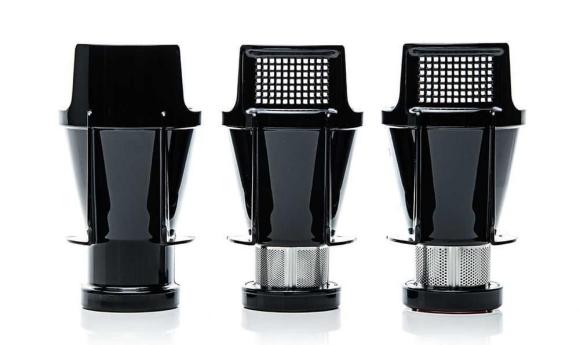 Puree insert for nut milks or purees
The puree insert allows the Sana Juicer 707 to be converted in no time at all - allowing it not only to juice, but also to puree and chop. This allows you to create fruit purees, sorbets, baby food or nut milks very quickly and easily.
Cleaning the Sana Juicer 707
An absolute strength of the Sana Juicer 707 is its quick and easy cleaning after juicing. To do this, disassemble the slow juicer into its individual parts, remove excessive pulp residue from the cap, screen and auger. This prevents the pomace from getting into the drain or clogging the sink strainer. Then rinse all parts under running water. When cleaning the juicing screen insert, use the cleaning brush provided to brush the screen all around from the outside and then remove the pulp residue from the inside as well. We recommend cleaning the hopper with our practical cleaning brush. It fits perfectly through the openings and removes any residue from the juice ingredients quickly and effortlessly. Now you can place all the parts on a kitchen towel or dry them off and reassemble the juicer.
Attention: The juicer parts are not dishwasher safe!
Recommended accessories for the Sana Juicer 707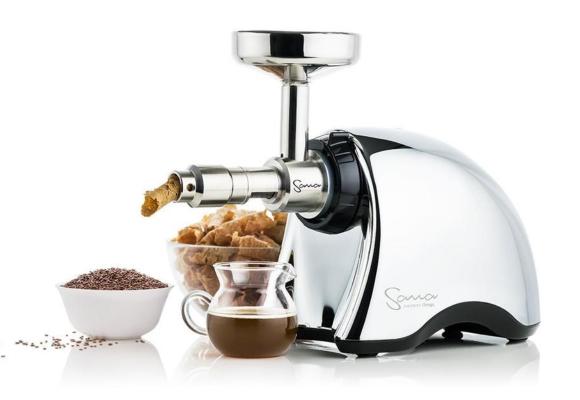 Sana oil press 702
The Sana Juicer 707 can be expanded with the Sana oil press attachment 702. This allows you to produce homemade, cold-pressed, fresh oils such as linseed oil, almond oil or walnut oil.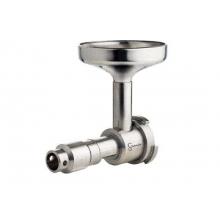 Cleaning brush
What would our kitchen look like without our cleaning brush? Once again, it comes in super handy when cleaning the 707 - especially when cleaning the hopper and the juice drum. Definitely a must-have!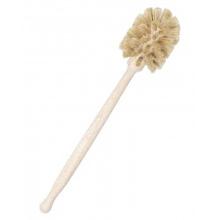 Cleaning Brush for Containers, Juicers & Bottles
Technical specification of the Sana Juicer 707
Model: Sana Juicer 707
Juicing type: horizontal - 1 Auger
Dimensions (height x width x depth): 33 cm x 17 cm x 42 cm
Hopper: 4,6 cm x 4 cm
Weight: 5,7 kg
Power: 200 watts; 63-75 revolutions per minute
Material: BPA/BPS-free plastic, juice jug made of borosilicate glass, pulp jar made of stainless steel
Fuse: 250V 5A 50T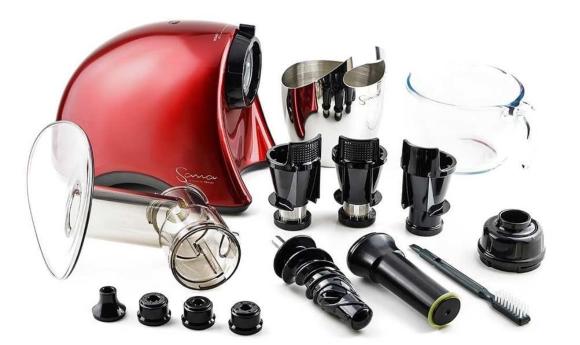 Sana Juicer 707 Scope of delivery:
Motor block with power cord
Hopper incl. juice drum
1x Auger
Juice jug made of glass
1x Juice jug strainer
Stainless steel pulp jar
Fine juicing screen insert
Coarse juicing screen insert
Puree screen insert
4-piece set for nut mash as well as for pasta
Closing cap
Tamper with silicone sealing ring
Cleaning brush
Instruction manual
Warranty of the Sana Juicer by Omega 707
For purely private use:
Motor & gearbox: 10 years
All other parts: 5 years
Complete warranty conditions »
Sana Juicer vs. Sana Supreme 727
Advantages of the Sana Juicer 707 compared to the Sana Juicer Supreme 727:
Much more affordable: the Sana Juicer 707 is nearly half the price of the Sana Supreme 727, if you're budget-conscious and looking for a simple and straightforward slow juicer, the Sana 707 is a great choice.
Advantages of the Sana Juicer Supreme 727 compared to the Sana Juicer 707:
Higher juice yield: The Sana Supreme 727 is one of the most efficient slow juicers - in our celery juice juicer test, it got more than 100 ml more celery juice out of 500 g of celery. That's not only impressive, but also cost-saving!
Juicing without a break: While the Sana 707 requires a break after 30 minutes of continuous operation, the Sana 727 can juice non-stop. This makes it interesting for professional usage and people who drink a lot of juice, regularly.
Spill-free juicing: The Sana Supreme 727 is the best of both horizontal and vertical juicers. This claim is noticeable, among other things, in the presence of a juice flap (otherwise a handy tool on vertical juicers). Thus, the juice flap enables spill-free removal of the juice. Simply close it and nothing drips anymore.
Conclusion: Sana 707 or Sana Supreme 727?
The Sana 707 is one of our bestsellers for a reason: It is extremely easy to operate, reliably juices all types of fruit, (leafy) vegetables, herbs and grasses with an average juice yield, and is priced well below 500 euros.
However, the Sana Supreme juices more efficiently. If you want to drink larger quantities of celery juice every day, for example, the Sana Supreme will save you money on the cost of goods in the long run, which will refinance its higher purchase price compared to the Sana 707. Of course, the Supreme also scores with its brushless industrial motor, which not only juices continuously and is great for high-volume juice production, but also operates wear-free, power-saving and quieter. This should not only be interesting for professionals in the gastronomy sector, but for all people who want to support their daily diet with plenty of nutrient-rich juice.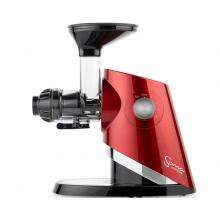 Sana 727 Supreme Juicer
"Supreme"
Sana Juicer 707 vs. Sana Juicer 828
Advantages of the Sana Juicer 707 over the Sana Juicer 828:
Easy assembly: The 4 parts of the Sana 707 are assembled and disassembled within no time at all. Assembling the Sana 828 requires a bit more sensitivity, especially at the beginning, as everything has to lock firmly into place.
Faster cleaning: Since the Sana 707 uses a much smaller screen and a correspondingly smaller auger, it is extremely quick and easy to clean. Cleaning effort is significantly higher with the Sana 828. The screen is much larger and, due to the design, the removal of pulp residues from the pulp outlet is somewhat more difficult - especially with fibrous residues.
Alternative pasta machine: Even though we are primarily interested in juicing, we were impressed by how well the Sana 707 can be used as a pasta machine. The 828 cannot be converted into a pasta machine, clearly an advantage of the 707.
Advantages of the Sana Juicer 828 over the Sana Juicer 707:
Higher juice yield: the Sana 828 achieves an impressively good juice yield - cf. in our celery juice juicer test. On average, it extracted over 28 % more celery juice than the Sana 707.
Economical: The higher the juice yield, the lower the cost of goods. In other words, 100 ml of juice from the Sana 828 is cheaper than from the Sana 707. If you drink 300 to 400 ml of freshly squeezed juice every day, the savings will quickly become noticeable.
Compact & convenient: The Sana Juicer 828 takes up less space in the kitchen than the Sana 707, which is of course an advantage in small kitchens. We were also impressed by the convenient features such as the juice flap, easy-to-read scale on the juice drum, and direct blending of juices during juicing.
Conclusion: Sana 707 or Sana 828?
Compared to the Sana 828, the Sana 707 scores with its simplicity: quick to assemble and disassemble, quick to clean, and it can even be converted into a pasta machine in no time at all.
However, if you are looking for a compact and efficient slow juicer, the Sana Juicer 828 shows its strengths as a vertical juicer with a significantly higher juice yield. In our opinion, this makes sense especially if you want to juice a lot. Because the additional costs for the purchase of a Sana 828 compared to the Sana 707 are quickly refinanced by the more economical use of ingredients.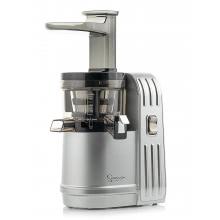 Sana Juicer 828
"Best vertical juicer"
Sana Juicer 707 vs. Angel Juicer
Advantages of the Sana Juicer 707 over the Angel Juicer:
Faster Juicing: The Sana 707 juices all ingredients faster than the Angel Juicer. Fruits, vegetables and leafy greens are easily fed into the wide hopper of the Sana 707 and require little pressure to be caught by the auger. This saves time and effort.
Less effort: The Sana 707 simply "eats everything". And it does so at a consistently high speed. With the Angel Juicer, on the other hand, you have to press hard ingredients such as carrots or beet into the hopper with force. Accordingly, juicing these ingredients in the Angel Juicer also takes more time.
Faster cleaning: While both juicers have few parts, the Sana 707 is slightly faster to clean than the Angel Juicer. While the screen of the Sana 707 can be removed as a single part and is also smaller, the screen and hopper of the Angel Juicer are "made of one piece". In addition, the pressing mechanism consists of two augers (Twin-Auger), which makes cleaning the Angel Juicer even more complex.
Advantages of the Angel Juicer compared to the Sana Juicer 707:
Higher juice yield: The Angel Juicer has a higher juice yield compared to the Sana 707 - it squeezes every single drop of juice out of the ingredients. This is noticeable in the pulp, which is much lighter and drier than with any other slow juicer.
Economical: Due to the higher juice yield, the Angel Juicer's higher price pays off in the long run. For comparison: While a Sana 707 juices approx. 300 - 350 ml of celery juice from just under 600 g of celery (roughly equivalent to a perennial), an Angel Juicer extracts approx. 550 ml from the same amount.
More flavor: Compared to the Sana 707, the Angel Juicer produces a more flavorful aroma with all preparations tested. We agreed that the juice from the Angel Juicer simply tasted much fuller, smoother and simply better.
Conclusion: Sana 707 or Angel Juicer?
From our point of view, the Sana 707 is an extremely user-friendly slow juicer - fast, without much effort and easy to clean. It is perhaps the perfect start into the world of freshly squeezed juices. You can't go wrong with it.
If you want to enjoy daily juices, have some patience and the initial cost of an Angel Juicer doesn't seem too high, we recommend it. Even though it is slower, the higher juice yield speaks for the quality of the device and pays off in the long run.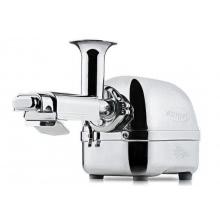 Angel Juicer 5500/7500/8500S
"Best juicer"
Questions & Answers about the Product
Ask a question
Total 26 question(s)
Ask a question
Reviews
[5 of 5 Stars]


Highly recommended.

We bought this device a few months ago and have been able to try out all sorts of recipes since. Thank you for the honest and competent advice. We are completely satisfied. Good juice yield, easy cleaning, easy handling!
I will immediately buy another device for my son and family.

[5 of 5 Stars]


Sana 707 is super

I am mega satisfied quiet, good results and super easy to clean

[5 of 5 Stars]


Great taste experience, rainbow colors and soft sounds

After a very long research, I have now chosen the Sana EUJ-707. Wednesday I ordered and Friday already there :-) and today I tested directly. I am very surprised how quiet it is! Also the cleaning is easy and fast. The first recipes were tried, although I first halve the quantities in each case. Only: a small notch in the collection sieve would be handy so that the glass juice container can be pulled out better when the juice is ready. So you have to hold the container a little at an angle. But the overall handling is very good. I'm excited to discover all the taste sensations. A very big thank you to the team for the so helpful detailed answers to the countless questions. All this has helped me unspeakably in choosing the right device!

Thank you very much, I am also happily surprised and satisfied after the first tentative juicing steps.

[5 of 5 Stars]


Super juicer

The juicer is wonderful, I make juices and puree with it.

[5 of 5 Stars]


Sana by omega 707

I am satisfied

[5 of 5 Stars]


Very satisfied!

Hello!
First of all, many, many thanks for the incredibly fast delivery! The first vegetable juice is already in front of us, operation, cleaning, everything really easy! Juice quality and quantity are also very good! What we are missing is unfortunately the recipe book, which is not included! Maybe you can send it us!? That would be great and would make us very happy!
Many greetings and always happy to come back!
Lisa

Editor's comment:
Thank you for the review. We will of course send you the missing recipe book immediately! Sorry for the inconvenience!

[5 of 5 Stars]


Super!

We have been using the Sana Juicer daily for two weeks now. The kids love to "feed" it and they also like the juices. Just can't put too much exotic ingredients in it...like turmeric or ginger. The juicer is quiet and runs nice and slow. The cleaning goes in a jiffy. Am very happy with the purchase!
Best regards

[4 of 5 Stars]


i miss the instruction manual in German

great device

Editor's comment:

Hello "Waterstradt", thank you for the product review. We always include the German manual. If the Sana 707 was purchased from us and the German manual is missing, we will of course be happy to send it to you. We would ask you to contact us again by telephone or e-mail, as we are unfortunately unable to extract any data here that could be attributed to a purchase from us.

Best regards

Your GrueneSmoothies.com team

[5 of 5 Stars]


Super device

Got it yesterday came super fast.
Have processed some fruits already.
Did not have so good pineapple juice in a long time.

Thank you for your good recommendations always. Was also super satisfied with the Vitamix.

[5 of 5 Stars]


Finally a juicer that is easy to clean.

In a few days I have become a real fan of the Sana EUJ-707. Not that my old juicer gave bad results, but it took ages to clean it. I've been looking for a good juicer that is easy to clean for a long time and I'm more than happy with my decision.
Write Your Own Review