Vitamix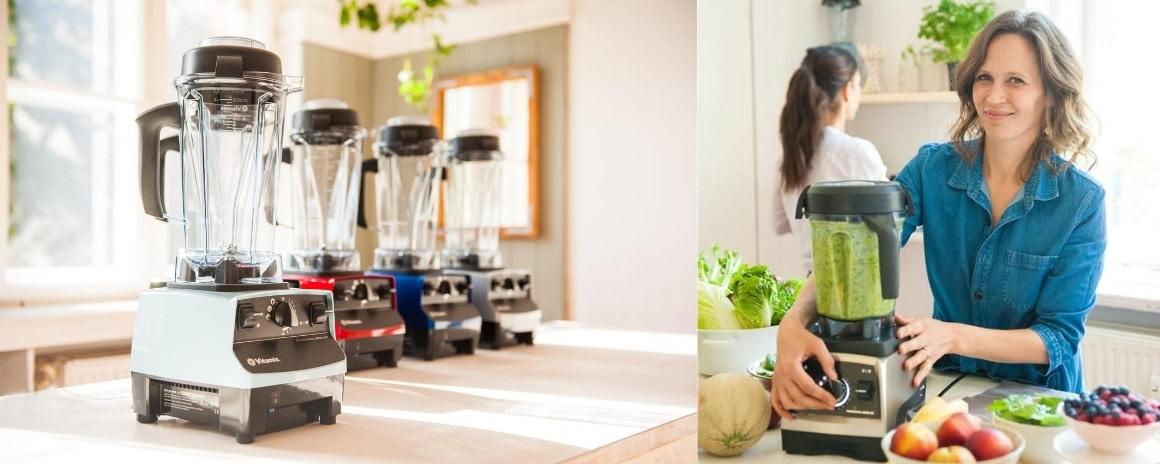 Vitamix is one of the leading brands for high-speed blenders worldwide. The traditional company stands for maximum performance and durability. Here you can learn everything about the traditional US brand and find the right Vitamix for your needs!
Vitamix at a glance
All Vitamix blenders and accessories at a glance:
Vitamix Accessories
More Vitamix Accessories
Which Vitamix is the right one? Vitamix blenders in comparison
While there used to be only the all-round blender Vitamix TNC 5200, Vitamix has rapidly expanded their product range since 2014. There now is a variety of new blenders that are more tailored to specific needs.
You will get an overview of all Vitamix product lines here:
Vitamix Classic blender
The Classic blenders are the oldest Vitamix models. On the market for many years, these models also offer the largest range of accessory items. We therefore still consider the Vitamix Classic blenders to be the most attractive in the Vitamix range.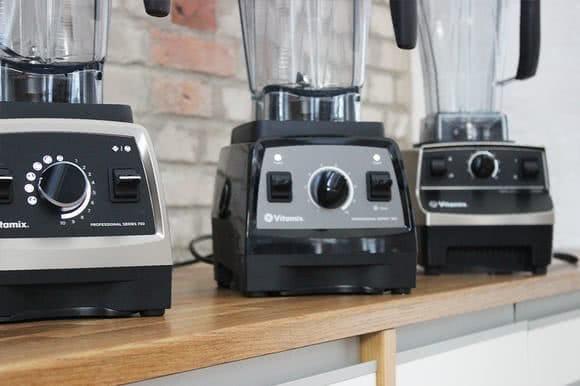 Vitamix C-Series: Vitamix for purists
Meanwhile, the Vitamix TNC 5200 belongs to the long-established product line, of the so-called Vitamix Classic blenders. No container lid detection, Bluetooth or digital display, but with all the application possibilities you would expect from a first-class blender. This series is optimized to allow the maximum freedom of preparation with only one single container.
If you want maximum flexibility with only one container, go for the Vitamix TNC 5200.
Vitamix G-Series: Vitamix for demanding users
After Vitamix introduced the Vitamix Pro 750 to the market in 2014, a new generation with electronic speed control was born. The Pro 750 features the new Vitamix container with patented high-speed blades, made for the creamiest smoothie consistency we know from a blender. Thanks to extended blades, up to 434 km/h are achieved at the blade tips, despite it´s lower rpm . The amazing blending result can be seen and tasted. In combination with excellent acoustic insulation, the Pro 750 is also the quietest Vitamix. We do not know another blender that delivers such a fine and creamy smoothie experience. Even raspberry seeds become as fine as in no other blender. We were also surprised by the pleasant cool temperature of the smoothie. However, an additional 1.4-liter container belongs in the package for smaller portions (250 to 500 ml).
Maximum performance in a timelessly elegant design. That's what the Vitamix Pro 750 stands for.
Vitamix Explorian Series: Vitamix for beginners
The models of the Explorian Series - Vitamix E310 (launched in 2019) and Vitamix E320 - have a design reminiscent of older Vitamix models. In order to offer a more affordable price, technical features such as Bluetooth or time programs have been omitted. Consequently, their operation is simple and intuitive.
Thus, the Explorian Series provides two entry-level blenders: While the Vitamix E310, with its 1.4-liter container, is a top-notch all-around blender for popular recipes in small to medium quantities, the Vitamix E320, with its compact 2-liter Pro container, comes close to achieving the smooth creaminess of blenders from the Ascent Series or the Vitamix Pro 750 of the G-Series when it comes to making green smoothies, fruit smoothies, and vegetable smoothies. As mentioned before, both at a significantly lower price!
For those looking for a simple and good Vitamix at a more affordable price - either as an all-rounder or a top smoothie maker - they should take a look at the Vitamix E310 oder den Vitamix E320.
Vitamix Smart Blender
Vitamix Ascent Series: Vitamix for technology enthusiasts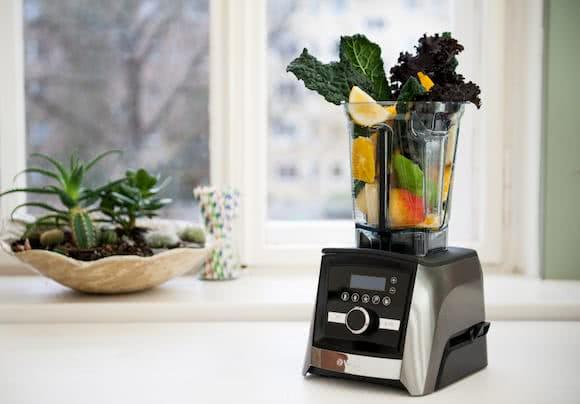 Building on the Pro models, the latest generation was launched in 2017. The Smart Mixers from Vitamix. In order to maintain the high standard of the Pro 750, especially the creamy smoothie consistency, the powerful motor and the proven container design of the Vitamix Pro 750 were retained. Likewise, the same applies to the Ascent mixers: For smaller portions (250 to 500 ml), the Vitamix 1.4 Liter Container Smart is mandatory.
In addition to a new visual look, there are a number of technical refinements:
Bluetooth interface for the "Vitamix Perfect Blend" app
NFC - container lid detection protects against accidental switch-on (SELF-DETECT)
Dishwasher-safe container with transparent lid
Anyone who suspects a high susceptibility to malfunctions with all these high-tech functions can breathe a sigh of relief: the Vitamix Ascent Series comes with a 10-year warranty.
Those who are attracted to the latest of the latest will be delighted by the Vitamix Ascent Series.
Vitamix Compact blender (Vitamix S-Series)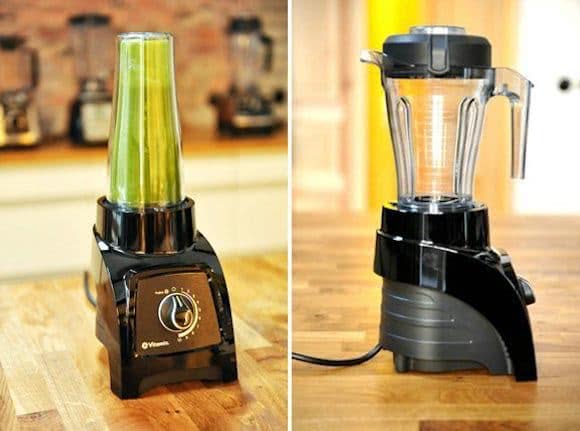 Vitamix S30: For travelers and small kitchens
For travelers and small kitchens, Vitamix launched the Vitamix S30 in 2015. Performance-optimized to the 1.2 liter container, it takes up less space in the kitchen and impresses visually with its slim design. It has the smallest minimum quantity and is therefore suitable for small salad dressing portions, fresh baby food, etc.
Those who also value compact size, in the device and in the portions, achieve the maximum performance in the smallest space with the Vitamix S30.
Note: Since the Vitamix S30 has been discontinued in 2021 and Vitamix does not offer anything comparable, we recommend the Bianco di Puro Attivo as an adequate alternative.
Which Vitamix is the best?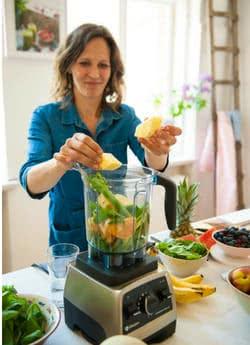 Of course, we can only answer this question subjectively: Currently, the Vitamix Pro 750 with 1.4-liter container is not only the best Vitamix for us, but also the best blender. The smoothie consistency leaves nothing to be desired, and it also impresses with its elegant appearance and design.
Highlights include:
Timelessly beautiful design
Finest creaminess
Carefree investment with a 7-year warranty
Which Vitamix has the best price/performance ratio?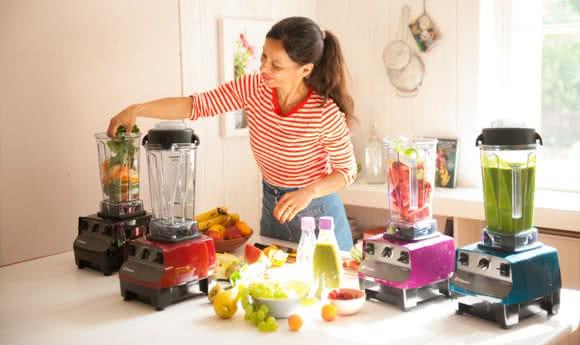 Currently, the Vitamix TNC 5200 might be the most attractive overall package.
Why is Vitamix so expensive?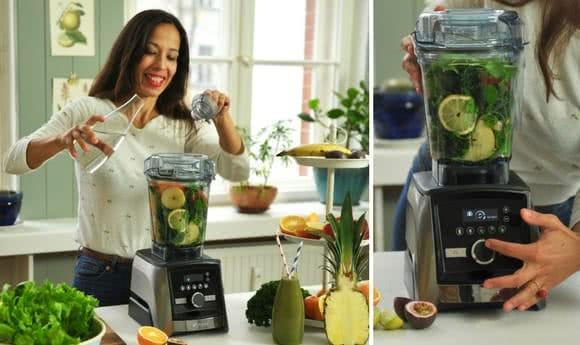 "Built to last": Vitamix blenders are designed for the longest possible usage time at uncompromisingly high blending speeds. Like no other manufacturer, Vitamix is working on two competing goals at the same time. The resale value of Vitamix products on second-hand market, such as Ebay, are correspondingly high. According to Jodi Berg, the CEO of Vitamix, there are even devices that are over 50 years old and are still in use.
First class service
If something does break or a complaint is made about a Vitamix blender, the first-class customer service takes effect. Vitamix offers a 5 to 10 year warranty for private use of a Vitamix blender. You can find more information about the Vitamix warranty on the corresponding product pages.
Vitamix Recipe Inspirations
It all started with green smoothies and a Vitamix blender. Since 2008, we have been blending green smoothies made from water, ripe fruits and leafy greens for breakfast every day. Our Vitamix has never let us down in the process. Quite the opposite: over time, the Vitamix has become our most important kitchen partner for a healthy and conscious diet. We use it for the most diverse preparations and creations:
creamy green smoothies
delicious fruit and vegetable smoothies
vegan plant and nut milks such as almond milk
fresh homemade juices
à la minute ice cream creations like fruit sorbets, frozen yogurt or healthy nicecream
boiling hot soups such as creamy tomato soup
healthy and vital baby porridge
homemade almond butter
liquid dough preparations - e. G. for pancakes, muffins or crepes
chopped vegetables for salads, e. G. carrot salad
fresh coffee or freshly ground almond flour
Crushed ice
The linked preparations above are our recipe inspirations developed in the Vitamix. You can find an overview of all our recipes here. Have fun with it!
Up to 10 years Vitamix warranty
In our opinion, Vitamix offers very fair warranty coverage when using the Vitamix blender in your own private household. For the Vitamix Ascent Series even up to 10 years.
If you have any questions about our Vitamix high performance blenders, comment here: