2008 - 2023 | 15 years GrueneSmoothies.com - the original
---

From passion to pro­fession

Mehr »
Our website went live in 2008, since then we blog about our ex­perience, this has led to a rise in popu­larity of Green Smoothies in Germany. Over time, our passion became our pro­fession and we became the largest distri­butor of high-per­formance blenders in Europe. ;-)

« weniger
Compact all-rounder with time programs
The Vitamix Propel 510 comes fully equipped with its standard package. You can create all your favorite blender recipes in one single container - in small to medium quantities.
For this, you can either choose the manual speed control to work with the Propel 510 as precisely as possible. Or you can use one of the 3 timed programs - for example, for making green smoothies or hot soups.
Vitamix Propel 510 Highlights:
Compact & powerful. The compact 1.4-liter blending container allows the Propel 510 to fit under any kitchen cabinet. A powerful Vitamix motor guarantees the best blending results.
Versatile: With the 1.4-liter container, you can also make smaller batch sizes - liquids like smoothies or soups can be made from as little as 250 ml; thicker consistencies like hummus or pesto can be made from 350 ml or 400 ml.
Comfortable: 3 timed programs are available, allowing for blending without doing anything. Favorite: The smoothie program.
Overview
Preparation possibilities with the Vitamix Propel 510
Delicious fruit and vegetable smoothies
Vegan plant and nut milks such as fresh almond milk
Fresh homemade juices
à la minute ice cream creations like fruit sorbets, frozen yogurt or healthy nicecream
Fresh pestos, dips and sauces
Heavenly creamy hummus made from chickpeas or beans
Hot soups heated by friction heat, such as cream of tomato soup
Healthy and vital baby porridge
Homemade nut butter
Liquid dough preparations - e. G. for pancakes, muffins or crepes
Chopped vegetables for salads, e. G. carrot salad
Freshly ground coffee or freshly ground almond flour
Crushed ice
Operation and handling of the Vitamix Propel 510
The Vitamix Propel 510 is easy and intuitive to operate. On the right side, there is the power switch to start the blending process. The middle dial allows for two operating modes: turning it to the right adjusts the blending speed manually from 1-10, while turning it to the left selects one of the three timed programs - smoothie, ice, or soup. The left switch includes the pulse function, which allows you to quickly jump to the selected speed setting by holding down the switch. However, the same function can also be achieved using the power switch.
The 3 time programs
| | |
| --- | --- |
| Smoothie program | In 60 seconds smoothies, dressings and sauces - with unique creaminess. Our favorite program! |
| Ice cream program | In just 45 seconds, ice creations and sorbets. Admittedly: This program is the least needed, since when making ice cream you stand by the blender anyway and have to push the ingredients to the blade with the tamper. |
| Soup program | This program lets your Vitamix cook! In just 6.5 minutes, you can have hot soups. If the container is full and the soup is not hot enough, a second cycle is worth it. Absolutely useful for fans of raw food soups! |
Cleaning
Cleaning the Vitamix Propel 510 is very easy. It is best to clean it immediately after use when the food residues are not yet dried. Fill the container about 3/4 full with lukewarm water and blend on the highest speed for about 10-20 seconds. After using greasy ingredients, add 1-2 drops of dish soap. Then, rinse the container thoroughly with water. Done!
Recommended accessories
Vitamix Aer Disc container Classic
With the Vitamix Aer Disc container Classic you expand your Vitamix with a real gourmet tool. Perfect for emulsifying, foaming, stirring and whipping, it can be used to make hollandaise sauce, fine emulsions and gourmet foams or simply cream.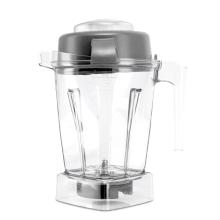 Vitamix Aer Disc Container Classic
Vitamix grinding container Classic for grinding coffee or cereals
If you plan to grind a lot (coffee beans, spices, grains, etc.) with your Vitamix, you should take a look at the Vitamix Grinding Container Classic.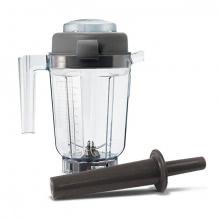 Vitamix Dry Grains Container Classic
Cleaning brush
For cleaning the blender jar - especially after preparing thick consistencies such as hummus - we recommend our practical cleaning brush.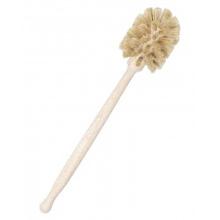 Cleaning Brush for Containers, Juicers & Bottles
Kitchen Clever spatula
If you like to make thick liquids, such as ice cream, the spatula will come in handy.
It is used to move the product to be mixed from the bottom and sides of the container. Especially with sticky, viscous preparations (nut purees, pestos, dips and sauces), it sticks right there. Unlike a spoon, which scratches the container in the long run, the spatula helps to empty the container without attacking it.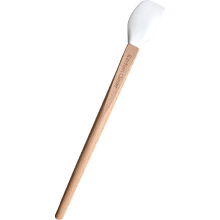 Kitchen Clever Spatula 3 cm wide
Vitamix Propel 510 technical specification
Power: 2.0 horsepower; 220 - 240 volts / 50 Hz - 60 Hz; 1000 - 1200 watts
Dimensions (width x height x depth: 19 x 44.3 x 22.9 cm
Weight: approx. 4,3 kg
Controls: Rotary dial with 10 speed settings and 3 time programs, speed-regulated pulse switch, on/off switch
Blender jar: 1.4 liter jar incl. stopper (short)
Volume of the mixing container: 1.4 liters
Material of the container: Tritan plastic (BPA-free); food heatable up to 100°C
Bladetype and material: 4 blades made of laser-cut stainless steel; HCS (Japan)
Safety: overload and overheating protection
Vitamix Propel 510 Scope of delivery
Vitamix Propel 510 motor block
1.4 liter container made of BPA-free Tritan
Vitamix Tamper
Lid
Lid attachment
Instruction manual in German
Vitamix cookbook in German
Warranty of the Vitamix Propel 510
For purely private use:
Motor block: 5 years
Container: 5 years
Stuffer: 5 years
Vitamix Propel 510 vs. Vitamix E310
Both blenders are nearly identical in construction and equipped with the same 1.4-liter container. The only difference is that the Vitamix Propel 510 also has 3 time programs, while the Vitamix E310 can only be manually controlled. For those who can do without automatic control, it is best to also consider the Vitamix E310.
Vitamix E310
"Handy all-round mixer"
Write Your Own Review