Creamy Tomato Soup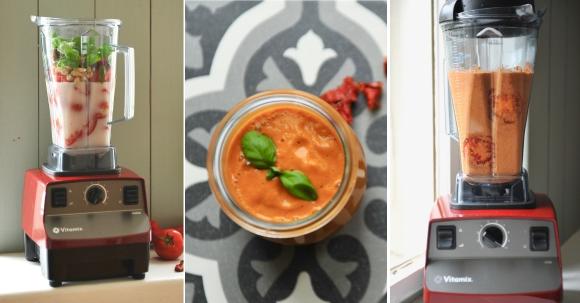 Tomatoes are always in high season - fresh, dried, strained. After our first recipe - cream of mushroom soup - the demand for more soup recipes was very high, therefore we have developed new recipes. Requests started coming in immediately: «do you also have a recipe for cream of tomato soup from the blender?!» Nothing easier than that: we know a vegan recipe that is addictive. I actually had to think of this on my last plane trip, when my seat neighbor tried to quench his hunger with a shuddering tomato juice from the Tetrapak. How nice would it be if there was a blender on board and you could swap your airplane grub for a freshly blended cream of tomato soup?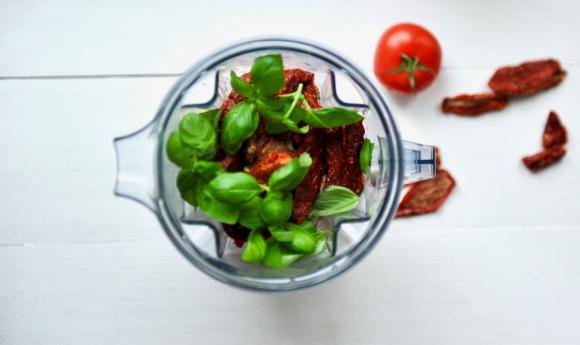 We opted for a vegan cream of tomato soup based on creamy cashews and almond milk. No one misses the cream in this soup! This version is also easier to digest.
The sun-dried tomatoes create an intense tomato flavor, a pinch of cinnamon and fresh basil add a really special touch. We blended the soup until it was really hot. If you prefer it raw, just shorten the blending time to 3-4 minutes!
Creamy tomato soup
Vegan tomato cream soup with cashews and almond milk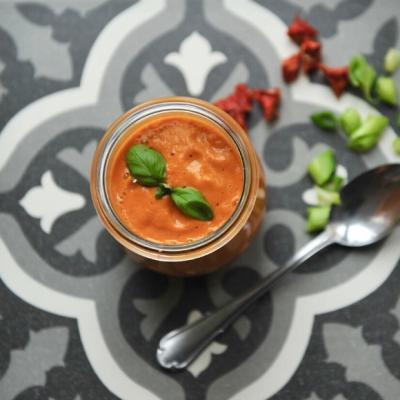 Ingredients
240

ml water

filtered

240

ml almond milk

500

g roma tomatoes

1/4

onion

red

1

pointed bell pepper

red

1

clove of garlic

small to medium size

60

g dried tomatoes

salted

70

g cashews

unroasted, unsalted

2

handfuls of basil leaves

fresh

1

tablespoon oregano leaves

fresh

1

pinch of cinnamon

salt and pepper

season to taste
Instruction
Wash roma tomatoes, red pointed peppers, basil leaves and oregano leaves. Peel red onion and garlic clove. Cut open bell bell pepper and remove seeds. Chop ingredients into small pieces if necessary.

Place all ingredients in container and blend on high speed until desired temperature is reached. We blended for about 8 minutes.

Tip: If you want to save some time, use hot water and make sure that your ingredients don't come directly from the refrigerator, but have about room temperature.

Serve with toppings, such as hemp seeds and basil!

Enjoy this fresh tomato soup with all your heart!
3 Soup Recipes in a PDF file
Yes, I would like to subscribe to the newsletter and receive the Soup Recipes in a printable PDF file for free.

Please send me e-mails, according to the privacy policy, on a regular basis. The Newsletter contains information about kitchen appliances, utensils, recipes and preparation tips, this is revocable at any time.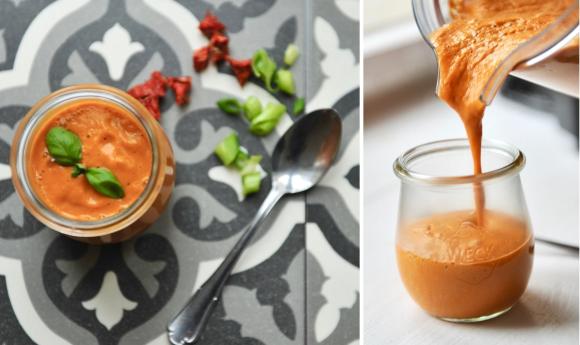 How do you like our cream of tomato soup from the blender? Have you ever made cream of tomato soup in a blender?
We appreciate your Feedback!