Cream of Mushroom Soup Recipe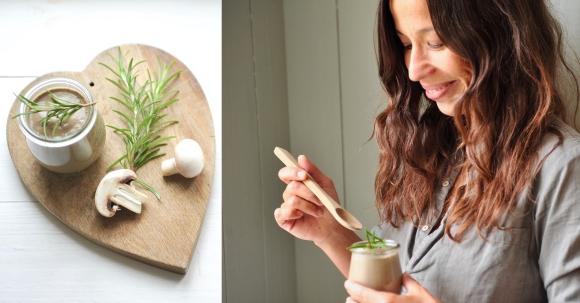 I love collecting mushrooms and sharing my prey. My culinary appetite for the fruits of the forest is very limited. As popular as mushrooms may be, i still can't do anything with them. Therefore, I was really surprised by the raw (!) Mushroom cream soup with rosemary - the soup was immediately added as an appetizer in a fancy dinner with my friends. An extremely appetizing, warm greeting from the kitchen or from the blender. After all, the blender created it in a blink of an eye.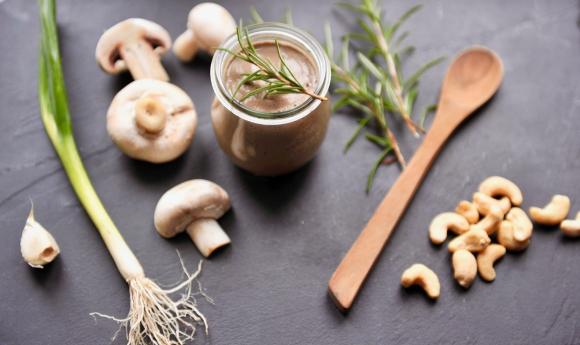 All ingredients are processed raw and should preferably not be heated above 42 degrees. This preserves most of the nutrients - including a lot of the relaxing mineral potassium, which mushrooms have plenty of. Preparation in a blender is not only fast, it also has another decisive advantage: the cream of mushroom soup is so finely pureed that the mushrooms are easier to digest. This is especially interesting for people for whom a mushroom meal can be heavy on the stomach. The reason for this is the indigestible fiber chitin, which needs to be well chewed or finely pureed.
Cream of mushroom soup
With rosemary and cashew nuts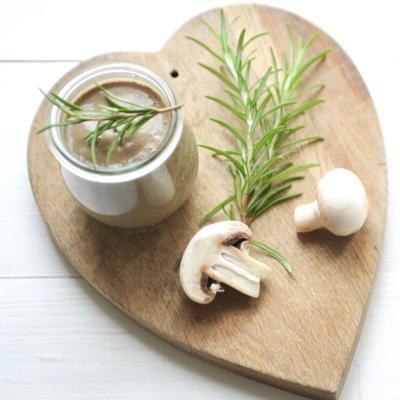 Ingredients
300

g mushrooms

1/4

clove of garlic

1

spring onion

250

ml water

filtered

50

ml almond milk

fresh, homemade

70

g cashews

raw, not roasted, unsalted

2

sprigs rosemary

only the needles

1

handful of dried mushrooms

champignons or mixed

Himalayan salt

to your own taste

pepper

to your own taste
Instruction
Clean the mushrooms and the spring onion and cut them to pieces suitable for your blender!

Separate the rosemary needles from the branches. Peel the garlic clove.

Put all ingredients in container and blend for about 3-5 minutes if you want to enjoy the soup raw. The hotter the soup, the more nutrients are lost! However, if you want to enjoy the soup a little hotter, blend for about 5-10 minutes until the desired temperature.

Tip: If you want to save some time, use hot water and make sure that your ingredients don't come directly from the refrigerator, but have about room temperature.

Serve with toppings, such as rosemary and hemp seeds.

Enjoy this fresh cream of mushroom soup with all your heart!
3 Soup Recipes in a PDF file
Yes, I would like to subscribe to the newsletter and receive the Soup Recipes in a printable PDF file for free.

Please send me e-mails, according to the privacy policy, on a regular basis. The Newsletter contains information about kitchen appliances, utensils, recipes and preparation tips, this is revocable at any time.
Fancy some raw cream of mushroom soup? How do you like our recipe?
We appreciate your Feedback!