Cleaning brush for containers, mixing bowls, drinking bottles & glasses
A must-have for cleaning blenders and drinking bottles!
Admittedly: On the product photo, the cleaning brush looks as if it was made for the toilet. However, in reality it is much smaller and handier than a toilet brush. Visually, it doesn't really remind you of it anymore once you have it in your hand.
Made of beech wood and light horsehair, the cleaning brush helps to quickly clean the container after the blending process - especially after preparing viscous foods such as nut butter, hummus or pesto. The natural fiber bristles are gentle on the container and do not scratch it.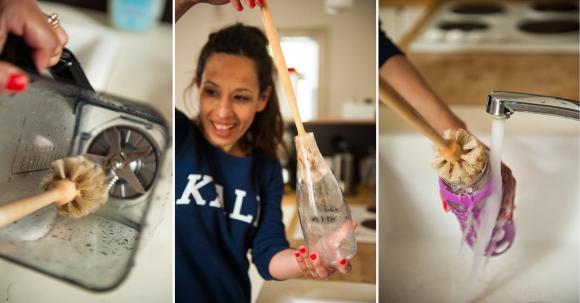 Tested and approved
We have tested the brush in all the containers we offer and can recommend it for all models, except for the too small Vitamix S30 and Bianco Attivo. The cleaning brush is also great for our smoothie bottles. Even the retap bottle, which has a narrow bottle neck, can easily be cleaned.
When to use the cleaning brush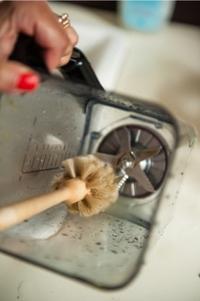 Nut butter, hummus or pesto: With some foods, residues stick to the rim of the container or to the blades. These are easily removed by using the cleaning brush under running water. The spherical shape of the brush makes it easy to get into the corners and clean the entire base of the container - especially the bottom of the blades. The cleaning brush is also used for drinking bottles, whose insides can easily be freed from dried smoothie residues by the voluminous brush.
Tip for long-lasting pleasure
After cleaning, rinse under running water and give it a good shake a few times. This allows the brush to dry faster and protects the wood and bristles from too much moisture.
Questions & Answers about the Product
Ask a question
Total 5 question(s)
Hello, how long is the brush (total length). Thank you very much!
Question submitted by Ivana on April 4, 2021 at 15:14 o'clock
Hello Ivana,
thank you very much for your question.
The brush has a total length of 35 cm.
Best regards,
Your GrueneSmoothies.com Team!
Beanwortet am 06.04.2021 um 07:13 Uhr
Hello, can this brush be hung?

LG
M. Ehliger
Question submitted by M. Ehliger on February 18, 2021 at 12:14 o'clock
Hello M. Ehlinger,

thank you very much for your message

The brushes do not have a hole or similar for hanging

Kind regards from Berlin!

Betsy from the GrueneSmoothies.com team
Beanwortet am 18.02.2021 um 15:28 Uhr
Hello,
When preparing raw food dough, leftovers get stuck on/underneath the blades, even the Vitamix cleaning brush can't reach them. I have tried to remove the dough residues with a toothpick, no success. Can the blades be unscrewed for cleaning?

Thanks for your help!:)
LG
Arlette
Question submitted by Arlette Arend on July 6, 2020 at 13:24 o'clock
Hello Arlette,

thank you very much for your message.

For stubborn residues, we like to soak the container in a mixture of vinegar and water (ratio 1:2) or in a Kukident bath. Please do not use boiling hot water for this, hot water from the tap is enough.

Please do not loosen the blade base.

Kind regards from Berlin :-)

Betsy from the GrueneSmoothies.com team
Beanwortet am 08.06.2020 um 16:19 Uhr
Moin, we juice 3-4 glasses of juice everx day. Which juicer would you recommend? The 828 or the 707 from Sana?
Best regards
Oliver
Question submitted by Friedrich on May 25, 2020 at 11:02 o'clock
Hello Friedrich,

thank you very much for your message.

Both devices are reliable juicers - of course, each model has its advantages and disadvantages. The Sana 707, for example, is particularly easy to clean and assemble and is considered robust.

The Sana 828 achieves a higher juice yield and fits in almost any kitchen due to its vertical shape – however, cleaning is a bit more time-consuming than with the horizontal Sana 707

You are also welcome to take a closer look at our juicer comparison.

Greetings from Berlin,
Your GrueneSmoothies.com team
Beanwortet am 26.05.2020 um 11:30 Uhr
In what way is the brush for the Vitamix S30 not recommended? In one picture you can see a water bottle with a narrow bottle neck
Can you recommend an alternative brush for the Vitamix S30?
Thank you for your answer.
Question submitted by Miriam on July 27, 2019 at 23:19 o'clock
Hello Miriam,

thank you for your question.

The brush is suitable for cleaning the container walls or the cups of the S30, but unfortunately, it is too large to go between the blades.

However, no blender can be cleaned as easily as the S30, thanks to the unscrewable blade base, which is also dishwasher safe and can be cleaned well with a kitchen sponge. The cups also are dishwasher safe.

However, other blenders cannot be cleaned as easily as the S30, which is why we always recommend the brush there. The brush is perfect for quickly cleaning the container and the cups of the S30.

Kind regards,

Your GrueneSmoothies.com team
Beanwortet am 30.07.2019 um 10:55 Uhr
Ask a question
Reviews
[5 of 5 Stars]


Happy about this brush

I am very happy about this brush. Very suitable for cleaning juicers and blenders. When wet, the bristles are buttery soft. But I'm most happy that I now have a suitable brush for my smoothie bottles.

[5 of 5 Stars]


Great device

Have it already for the second time. The first had four years of service and was now allowed to go. Especially for the drinking bottles of my son I love it, because it really nestles quite great in every corner and cleans everything.

[5 of 5 Stars]


Ingenious

i am mega excited about the versatility of this brush. Especially blending container and the retap bottle are perfect to clean.

[4 of 5 Stars]


good brush

Great brush, you can really clean the retap bottles well with it. However, the picture is somewhat misleading. Because there is still a leather strap pictured (was delivered with cotton strap) - I would have liked better. Therefore, one star less.

[5 of 5 Stars]


Brush with soft bristles

Has reminded me at the beginning of the appearance of a toilet brush ;) But the brush cleans the blender very well. The bristles are not a bit scratchy but soft and gentle to the container :)

[5 of 5 Stars]


Finally easy to clean

Thanks to this brush, the cleaning of my Vitamix container is now really super easy! The brush comes really in all corners and reaches through the all-sided bristles even the trickiest places, for example, under the blades. Really super! I have immediately reordered one for my girlfriend! Cool also that you can now hang them!

[5 of 5 Stars]


Super part

very practical part - superior to any other "one-sided" brush, thanks to the "all-round hair" ;-)
Write Your Own Review