Wild herbs Tour in Berlin-Kreuzberg with Natascha von Ganski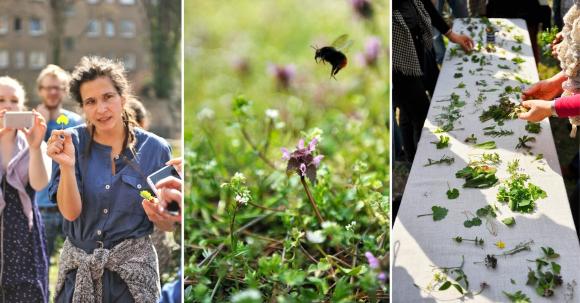 All year round , more than 40 different edible wild herbs grow in the backyard of our company in Kreuzberg, you can get to know them as part of a wild herb tour - real local superfoods for green smoothies. The renowned herbalist Natascha von Ganski from the medicinal plant school alcimia, accompanies you on your search for stinging nettle, goutweed, yarrow, ribwort and co. You are cordially invited to the WALK on the WILD SIDE with herbal guide Natascha von Ganski. Of course, you will be welcomed with a green smoothie aperitif.
Wild herbs - appearance, effect and taste
During the guided tour, Natascha von Ganski introduces the various wild herbs and their effects. She points out visual differences so that you can better distinguish the currently growing wild herbs when collecting them. You will learn which wild herbs are edible and in what quantity you can use them in green smoothies, salads or other recipes.
Interview with wild herb expert Natascha von Ganski: Do little creatures really live in stinging nettles?
One of Berlin's autentic herbs is the wild herb expert and alternative practitioner Natascha von Ganski. Growing up in Berlin-Schöneberg and Lichterfelde, she discovered the wild sides of Berlin as a child. Natasch began collecting blackberries on what now is the Lichtenfeld-Süd S-Bahn site. At that time, these were mainly painful encounters with stinging nettles.
Natascha von Ganski is a book author and the founder of alcimia, the school for medicinal herbalism and traditional occidental medicine in Berlin - therefore she is the best guide for a one-hour tour in the backyard of our company in Kreuzberg. During the tour Natascha will introduce you to the respective wild plants with their properties and applications. You can find more information about Natascha here.
GrüneSmoothies.de: How were your first experiences with wild herbs?
Natascha von Ganski: Painful. As a child, I constantly fell into stinging nettles, perhaps riding my bicycle hands-free was one reason for it. In summer, I sometimes looked like a crumble cake. A Hungarian story made me understand the constant contact with nettles. According to this story, little beings live in nettles and attract young girls so that they can marry them. This explained the attraction between me and the nettles - this way the painful experiences became magical incidents.
GreenSmoothies.com: How do urbanity and wild herbs go together for you?
Natascha von Ganski: City and wild herbs go together wonderfully, the wild plants follow people and settle where people need them. For example, I have even discovered coltsfoot in Berlin, which actually tends to thrive in moist and loamy soil. And if you consider that coltsfoot is a plant that can be used well for chronic colds and coughs, then this wild herb is just right in a dust-laden city like Berlin. Despite the fact that the soil in Berlin is not known to be loamy.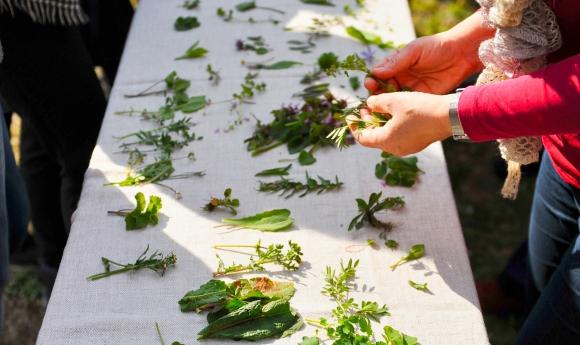 GrüneSmoothies.de: What are your favorite wild herbs?
Natascha von Ganski: The field pimpernel, a primrose plant that is unfortunately not really found in Berlin. I also like the ground ivy - known to many as Gundermann - a very potent medicinal plant that helps heal wounds. (Editor's note: Ground ivy loves our backyard!)
GreenSmoothies.com: What do you think of wild herbs in green smoothies?
Natascha von Ganski: Wild herbs in green smoothies are a great way to utilize these plants raw. Highly potent as they are, the wild medicinal plants provide another boost of nutrients and vital substances and also give the smoothie that special taste of the woods and meadows. If you add daisies as a topping, you'll feel like starting the day on a spring meadow.
GrüneSmoothies.de: Apart from weatherproof clothing - what should you take with you on a wild herb tour?
Natascha von Ganski: Curiosity, openness and joy in discovering what grows off the beaten path.
GrüneSmoothies.de: Dear Natascha, thank you for this first insight into the urban herb world. We are very excited to go on a "wild" journey of discovery in the middle of Berlin with you.
We appreciate your Feedback here!