How to make Almond Butter - 5 minute recipe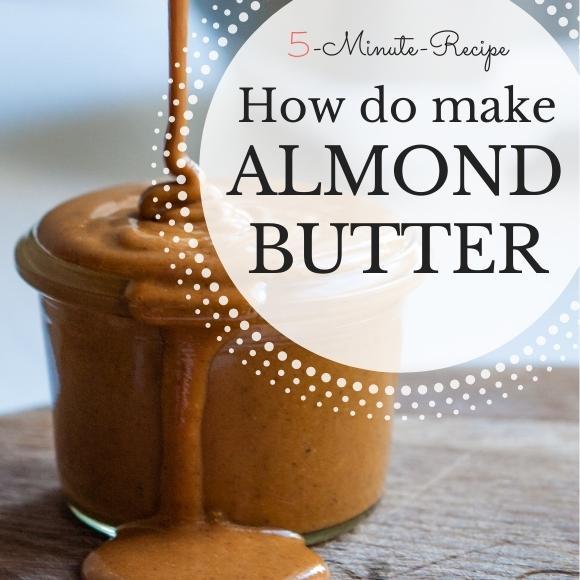 The prices for almond butter significantly increased again - especially 250g portions have become more expensive. If you have a high-speed blender at home, this does not have to bother you - you can make your own almond butter. This is not only interesting in terms of price, but also in terms of taste: fresh almond paste is simply delicious - as a spread, e. G. in combination with a little honey, as a fruit dip for apples and pears, to refine desserts and mueslis - or simply spooned. In addition, almond butter scores with a lot of magnesium (good against stress!), vegetable protein (good for vegetarians and vegans!) as well as lots of B vitamins (good for the nerves!).
Almond Butter Recipe as a PDF file
Yes, I would like to subscribe to the newsletter and receive the Almond Butter Recipe as a printable PDF file for free.

Please send me e-mails, according to the privacy policy, on a regular basis. The Newsletter contains information about kitchen appliances, utensils, recipes and preparation tips, this is revocable at any time. .
Almond butter recipe for the blender
Contrary to many DIY almond butter instructions on the internet, preparing it with a high-speed blender (in this case, the Bianco Primo Plus) requires no other additions like water or oil. Our trick: Roast the almonds in the oven before blending.
Roasting the nuts ensures that the nut's own oil is released during the following processing in the blender. The nuts quickly reach a creamy, smooth consistency - absolutely comparable to store-bought almond butter. In addition, the roasted flavors go well with the almond butter. We deliberately decided against the raw version - for culinary reasons, we didn't get good almond butter results with raw nuts in the blender - certainly not without adding extra oil! This definitely is a compromise, as nutrients are lost when the almonds are roasted.
Almond paste
"The 5 Minute Recipe"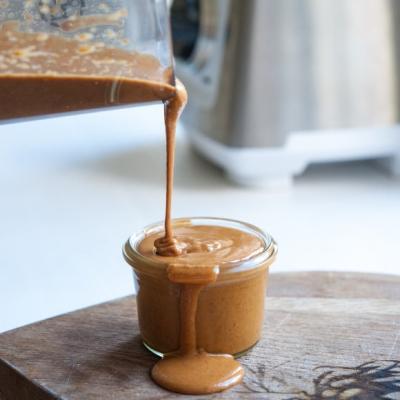 Ingredients
500

g almonds (unpeeled)

We recommend that you do not process more than 500 g almonds. More almonds can only be process into almond flour.

1

pinch of salt

1

pinch of cinnamon
Instruction
Preheat the oven to 150 degrees at top/bottom heat for about 5 minutes. Spread the almonds on a baking sheet and roast for about 5-7 minutes. Since every oven is different, we recommend that you keep checking the almonds, as they can burn quite quickly. The creaminess of the almond paste is related to the roasting time. If almonds are roasted too long, too much oil evaporates and the almond paste no longer has the liquid-creamy consistency (as in the pictures in this post), but rather resembles a solid spread. Now remove the tray from the oven and let the almonds cool down a bit.

Below you will find the blending times and the resting times for the blender between the individual blending runs. Please observe these, otherwise the mixture will heat up too much and may damage the container.

We are often asked whether you can prepare almond paste in the Bianco Primo, we therefore show the preparation in this high-speed blender. We put all the almonds and a pinch of salt and cinnamon in the container and puree the nuts on the lowest speed level for about 1 minute until a nut flour is formed. Pause and use the tamper to push the nut mixture down from the inside walls of the container.

In the next blending run, start at lowest speed for about 30 seconds and slowly turn up to maximum - continue blending for about 1.5 minutes. The almond flour will now change to a mushy mass as the oil begins to escape. If necessary, press the nut mass down with the tamper while blending (with the lid closed, of course). Again, take a short break for about 30 seconds.

Repeat the previous blending step under point 3. After another 2 minutes of blending, you will have a silky smooth nut puree. The entire preparation takes about 5 minutes.

Afterwards, it is best to fill the almond puree into sterilized canning jars. This way it will keep for weeks. To do this, rinse the jar and lid with boiling water and then dry upside down on a clean kitchen towel.
Conclusion: Better make your own almond butter!
A high-speed blender is already an ingenious kitchen appliance. In the past, we would not have thought that we could make delicious almond butter ourselves. Therefore, our clear recommendation, if you have a high-speed blender at home: Instead of buying almond butter, prepare your own - it's cheaper and you know what's in it. Feel free to try the almond paste recipe with other nuts such as hazelnuts or cashews - or prepare nut butter mixtures or even chocolate variants. But even with other nuts, it is important that they are roasted before processing!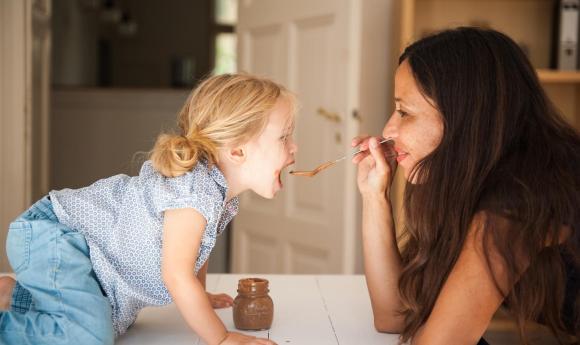 Almond Butter Recipe as a PDF file
Yes, I would like to subscribe to the newsletter and receive the Almond Butter Recipe as a printable PDF file for free.

Please send me e-mails, according to the privacy policy, on a regular basis. The Newsletter contains information about kitchen appliances, utensils, recipes and preparation tips, this is revocable at any time. .
Have you ever made your own almond paste in a blender?
We appreciate your Feedback here!