30 Minutes Meals: More than 30 ideas for Breakfast, Lunch or Dinner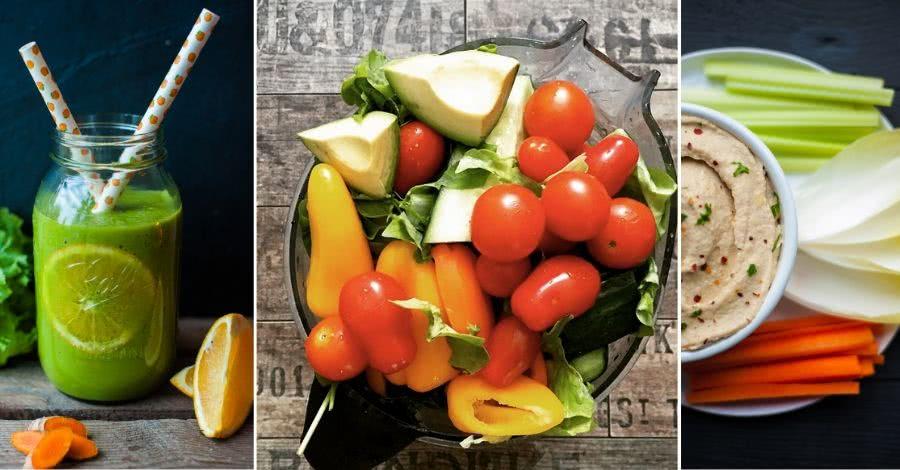 Sometimes you just have to be quick, because you only have a little time to prepare breakfast, lunch, dinner, dessert or a snack in between. In this case, quick recipes help, they can be made even faster with the help of a high-powered blender. We've put together a selection of quick recipes that not only take less time to prepare - usually less than 30 minutes - but are also healthy.
Quick recipes for breakfast
If you want your breakfast to be quick and healthy, we recommend green smoothies made from lettuce, herbs or cabbage leaves combined with ripe fruits like banana, apple, pineapple or mango.
Throw everything into the blender with a little water - blend for one minute - done! We have put together a colorful selection of green smoothies for you.
Quick recipes for lunch or dinner
For lunch or dinner, soups are quick recipes that are even faster if you prepare with a high-speed blender - especially raw vegetable soups like a delicious cream of mushroom soup. You can also heat soups in the blender, 60 to 80 degrees, such as our perennial favorite - cream of tomato soup.
If you're not in the mood for soups, you can find quick recipes for a delicious pasta dish in our pesto variations. While the pasta is cooking, you can quickly prepare a fresh pesto in the blender - we show you 4 different pesto variations: From the classics - pesto verde with basil and pesto rosso with sun-dried tomatoes - to wild garlic pesto and our nutrient-rich special pesto made from wild herbs.
It is easy to pepare is hummus, as long as the chickpeas are already cooked. Just put them in the blender with the hummus-specific ingredients, blend for 2 minutes, you have a smooth delicious cream that you can enjoy with rice or simply combined with vegetable sticks as in our recipe - definitely a gourmet choice for quick recipes.
Quick recipes for in between
If you want to watch your diet but don't want to miss out on a snack in between meals, you'll find quick recipes for in-between - our vegetable smoothies - whether with beetroot, sweet potatoes, tomatoes, celery or zucchini. It's definitely quick, low in calories and healthy. Our chia shakes are also quick in preparation. Definitely give them a try!
Quick recipes for desserts
Our Nicecream variations are a quick option for dessert. The quick and healthy ice cream from the blender can be made from frozen fruits such as bananas or berries - in a vegan variant or also with cream. A few toppings such as chocolate shavings or fresh mint make the "à la minute desserts" not only delicious, but also turn them into eye-catchers. Delicious dessert creations can be made just as easily and quickly from chia seeds: here are some recipes with mango, pomegranate and strawberries.
We appreciate your Feedback!