Homemade Ice Cream without ice cream machine: 5-minute ice cream made in your blender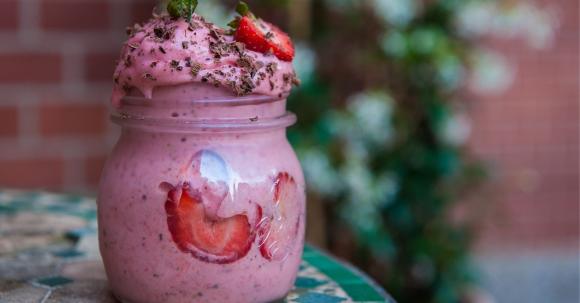 When it's really hot outside, nothing beats ice cream. And a high-speed blender. It quickly provides the sweet cooling. All you need to do is add two ingredients: Frozen fruit and a dairy product. Blend everything on the highest setting, and you're done. Homemade Ice Cream without a ice cream machine in just ander 5 minutes. Here you will learn what is important for the preparation, what our favorite ingredients are and which blender is particularly well suited for the preparation of homemade ice cream. In addition, we reveal 5 delicious blender ice cream recipes - some with red berries, some with mango and lime or a Mediterranean creation with apricots and basil.
Homemade Ice Cream without ice cream machine: Topics at a glance
Homemade ice cream: Which fruits should I use?

You can use any fruit, they just have to be frozen. I.e. You either buy them frozen or freeze them yourself. If you want to freeze the fruits yourself, make sure that stone fruits such as cherries or apricots are pitted and larger fruits such as nectarines or pineapples are cut into small pieces of about 2 cm. This is important! This way the blender can puree the fruit in the shortest possible time which prevents melting in the container due to too long blending.

Homemade ice cream: which dairy product to use?

We started with pure cream. This gives your ice cream enough fat and plenty of flavor carriers for the fruit flavor. You can also use yogurt, kefir, buttermilk, curd and even cream cheese. Dairy products naturally give the ice cream a slight tingling note, almost like a frozen yoguhrt. With cream cheese, the ice cream turns out extremely creamy and a little firmer than with cream. If you like cream cheese, you may find this the optimal milk base for the blender ice cream.

Homemade ice cream: Are there also vegan variants?

Of course there are! Either you replace the dairy product with a plant-based variant such as soy, oat or coconut yogurt - coconut milk also works pretty well - or you simply switch to Nicecream. With Nicecream, frozen banana replaces the dairy product and, more importantly, the sugar. This makes Nicecream one of the healthiest ice cream alternatives around. If you want to try Nicecream, be sure to check out our Recipes for nice cream.

Homemade ice cream: Do I need additional sugar?

Of course, this is a matter of taste. We sweeten our blender ice cream especially when the fruits are tart - for example, red berries or a wild berry mix. A tropical ice cream with lots of mango and ripe pineapple on a cream base doesn't really need any other sweetener. Even if you're using a more acidic dairy product like yogurt, kefir or buttermilk, a little extra sweetness won't hurt. We prefer to use the sugar substitute xylitol. Xylitol actually tastes just like white sugar, but leaves a slight cooling effect on the tongue - perfect for blender ice cream. The great thing is that xylitol doesn't encourage tooth decay, but fights harmful bacteria. Alternatively, you can use honey, fructose-free rice syrup or maple syrup. With liquid sweeteners, however, you must be careful that the ice cream does not become too soft.

Homemade ice cream: Which flavors and toppings are suitable?

There are no limits to your taste imagination here. For example, you can add herbs like basil and thyme to fruits like apricots, nectarines or peaches. Or combine mint with mango and strawberries. You can also use vanilla, tonka or lime zest - which goes great with mango or strawberry ice cream - to enhance the flavor of your ice cream. When the ice cream is ready, it can be decorated with toppings - a feast for the palate and the eyes. We like to use chocolate or coconut shavings, hemp seeds, citrus zest or a crumbled cookie crunch.

Homemade ice cream: What is the shelf life of blender ice cream?

Our fruit-milk ice cream from the blender is a lightning dessert - As fast as it can be made, it should be eaten à la minute. This is because it starts to melt quickly. You can't fix this effect by putting the ice cream in the freezer, it will turn to "concrete". This is simply because our homemade ice cream does not contain ingredients that keep it creamy when frozen. However, since blender ice cream can be made in no more than 2 minutes, it's good to produce on demand or make more if requested.

Homemade ice cream: Which blender is suitable?

To make your own ice cream, you need a powerful blender. All of the high-speed blenders we offer have the necessary motor power and an automatic shut-off function - the blender stops automatically if it reaches its performance limit. Conventional stand mixers can permanently capitulate under this high load. In addition, you absolutely need a tamper when making ice cream, as you have to push the ingredients back to the blade.

The container also plays an important role. If the container is rather wide at the bottom and therefore lower in height, such as the Bianco Primo Plus or the Vitamix Pro 750, the minimum amount you need to prepare is over 700 ml. Otherwise the blades would run dry. For this reason, there are small additional containers for both models, with which ice cream quantities of less than approx. 400 ml are possible. Ice cream fans should therefore choose blenders that have a narrowly tapered container, so that no additional container is necessary to prepare smaller amounts of ice cream.

Models from Vitamix:

Models from Bianco:

Model from Wartmann:

We appreciate your Feedback!