Blenders at a glance: What are the Differences? What is important when buying a Blender?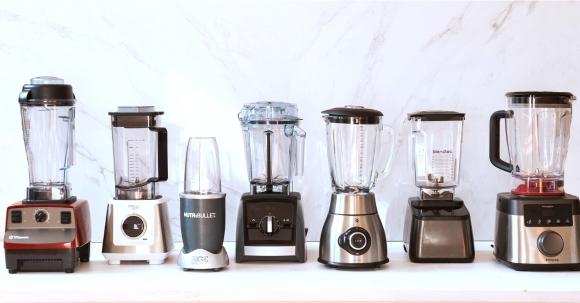 Green smoothies, fruit smoothies, nicecream, hummus, soups, dips or pesto - when it comes to creating a creamy mass from one or more ingredients, a blender is called into the action. But which one? The range of blenders has not only grown enormously in recent years, but the models also differ from one another, in some cases enormously - especially in terms of their performance, preparation options and prices. We therefore explain the different performance classes of blenders, give you tips for your blender purchase and test four popular blenders with regard to their core discipline: mixing and pureeing to fine, chunk-free consistencies.
Blender topics at a glance:
What is a blender?
Blend, puree, chop, grind: A powerful blender can take on many tasks in the kitchen. In some cases it even replace other kitchen appliances, such as a immersion blender. Especially when it comes to mixing several ingredients into a homogeneous mass, a stand mixer is the preferred kitchen appliance. It is an electronically operated device that consists of a motor block and a container with a lid. Depending on the blender model, container sizes vary from 600 ml to two liters. After the container is filled with the ingredients and the lid is closed the container is placed on the corresponding motor block. Now the blending process can be started. The blending time depends on desired consistency and power of the device. The more powerful the blender, the finer, creamier and faster a dish will be. In the next paragraph, you will find out how big the performance differences are between blenders.
What are the differences between blenders?
Not all blenders are the same. They differ not only technically, structurally and visually, but above all you can differentiate them by their preparation possibilities. While it is no problem for a powerful blender to blend a green smoothie made of fibrous leafy greens, fruits and water into a creamy and chunkless consistency, less powerful devices already fail at this task. The result remains chunky and resembles a coarsely pureed mixture rather than a creamy green smoothie. This not only affects the taste and aroma, but also the digestibility. Besides green smoothies, ice cream preparations or Nut muse can also bring a weaker blender to its performance limit. If a blender is frequently used for preparations it´s not designed for, it not only fails to achieve the desired result, but also wears out enormously and breaks down more quickly. With this in mind, we have divided blenders into three performance categories: High-speed blenders, kitchen blenders and to-go blenders.
High-speed blenders: The most powerful blenders - the most preparation options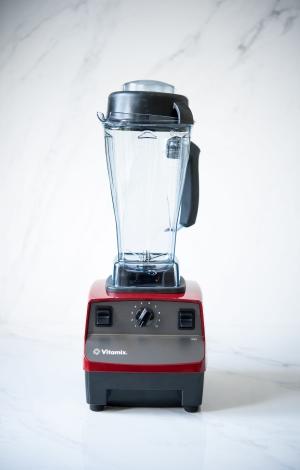 High-speed blenders are the absolute specialists when it comes to blending food. As the name suggests, these blenders have been manufactured for maximum performance. Their preparation capabilities are definitely the greatest among blenders. You can even use them to blend ingredients like fibrous kale, wild herbs, or the core of apples and pears and still achieve an extremely creamy, smooth green smoothies. In no time at all, a healthy Nicecream can be made from frozen fruit. In our experience, both preparations - Nicecream and Green Smoothies - cannot be made satisfactorily with kitchen blenders.
You can also prepare hot soups from fresh vegetables, heated by frictional heat, in your blender. Viscous consistencies like pesto, nut butter, hummus, dips, or vegetarian spreads are no problem either.

High-speed blenders are of the highest quality. They are designed to guarantee fine blending results even when fully loaded and can withstand years of daily use. This is made possible by a perfect interplay of all the important components: container shape in combination with blade base, high-quality motor and a correspondingly high power. If one of the components does not work properly, the quality of the blending result decreases significantly - even if the manufacturer promises 38,000 rpm or more. From the buyer's point of view, it is important to separate the wheat from the chaff and distinguish good high-speed blenders from bad high-speed blenders. Simply looking at technical specifications such as watts, horsepower or revolutions per minute is usually misleading. As a specialized dealer, we have limited ourselves to a small selection - we only offer devices we can recommend without reservation - find our high-speed blenders here. Quality has its price: The cheapest models, which in our opinion meet the standards of a good high-speed blender, cost between 250 and 300 euros, e.g the Wartmann blender. The price range upwards is open.
Kitchen blenders: Lower initial costs - too weak for green smoothies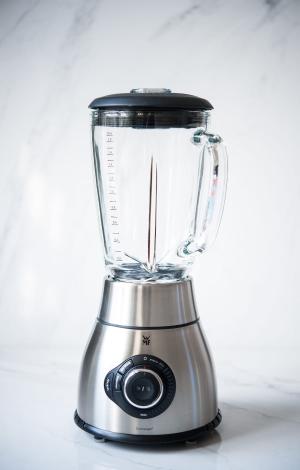 Kitchen blenders are blenders that are significantly less powerful than high-speed blenders. They have a similar pureeing performance as a immersion blenders, but are better when it comes to producing liquid preparations such as cream soups, fruit smoothies or protein shakes. Unlike in the high performance blender, most ingredients must be cut into much smaller pieces before blending.
When it comes to blending hard or especially fibrous ingredients (e.g green smoothies) kitchen blenders quickly reach their limits. The blending result remains lumpy, the ingredients are not finely blended, hence green smoothies cannot develop their full flavor and are harder to digest. You'll also find yourself using toothpicks to remove fibers from between your teeth after a smoothie from the kitchen blender.
With viscous foods - such as hummus made from chickpeas - it often happens that the engine of the kitchen blender overheats, due to lack of power it then goes into heat protection and stops the blending process. If a kitchen blender is exposed to such stresses on a daily basis, it will quickly break down, the wear and tear is enormous. How do we know this? Some team members of gruenesmoothies.de first bought a kitchen blender for making green smoothies because a high-speed blender seemed too expensive at the time. Result: If you buy cheap, you buy twice. Therefore, we clearly recommend: If you want to prepare green smoothies and also get to know many different recipes (e.g nut puree, almond milk, nicecream, hummus,....) there is no way around a high-speed blender. This tip, should save you some money.
To-go blenders: The smallest blenders, practical for fruit smoothies or shakes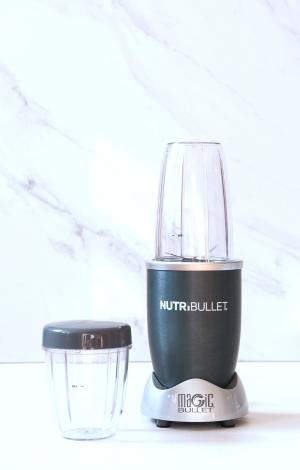 To-go blenders are significantly smaller then other blenders. The containers have a capacity well below one liter. Unlike most other blenders, the blade base of a to-go blender is not fixed to the container. The prepared food - whether smoothie or pesto - can be stored directly in the container, for which there are corresponding lids. Hence the name: to-go blender. Most manufacturers of such blenders offer their models in sets with different sizes of containers - some starting from 250 ml. Very convenient for storage, however, this means that the ingredients - fruits especially - have to be cut quite small before blending. Also, if you want to make larger quantities, you have to blend several fills in order to get over a liter of your desired smoothie. This is significantly more time-consuming than with a kitchen or high-speed blender.
We therefore think that to-go blenders work well for small portions of fruit smoothies or shakes they deliver satisfactory blending results for ingredients that are easy to blend. Especially because the power (watts) can manage the small portions. To-go blenders are not designed to prepare green smoothies or larger blending quantities. Just like with kitchen blenders, green smoothies remain chunky and are less flavorful - even with blending times well over a minute. Similar to a kitchen blenders, to-go blenders quickly reach their performance limits with fibrous leafy greens and hard ingredients. As a result, they suffer from heavy wear and tear and even lose their function.
What should I look for when buying a blender?
From kitchen blenders to to-go blenders to high-speed blenders - blenders differ massively in terms of their price, their performance and in their preparation possibilities. The the better you know what you want to perpare with your blender, the easier it will be to choose the right device for your needs. To help you with this, we have created a checklist and a list of questions that you can use to narrow down the selection of your blender.
Questions and a checklist to consider before buying:
What do you want to prepare with a blender? If it's mostly green smoothies, we recommend a high-speed blender. This recommendation is clear! Some team members of gruenesmoothies.de have already burned some money: buying a cheap kitchen blender or a to-go blender for the start is not worth it. After just a short period of time they bought a high-speed blender. The need to drink creamy green smoothies daily has led us to found our company. We know how disappointing it is to buy a bad blender, our policy is: we only sell equipment that we can recommend without reservation.
Small container or large container? How large are your preparation quantities? If you want to prepare 2 liters of green smoothie for the whole family every day, then a blender with a 2-liter container makes sense. If you want to prepare smaller quantities - between 250 and 500 ml e.g pesto - look for a blender whose container is shaped for smaller preparation quantities. Or choose a blender that comes with additional containers for smaller portions.
How much space do you have in your kitchen? Is it important to you that the blender fits under a wall cabinet or a sloping roof? Then look for a compact blender with a lower height.
What is your budget? If you would like a more expensive blender with a longer lifespan and higher warranty, but the one-time purchase cost are too high, ask your merchant about an interest-free installment plan. We offer this, for all high-speed blenders in our store.
Can you test the blender at the store or at home? Many manufacturers of kitchen blenders claim that their devices allow a huge preparation spectrum - including green smoothies. Nothing is better than experimenting on your own. For example, we give you the opportunity to test our entire range of blenders in our store in Berlin. Or buy a blender online with our 45-days-money-back warranty. This way you can test it extensively and have the opportunity to compare it with your existing blender.
4 blenders in the green smoothies aptitude test
We are often asked which blender is the best. In our opinion, this question can only be answered in the context of the desired preparation options. How big the performance differences between blenders can be becomes clear with a simple green smoothies test. After all, preparing a green smoothie from fiber-rich leafy greens, fresh fruit with peel, seeds and some water is an endurance test for a blenders. If it can convince with a perfectly creamy blending result, it is suitable for almost all popular blender preparations like: nicecream, hummus, pesto or plant/nut milk.
This test is especially important for us: according to the manufacturer's specifications, almost every blender should be suitable for preparing green smoothies. Many models are even explicitly advertised for green smoothies. Unfortunately, we have seen a very different picture: Most blenders fail at making a green smoothies with a creamy, fine consistency in which all ingredients have combined without particles. However, this is exactly what determines the taste of a green smoothie.
High-speed blenders, kitchen blenders and to-go blenders in the aptitude test
We selected four popular blender models for our test, including two high-speed blenders, one kitchen blender and the most popular to-go blender:
High-speed blender: Vitamix Pro 750, 1,200-1,400 watts, approx. €899
High-speed blender: Bianco Piano, 1,250 watts, approx. €249
Kitchen blender: WMF Kult pro Power blender, 1,400 watts, approx. 99 €
To-go blender: NutriBullet, 600 watts, approx. 79 €
For our test recipe, we chose a Green Smoothie that is a real blending challenge, it includes fiber-rich black cabbage, celery and parsley, as well as a wedge of lime with zest. Taste-wise, this Green Smoothie is supposed to be an exotic blend of banana and mango with a hint of lime. The exact recipe is: 40 g black cabbage without stalk, 10 g parsley, 60 g celery, 100 g apple with peel, 100 g frozen mango, 70 g banana without peel, 15 g lime with zest and 150 ml water.
The ingredients were weighed out exactly to allow a fair comparison. We roughly chopped the ingredients before filling them into the containers. For the NutriBullet, we followed the exact instructions and first filled the container with the leafy greens and then with the fruit and water. All four Blenders blend for 1 minute. We then placed 2 tablespoons of smoothie in each glass and photographed them over a spotlight. This was the best way to get a kind of "microscopic photo" of the consistency.
Mixing result Vitamix Pro 750, 1,200 watts, approx. 899 €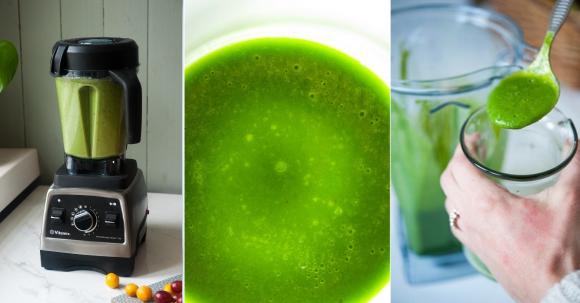 The Vitamix Pro 750 is one of the most proven high-speed blenders from Vitamix. Accordingly, our test recipe for the Vitamix Pro 750 was not much of a challenge: After just 45 seconds of blending, a uniform smoothie consistency can be seen on the outside. Actually, we would not have to blend any further to reach a creamy, chunk-free green smoothie. After 60 seconds, the blending result turns out to be completely particle-free: Cf. image in the middle and the spoon image (right), which shows almost a frothy smoothie texture. The ingredients have combined to create a green smoothie with an exotic aroma of mango, lime and banana. There's no trace of kale or parsley fibers nor lime zest.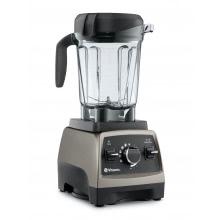 Vitamix Pro 750
"Crème de la crème"
Regular Price: 1,099.00
Special Price 999.00 €
Blend result Bianco Piano, 1,250 watts, approx. €249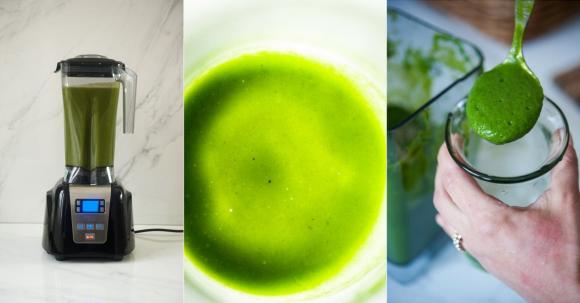 Priced at just under €250, the Bianco Piano is one of the best entry-level blenders for green smoothies. This is impressively demonstrated in our green smoothies test: the Bianco Piano delivers a creamy green smoothie with an exotic aroma in one minute. No fibers of black cabbage or parsley are visible in the blending result. Likewise, the lime zest was able to be pureed quite finely so that it could release its exotic flavor into the particle-free blend. In the spoon photo, you can see the creamy smoothie texture, while the headlight photo shows a particle-free texture.
Blending result WMF Kult pro Power, 1,400 watts, approx. 99 €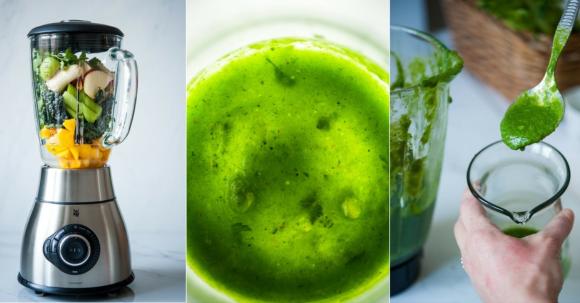 We were particularly curious about the blending result of the WMF Kult pro Power. It has a glass container and is priced at 99 €. According to the manufacturer it has over 1,400 watts - as much as the Vitamix Pro 750 and more than the Bianco Piano. The Kult pro would be a great deal if it weren't for the Green Smoothie of fibrous black cabbage, celery and lime zest. After a minute of blending, the smoothie looks more like mush than a creamy green smoothie. In the spotlight photo Residual parsley and black cabbage fibers are clearly visible. Also, the WMF blender failed to finely puree the lime zest. There still are pieces of the peel (approx. 1mm diameter) as you can easily see on the middle picture. Due to the chunky-pulpy consistency, the smoothie cannot combine the flavors of the ingredients. You can tastes the individual components, but not the mixture .
Mixing result NutriBullet, 600 watts, approx. 79 €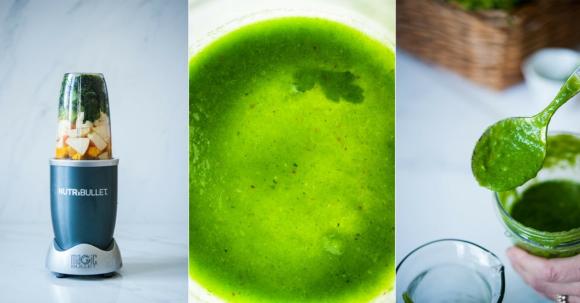 The NutriBullet is certainly one of the most popular to-go blenders on the market and is also explicitly advertised for preparing green smoothies. In our green smoothies test, it quickly reached its performance limit when chopping fiber-rich leafy greens like black cabbage and parsley. After 1 minute of blending, the smoothie is mushy, with small pieces of lime zest - see right photo. In addition, parsley fibers wrapped around the blade during blending and were still completely intact. You can see these unblended parsley remains in the picture in the middle of the collage. The mushy smoothie consistency tastes almost a bit watery because the ingredients have not combined. The exotic smoothie flavor can not be developed, a finely pureed green smoothie definitely tastes better.
Conclusion: Only high performance blenders pass our green smoothies aptitude test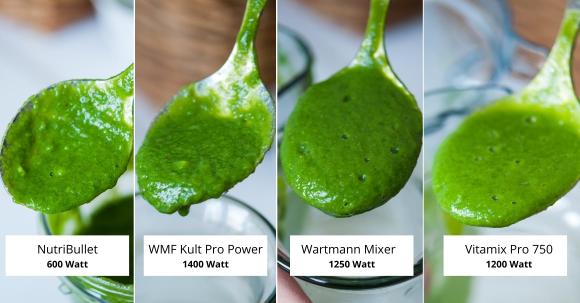 Perhaps thats what you expected, the two high-performance blenders - Vitamix Pro 750 and Bianco Piano - are our test winners. Both blenders impress in the green smoothies aptitude test with a chunkless consistency. Leafy greens, fruits and water are not only creamy and finely combined, but the "fusion" of the ingredients results in a smoothie flavor of its own - an exotic blend of mango and banana with a subtle hint of lime. The smoothie consistency of the Vitamix Pro 750 is even fluffier and finer than from the Biano Piano.
The other two blenders - WMF Kult pro Power and NutriBullet - are no competition in terms of green smoothie consistency. The respective blending results remain lumpy, mushy and don't even develop the exotic aroma of the test recipe. The ingredient are not combined - the green smoothies from the WMF Kult pro Power and the NutriBullet almost taste watery. In our opinion, both blenders are not suitable for making green smoothies, as they fail on fibrous leafy greens. Is likely the same for wild herbs or kale, which present a similar blending challenge for a blender.
To be fair, though, the blending result would have improved if the blending time had been twice as long. However, this leads to frictional heat. Ice cubes instead of water can help to keep the smoothie cool, but even this measure never achieves the fineness we saw in the top performers.
Finally, it remains to be emphasized that our Green Smoothies test impressively shows that the actual performance of a blenders does not necessarily depend on the manufacturer's performance specification, but obviously rather on the installed technology and the quality of the blender. According to the manufacturer the WMF Kult pro Power has 1,400 watts and yet could not achieve a better blending result than the 150-200 watt weaker high-performance blender Bianco Piano. Therefore, our advice: When buying a blender, do not be impressed by performance specifications such as watts or revolutions per minute (rpm). More does not always mean better. If you want to learn more about this topic, find out what it takes to make a top-notch smoothie blender here.
Which blender is the best?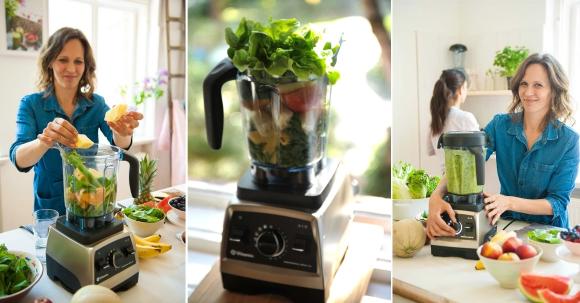 In our search for the best blender, there's only one answer: the Vitamix Pro 750. Not only has it consistently stood out for us as the best blender in all blender tests, but it's also the best blender among all high-speed blenders. The 3 main reasons are:
1. Best stand mixer due to perfect mixing results

With the introduction of the Vitamix Pro 750, Vitamix achieved a quantum leap in terms of perfect creaminess. A creamy-fine, absolutely lump-free smoothie consistency is achieved in the Vitamix Pro 750, even with ingredients that are difficult to puree, such as wild herbs, parsley or kale. This way green smoothies are not only easier to digest, they also taste much better. This is made possible by a perfect interplay of container and stainless steel blades as well as sufficient power (1200 - 1400 watts, revolutions: 1500 rpm to 23000 rpm). This allows the Vitamix Pro 750 to reach the the highest blade tip speed (302 km/h with 1.5 liters of water) even when fully loaded. This is where the huge quality differnce to other high-speed blenders, that advertise similar technical figures (horsepower, watts and rpm), is shown. No other blender brand managed to reach 300 km/h blade tip speed with 1.5 liters of water.

2. Best blender due to sensible time programs and ease of use

Another aspect why we choose the Vitamix Pro 750 as the best blender is its convenient and easy operation. Either you use the manual control, with which you set the speed yourself, or you use one of the 5 time programs for smoothies, ice, soups, pureeing and cleaning. All of the automatic applications proved to be extremely useful. It was not uncommon for us to find that some of the time programs in other blenders were superfluous or did not work for the respective application - for example, blending too long or too short!
Another advantage: All operating and control elements - rotary wheel and two switches (start/stop switch as well as pulse switch) - can be operated with wet or greasy hands without any problems. This is not the case for most blenders with touch panel!
The container should also be mentioned in terms of ease of use: Although it has a 2-liter capacity, it is very compact because of its width, it's lower than many other containers. It is easier to fill, empty and, of course, clean. The container is especially handy for smaller sinks with low taps.

3. Best stand mixer and most beautiful blender

As we all know, tastes differ, but we take a clear position here: For us, the Vitamix Pro 750 is not only the best blender, but also the most beautiful one. Benefits are not only to be found in its high-quality stainless steel housing and its perfectly formed design, but also in its compactness, which really makes it fit into every kitchen and under every kitchen counter. No wonder the Vitamix Pro 750 has already won several design awards - including the "Kitchen Innovation of the Year" 2014 and "Plus X Award 2014".

Vitamix Pro 750

"Crème de la crème"

Regular Price: 1,099.00

Special Price 999.00 €

Click here for the Vitamix Pro 750 "
More info on blenders: