2008 - 2023 | 15 years GrueneSmoothies.com - the original
---
Everything you need - nothing you don't need
Powerful engine, compact container, simple and intuitive operation: the Vitamix E310 is a fully equipped high-speed blender without unessential technical functions such as Bluetooth or touch control panel. With its compact, narrowly tapered container, it is perfect for small and medium preparations. Limited space in the kitchen? No problem, the E310 fits in every kitchen counter.
Creamy green smoothies, nut butter, hummus or healthy nicecream can be prepared in the usual Vitamix quality from as little as 250 ml.
Vitamix E310 product highlights:
Powerful and compact: The compact 1.4 litre container in combination with the powerful engine guarantee excellent blending results.
Small preparation quantities: From 250 ml - Ideal for preparations that do not have a long shelf life, such as pesto or hummus.
Expandable: If the 1.4 liter container is not sufficient at some point, a suitable 2.0 liter container can be purchased at any time.
Easy to use: easy to understand, manual controls without any extra technical features.
Warranty: 5-year Vitamix full warranty on all parts incl. container and tamper (for purely private use)
Overview
Preparation possibilities with the Vitamix E310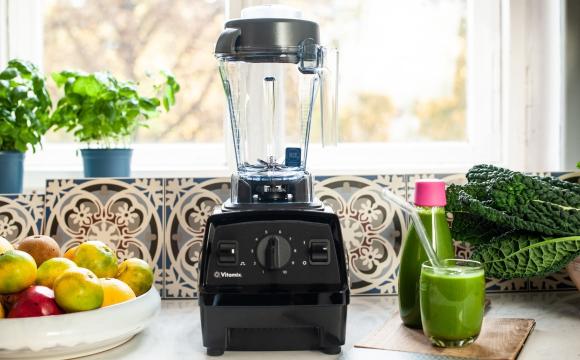 Delicious fruit and vegetable smoothies
Vegan plant and nut milks such as fresh almond milk
Fresh homemade juices
à la minute ice cream creations like fruit sorbets, frozen yogurt or healthy nicecream
Fresh pestos, dips and sauces
Heavenly creamy hummus made from chickpeas or beans
Hot soups heated by friction heat, such as cream of tomato soup
Healthy and vital baby porridge
Homemade nut butter
Liquid dough preparations - e. G. for pancakes, muffins or crepes
Chopped vegetables for salads, e. G. carrot salad
Freshly ground coffee or freshly ground almond flour
Crushed ice
Handling & operation of the Vitamix E310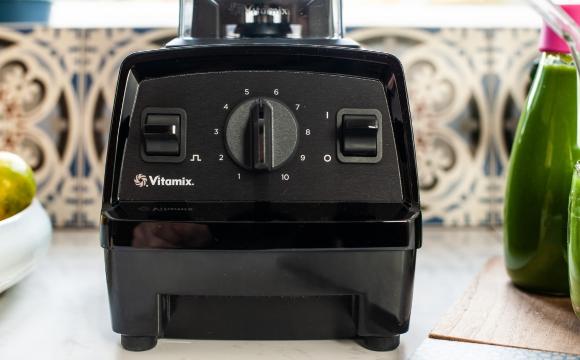 The Vitamix E310 has a simple and intuitive operating concept: the on/off switch on the right side starts the blending process. The jog dial in the middle controls the blending speed (10 speed levels). The left button is used for the so-called Pulse function. By pressing and holding the button, you directly start on the chosen speed level. However, the same can be done using the on/off switch.
Container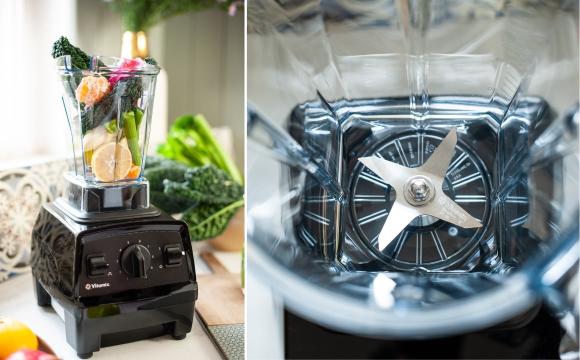 The Vitamix E310 is equipped with a 1.4 liter container, which has a few advantages over Vitamix's much taller 2 liter container. The compact hight allows the Vitamix E310 to fit under any kitchen counter and makes it easier to clean. Since the container is not only lower, but also narrower, smaller blending quantities or individual portions starting at 250 ml are possible. This is advantageous when you want to prepare ice cream or perishable preparations such as hummus. If larger quantities are needed - for example: Your family of four loves to drink green smoothies and you need to feed four mouths every morning - you may need to blender a second batch.
The lid of the container is equipped with the typical Vitamix cap. The cap can be opened during blending in order to push the ingredients back to the blades with the tamper.
Cleaning the Vitamix E310
Cleaning the Vitamix E310 container
The easiest way to clean the container is to rinse it with water right after preparing liquid meals, such as green smoothies or almond milk. You can then either dry it with a kitchen towel or let it air dry. Done. For thicker preparations, simply fill the container halfway with lukewarm water, add 1 to 2 drops of rinsing agent and blend on maximum speed for about 30 seconds. Rinse the container with water afterwards. If there is still food residue - especially underneath the blades - we recommend the use of our practical cleaning brush.
Cleaning the Vitamix E310 motor block
Food residues or dirt on the motor block can easily be wiped off with a damp cloth. The rubber mat on the motor block can be removed for cleaning.
Recommended accessories for the Vitamix E310
Vitamix Aer Disc Container Classic
The Vitamix Aer Disc Container Classic is a real upgrade for your kitchen, TV gourmet creations are no longer unreachable. Perfected for emulsifying, foaming, stirring and whipping, it can be used to make hollandaise sauce, fine emulsions and gourmet foams or simply cream.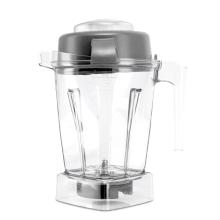 Vitamix Aer Disc Container Classic
Vitamix Dry Grains Container Classic for coffee or cereals
If you plan to grind a lot coffee beans, spices, cereals,… - you should take a look at the Vitamix Dry Grains Container Classic.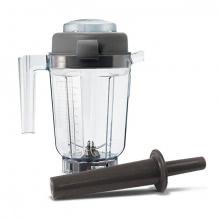 Vitamix Dry Grains Container Classic
Cleaning Brush
If you are looking for a compact, powerful blender for small and medium preparation quantities, you will be perfectly happy with the Vitamix E310. The only thing we can recommend for the E310 is a cleaning brush, as viscose preparations tend to stick to the base of the blades (this happens with all blenders).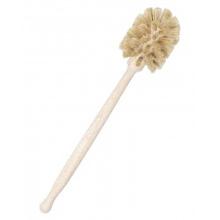 Cleaning Brush for Containers, Juicers & Bottles
Technical specification of the Vitamix E310
Model number: VM0201
Power: 2.0 horsepower; 220 - 240 volts / 50 Hz - 60 Hz; 1000 - 1200 watts
Dimensions (width x height x depth): 20.3 x 44.2 x 22.9 cm
Weight: Approx. 4,76 kg
Material: 100 % Tritan plastic (BPA-free); Suitable for temperatures up to 100°C
Controls: Jog dial with 10 variable speed levels, on/off switch on the right side, pulse button on the left side
Container: 1.4 liter container incl. tamper (short)
Volume of container: 1.4 liters
Blade type and material: 4 blades of laser-cut stainless steel; HCS (Japan)
Safety features: Overheat and overload protection
Safety features of the Vitamix E310
Overheat protection/overload protection: if the motor gets to hot due to overload, it will automatically shut down to cool down - you can't overload the blender.
Vitamix E310 Scope of Delivery:
Vitamix E310 motor block
Vitamix 1.4 liter container made of BPA-free plastic (Tritan™)
Lid incl. cap
Instruction manual in English
Recipe book
Warranty of the Vitamix E310

For purely private use:
Motor block: 5 years
Container: 5 years
Tamper: 5 years
Complete warranty conditions »
Vitamix E310 vs. Vitamix TNC 5200
Many people naturally wonder how the E310 differs from the Vitamix TNC 5200. Basically, the two models are very similar. The E310 was designed as an entry-level blender, therefore it comes with a smaller 1.4 liter container. Thanks to its low height, the E310 fits under any kitchen cupboard. The operation is identical. Should the E310 become too small at some point, a matching 2.0 liter container can always be purchased. The E310 allows you to enter the Vitamix world for under 600 €. If the 1.4 litre container does not meet your requirements - in other words: it is too small, the upgrade to the 2.0 litre container always is an option. The TNC 5200 comes with everything a smoothie heart could possibly need. The buttons and jog dial of the TNC 5200 also seem to be of a somewhat higher quality. If such things matter for you, you should take a closer look at the Vitamix TNC 5200.
Questions & Answers about the Product
Ask a question
Total 33 question(s)
Ask a question
Reviews
[5 of 5 Stars]


I have been a Vitamix user for 20 years and I am so happy to have a smaller version now - it fits underneath my cabinets and that is such a plus

[5 of 5 Stars]


Rating without text

[5 of 5 Stars]


Great experience

We had great advice at the Green Smoothies Shop in Berlin, super fast delivery and with the Vitamix E310 it is just fun to make hummus, smoothies and power balls. Thank you so much for this!

[5 of 5 Stars]


Rating without text

[5 of 5 Stars]


YEAH!

Wow, if only everything in the world would be like the Vitamix E310! The device joined me a little more than a week ago in my kitchen and is since then in continuous use: smoothies, hummus, nice cream, cashew cream cheese....Everything succeeds perfectly!
The HMI of the device (that's human machine interface, earlier one had said operating concept or so....) also convinces all along the line: 2 buttons and a jog dial are quite enough, there is no rocket science necessary. Of course, it is loud, but that's OK for the power it has. I am satisfied.

[5 of 5 Stars]


Without words 100 out of 10 stars

Incredible, ordered on Friday, arrived on Saturday. I am surprised, the gentleman on the phone has confirmed to me that Vitamix is shipped on Friday before 1 pm, very good communication....
Vitamix, well, I have not had so delicious smoothies, coconut milk, my God, no words, blender is worth it.
Very good iced coffee, sorbet, flour, I tried it all in one day and amazing...❤️❤️❤️❤️❤️
Thank you

[5 of 5 Stars]


Absolutely satisfied!!

I have the Vitamix now for a month and am absolutely thrilled! Also had trouble with the lid at first, but the tip with the hot water overnight has absolutely helped!

Thank you also for the super super fast shipping! Wednesday I ordered and Thursday it already arrived!

[5 of 5 Stars]


E310 is super

Until now I had a blender that looks very similar to the classic Vitamix, but costs only a fraction. Because of the 45-day money-back guarantee of GrueneSmoothies, I finally decided to give the E310 a chance because I was often not satisfied with mine.
The E310 is better in every way (finer smoothies, no problem with nut puree or nicecream, etc.).
I can highly recommend the E310. Even if other devices look similar - the difference in the application is quite large.

[4 of 5 Stars]


I am satisfied :-)

I am since 3 days owner of the Vitamix E310 and am pretty excited. So far I've made green smoothies, cashew parmesan, vegan curd, ice cream and almond paste and except for the problem that the mass is always under the blade and this then does not continue to rotate, I'm really satisfied. On the Facebook page of Vitamix I then got some tips on handling, which was very helpful :-) The device can be super clean and works very quickly ;-)

[5 of 5 Stars]


Suuuuper

We had in the shared kitchen a Vitamix, so I knew the brand already and knew how good it is. Since I need as a single no 2l container, I bought the E310 and am super happy with it ;)

[4 of 5 Stars]


Vitamix E310 - that's all you need

Have so far 7 years had the Vitamix TNC 5200 in use. Now I wanted one that has full warranty again (5 years with E310).

The following can be said about the Vitamix E310 after the first test:

Good:
- Blending performance super. Just like the big one
- Fits well under the kitchen cabinet
- Quantity of the container - for one person super (up to 1000ml. More spinach you cannot get in)
- Cleaning is great - better than 2L and 0,9L containers
- Price - very good here for green smoothies

Neutral:
- Loudness - similar to the other (a bit louder maybe - but does not bother because loud it is anyway when you blend)
- Motor housing - spartan but good

Bad
- The rotary wheel for the speed control in front makes grinding noises when turning mine. But you can live with it
- Container: The handle is much thinner than what I had with the 2L or with the 0.9L container. For normal hands of a man about too thin I think. But you get used to it.
- Rubber lid - handling not as good as the 2L or 0.9L. It is a bit tricky when putting it on.. Detaching goes well.

Overall, I find that it is still a good blender that also offers advantages over the TNC 5200 (See above under "Good".)

Unfortunately, I can not say anything about long-term use.
Write Your Own Review