2008 - 2023 | 15 years GrueneSmoothies.com - the original

From passion to profession

More "
Our website went live in 2008, since then we blog about our experience, this has led to a rise in popularity of Green Smoothies in Germany. Over time, our passion became our profession and we became the largest distributor of high-performance blenders in Europe. ;-)

" less
What distinguishes the Vitamix Dry Grains Container Classic?
The Vitamix dry grains container Classic is an optional accessory for anyone who regularly grinds coffee or cereals. Those who grind less frequently don't really need it and can continue using the regular container for this purpose.
Overview
Preparation possibilities
The Vitamix grinding container Classic is best suited for grinding coffee or cereals.

Shredding: The Vitamix dry grains container Classic is also excellent for shredding root vegetables, such as carrots, beet, parsnip or Parmesan cheese.

Blending: chunky salsas and pestos from 250 ml, ice cream and nut butter from about 500 ml. For the latter, a tamper is needed to push the viscous mass back to the blade during the blending process. Therefore, a higher minimum quantity is required for the tamper to reach the Ingredients.

TIP: Owners of a Vitamix TNC 5200 or Vitamix Pro 500 can also use the long tamper with the Vitamix dry grains container Classic.
Who should have a Dry Grains Container Classic?
The Vitamix dry grains container Classic is only recommended for people who regularly grind - at least once a week. Grinding regularly makes the container opaque over time. Therefore, the additional purchase makes sense.
In our opinion, the container is not suitable for kneading dough, blenders are simply not made for kneading. You can also prepare pestos in this container, for this special case we at GrueneSmoothies.com added the small tamper - free of charge - to the package. Alternatively, we recommend the 1.4 liter container Classic as a supplement for the Vitamix Pro 300 and Vitamix Pro 750. All other Vitamix blenders usually do not require an additional container.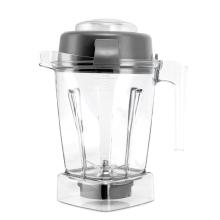 Vitamix 1.4 Liter Container Classic
Vitamix container discount
When purchasing a Vitamix container together with a Vitamix blender (except S30) on GrueneSmoothies.com, you will receive a discount for each additional container purchased. The discount will be displayed in your shopping cart.
Compatible blenders
Vitamix VMO109
Vitamix Turboblend
Vitamix Creations
Vitamix Pro 300
Vitamix Pro 500
Compatible accessories
Technical specification
Dimensions: 24.9 cm height
Material: 100 % Tritan (BPA-free); Suitable for temperatures up to 100°C
Volume of container: 0.9 liters
Blade type and material: 4 laser-cut stainless steel blades; HCS (Japan)
Warranty: 3 years (7 years if purchased together with a matching Vitamix blender)
Scope of delivery
Vitamix grinding container made of BPA-free Tritan
Lid
Lid attachment
Vitamix recipe book with approx. 50 recipes for bread, cakes, porridge and spice blends
Exclusively with us: Matching tamper
Questions & Answers about the Product
Ask a question
Total 19 question(s)
Ask a question
Write Your Own Review