2008 - 2023 | 15 years GrueneSmoothies.com - the original

From passion to profession

More "
Our website went live in 2008, since then we blog about our experience, this has led to a rise in popularity of Green Smoothies in Germany. Over time, our passion became our profession and we became the largest distributor of high-performance blenders in Europe. ;-)

" less
The Vitamix container for small quantities
The Vitamix 0.9 liter container can be used as a complement to the Vitamix Pro 300 and Vitamix Pro 750. It is also suitable for smaller preparation quantities, for example: freshly prepared pesto, ice cream or nut butter.
The 0.9 liter container is just as versatile as the Vitamix 2-liter container and has the same minimum preparation quantity - the only difference is its size.
Overview
Preparation possibilities
Blending: fine green smoothies, fruit and vegetable smoothies, vegan milk, sauces, dips, salsas, pestos, cold and hot soups (up to 100°C) from 250 ml, ice cream and nut butter from approx. 400 ml. For the latter, a tamper is needed to push the viscous mass from the edges of the container back to the blades. Therefore, a higher minimum quantity is required.
Shredding: The Vitamix 0.9 liter container is also perfectly suitable for shredding root vegetables, such as carrots, beet, parsnip or Parmesan cheese.
The Vitamix 0.9-liter container is also suitable for grinding coffee or cereals. You can grind whole beans (from 40g) without problems. However, regular grinding makes the container opaque, which is why a vitamix grinding container makes sense.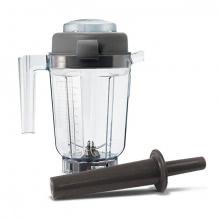 Vitamix Dry Grains Container Classic
Pro tip: Owners of a Vitamix TNC 5200 and Vitamix Pro 500 can use the tamper they already have. This tamper can also be used for the 0.9 liter container.
Who should have a Vitamix 0.9 Liter Container?
The 0.9 liter container is the perfect supplement for the Vitamix Pro 300 and Vitamix Pro 750 if you want to prepare smaller quantities between 250 - 500 ml, such as pestos, dips, ice cream, nicecream or nut butter (i. e. thicker preparations).
For comparison: The standard container of the Vitamix Pro 750 or Vitamix Pro 300 requires approx. 800 ml of Nicecream, to be able to properly blend the ingredients.
Alternatively, if the container is too large, it may make sense to purchase a Vitamix TNC 5200 or Vitamix Creations. These blenders can be ordered with a small container instead of a large one - by noting this in the comments field in the last step of the order process.
Vitamix container discount
When purchasing a Vitamix container together with a Vitamix blender (except S30) on GrueneSmoothies.com, you will receive a discount for each additional container purchased. The discount will be displayed in your shopping cart.
Compatible blenders
Vitamix Turboblend Two-Speed
Vitamix Creations (2.0)
Vitamix Pro 300
Compatible accessories
Technical specification
Dimensions: 26 cm height
Material: 100 % Tritan (BPA-free); Suitable for temperatures up to 100°C
Volume of the blender jar: 0.9 liters
Blade type and material: 4 laser-cut stainless steel blades; HCS (Japan)
0.9 liter container or 1.4 liter container?
Many retailers advertise both the 0.9-liter container and 1.4-liter container together as an accessory package to Vitamix blenders. However, from our point of view, this is complete nonsense. You only need one of the two containers, and we would definitely recommend the 1.4-liter container. It does not spill anything during operation, as it sometimes happens with the 0.9-liter container, and is more stable on the blender block. The minimum preparation quantities of the containers do not differ. Apart from the price difference, only the visually more compact "impression" of the 0.9-liter container can be counted as an advantage. In terms of volume, however, they have nothing in common -the 1.4-liter container can mix 500 ml more if necessary.
Scope of delivery
Vitamix 0.9-liter container made of BPA-free Tritan
Lid (gray)
Lid attachment
Questions & Answers about the Product
Ask a question
Total 1 question(s)
I would like to have this container
Is it also suitable for the Vitamix A2300i?
Sincerely
Ines
Question submitted by Ines Becker on December 17, 2020 at 13:25 o'clock
Ask a question
Write Your Own Review