The Vitamix Pro 500 is unfortunately sold out!
Identical in many parts, we recommend the completely analogue Vitamix TNC 5200 as an equivalent alternative.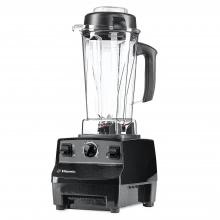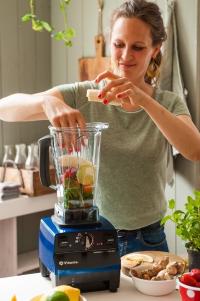 This Vitamix anniversary model simply has it all!
The Vitamix Pro 500 is already well equipped with its standard scope of delivery. You can prepare all popular blender preparations in one and the same container - both large and small quantities. An additional container is not needed!
In addition, the Vitamix Pro 500 not only has a manual speed control, it also comes with 3 time programs - including one for green smoothies and one for warm soups.
In the anniversary edition, we have equipped the Pro 500 with the perfect accessory package: The Vitamix recipe book and our cleaning brush. No wish remains unfulfilled. All in all, the Vitamix Pro 500 Anniversary Edition offers a great overall package - and therefore is our explicit recommendation.
Vitamix Pro 500 - Highlights at a glance
One container for everything: 250 ml to 1.4 or 2 liters (depending on your choice), the Pro 500 can prepare all Vitamix recipes without additional container.
Precise manual control: Wide speed range for spot-on preparation, especially of nicecreams, hummus, etc.
Convenient: 3 time programmes allow blending without having to pay much attention.
Sustainable: Built for long-lasting blending pleasure - based on the design of the TNC 5200, this Vitamix classic has been tested over decades.
Worry-free: 5-year Vitamix full warranty on all parts incl. container and tamper (for private use only).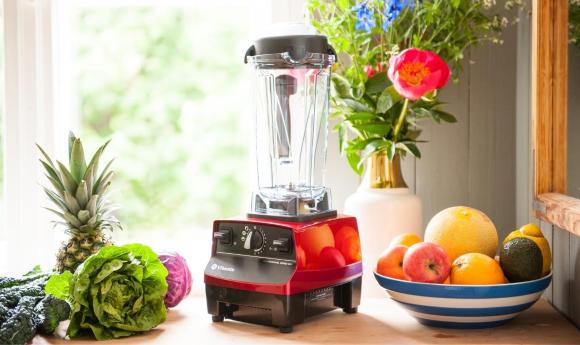 Overview
Preparation possibilities with the Vitamix Pro 500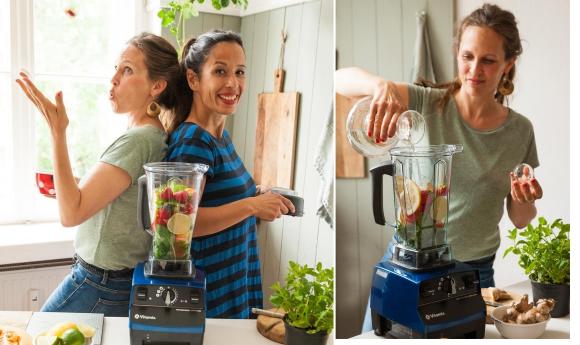 The Pro 500 is perfect for the preparation of:
Aromatic creamy green smoothies
Fruit and vegetable smoothies
Delicious vegan milk, such as almond or hazelnut milk
Delicious ice creations (fruit and milk ice cream, vegan ice cream), sorbets (fruit ice cream), frozen yogurt & nicecreams
Crushed Ice
Soups, sauces, fondues and chocolates heated by friction heat
Chunky salsa, Italian pesto, chopped vegetables, nut and almond flakes
Dips, dressings
Healthy, fresh, vital baby food
Homemade nut butter, nut puree, nut milk made from almonds, hazelnuts, cashews, peanuts, etc.
Chopped root vegetables (e. G. carrot salad)
Grind whole coffee beans (from as little as 40 g)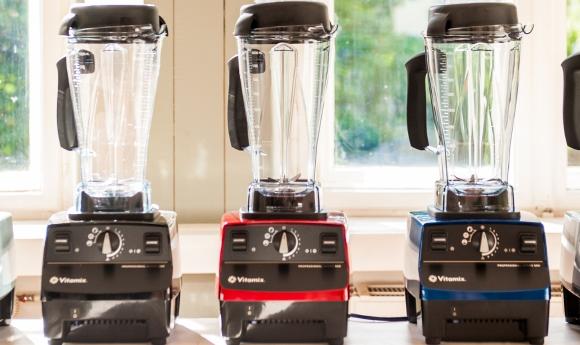 Preparation quantities: Second container is unnecessary!
The long container allows a small diameter at the bottom, therefore the container can easily be used for quantities up to 250 ml. This applies to both available containers. If the height of the blender is important in your kitchen (e. G. because of low hanging kitchen cabinets), your choice will be the 1.4 l container.
The total height:
With 1.4 l container = 44cm
With 2.0 l container = 52cm
Note: Even the Vitamix 0.9 l container cannot process smaller quantities! The purchase of a second container for small quantities is unnecessary. The regular scope of delivery already equips you with the best possible equipment.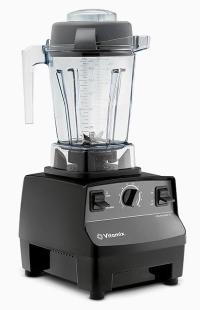 Which container to use?
The Pro 500 is a real beast. It follows the "one-container-for-everything" philosophy: it easily processes preparations from 250 to 2000 ml in one and the same container. Our Vitamix Pro 500 Anniversary Edition, lets you choose between a 1.4 l (see photo on the left) and a 2.0 l container (all other photos). The containers differ only in height - there is no difference in the variety of applications.
Operation and handling of the Pro 500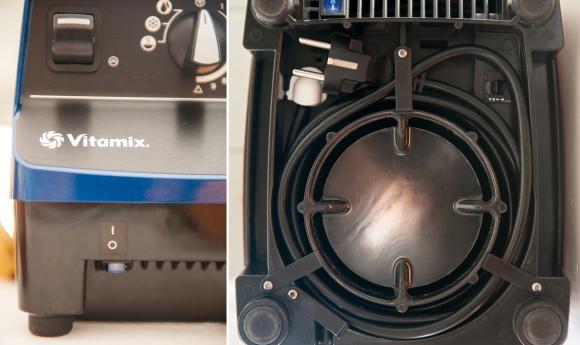 Operation: The Vitamix Pro 500 has an on/off switch (avoids stand-by power) on the bottom left. A blue light indicates whether the blender is on or not. The Jog dial is used to select the setting. Either you select one of three time programmes on the right or you select the required speed level on the left. There are two methods of starting the blender: Press the right button or alternatively hold down the pulse button on the left side.
The operating concept is more sophisticated than the one of the Pro 300 or TNC 5200. It is almost identical to that of the pro 750, only two time programmes are missing. Accidental turning on the blender is almost impossible. Subjectively, however, the buttons and the jog dial seem to be of a higher quality than those of any other Vitamix.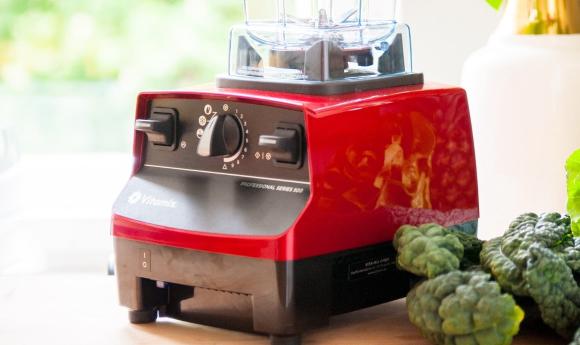 Cleaning
Cleaning the Vitamix Pro 500 is very easy.

Simply pour approx. 500 ml (warm) water into the container, turn on the belnder... done! After using greasy ingredients, a few drops of detergent should be added to the water before blending. Afterwards simply rinse out the container.
Recommended accessories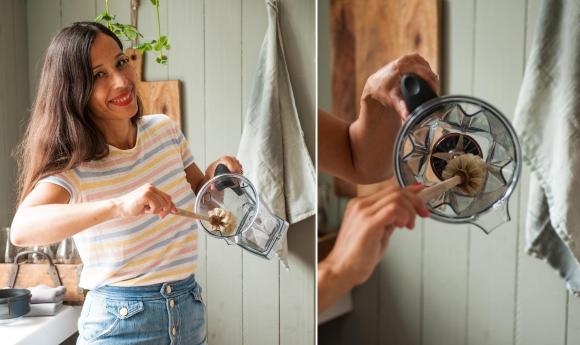 The most valuable accessory for a blender certainly is our cleaning brush. The brush reliably removes food residues from the container and does not scratch it.
The cleaning brush is also suitable for washing dishes and drinking bottles. From our point of view, a real all-purpose tool that should not be missing in any kitchen.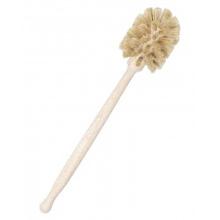 Cleaning Brush for Containers, Juicers & Bottles
Those who like to prepare thick liquids, such as ice cream or hummus, can make good use of the spatula.
It is used to get every last bit out of the container. Especially sticky, viscous preparations (nut butter, pestos, dips and sauces) usually cause problems. Unlike a spoon, which can scratch the container, the spatula helps emptying the container without scratching it.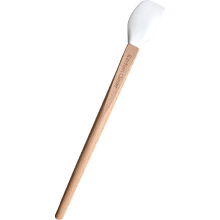 Kitchen Clever Spatula 3 cm wide
Vitamix Pro 500 technical specification
Blade tip speed: 250 km/h (with 1.5 l of water)
Power: 2 hp power; 220 - 240 volts / 50 Hz - 60 Hz; 1000 - 1200 watts
Revolutions: 900 rpm to 29000 rpm.
Dimensions with 1,4l container: Height: 44,0cm - Width: 18,5cm - Depth 22,2cm
Dimensions with 2,0l container Height: 52,0cm - Width: 18,5cm - Depth 22,2cm
Weight: approx. 5,3 kg
Controls: Jog dial with speed settings and 3 time programs, speed-regulated pulse button, on/off switch
Blending container: 2.0 liter container incl. Vitamix tamper (long)
Material of the container: Tritan plastic (BPA-free); Suitable for temperatures up to 100°C
Volume of container: 2.0 liter
Blade type and material: 4 laser-cut stainless steel blades (7.25 cm diameter)
Motor cooling: Radial fan
Practical: Integrated cord storage on the bottom of the motor block. Maximum cable length: 1.8m
Safety feature: Overload and overheating protection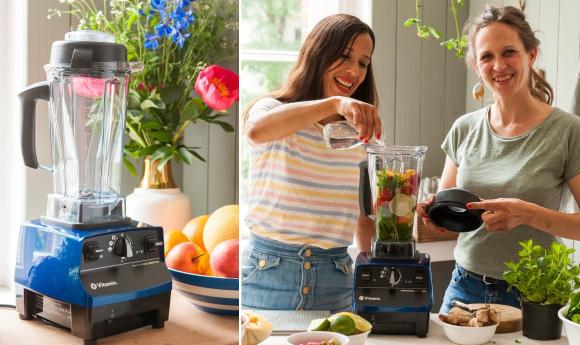 Vitamix Pro 500 and its 3 time programs
The Vitamix Pro 500 is equipped with 3 time programs:
| | |
| --- | --- |
| Smoothie program | Smoothies, dressings and sauces - with unique creaminess in 60 seconds |
| Ice program | Perfect ice cream creations and sorbets in 45 seconds. Admittedly: This program is the least needed, since you have to push the ingredients back to the blade with the tamper while blending. |
| Soup program | Let your vitamix do the cooking for you! Prepare hot soups, hot sauces, hot fondues or hot chocolate in just 6.5 minutes. If the container is stuffed to the top, a second blending run may be necessary. |

Our favorites are the smoothie program and the soup program. Since many customers prepare smoothies on a daily basis, the smoothie program is simply used most often. The soup program makes sense - raw food soups made in a high-speed blender simply require a very long blending time. Due to the noise, it is better to leave the kitchen and close the door. If you are the kind of person who sometimes forgets that the blender is still running, resulting in a messy kitchen, we recommend using the soup programme - your Vitamix will then stop automatically after 6.5 minutes.
The Vitamix Pro 500 Anniversary Edition comes with:
Vitamix Pro 500 motor block
1.4 liter or 2.0 liter container made of BPA-free Tritan (please select accordingly)
Tamper
Lid incl. cap
Instruction manual in English
Vitamix cookbook in German
Cleaning brush
Vitamix Pro 500 Warranty
For purely private use:
Motor block: 5 years
Container: 5 years
Tamper: 5 years
Vitamix Pro 500 vs. 750
With the similar naming, one naturally wonders what differentiates Vitamix's two top models. Essentially, the machines differ in their container philosophy and their designe. While the Pro 750 produces the creamiest and finest fibre-free smoothies we've ever had, the Pro 500 shows its strengths in a wide range of applications. Its small container diameter, allows smaller portion sizes. This is a decisive advantage, especially for thick preparations such as hummus or nicecream. The Pro 750 is also potentially capable of this, but needs an additional container, which then has a smaller diameter at the bottom, just like the container of the pro 500. In the end, you need two containers, depending on the preparation. If you have a small kitchen or if smoothies are only a small part of the preparations you want to make, we recommend the Pro 500. Of course, the price also plays a role, the price/performance ratio of the pro 500 is significantly better due to the considerable price difference.
Vitamix Pro 500 vs. TNC 5200
Both models look confusingly similar, and they are. Only the control panel differs visually and also haptically. Instead of 2 switches, as on the TNC 5200, the Pro 500 is equipped with 2 buttons that return to their original position after being tapped. This prevents accidental turning-on the blender as soon as the power supply is activated. With the TNC 5200, you also need to make sure to turn off the turbo after the blending process. Otherwise, the blender will start at maximum speed the next time it is plugged in. This is technically impossible with the Pro 500.
The Pro 500 also comes with 3 timed programs for smoothies, soups, and ice cream. These can be handy once you get used to them. Especially those who want to prepare soups in raw food quality (below 42 degrees Celsius) will learn to love this function. 45 seconds of blender noise is much easier to tolerate than 6.5 minutes. The time program prevents the soup to boil over, as the blender reliably stops automatically after 6.5 minutes. The smoothie programme can also be handy, as you can let the blender do its job while already starting to clean up the kitchen. After 45 seconds, a ready-made smoothie is waiting for you in your Vitamix pro 500.
Plus point for the TNC 5200 is the 2 year longer warranty, however, claiming the warranty requires that something is defective. :-) With one of the oldest and most sophisticated mixer models in the world, which was built for intensive and long-term use, this is correspondingly rare. Therefore, we would not consider this point when choosing between the two blenders.
Vitamix Pro 500 vs. E310
What do the models have in common? A huge preparation range - Due to the small container diameter, both small and large quantities can be prepared. The E310 reaches its limit at 1.4 liters, while the Pro 500 has a 2 liter container. However, the smaller container has the advantage that the blender is smaller overall and fits under any kitchen cabinet. Upon request, we can deliver the anniversary model Pro 500 with a 1.4-litre container instead of a 2-litre container at the same price (please mention in the comment section of the order process).
What distinguishes the Pro 500 from the E310? The Pro 500 has a more sophisticated handling. The Pro 500 has 3 time programs in addition to the manual control option... Definitely an advantage for comfortable people!
Those who also value haptic features will rather get their money's worth with the Pro 500. The control panel looks a bit more classy.
The anniversary model is available in various colors, therefore everyone is sure to find something that suits their taste.
Questions & Answers about the Product
Ask a question
Total 17 question(s)
Ask a question
Reviews
[5 of 5 Stars]


Very satisfied!

Today my Vitamix Pro 500 arrived. The performance of the device I can not and would not yet evaluate here. But the team of Gruene Smoothies. I have struggled for a long time with the choice of the right device and neither at trade shows nor in forums I smartened up. Then I called the team of Gruene Smoothies for a consultation and was perfectly advised. Two models that I had shortlisted (already after ages of reading and comparing) did not fit my usage requirements at all! But the Vitamix Pro 500 will certainly! So make use of a consultation of the team and then have accordingly joy with your new device than to annoy yourself with a quick purchase at Amazon. The shipping took only two days and the device was very well packaged (in a double box) and thus arrived impeccably with me. Kudos to you guys!

[5 of 5 Stars]


Vitamix pro 500 blue

Our 1st Vitamix arrived today and we have made a super delicious green smoothie right away. Very good result, we put everything possible in it, even nuts, and after 45 sec the drink was creamy and fiber-free, despite celery. I had hesitated a long time with this purchase, since I already have a multi-talent in the kitchen. But is not comparable. The color blue is also totally beautiful, a bit like petrol. We are looking forward and are excited for more. The advice in advance was also excellent and fast. Thank you from the Cologne area.

[5 of 5 Stars]


Super blender

First of all: professional advice by phone which Vitamix is right for me and super fast delivery.
The Pro 500 itself is incredible. The volume is something to get used to but the power that is in the device is sheer impressive. Since I mostly prepare for myself, I opted for the 1.4l container - that was the perfect choice for me.

[5 of 5 Stars]


Comparison of TNC 5200 and Pro 500

That it should be a Vitamix, was clear. However, the decision between TNC 5200 (has my mother) and the Pro 500 (= TNC 5200 + 3 time programs) was not easy for me, because I wondered whether I will use the programs at all. In the end, I decided on the Pro 500 and after three months I can now say that the decision was absolutely right:
1. The Pro 500 can only be started when (a) the on/off switch has been operated and (b) a program or speed level has been selected and (c) the start/stop button has been operated. A faulty operation is thus impossible, and my three-year-old daughter does not get it ;)
2. Especially the smoothie program is constantly in use. In addition to the finest smoothies, you can also use it perfectly for nut milk and as a cleaning program.
Since the TNC 5200 and the Pro 500 are otherwise largely identical, the mixing results are otherwise identical and I would buy the Pro 500 again anytime.

[5 of 5 Stars]


Satisfied all around ❤️

I am absolutely satisfied with the Vitamix! And I am especially happy and satisfied with your customer service! The delivered tamper was slightly damaged. Without fuss or quibble a new one came to me immediately! There was even a small gift in the package! Absolutely great! Keep up the good work! And your brochure on smoothies I also find super good, as well as the recipe cards! Thank you!❤️

[5 of 5 Stars]


Vitamix vs. Bianco

The decision between "beauty" (Bianco) and "technology" (Vitamix) was difficult for me at first, but thanks to the highly competent and good-humored telephone consultation by Ms. Pyszka, I knew after only two minutes which features would tip the scales. For a rather small household and my desire to be able to make pesto, nut butter, and nut/almond milk in addition to creamy green smoothies - without having to purchase an additional, smaller container for this purpose (as with the Pro 750) - the Vitamix Pro 500 was the perfect choice. I couldn't be more pleased. Initial small experiments including ginger and matcha powder left me wanting more. I am now - after the first 10 days of "domesticated" smoothies from well-behaved purchased fruits and greens - scanning my surroundings for goutweed and other wild herbs and already looking forward to the cold season and hot soup time and of course the sorbets next spring/summer.... Thank you!!! :)

[5 of 5 Stars]


Good experience

Quickly delivered, unpacked, without know-how immediately started with green smoothies, previously rinsed container briefly. I used 200g spinach leaves, 6 oranges, 2 bananas, 1 lemon pure with water. It worked great, you get used to the noise.
Smoothie was really tasty and I was full. The rest I had refrigerated. I look forward to more green smoothies ...
Write Your Own Review