Pumpkin Soup Recipe: With Butternut Squash and Sweet Potato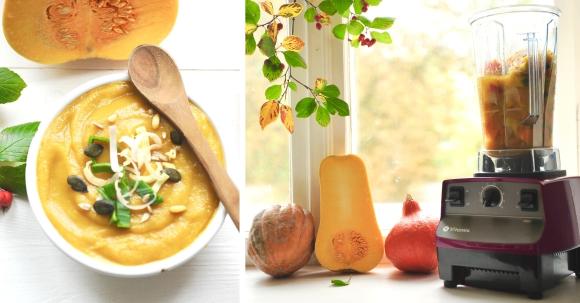 How nice that we have such a colorful autumn before the dark season starts again! Colorful apples, pears and pumpkins everywhere, you don't know who to look at on the farmer's market. Whoever laughs the loudest is going home with us. Today it's a butternut squash - As we're trying out the pumpkin soup recipe from our new intern Lisa. The special thing: It's supposed to work without oil or cream. Is that even possible? Actually, we have nothing against butter, oil, etc. In fact, the exact opposite is the case: fat is an excellent flavor carrier - especially in a warm autumnal pumpkin soup. Lisa, 22 years young and an absolute food lover - especially of healthy food, reveals her trick: "I sauté the ingredients only briefly and then blend them in a high-speed blender. This makes the pumpkin soup creamy-fine, almost velvety - you won't need any oil."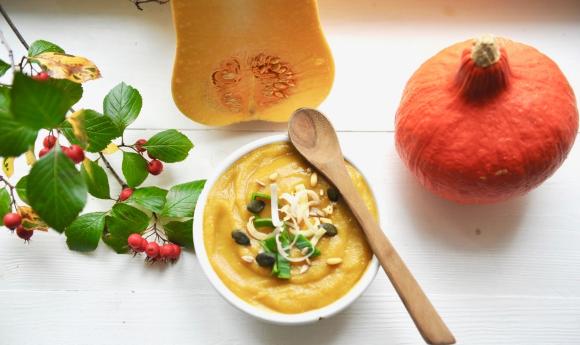 3 Soup Recipes in a PDF file
Yes, I would like to subscribe to the newsletter and receive the Soup Recipes in a printable PDF file for free.

Please send me e-mails, according to the privacy policy, on a regular basis. The Newsletter contains information about kitchen appliances, utensils, recipes and preparation tips, this is revocable at any time.
We test and are quite amazed by how good this low-fat, low-calorie pumpkin soup tastes. Honestly, we can hardly believe Lisa didn't add any olive oil! The butternut squash, of course, lives up to its name with a buttery, nutty note. But once again, the high-speed blender - this time the Vitamix TNC 5200 - deserves its place in the kitchen, no immersion blender would have turned this soup into such a creamy-fine pumpkin soup so quickly. Lisa's everyday life would not be the same without it: "The blender is my most important kitchen appliance, it helps me to prepare my dishes quickly and in a nutrient-friendly way. Especially when it comes to raw food recipes."
Pumpkin soup recipe
Low fat and calorie pumpkin soup with butternut squash and sweet potato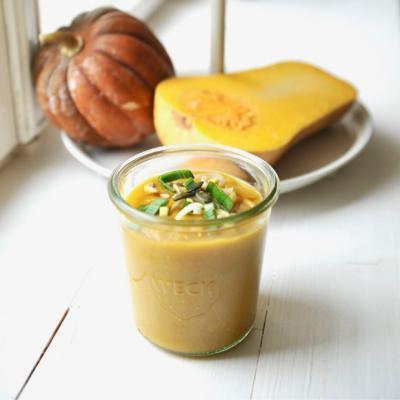 Ingredients
450-550

ml water

filtered, adjust amount depending on desired consistency

approx. 650-780

g butternut squash

1

sweet potato

medium size

1

roma tomato

1

red onion

1

shallot

1/2-1

leek

1/2

garlic clove

1 1/2-2

teaspoon vegetable broth

yeast and gluten free

1

pinch of pepper
Instruction
Peel sweet potato, onions, shallot and garlic. Remove the stem end from the leeks, if necessary, also remove the outer leaves and wash with the other ingredients. Cut the pumpkin in half and remove the seeds. Cut all ingredients to pieces.

Put the pumpkin and sweet potato in a pot or pan with the indicated amount of water and broth. Simmer over medium heat for about 15-20 minutes. Stir the pot to make sure the squash and sweet potato are cooked thoroughly.

After about 15-20 minutes, add all other ingredients and simmer for another 5-10 minutes.

Tip: Lisa cooks the pumpkin and sweet potato first because these starchy base ingredients have a longer cooking time than the other ingredients. This allows the other ingredients to be cooked in the most nutrient-friendly way possible.

Once all ingredients are cooked, add everything to the blender together with two teaspoons of vegetable broth and a pinch of pepper - blend until a uniform creamy soup consistency is achieved (30 sec to 1 min).

Garnish with soup toppings such as pumpkin seeds and hemp seeds. They contain a bit of oil, they also provide for the absorption of fat-soluble vitamins. Raw leeks, cilantro and a small pinch of salt also go well on top of pumpkin soup.

Enjoy this fresh pumpkin soup from the heart!
Which pumpkin soup recipe do you like? Do you use a blender to prepare it?
We would love to hear your feedback and experiences with the pumpkin soup recipe here.