Pancakes Recipe: the quick Pancakes batter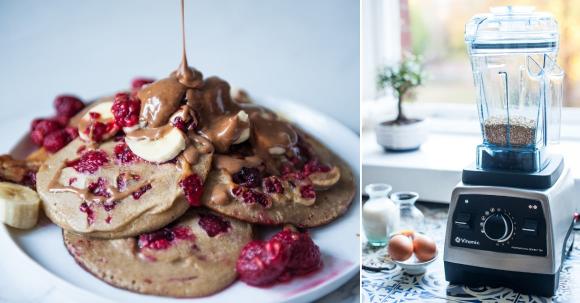 Kids love pancakes. So do ours. All the better that we know a quick pancake recipe. We simply mix the pancake batter in a high-speed blender, like the Vitamix Pro 750. Not only is it a faster, but it also is a completely lump-free way. Another advantage: You can pour the batter directly from the container into the pan. This saves the use of the ladle and the batter that is usually spread everywhere. For us, pancakes are a nice alternative for an extended breakfast on the weekend or for a sweet afternoon snack.
Pancakes recipe: The game with the basic ingredients
For flour, we like to use a mix of gluten-free buckwheat and spelt flour. Of course, you can try any other flour or mix in ground oats and millet flakes. By the way, you can use your blender perfectly for grinding cereal grains or cereal flakes. For example, we don't use buckwheat flour, we add whole buckwheat grains to the dough mixture.
Caution: If you want to use your blender frequently to grind cereal grains, the container may "go blind". Therefore, we recommend an additional container for these applications.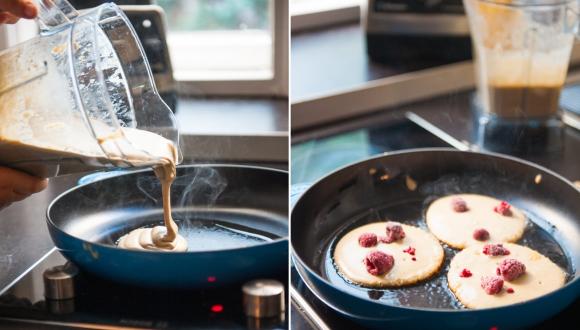 Depending on which milk you prefer, you can choose between cow´s milk or vegan plant/nut milk such as almond, rice or oat milk. It is important that the batter is not too liquid, otherwise the pancakes will turn into the crêpe. If the pancake batter turned out too liquid, just add some more flour or thicken it with chia seeds.
For the sweet component, we use maple syrup, coconut blossom sugar or aromatic, caramelized muscovado sugar. The "egg-yes-or-no-question" is quickly answered regarding pancakes: We definitely add eggs, because that makes the pancakes more fluffy.
Pancakes
Pancakes sautéed with raspberries, almond paste and a fruit topping
Amount
550
ml for approx. 16 pancakes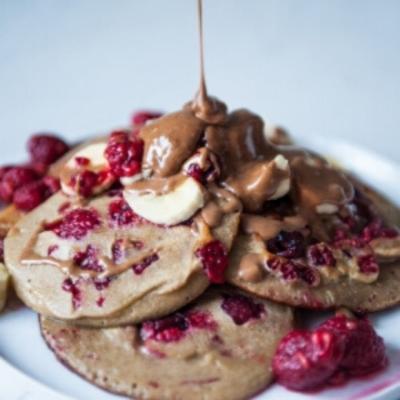 Ingredients
150

g buckwheat

100

g spelt flour

1

tsp. tartaric baking powder

230

ml vegetable

milk, e.g. oat or almond milk

2

(organic) eggs

60

ml maple syrup

alternatively: coconut blossom sugar or muscovado sugar

1

handful of raspberries

fresh or frozen

1

tsp cinnamon

A little

vanilla

1

pinch of salt

fat for frying

e.g. coconut oil, butter or ghee
Instruction
Place all ingredients except the raspberries in the blender container and blend until a uniform pancake batter is formed. This will take about 30 seconds with a high-speed blender.

Next, fry the pancakes in a pan over medium heat. To do this, heat coconut oil in the pan and then pour the batter from the container directly into the pan in small to medium sized blobs. We added a few raspberries on top of each pancake, which you can just fry with.

The pancakes are ready to flip when bubbles form on the top. Now just fry briefly on the other side. Done.

Serve on a plate with applesauce, wild berry sauce, fresh fruit, almond paste and/or some maple syrup. There are no limits to your imagination and preference here!

Enjoy from the heart!
Pancakes Recipe in a PDF file
Yes, I would like to subscribe to the newsletter and receive the Pancakes Recipe as a printable PDF file for free.

Please send me e-mails, according to the privacy policy, on a regular basis. The Newsletter contains information about kitchen appliances, utensils, recipes and preparation tips, this is revocable at any time.
Pancakes topping: applesauce, wild berry sauce or simply fresh fruit with almond paste
As soon as the dough touches the pan, we already have a waiting customer with big shining eyes. But of course, they taste even better when you top them of with fresh applesauce or a wild berry sauce. The easiest and fastest way to prepare applesauce in the blender can be found here.
Alternatively, garnish the pancakes with fresh fruit and add some maple syrup or almond paste. Simple and incredibly tasty!
How do you like our pancakes recipe? Have you ever prepared the batter in the blender?
We appreciate your Feedback!