"Our Top 12 Green Smoothie Recipes" in a recipe card set
Green smoothies are healthy and nutrient-rich, but most importantly, they are incredibly delicious! Svenja & Carla from GrueneSmoothies.com will show you how versatile smoothies can be - whether in terms of taste or ingredients. They have compiled their 12 best smoothie creations in a beautiful recipe card set. "Our TOP 12 Green Smoothies Recipes" is a tribute to green smoothies - a culinary journey to the most diverse flavors.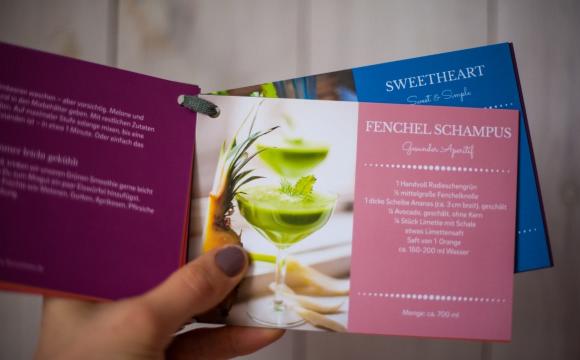 Recipes for the whole year
Nobody wants to drink the same green smoothies every day! The cards are illustrated with lovingly staged smoothie photos, each with precise preparation instructions and inspirations for your daily smoothie.
The 12 recipes in the recipe card set are arranged according to the seasonal availability of ingredients from January to December - You could say, every card represents our favourite smoothie of the month.
Practical in the kitchen and when shopping
The handy postcard design allows the recipe card set to fit in any handbag or shopping basket, they can also be hung up in the kitchen next to the blender or on the fridge. They also make a great gift for everyone who loves green smoothies.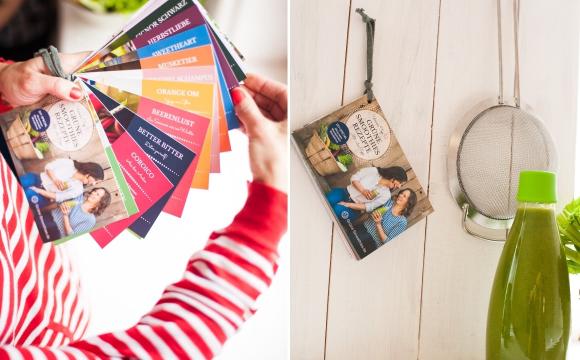 BONUS: Recipes for nicecream, almond milk and almond puree
As a special bonus, the recipe cards include a DIY SPECIAL for the most popular blender applications besides green smoothies: Svenja & Carla show how easy it is to prepare healthy ice cream à la Nicecream, how to make the popular milk alternative almond milk and what is important when preparing homemade nut or almond butter.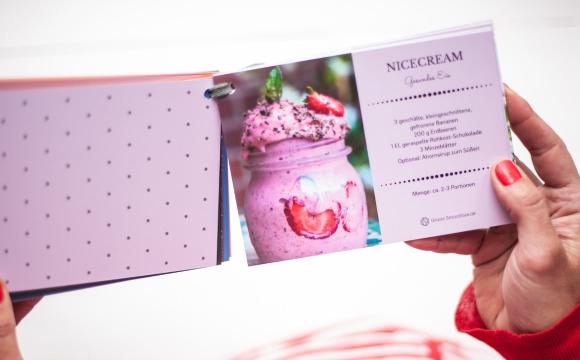 Overview:
TOP 12 recipes for green smoothies with varied ingredients and flavors for the whole year
Detailed preparation instructions incl. lots of tips for the everyday smoothie life
Practical postcard format DIN A6 - for shopping and/or hanging up in the kitchen
3 Blender recipe as a bonus: nicecream, almond milk and almond butter
About Svenja & Carla from GrueneSmoothies.com
Svenja and Carla actually met through green smoothies. From then on, they expressed their devotion to their favorite green breakfast in their own recipes, pictures and blogg posts on GrueneSmoothies.com. Their smoothie creations are fine blended culinary highlights with the perfect balance of sweet and sour, fruity and tart.
Svenja & Carla are happy to pass on their knowledge of green smoothies - e. G. in their workshops for beginners in Berlin-Kreuzberg or during their detox cleanse. Throughout the year, they accompany tens of thousands of detox cleanse participants in the daily drinking and preparation of Green Smoothies.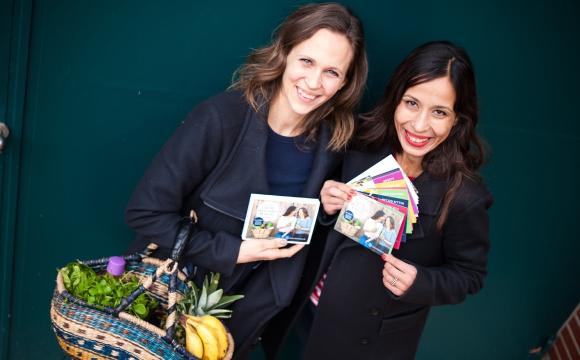 Questions & Answers about the Product
Ask a question
Total 1 question(s)
Hello dear ones. I finally started exercising again in February, and your recipes have also helped me manage my Crohn's disease. Now I am, looking for a good smoothie recipes for before or after exercise to meet the protein and energy needs. Unfortunately, I currently cannot get around protein supplement products. Could you please help me with more recipes like in the 30 days book? Or maybe there is a sports version of the cards in planning? Thank you for your feedback and best regards, Jennifer
Question submitted by Jennifer on April 7, 2018 at 07:10 o'clock
Hi Jennifer,

thank you for your question.

Currently, we do not have another recipe card set planned. However, we already have a few recipes that contain healthy, raw, animal proteins:

White Smoothies Recipes

Maybe you will find something suitable there!

Best regards,

Your GrueneSmoothies.com Team
Beanwortet am 20.03.2019 um 10:32 Uhr
Ask a question
Reviews
[5 of 5 Stars]


Card set

Hello, I am very excited with recipe card set.
It would be great to produce another set. I would look forward to it.

[5 of 5 Stars]


With heart

Hello you
This is a nice collection of recipes with heart for smoothies. Thank you very much.
The Vitamix Creations is already looking forward to try... ;-)

[5 of 5 Stars]


Something different...

This recipe card set is, unlike conventional smoothie books, really something different! It is very nice colorful and also made compact. A great gift idea, especially at Christmas time! I can only warmly recommend!

[5 of 5 Stars]


Super gift idea!

Most people have probably had enough of thick recipe books that slay them. All the lighter and looser comes this recipe card set therefore. So far, I have tried a total of 3 recipes and do not even get to try the others, because they are soooooo delicious. Here is really a lot of attention to detail in it. Will therefore give away some sets for Christmas! Thank you very much and best regards to Berlin!

[5 of 5 Stars]


Beautiful set

Great set and super recipes! I can only recommend!

[5 of 5 Stars]


Amazing Recipes!!!

I just love your recipes. They are so amazing! They really changed my daily smoothie routine. Yep! My all time fav is definitely EVERGREEN! Thank you girls! xx

[5 of 5 Stars]


Totally nicely done and great recipes!

The recipe card set arrived together with my ordered Bianco di Puro Primo and I was immediately thrilled! I then directly tried two of the smoothie recipes together with my husband and both were just super delicious! It arrived very handy packed in a box. I thought that was so sweet that I directly reordered another one for a friend for Santa Claus. Very original and totally beautifully done!
Write Your Own Review