2008 - 2023 | 15 years GrueneSmoothies.com - the original

From passion to profession

More "
Our website went live in 2008, since then we blog about our experience, this has led to a rise in popularity of Green Smoothies in Germany. Over time, our passion became our profession and we became the largest distributor of high-performance blenders in Europe. ;-)

" less
What distinguishes the Bianco Cube container?
The design of the container is cubic, hence the container name Cube. The Cube (Plus) container comes as default container for the high-speed blenders: Primo, Primo Plus, Volto N and Patto Pro. The Cube (Plus) is included in the scope of delivery of these blenders.
NOTE: We only sell the latest model of this container, also called Cube + (or Cube Plus) by Bianco di Puro.
This model is a further development. The container now has six instead of seven blades which are longer and therefore have a larger radius. This makes the blending results of green smoothies and co. even finer.
As a further improvement, an easy-to-use lid lock has been installed so that the lid can no longer come loose during operation, even when filled to the maximum.
Beyond this, the container walls have been reinforced by 1mm, the containe now is even more stable.
Recommendation: The square container is cubically shaped, the large blade radius ensures a creamy fine consistency of the blended ingredients. If you are looking for a replacement container for your Bianco di Puro blender and only want to prepare creamy fine (green smoothies), we recommend the cheaper Bianco Square container.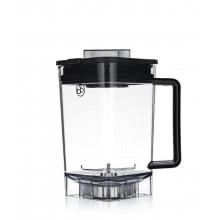 Bianco di Puro Square+ Container
Regular Price: 149.00
Special Price 139.00 €
Overview
Preparation possibilities
The focus is on blending smoothies of all kinds, especially green smoothies, but also fruit or vegetable smoothies. As a wet container, it can also blend vegan milk, soups, dips and sauces. Almond butter or nicecreams are not a problem either.
Compatible blenders
Bianco Panda
Bianco Forte
Bianco Puro S
Bianco Diver (Square)
older Bianco mixer models:
Bianco Puro
Bianco Puro 1
Bianco Puro 3
Bianco Puro 4
Compatible accessories
Technical specification
Material: 100 % BPA-free plastic
Volume of container: 1.5 liters
Blade type and material: 6 blades made of HCS steel (Japan)
Scope of delivery
Bianco 1.5 liter container made of BPA-free plastic
Lid and measuring cup
Questions & Answers about the Product
Ask a question
Total 16 question(s)
Ask a question
Reviews
[5 of 5 Stars]


Rating without text

[5 of 5 Stars]


Rating without text

[5 of 5 Stars]


Improvement

+ with spout
+ improved handling of the lid

[5 of 5 Stars]


Please do not copy!!!!

I was missing the brown sugar for Mojito and so I came up with the idea to simply crush candy sugar with Pulse function a bit. Please never make this stupid mistake. Nuts work. But I have underestimated the hardness of the candy completel - now my cube container is scratched below
Write Your Own Review