Acai-Bowl Recipe: The Healthy 5-minute Breakfast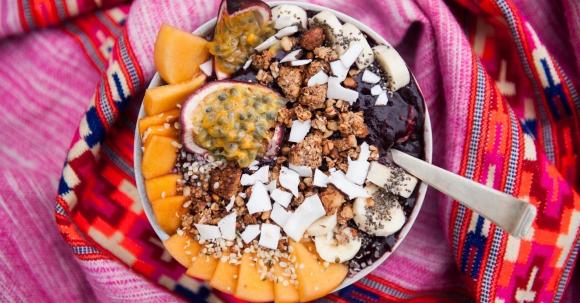 They are not only confusingly similar to large blueberries, but also score with an extra portion of antioxidants: We're talking about acai berries, the fruit of the cabbage palm, which grows in Central and South America. We have brought the rich exotics into our kitchen, as today we serve an Acai-Bowl for breakfast. Our high-speed blender enables us to prepare the Acai-Bowl easily with perfect consistency in no time.
Acai-Bowl: Made from frozen fruit puree with blueberries
Acai berries are very perishable. In order for them to survive the long journey from Central or South America to Europe, they are processed directly after harvesting. The healthy berry reaches europa in powder form, pureed or even in capsules. For our Acai-Bowl we use a frozen acai puree in organic quality. Since acai berries have a matte, almost earthy to neutral flavor, we combine them with blueberries. This adds a nice flavor and we boost the healthy extra antioxidants even more. After all, antioxidants can never hurt. Instead, they scavenge free radicals that would otherwise attack cells, cause wrinkles, and in the worst cases, make you sick. But that alone isn't why our Acai-Bowl is a new breakfast favorite: the combination of acai berries and blueberries creates an incredibly beautiful berry purple color - looking at it, our mouths are watering already!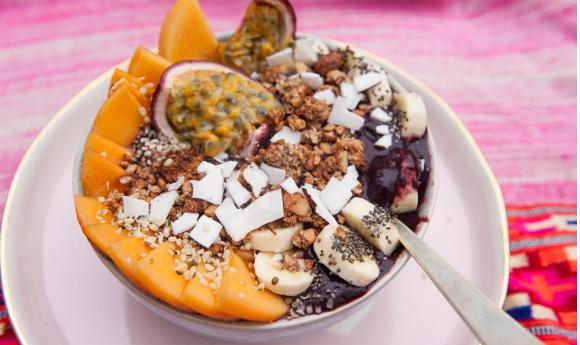 Acai-Bowl: Sweetened with bananas and dates
Acai berries also go very well with tropical sweet fruits. We therefore use bananas as a sweet counterpart and add medjool dates. If you don't like bananas, you can also replace them with ripe mangoes. Depending on how sweet you want the Acai-Bowl to be, adjust the amount of bananas and/or dates individually.
Acai-Bowl: Toppings of fruits, granola, coconut-chips and chia- / hemp-seeds
After filling the bowl, the Acai-Bowl is pimped with toppings. Not only is it fun to decorate it also gives the Acai-Bowl something to chew on. We opted for a fruit topping of mildly sweet persimmon and exotic passion fruit, as well as coconut chips, some granola, chia- and hemp-seeds.
You can, of course, choose other fruits and seeds - like sliced kiwi, bananas or pineapple chunks with goji berries, flower pollen or cacao nibs. Combine the toppings according to seasonal availability and your preferences!
Acai Bowl
With blueberries, banana and fruit granola topping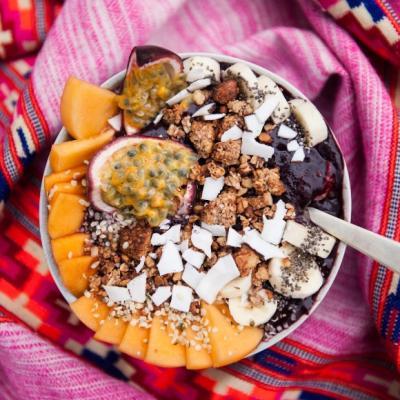 Ingredients
100

g acai puree

frozen

100

g blueberries

frozen or fresh

1

banana

peeled

2

medjool dates

seeded

1

shot of vegetable milk

Toppings: e.g. persimmon, passion fruit, banana, coconut chips, hemp and chia seeds
Instruction
Allow acai puree to thaw briefly. Meanwhile, peel banana and remove seeds from Medjool dates

Now add all ingredients to blender. Blend on medium to maximum speed. While doing so, move the mixture with the tamper to the blades until all ingredients are pureed creamy smooth.

Now pour the acai puree into bowls and decorate with toppings of fruits such as banana slices, persimmon pieces and passion fruit. Then sprinkle some granola, hemp seeds and/or chia seeds on top.

Enjoy!
Have you ever eaten an Acai-Bowl? And how do you prepare your Acai-Bowl?
We appreciate your Feedback!