Gingerbread Recipe: Vegan, Gluten-free and Super Delicious!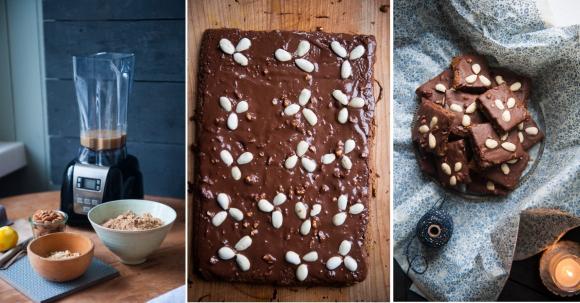 Does it taste good? A gingerbread recipe completely vegan and gluten-free - we asked ourselves this question while holding the last piece of bread in our hands. If you're going vegan and/or want to get through the holiday season gluten-free, you should definitely try our gingerbread recipe. So delicious!
Gingerbread recipe: Vegan and gluten-free ingredients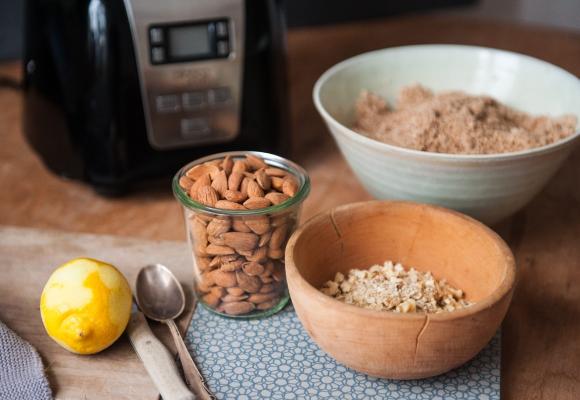 We simply replace the flour with ground almonds and the eggs with flax seeds. And, of course, a high-speed blender like the Bianco Piano will help us: it's perfect for grinding almonds and flaxseeds for our gingerbread recipe. It allows us to process the almonds fresh, which is definitely cheaper than buying ground almonds. Plus, you can grind exactly the amount you need for each recipe. So there are no leftovers that might go bad. The same applies to the flax seeds used - we also ground these in the blender. Even a small amount, in our case only 3 tablespoons, turns into fine flaxseed meal without any problems.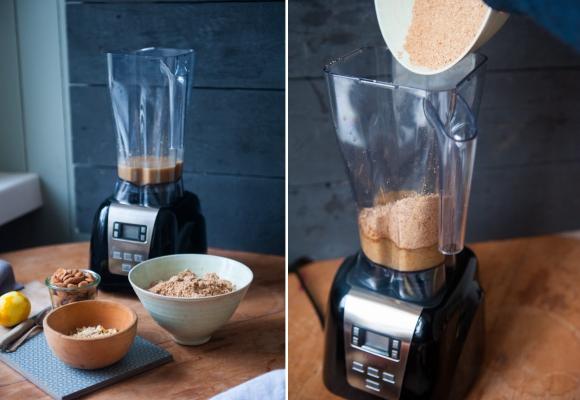 As a sweetener we used maple syrup as a vegan alternative to honey. To substitute conventional sugar, the caramel-like tasting Muscovado goes very well with our vegan gluten-free gingerbread recipe.
Gingerbread recipe
Vegan and gluten free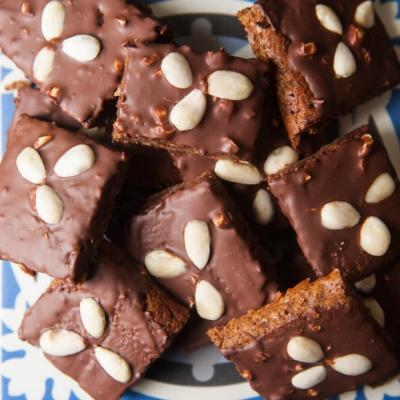 Ingredients
300

g almonds

80

g walnuts, coarsely chopped

2

tsp. cream of tartar baking powder

3

tbsp gingerbread spice

3

tbsp flaxseed

150

ml rice milk

100

g sugar

recommend muscovado sugar!

100

ml maple syrup

1

lemon

1

orange

3

tsp apricot fruit spread

100

g dark chocolate coating

80

g almonds for decorating!
Instruction
First grind the flax seeds. To do this, place the flaxseeds in the blender container and grind on maximum speed - takes about 20 seconds.

Then put the flax seeds in a bowl and mix with the rice milk. Let the mixture swell for about 10 minutes.

In the meantime, grind the almonds in the blender, 2 tranches of 150 g each. This way all the almonds will be well ground. Blend the first 150 g on maximum speed until they are ground as evenly as possible. This takes about 20-30 seconds. Empty the container into a medium bowl and grind the next 150 g of almonds and add them to the bowl as well.

Mix the almonds with sugar, baking powder and gingerbread spice. Also add the zest of one lemon and one orange directly into the bowl. Then mix all the ingredients.

Soak the almonds for decoration in a bowl of water overnight.

Now add the wet ingredients to the empty blender: Maple syrup, apricot fruit spread, and the flax seed mixture. Blend briefly on medium speed.

Add the dry ingredients in 2-3 blender rounds and blend on low to medium speed to form a dough while pushing the dough to the blades using the tamper.

Then transfer the dough to a bowl and add the chopped walnuts and stir.

Now spread the (quite sticky) dough on a baking tray with baking paper- size about 20x30 cm, about the thickness of a finger.

Let the dough rest for 24 hours at room temperature to dry.

Bake in preheated oven at 160° C convection for 15 minutes the next day.

Meanwhile, skin and halve the soaked almonds for decoration.

Chop the chocolate coating and melt it in a water bath.

Let the baked gingerbread cool down a bit, then coat it with couverture and decorate it with almonds - see photos.

Cut into pieces when the couverture is no longer completely liquid, but not yet solid.

Enjoy from the heart!
Gingerbread Recipe in a PDF file
Yes, I would like to subscribe to the newsletter and receive the Gingerbread Recipe as a printable PDF file for free.

Please send me e-mails, according to the privacy policy, on a regular basis. The Newsletter contains information about kitchen appliances, utensils, recipes and preparation tips, this is revocable at any time.
Gingerbread recipe: chocolate coating and almond decoration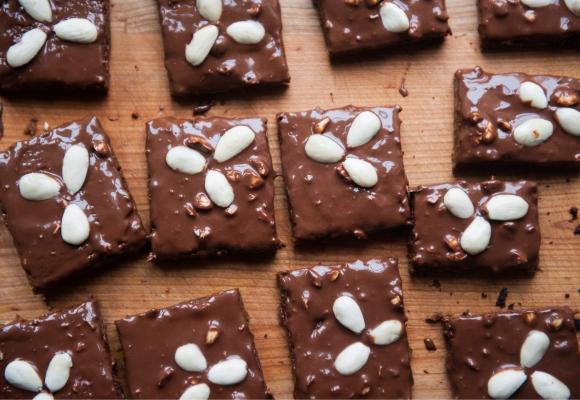 Of course, you can decorate gingerbread in many different ways. Since our recipe goes more in the direction of Elisenlebkuchen, we have limited ourselves to the classic: chocolate coating and peeled almonds. Guaranteed an atmospheric eye-catcher on any cookie plate.
How do you like our gingerbread recipe?
We appreciate your Feedback!