Buddha Bowl Recipe: Black Rice, Edamame and Miso Ginger Dressing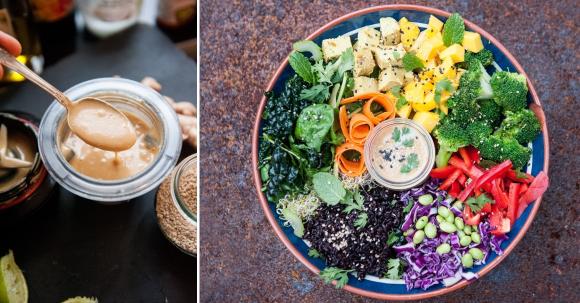 Finely chopped vegetables - raw, grilled in the oven or steamed, lettuce, herbs, a portion of carbohydrates in the form of rice, quinoa or millet, protein-rich legumes, a few seeds and sprouts - these are the basic ingredients for a Buddha Bowl. The more colorful, the more beautiful and therefore also called Rainbow Bowl or Rainbow Buddha Bowl. Everything is served in one bowl - the bowl - and the various hot and cold ingredients are best combined with a dressing or hummus and a dash of oil. Today we serve a vegan Buddha Bowl with a miso dressing - of course prepared in a high-speed blender.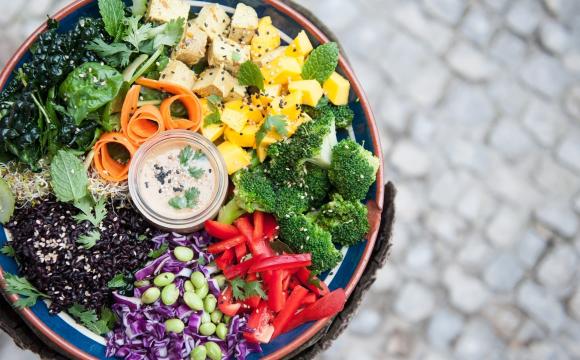 Buddha Bowl with miso ginger dressing
For us, a successful Buddha Bowl stands and falls with the dressing. The dressing not only connects the ingredients through liquid, but it also sets the taste direction of your Buddha Bowl. In our case it goes to Asia. We serve a dressing of light miso paste, fresh ginger, sesame seeds, oil and lime. A high-powered blender works very well for this, blending all the ingredients into a smooth sauce in no time. We prefer to use the Vitamix Ascent with the small Vitamix 225 ml cup or the Mix&Go attachment for Bianco blenders. The smaller containers make the preparation of the dressing much more convenient, smaller quantities can be prepared and it is much easier to clean the container.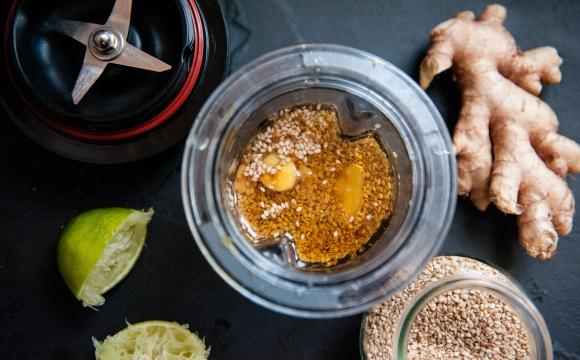 Buddha Bowl with vegetable protein from tofu and edamame
Since we decided to make a vegan Buddha Bowl, tofu and edamame are our protein sources. Edamame are soybeans that are harvested slightly unripe. They are a popular side dish in Japan - where they are cooked in salted water and then served with a little coarse salt. We used frozen edamans that were already peeled. If you can only find frozen edamame, you can also use them for the Buddha Bowl - the beans can be easily pressed out of the pod after cooking.
Buddha Bowl with black rice as a carbohydrate portion
Black rice provides the nutritious carbohydrate portion in our Buddha Bowl, it also adds even more color variety to our bowl. It belongs to the whole grain rice varieties, is unhusked and provides plenty of trace elements and minerals. Black rice also is rich in protein. With its slightly nutty flavor, it goes very well with the miso dressing.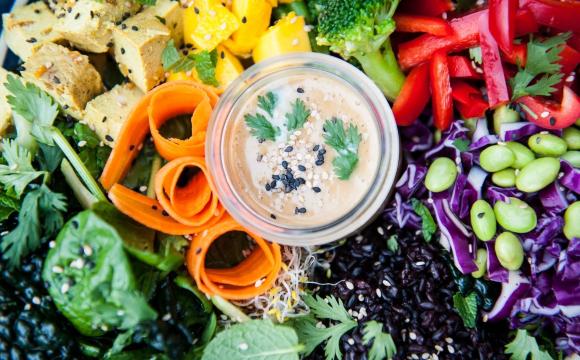 Buddha Bowl with raw black cabbage and spinach
For greens, we choose a spinach and black cabbage mix. Black cabbage or kale can be enjoyed raw very well, especialy if you rub it with plenty of oil. This way, it becomes nice and soft. Add some baby spinach, a little salt and lemon juice - voilà, the buddah bowl just keeps getting more flavor.
Buddha Bowl with colorful vegetables - raw and cooked
To finsh of the Buddha Rainbow Bowl, we add mango, carrot, bell pepper, blanched broccoli and red cabbage. A variation of raw and cooked or grilled vegetables is always nice here. Depending on how you like your Buddha Bowl.
Miso Ginger Dressing
With lime and sesame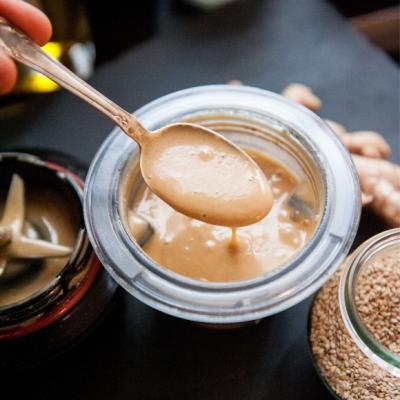 Ingredients
2

cm fresh ginger

peeled

2

tbsp. white miso paste

juice of one lime

1

tbsp. light sesame seeds

1

tbsp. soy sauce

2

tbsp. olive oil

3

tbsp. maple syrup

2

tbsp. toasted sesame oil

2

tbsp. rice vinegar

alternatively: white balsamic vinegar or apple cider vinegar

50

ml water

or according to consistency preference
Instruction
Place all ingredients in container and blend on high speed until smooth and uniform

Note: Check the minimum preparation quantity of your container, you may need to double the ingredients.
Buddha Bowl
With black rice, tofu, vegetables and edamame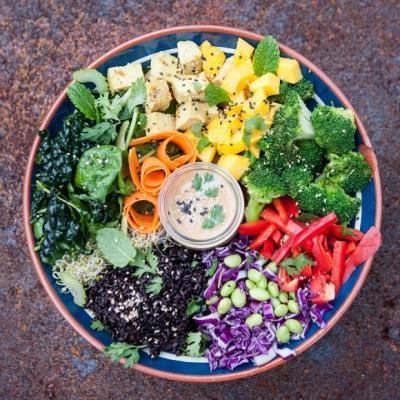 Ingredients
250

g black rice

1

medium red bell pepper

1

medium carrot

1

medium ripe mango

150

g tofu

e.g. curry mango tofu

250

g broccoli

150

g frozen edamame

peeled

100

g red cabbage

80

g baby spinach

5

leaves palm kale or kale

3

spring onions

4

tbsp. sprouts

of your choice

1

tsp black sesame seeds

1

tsp white sesame seeds

1

tsp. lemon juice

2

tbsp olive oil

sea salt

ice cubes to quench broccoli and edamame
Instruction
Rinse rice twice in pot of lukewarm water. Pour out the water, now fill up with 2.5 times the amount of water. (e.g.: 250 g of rice - 630 ml of water)

Turn on the stove on the highest heat setting and bring the rice to a boil. Once the water boils, turn the stove to medium heat and let the rice simmer for about 35 minutes with the lid closed until the water evaporates.

Meanwhile, prepare the raw ingredients: Bell peppers, cabbage and spinach. Peel carrots and cut into strips, if you like it fancier, you can twist them into roses. Peel mango, clean peppers and dice both. Weigh red cabbage and cut into fine strips. Remove outer skin from spring onions, then cut into fine rings. Pluck palm kale leaves into bite-sized pieces and massage with a little olive oil until the leaves softens. Mix with the baby spinach and add a squeeze of lemon and a pinch of sea salt. Set everything aside.

Now cut broccoli into small florets and wash. You can steam the broccoli together with the edamame or blanch it like we did, so that both don't oxidize and keep the beautiful green color. To do this, bring water to a boil in a medium sized pot. Once the water is boiling, add 1 tablespoon of sea salt and then add the broccoli florets and edamame. Allow to cook for about 3-4 minutes. Meanwhile, prepare the ice water with enough ice cubes in a large bowl. After cooking, remove broccoli and edamame from water and put them into ice bath for about 30 seconds. Drain, set aside in a bowl.

Now dice the tofu and fry in oil until crispy.

Once the rice is cooked, arrange the Buddha Bowl with all the ingredients as in the photo. Finally, the dressing (see recipe above), white and black sesame seeds, spring onions and the sprouts.

Done. Enjoy with all your heart!
Have you ever had a Buddha Bowl? And how do you prepare your Buddha Bowl?
We appreciate your Feedback here!