Baba Ganoush Recipe: The Oriental Eggplant Cream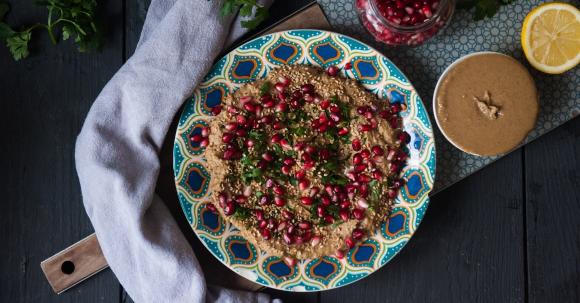 Eggplants often divide opinions: Some love the nightshade in all its varieties - whether grilled or cooked in curries and ratatouille. Others don't like eggplants at all. They dislike the consistency and are often uncertain about the correct preparation. With Baba Ganoush all spirits are suddenly united again! The oriental eggplant cream tastes simply fantastic and can be prepared with minimal effort in a high-speed blender.
Baba Ganoush ingredients
As a dip with pita bread, a vegetarian side dish, or solo as an appetizer with various toppings, such as in our Baba Ganoush recipe with pomegranate seeds. Eggplant cream is a classic dish in Arabic cuisine - especially in Lebanon and Syria. Depending on region and preference, the traditional dish can vary a lot, e.g. with yogurt and/or goat cheese as well as with pine nuts.
Besides eggplant, the basic ingredients include garlic, lemon juice and olive oil. We opted for a vegan version of baba ganoush, which also includes tahini or sesame paste, cumin and a dash of toasted sesame oil.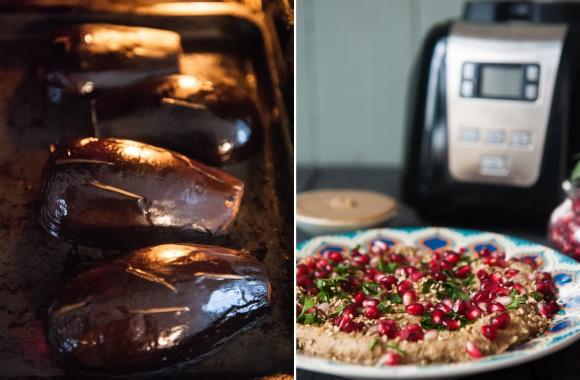 Baba Ganoush consistency
There are several variations - from a slightly chunky consistency to a creamy fine eggplant mousse. High-speed blenders, like the Bianco Piano, manage to create a velvety smooth consistency in less than 30 seconds. If you have a high-speed blender at home, be sure to try it out!
Baba Ganoush
Oriental eggplant cream with tahini and cumin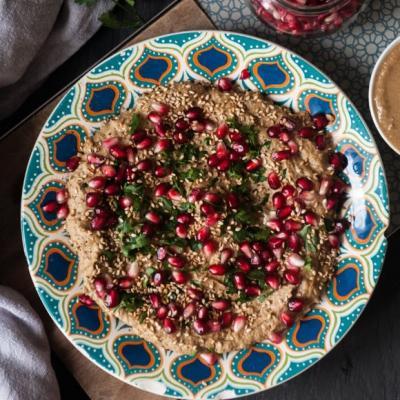 Ingredients
2

medium eggplants

approx. 500 ml

2

tablespoons olive oil

extra virgin

1

small garlic clove

2

tbsp. tahini/sesame paste

1/2

lemon

medium

1

tsp ground cumin (cumin)

1

tbsp toasted sesame oil

1/2-1

tsp salt

1

handful of pomegranate seeds

1/3

bunch of parsley

3

tbsp sesame seeds

pinch of chili flakes

optional
Instruction
Preheat the oven to maximum. Prick eggplants on all sides with a fork. Place on a baking sheet and cook/grill at 250 degrees convection for about 40-45 minutes until the skins turn wrinkly/black. Turn after about 20 minutes.

Remove baking sheet with eggplant from oven and let cool for 10 minutes, cut in half lengthwise and remove flesh from shell with a spoon. It is best to put directly into the blender container.

Peel garlic clove and add to container along with juice of half a lemon, tahini, cumin, salt, olive oil and sesame oil. Then blend on high speed for about 30 seconds.

Briefly toast the sesame seeds in a pan without oil - Attention, this goes pretty fast! Then seed the pomegranate, wash the parsley and pluck the leaves for the topping.

Divide baba ganoush among several plates or one large plate and top with pomegranate seeds, parsley and sesame seeds. Finally, garnish with a drizzle of olive oil. If you like it a little spicier, add some chili flakes on top.

Enjoy with all your heart!
Baba ganoush recipe in a PDF file
Yes, I would like to subscribe to the newsletter and receive the Baba Ganoush recipe as a printable PDF file for free.

Please send me e-mails, according to the privacy policy, on a regular basis. The Newsletter contains information about kitchen appliances, utensils, recipes and preparation tips, this is revocable at any time.
Baba Ganoush Toppings
By the way: Baba Ganoush is often spelled with an "h" as Baba Ghanoush. What the exact spelling is, we do not know. But we are 100 % certain: If you top the eggplant cream with pomegranate seeds, some parsley and roasted sesame seeds, it turns into an absolute visual highlight on any table, no matter how festively decorated.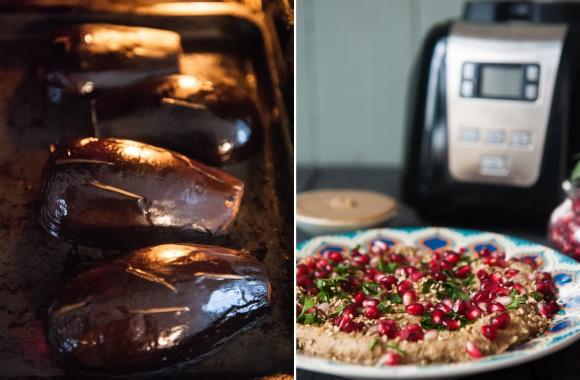 Have you ever made baba ganoush in a blender? How do you like our recipe?
We appreciate your Feedback!