2008 - 2023 | 15 years GrueneSmoothies.com - the original
The Bianco Piano is a phase out model that is no longer available in our store.
Our recommendation: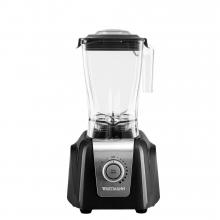 Wartmann Blender
Price From:
Regular Price: 299.90
Special Price 266.57 €
The
Wartmann Blender
is almost identical in construction, is controlled simply by means of a jog dial and comes with a 5-year warranty. We can recommend the Wartmann Blender as a real alternative.
Why isn't this one more expensive, anyway?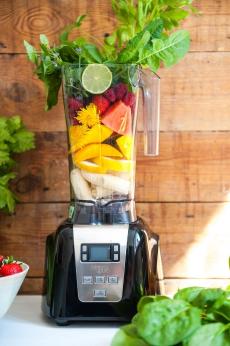 Looking for a powerful blender that's easy to use and lets you make all the popular blender preparations? Small or large quantities of green smoothies, ginger shots, almond milk or nicecream. And preferably at a low price?
Only one company can fulfill your wishes: Bianco di Puro. The Green Smoothie program convinces with a creamy green smoothie that simply impressed us. Honestly, we were wondering why this high-speed blender is not more expensive.
Highlights of the Bianco Piano
Powerful motor: max. 28,000 revolutions per minute or 1,250 watts provide impressive blending results.
Multifunctional 2.0 liter container: all blender preparations are possible, small as well as large quantities.
Easy to use: In addition to a time program for (green) smoothies, the Piano can be easily controlled via buttons.
Lightweight: Lightweight container (1 kg - made of BPA-free plastic Tritan). This may sound uninteresting at first, but it is especially beneficial when pouring smoothies from a full container.
Warranty: 2 years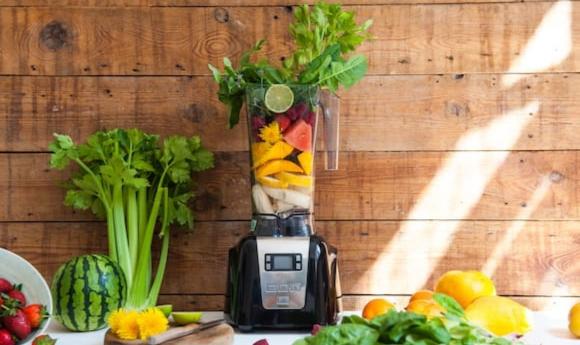 Overview
Preparation possibilities with the Bianco di Puro Piano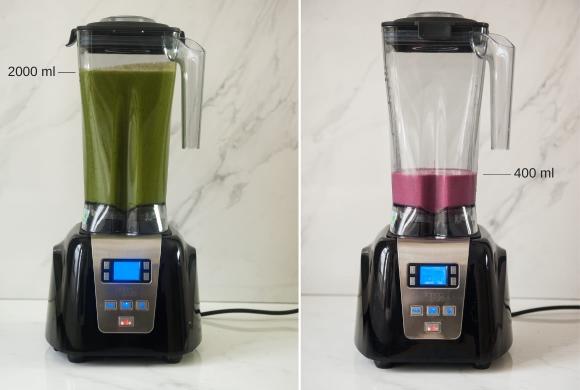 The Bianco di Puro Piano is an all-around device for any blender preparation. You can use it to make liquid preparations such as smoothies, almond milk or ginger shots from 250 ml to 2.0 liters. At the same time, however, the Bianco Pianco also succeeds in preparing smaller quantities of viscous consistencies, such as nicecream, pesto or hummus - from about 400 ml. This is a clear advantage, as these preparations do not have a long shelf life - in the case of Nicecream, they should even be served and consumed à la minute.
Creamy green smoothies
Delicious fruit and vegetable smoothies
Vegan plant and nut milks such as fresh almond milk
à la minute ice cream creations like fruit sorbets, frozen yogurt or healthy nicecream
Dips and sauces
Heavenly creamy hummus made from chickpeas or beans
Hot soups heated by friction heat, such as cream of tomato soup
Healthy and vital baby porridge
Homemade nut butter
Liquid dough preparations - e. G. for pancakes, muffins or crepes
Freshly ground coffee or freshly ground almond flour
Crushed ice
Handling and operation of the Bianco di Puro Piano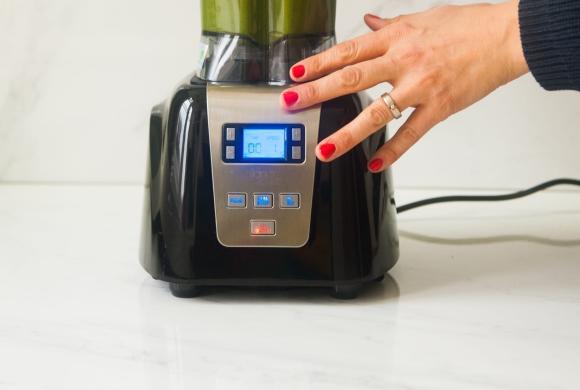 Green smoothies program
Since smoothie preparation is one of the most important, the Bianco Piano has an extra time program for this. It is easy to start:
Waking the blender from standby mode by pressing the "ON/OFF" button
Press the "Green Smoothies" button
Wait 1:26 min. or end the program by pressing the "ON/OFF" button
If you do not want to use the preset time program, you can alternatively set a manual timer:
Manual mode
Wake up the blender from standby mode by pressing the "ON/OFF" button
Setting the blending time in minutes with the left (+/-) button.
Setting the speed with the right (+/-) button
Starting by pressing the "RUN" button
The Green Smoothies program is perfect for most preparations, such as smoothies and shakes, as well as for cleaning, and conjures up creamy smoothies. The timer can be used for longer blending runs, such as hot soups.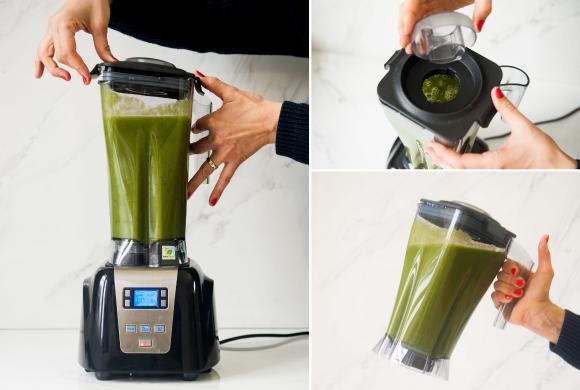 The piano container also is extremely convenient to handle: the lid clicks into place noticeably and can be closed securely. The container feels good in the hand even when fully filled.
How loud is the Bianco di Puro Piano?
With 84 dB (decibels) at maximum speed with 1.5 l of water, the Bianco di Puro Piano is very inconspicuously within the average of high-speed blenders in its performance class.
Recommended accessories for the Bianco di Puro Piano
Our cleaning brush is recommended for cleaning the container: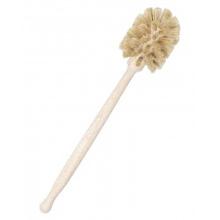 Cleaning Brush for Containers, Juicers & Bottles
Unfortunately, the led lights of the piano, like all Bianco di Puro blenders, lights up in stand-by mode. We recommend an power saving plug, the initial cost will quickly pay for itself: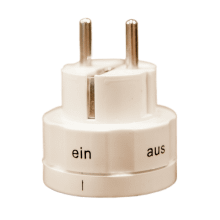 Bianco di Puro Piano Technical specification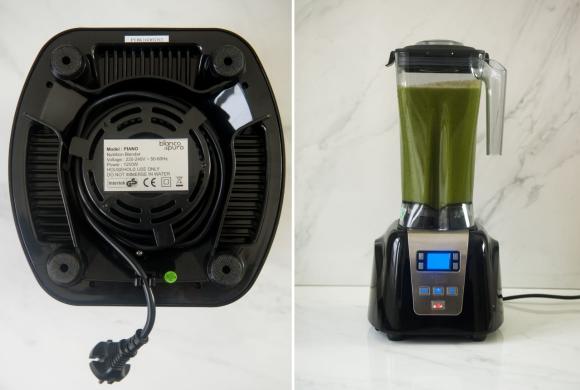 Blade tip speed: 215 km/h (with 1.5 l of water)
Power: 220 - 240 Volt / 50 Hz - 60 Hz; 1250 Watt
Revolutions: 10000 rpm. (level 1) to 28000 rpm. (level 8)
Dimensions (width x height x depth): 22 x 48 x 22 cm
Weight: approx. 5,02 kg
Material: 100 % Tritan plastic (BPA-free); Suitable for temperatures up to 100°C
Controls: Display with 8 buttons
Container: Bianco di Puro 2.0 liter container incl. tamper TM
Volume of container: 2.0 liters
Blade type and material: 4 stainless steel blades; HCS (Japan)
Safety features: overheating and overload protection, container detection sensor
Certification / Standard: CE, EMC, CB, LVD, CCC, PAH
Safety features of the Bianco di Puro Piano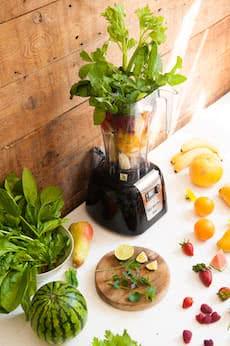 Overheat protection: if the motor is overloaded, which can happen with viscous blends, the motor automatically goes into cool down. Once the motor has cooled down, the Bianco di Puro Piano can be used again.
Container sensor: The Bianco di Puro Piano can only be started when a compatible container is firmly in place.
Bianco di Puro Piano Scope of delivery:
Piano motor block
2.0 liter container made of BPA-free plastic (Tritan)
Tamper TM
Lid incl. lid insert
Instruction manual in english incl. recipe ideas
Bianco Piano warranty
Motor block: 2 years
Container: 2 years
Tamper: 2 years
Bianco di Puro Piano alternatives
Bianco di Puro Piano vs. Bianco di Puro Primo Plus
Advantages of the Bianco di Puro Piano:
Blending volume: the Piano can work with 250 ml to 2 liters. This means that both smaller quantities and larger quantities are possible.
Heat generation: The Bianco di Puro Piano dose hardly generate any heat within the first 1.5 minutes. Ice cubes are therefore only necessary if you really like cold smoothies.
Container weight The Piano container weighs about 1 kg, making it a lightweight among containers in this performance segment. It is 350 g lighter than the latest Bianco di Puro Primo container, which, however, only has a volume of 1.5 liters.
Cable winder: The Bianco Piano has a cable winder so that only the length of cable needed to reach the socket comes out of the blender.
Stable stand: Due to the rectangular footprint of the motor block, the blender stands bombproof on the countertop, while the Primo can sometimes rock slightly due to an imbalance.
Disadvantages of Bianco di Puro Piano:
Height: The 2.0 liter capacity compared to the 1.5 liter capacity of the Primo makes the Bianco Piano 6 cm taller. For low kitchen cabinets, this can be crucial.
Operation: The Primo Plus is more intuitive to use with its jog dial. However, the other buttons can be understood very quickly.
Hardly any difference between the two:
Blending result: The blending result is first-class in the price segment under 300 € with both (!) Blenders!
Bianco di Puro Piano vs. Bianco di Puro Panda
Advantages of the Bianco di Puro Piano
Price: The Piano is more attractively priced.
Versatility: The small diameter of the piano's container allows the preparation of thick consistencies from as little as 400 ml.
Disadvantages of the Bianco di Puro Piano vs. the Bianco di Puro Panda
Warranty: The Piano motor block only comes with a 2-year warranty instead of a 5-year warranty.
Bianco di Puro Piano vs. Bianco di Puro Diver Square
Advantages of the Bianco di Puro Piano
Price: The Piano is cheaper.
Versatility: The Piano can do more. Both - in terms of quantity and in terms of preparations. While the Diver Square is designed as a pure smoothie machine, you can also prepare nicecreams in the Piano.
Disadvantages of the Bianco di Puro Piano vs. the Bianco di Puro Diver Square
Optics: The Bianco Diver Square control panel looks much tidier and of higher quality. In addition, it stays off until the ON/OFF button is pressed, despite the power being connected.
Height: The Bianco Diver Square is significantly smaller at about 44 cm and fits under any wall cabinet.
Conclusion
The Bianco di Puro Piano is a high-speed blender that conjures up a fine blending result that keeps up with, if not surpasses, the "big ones" from Bianco. The excellent blending result without any heating is especially positive. In addition, the Piano can prepare both smaller quantities (from 250 ml) and larger quantities (up to 2.0 liters). This makes it an absolute all-round device that is equally suitable for singles and large families. Considering the variety of uses and the blending result, we would have rather expected the Piano to be in the price range above €400.
Questions & Answers about the Product
Ask a question
Total 26 question(s)
Ask a question
Reviews
[5 of 5 Stars]


The investment has paid off

After my old blender has broken, I have informed myself intensively. Above all, it was important to me that it also creates nice cream and almond paste in addition to green smoothies. The Piano manages these tasks without any problems. The smoothies are also much finer - really smooth, so to speak ;)

[5 of 5 Stars]


I can only recommend the Bianco di Puro Piano

I hesitated for a long time to buy the blender, because until then I was satisfied with my small blender. Due to a change of diet, this was then too small. Since I now have the Bianco di Puro Piano I am happy and love my green smoothies. It is in use every day, makes everything perfectly creamy and is easy to clean. Even our cat has gotten used to the noise

[5 of 5 Stars]


I can only recommend

The Piano is really a great blender. After my previous blender broke down, I researched for a long time before deciding on a new one and decided on the Piano because of the good reviews and because of the 45-day guarantee. Am absolutely happy with the decision - the smoothie results are much more finer than with my old one.

[5 of 5 Stars]


Perfect for detox cleanse

Yesterday I got my Piano and what can I say. I am thrilled.
I had now borrowed a week at a friend's Vitamix Pro 500 and knew immediately, I love green smoothie. Now I had to get my own high-speed blender and, after extensive day and night research, I decided on the Piano.
I am totally happy that I came across your site. The Detox cleanse I do since 2 days and am madly enthusiastic about the recipe on day 2. That fennel can taste so- crazy.
Thank you for the nice email exchange and your goodwill regarding my order.
I look forward to the next days.
Very dear greetings
Sigrid

[5 of 5 Stars]


My new ice cream maker

In constant use for three months. Super ingenious is the preparation of ice cream and sorbets. Would not have thought that the creates so well - am super happy ;)

[5 of 5 Stars]


Glass container

Hello, I wonder if there is also a glass container for the Bianco di Puro? And thank you for this wonderfully useful site! Many greetings, Jenny

Editor's comment:

Hi Jenny,

unfortunately, there is no glass container available from Vitamix, nor from Bianco di Puro....

Best regards

Your Gruene Smoothies team

[4 of 5 Stars]


Very good with deductions...

The Bianco di Puro is great for smoothies! It also mixes soups really creamy.
Small liquid quantities are also processed well. However, small amounts of nut butter (300ml) do not work well. The tamper can no longer do anything and the blades do not catch the ingredients.

[5 of 5 Stars]


Super happy

The Piano came as a Christmas gift in black piano lacquer. I did not know the brand "bianco di puro" at all and I am honestly very impressed. It absolutely puts our old Phililps blender in the shade. Apple seeds disappear completely. From avocado seeds, also nothing remains. The blender is a bit louder, but it does not get hot. And the processing is top. Can only recommend!

[5 of 5 Stars]


Recommended

Great smoothie maker. I am seriously impressed. For the price absolutely recommended!!!
Write Your Own Review