The Vitamix Creations unfortunately is no longer available!
Alternatively, we recommend the almost identical model: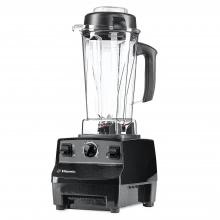 Vitamix TNC 5200
"Timeless all-rounder"
Price From:
Regular Price: 699.00
Special Price 654.56 €
Vitamix Creations - Highlights at a glance
All-rounder: The most versatile blender we have ever tested!
Durable: Robust workmanship with analog motor control ensures long-lasting blending pleasure
Precise: Manual mode for pinpoint accuracy
Design: Unchanged for decades, a true original.
Secure investment: 5-year Vitamix full warranty on all parts incl. container and tamper (for purely private use)
Overview
Preparation possibilities with the Vitamix Creations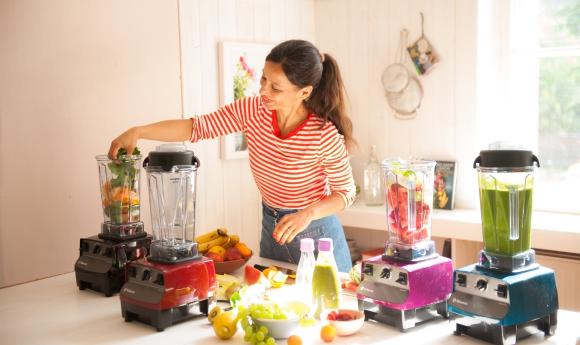 The Vitamix Creations is a true multi-talent. It easily processes quantities from 250 to 2000 ml. The following dishes, desserts and snacks are among the preparation possibilities of the Vitamix Creations:
Aromatic-creamy green smoothies
Fruit and vegetable smoothies
Delicious vegan milk, such as almond or hazelnut milk
Sinfully delicious ice creations (fruit and milk ice cream, vegan ice cream), sorbets (fruit ice cream), frozen yogurt & nicecreams
Crushed Ice
Soups, sauces, fondues and chocolates heated by friction heat in minutes
Chunky salsa, Italian pesto, chopped vegetables, soups or slivered nuts and almonds
Dips, dressings
Healthy, fresh, vital baby food
Homemade nut butter, nut puree, nut milk made from almonds, hazelnuts, cashews, peanuts, etc.
Chopped root vegetables for carrot salad, for example
Grind whole coffee beans (from as little as 40 g)
Second container superfluous!
The elongated container has a small diameter and therefore blending from as little as 250 ml is no problem. Since the smaller Vitamix containers (900 ml or 1400 ml) cannot blend smaller quantities, there is no need to purchase a second container for smaller quantities.
Handling & operation of the Vitamix Creations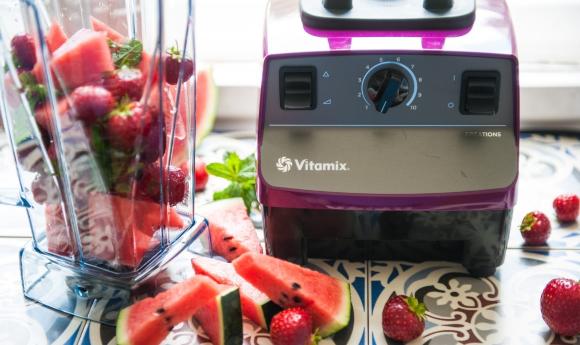 The Vitamix Creations has a real ON/OFF switch on the right side of the control panel. There are 10 speed levels which can be adjusted using the center dial. Flip the left switch to activate the pulse function (level 11).
How loud is the Vitamix Creations?
The Vitamix Creations is naturally loudest on the highest speed level. In our test with 1.5 liters of water, it was about 85 dB, which is completely inconspicuous in its performance class. If you like it quieter, just work with lower speed levels.
Cleaning the Vitamix Creations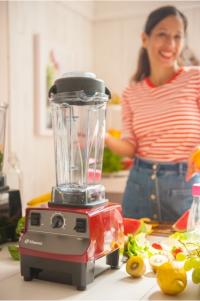 Cleaning the blender is very simple:
Cleaning the Vitamix Creations container
The container should be rinsed under running water right after blending.
Cleaning the Vitamix Creations motor block
The rubber mat on which the container sits can be removed and cleaned under running water. The rest of the housing can be wiped with a damp cloth.
Recommended accessories for the Vitamix Creations
We recommend the Vitamix Grinding Container (dry container) if you are planning to regularly grind coffee or grains. For occasional grinding, the included container is sufficient (!), but the container becomes blind/cloudy over time. A opaque container is a no-go for some preparations as the consiteny must be closely observed during the blending process.
Technical specification of the Vitamix Creations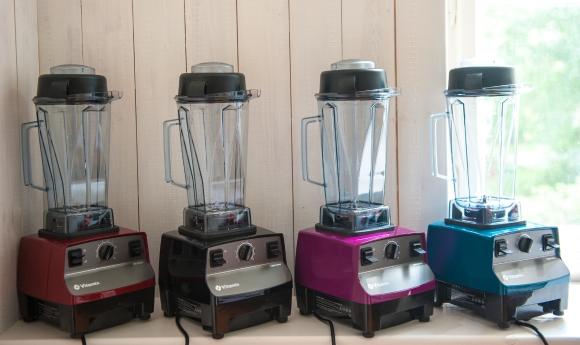 Blade tip speed: 250 km/h (with 1.5 l of water)
Power: 2 hp power; 220 - 240 volts / 50 Hz - 60 Hz; 1000 - 1200 watts
Revolutions: 900 rpm to 29000 rpm
Dimensions (width x height x depth): 18,5 x 52 x 22,2cm
Weight: approx. 5,3 kg
Controls: Jog dial with 10 speed levels, on/off switch on the right side, puls switch on the left side
Container: 2.0 liter container incl. Vitamix Tamper (long)
Material of the container: Tritan plastic (BPA-free); Suitable for temperatures up to 100°C
Volume of container: 2.0 liters
Blade type and material: 4 blades made of laser-cut stainless steel (7.25 cm diameter)
Motor cooling: Radial fan
Practical: Integrated cord storage on the bottom of the motor block. Maximum cable length: 1.8m
Safety features of the Vitamix Creations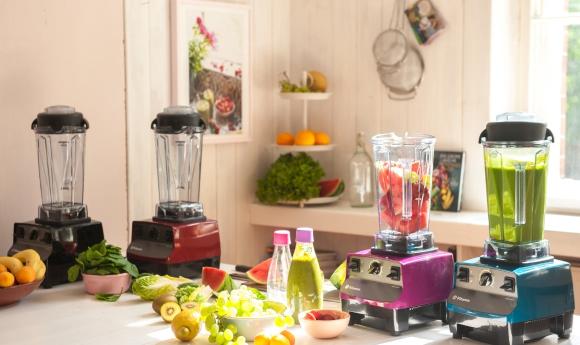 Overload protection: If the motor is overloaded, for example due to the contents of the container being too viscous, the fuse flies out. Don't worry, the fuse is accessible at the bottom of the motor block and can easily be reinserted.
Overheating protection: Additional protection for the longevity of the motor is provided by a heat sensor that stops the blender if the motor is too hot. It is not possible to start the blender when it is in cooldown mode. After 5 to 45 minutes, depending on the motor and outside temperature, the blender is ready for use again.
Vitamix Creations Scope of Delivery:
Vitamix Creations motor block
Vitamix 2.0 liter container made of BPA-free plastic (Tritan ™)
Lid incl. lid insert
Instruction manual in English
Vitamix recipe book in English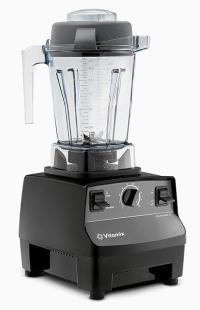 Would you prefer the smaller container?
If you prefer the smaller 1.4 liter container instead of the 2.0 liter container, you can specify this in the comment box in the last step of the order process.
The 1.4 liter container fits under any faucet and reduces the height of the blender by 8 cm to 43 cm. It fits under almost all wall cabinets.
Vitamix Creations warranty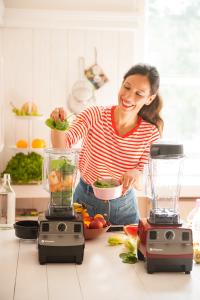 For purely private use:
Motor block: 5 years
Container: 5 years
Tamper: 5 years
Vitamix Creations Alternatives
Vitamix Creations vs. Vitamix TNC 5200 (Total Nutrition Center)
The Vitamix Creations only visually differs from the TNC 5200 and temporarily slips into the role of our price/performance winner:
Appearance: The motor housing is available in several colors.
Warranty:The Vitamix Creations only has a 5-year warranty compared to a 7-year warranty on the TNC 5200. If you look at the warranty statistics - It is not for nothing that Vitamix keeps the aging blender legend in its portfolio. It runs and runs and runs…
Price: The Vitamix Creations is slightly cheaper than the Vitamix Total Nutrition Center.
Vitamix Creations vs. Vitamix Pro 750
The Vitamix Creations convinces with a wide range of applications at an extremely attractive price. However, the Pro 750 offers somewhat fluffier smoothies and a bit more convenience:
Pleasure: The green smoothies made with the Pro 750 are more airy and a bit finer than those made in the Vitamix Creations. No wonder, in our speed test the Vitamix Pro 750 (300 km/h) was about 50 km/h faster than the Creations (250km/h).
Practical: The container of the Pro 750 is a bit more gracious:

The wide opening allows a large handful of greens to be processed effortlessly without clogging the blades.
Apples only need to be quartered to be safely processed. With the Vitamix Creations, on the other hand, the apples must be cut into eighths, otherwise they can get stuck under the blades.
The container is very convenient - the generous diameter allows you to easily reach all corners.
The container can be cleaned effortlessly in the sink, as it does not hit the faucet. This happens quite often with the longer container of the creations. The 8 cm difference (34 cm vs. 26 cm) is noticeable. If 1.4 liters are enough for you, you can also order the Vitamix Creations with the small container instead of the tall one. (Specify in the comments field when ordering)

Optics:

The look of the Pro 750 is modern - high-quality stainless steel or copper housing.
There is not much to say about the Vitamix creations - it is a classic.
Advantages of the Creations:
Preparation possibilities: The Pro 750 is not suitable for working with smaller quantities (250 - 500 ml smoothies; 500 - 800 ml nut butter, ice cream). It is therefore recommended to purchase the Vitamix 1.4 liter container.
Small quantities? no problem for the Vitamix Creations. The included container is a bit bulkier, but can handle the full range of preparation quantities. That's very practical!
Price: If you decide to buy the Pro 750 in combination with the 1.4 liter container - think twice, this set is worth two Vitamix Creations. In our opinion, it is better to buy two Vitamix Creations and gift the second one to your loved ones! :-)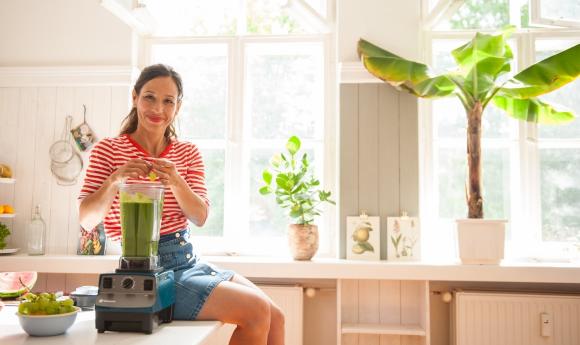 Questions & Answers about the Product
Ask a question
Total 9 question(s)
Hello
I bought the Vitamix professional 750, but received it without an instruction manual.... Now I cannot explain the time programs that are listed on the left side of the switch. Can you help me?
Question submitted by Trix on February 1, 2021 at 21:21 o'clock
Hello Trix,
thank you very much for your inquiry.
These are the five time programs of the Pro 750 with the following functions:
1 -Smoothies
2- Ice cream
3- Warm soups
4- Puréeing
5- Cleaning
Best regards,
Your GrueneSmoothies.com Team
Beanwortet am 03.01.2021 um 10:07 Uhr
Hello dear gruenesmoothies team,

Is it really only possible to clean the device with water?
I wonder because I used dishwashing liquid before.

Kind regards,
Nicole
Question submitted by Nicole Siegel on August 13, 2020 at 09:27 o'clock
Hello Nicole,
thank you for your question.
For smoothies, it is often sufficient to simply rinse the container with water.
For greasy ingredients, you can, of course, add a drop of dishwashing liquid.

Best regards,
Your GrueneSmoothies.com - Team
Beanwortet am 13.08.2020 um 09:40 Uhr
I keep having trouble getting sticky batter out of the container. Is there a special spoon for emptying, or do you have a tip for me?
Question submitted by Margit on February 24, 2020 at 19:59 o'clock
Hello Margit,

thank you very much for your message

In this case, we recommend a spatula, which we also offer in our webshop.

The spatula helps to empty the container without scratching it – even with viscous ingredients

Best regards from Berlin!

Your GrueneSmoothies.com team
Beanwortet am 25.02.2020 um 10:55 Uhr
Hello,

I've been blending for 2 years and since a 3/4 year increasingly like wild herb smoothies. Have bought me then a very small simple WMF smoothie blender, which still runs and runs. But I'm now considering buying a device that creates a smoother texture….
In addition, I would like to be able to grind flour for baking bread.

Which device would you recommend? I struggle with the high prices of the Vitamix ...
Question submitted by Hillu on January 3, 2019 at 11:19 o'clock
Hello Hillu,

Thank you for your question.

All our blenders are capable of blending wild herb smoothies, and you will definitely taste the distinct difference from your current blender!

Grinding flour from cereals, can also be done with all blenders in our shop, without any problems.

Of course, Vitamix models are represented at the upper end of the price table and the barrier for a first-time customer is high. However, with Vitamix you also have a blender "for life" with a very long warranty period and robust workmanship. And if you really feel like it wasn't worth it, we also offer a 45-day money-back guarantee.

If it's a "budget" Vitamix you're after, the E310 with a 1.4 liter container or the TNC 5200 with a 2 liter container would be the recommendation. For the ultimate creaminess, the Pro 750 with the special 2,0 liter Pro container would be the recommendation, but it also costs almost twice as much…

Best regards,
Your GrueneSmoothies.com Team
Beanwortet am 01.03.2019 um 11:35 Uhr
Hello dear team,
I wondered if the blenders are also suitable for grinding grains. I would not only want to make smoothies and almond paste, but also like to process rice into flour or stir a cake/bread dough. Do the blenders support such functions as well?
Thanks! Juliane
Question submitted by Juliane on February 24, 2019 at 18:04 o'clock
Hi Juliane,

Thank you very much for your questions.

Except for cake/bread dough, we don't see any problems.

Sticky, tough dough types, such as a yeast dough, mostly result in the blender going into heat protection. Your hands or a food processor are much better suited. Not to mention the cleaning afterwards...

Crêpe or pancake dough are no difficulty because they are rather liquid.

You don't really need a separate grinding container for this. It only makes sense if you grind regularly and want to use an extra container for this.

Best regards,
Your GrueneSmoothies.com team
Beanwortet am 25.02.2019 um 14:27 Uhr
Hello dear team! You really have a great website!
I'm about to order the Bianco puro originale, I haven't looked into the Vitamix Creations yet. I mainly want to prepare smoothies and dips, but I also would like to make nut butter. What would you recommend? Is it easy to make small batches of smoothie with the Bianco? Looks and price would be secondary (although the Bianco really does look nicer! :) )
Thanks for your effort, Susanne
Question submitted by Susanne Ashauer on January 15, 2019 at 08:07 o'clock
Hello Susanne,

thank you for your questions and the nice compliment!

As for the minimum quantities, the two blenders are no different from each other.

Nut purees are quite challenging depending on the type of nut, especially almonds and hazelnuts. It helps if you can vary the speed in the lower speed range, i.e. at low speeds. Unfortunately, the Puro Originale cannot do that.

In the higher speed range, the Vitamix Creations 2.0 can call up about 25% higher blade tip speed during operation (at 1.5 liters), resulting in more finely pureed smoothies.

Price and looks would probably argue for the Puro Originale given your tastes, but if you are deliberately ignoring that, the Creations would probably be a better choice.

With best regards

Your GrueneSmoothies.com Team
Beanwortet am 15.01.2019 um 15:21 Uhr
Dear team, I am looking for a new blender. So far I had one from Kitchenaid, but it quickly annoyed me because I had to constantly stop and open it to press down the contents (e.g. pesto). Then I had one similar to the Nutribullet, this one broke when I tried to chop dry rolls. Now I'm looking for a blender where I don't have to push down the contents, that manages to chop dry rolls, nuts, and grains (for flour) and that I can use to prepare small quantities. Is the Vitamix creations the right blender for me there? Or do you have a recommendation? Thank you very much, Saskia
Question submitted by Saskia on July 1, 2019 at 14:59 o'clock
Hello Saskia,

Thank you very much for your question.

The keyword "small quantities" definitely speaks for the Creations. The S30 can also prepare smaller quantities, but it is not quite as resilient as the Creations. The S30 generates heat more quickly and needs a cooling break every now and then.

We would therefore recommend the Creations.

With kind regards

Your GrueneSmoothies.com Team
Beanwortet am 07.01.2019 um 16:27 Uhr
I would like to buy the Vitamix Creations. Where can I find other useful accessories, such as cleaning brush, etc.? What can you recommend?
Greetings from Kiel!
Aleksandra
Question submitted by Baran,Aleksandra on October 9, 2017 at 18:21 o'clock
Hello dear Aleksandra,

the cleaning brush was unfortunately not available over the weekend. However, supplies have just arrived. As soon as you add the Vitamix Creations to your shopping cart and scroll down, you will see matching accessory products, such as noise cancelling pads, cleaning brush, spatula and the tamper holder.

In our opinion, the most important accessory is the cleaning brush. It is really practical for drinking bottles, cups, glasses, etc. as well.

Best regards and have fun with the Vitamix Creations!

Your GrueneSmoothies.com team
Beanwortet am 11.09.2017 um 12:26 Uhr
Dear team, I have had a Vitamix for 5 years, my son also has one, and I would like to buy my daughter one as well – I am incredibly enthusiastic and always recommend your shop!!!!! I would need a long spoon or spatula to get the contents out of the container more easily!
Is there something like that to buy?
Thank you, Birgit
Question submitted by Glänzer Birgit on October 9, 2017 at 12:49 o'clock
Hello dear Birgit,

thank you very much for your questions and the motivating words!

Yes, there is a spatula for Vitamix blenders:
Spatula 3 cm

Basically, this is a dough scraper with silicone cover that does not leave scratches in the container.

Best regards

Your GrüneSmoothies.com team
Beanwortet am 20.03.2019 um 10:21 Uhr
Ask a question
Reviews
[5 of 5 Stars]


Completely satisfied so far

A nice, simple device with which you can do anything.

I am very satisfied!

If you have a clock in sight you do not need the programs in my opinion that other models offer.

Only wild herbs (mint / peppermint) he could still chop a little finer. Otherwise, everything super.

[4 of 5 Stars]


Has found its permanent place in our kitchen, it is not so loud at all

We've been using the Vita Mix for just under a week now, and I'm very happy with the silky creamy soups and the fresh smoothies. Experimenting across the fridge and the vegetable shelf is a lot of fun and the small glass bottles are good to take to the office. So far everything fine, don't think I need the big cardboard box in the basement again to send it back. Only minus so far is the daily difficulty of closing the lid properly. That is a feat of strength. Therefore one star less.

[4 of 5 Stars]


Expensive but great

I am now a satisfied owner of the Vitamix Creations. Have today times my first green smoothie in this prepared and the consistency was a dream. No comparison to my Mediamarkt blender for just under 50 euros. The product has met expectations, came easily with the ingredients to cope. The noise is quite loud, but I have already listened on site and a blending process of 2min is OK. One stars less because of the very high price. I think everyone should be able to afford such a blender! The long warranty period I love.

[5 of 5 Stars]


Vitamix as affordable and environmentally friendly as never before

Since our daughter has now fledged and was allowed to take our Vitamix as a farewell, we have looked around again in the market. Since Vitamix has convinced us, after we had already disposed of some blenders, we became aware of this offer.

In the past, there were not such prices and if you look at the blender, you can not say that it is from worse parents. The little bit of cardboard packaging that was saved is primarily for the benefit of the environment. Therefore, full marks!



[4 of 5 Stars]


Great

A good tool for the kitchen. And now even color-coordinated. Excellent.

[5 of 5 Stars]


Can totally recommend the blender!

For 1 week now I blend my smoothies daily with the Vitamix Creations. And what can I say: A creamy dream, super easy handling, great blender. Am totally happy!

[5 of 5 Stars]


I love this blender!

Finally a Vitamix! For a year I mixed my green smoothies with a personal blender and was really tired of it! Too much work, lumpy consistency, only small quantities producible. That's different now! The Vitamix Creations is a super great blender for creamy green smoothies, easy to use, easy to clean. Supply my entire family with it - because that's also great: The container holds 2 liters. In 10 minutes, I'm done with breakfast, including washing up. Mega

[5 of 5 Stars]


Creatively good!

A great product. The creative color scheme inspires whole new smoothie ideas. But not only looks good, but good in the kitchen and also makes a good service! Purchase recommendation!

[5 of 5 Stars]


A great device! Simply top!

I have flirted with a Vitamix for an extremely long time. Previously, I had a simple blender, which unfortunately could only blend ingredients of soft consistency. With frozen fruits or tough vegetables it then unfortunately stopped or the result was very sobering. I had always longed to finally be able to make real nice cream or soups and am now overjoyed to be able to make all this (and much more) with the Creations. I ordered the device here in the color red - a real eye-catcher in my kitchen! And when I have visitors, I'm constantly made aware of my cool blender. Well, in this case, the device not only looks good, but also has extremely much on it! I love my Creations! Thanks also to the GrueneSmoothies.com team for the great advice and fast delivery! Super service!

[5 of 5 Stars]


Great design

Faultless function

[5 of 5 Stars]


As good as TNC 5200 and less expensive

I have been the proud owner of the Vitamix TNC 5200 for about 5 years and enjoy the purchase almost every day. Now a new acquisition was due, because I moved into a second apartment for professional reasons. Without a blender, of course, this does not work!
After I learned that this model is virtually identical to the 5200, I was of course curious! Since there is the right of withdrawal and you have here at "Gruene Smoothies" even "money back guarantee", I wanted to convince me personally, whether that is so true and it is indeed so: Smoothies taste great, engine hums just as full, optics is even a touch better with the anthracite in the front. And it's also a bit cheaper.

So, now I'm in the mood for a smoothie again...
Write Your Own Review