Winter Smoothie Recipe - stop a cold before it hits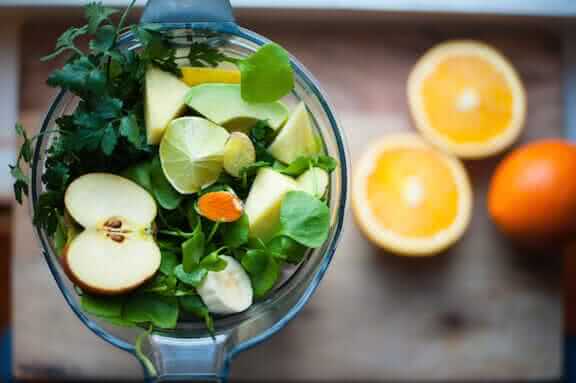 "Let food be your medicine and medicine be your food" - said Hippocrates of Kos, the most famous physician of antiquity. Especially in winter, when so many people have a cold or are fighting a scratchy throat, this more than 2000 year old maxim is more relevant than ever. We therefore recommend our winter smoothie against colds - an exotic mixture with ginger, turmeric and lots of vitamin C - We are sure: Hippocrates would have loved to taste it.
Winter smoothie with extra vitamin C
While the spiciness of ginger stimulates the metabolism and warms you from the inside, earthy turmeric can strengthen the immune system with its antibacterial properties. In the fight against a cold, however, we need one thing above all: plenty of vitamin C, which supports our defenses. That's why our winter smoothie relies on strong sources of vitamin C such as the winter salad Indian lettuce, parsley and the citrus fruits lime and orange. If you can't find Indian lettuce, spinach or any type of cabbage is also suitable as vitamin C-rich leafy green.
In terms of taste, our winter smoothie is a journey to warm tropical beaches: lime, ripe pineapple, banana and avocado give this Winter Smoothie a wonderfully exotic aroma. Natural medicine can taste so good.
CAUTION: Fresh turmeric and turmeric powder can discolor the blender jar yellowish. However, this is not a cause for concern, as the discoloration will fade over time - after a few uses.
Winter smoothie recipe with ginger, turmeric, pineapple and lime
With ginger, turmeric, pineapple and lime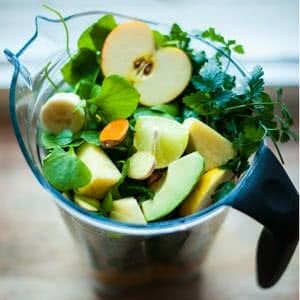 Ingredients
1/2

bunch parsley

smooth

2

handful of Indian lettuce

alternative: spinach

2

bananas

peeled

1

apple

medium, with peel - alternative: 2 pears, small, with peel

1

slice of pineapple

3 cm wide, peeled

1

orange

peeled

1/2

avocado

peeled, pitted

1/4

piece of lime

with peel

1

piece turmeric

fresh, with peel, about 3-4 cm long

1

piece of ginger

fresh, with peel, about 2 cm long

1

pinch of black pepper

alternatively: 3 grains of black pepper, improves the nutrient absorption of turmeric and the contained curcumin

approx. 300

ml water

depending on the desired consistency
Instruction
Clean the ingredients and cut them into pieces that will easily fit your container.

Cut the avocado in half, remove the pit and put the corresponding amount of pulp in the container.

First put the soft ingredients in the container (banana, avocado,...), then add the rest of the ingredients such as leafy greens and water - blend on high speed until an even, creamy consistency is achieved.

Enjoy your winter smoothie with all your heart!
How do you like our winter smoothie for colds? Have you ever used ginger or turmeric in a green smoothie?
We appreciate your Feedback here!