Vegan Pancake Recipe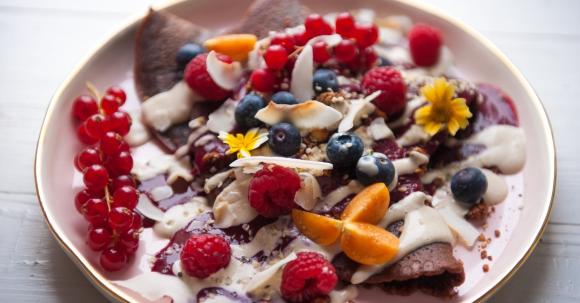 Vegan pancakes - we have tried many recipes without egg and milk, but none of them could really keep up with the classic pancakes. Svenja's daughter Finja, 11, had to step into action and make a vegana virtue out of necessity. The younger siblings wanted to eat pancakes, but there were no eggs and no milk at home, instead: Rice milk, buckwheat flour, cocoa powder and brown sugar. All pureed in the blender and off to the pan. The result - our vegan gluten free pancakes.
Vegan pancakes: Made with buckwheat flour, rice milk, brown sugar and cocoa-powder
They also taste different, compared to non-vegan pancakes, but in a different-good way. Buckwheat flour goes very well with brown sugar, cocoa and rice milk. Just a brilliant idea for kids. To keep the pancakes fluffy without eggs, add a little tartar baking powder. And for that "I-love-salt-with-sweet"-taste, of course a pinch of sea salt can't be missing. Done.
Vegan Pancakes: With raspberry sauce and cashew date cream
Pancakes go well with a variety of toppings - many love applesauce with them. By the way, you can also make super creamy-smooth applesauce with a high-speed blender. You don't even have to peel and core the apples. Find out how its done here. However, our vegan pancakes made with buckwheat flour also go very well with a berry sauce made from raspberries or wild berries in combination with a cashew date cream. Both sauces look beautiful on the vegan pancakes - especially with toppings of edible flowers, fresh berries and other fruits.
Vegan pancakes
From buckwheat, cocoa and brown sugar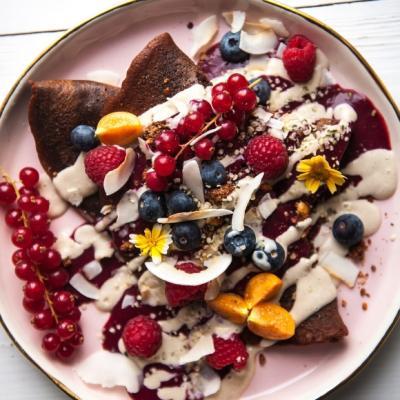 Ingredients
250

g buckwheat flour

400

ml rice milk

unsweetened

1

tbsp. cocoa powder

50

g brown sugar

e.g. muscovado sugar

1

tsp. cream of tartar baking powder

1

pinch of sea salt

coconut oil

for frying

Toppings: e.g. fresh berries, edible flowers, hemp seeds
Instruction
Put all the ingredients for the pancake batter in the blender and blend on high speed until uniform.

Now fry the pancakes in a coated, larger pan over medium heat. To do this, heat coconut oil in the pan and then pour the batter directly from the container into the pan.

The pancakes are ready to flip when bubbles form on the top. Now just fry briefly on the other side. Done.

Arrange the vegan pancakes on the plate with berry sauce, cashew cream and the toppings of your choice.

Enjoy!
Red berry sauce
With raspberries or wild berries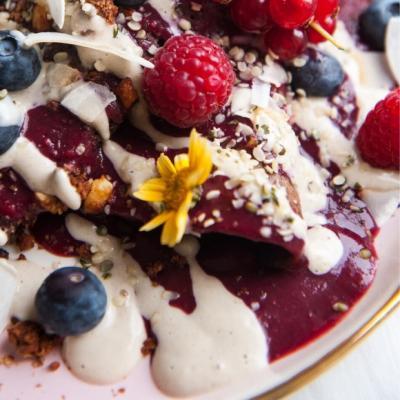 Ingredients
250

g frozen berries

of choice

3

medjool dates

seeded

1

tbsp chia seeds
Instruction
Put the frozen berries of your choice, 3 seeded Medjool dates and the chia seeds into a pot and bring to boil at medium temperature.

Now let the mixture cool briefly and then puree it in a blender. Pour into a suitable container.

Among other things, the Cashew-date cream goes perfectly with vegan beech wheat pancakes.
Cashew date cream
With Medjool dates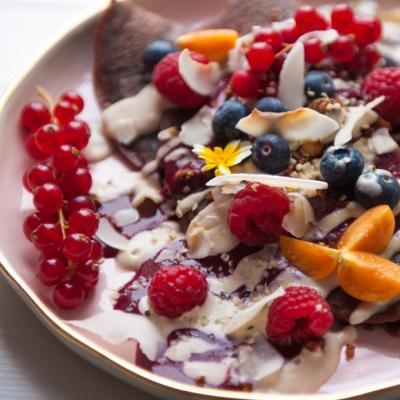 Ingredients
50

g cashews

of choice

2

medjool dates

seeded

200

ml water
Instruction
Put all ingredients in the container of your blender and blend on maximum speed until a creamy fine consistency is reached.

Please make sure that you pit the dates beforehand. Pour the finished cream from the container into a glass.

Among other things, the Cashew-date cream goes perfectly with vegan beech wheat pancakes.
Have you ever had vegan pancakes? How do you like our recipe?
We appreciate your Feedback here!