Cucumber Smoothie Recipe: "Jack the Cucumber"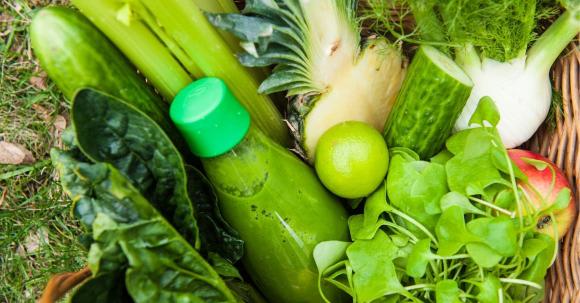 The cucumber smoothie, is inspired by children, because: Our offspring likes to drink green. But our little gourmets especially like green smoothies when they are fruity and sweet. This recipe brings lots of green with a sweet bite into the glass, the result: five big green smiles on our testers faces.
Cucumber smoothie
"Jack the Cucumber"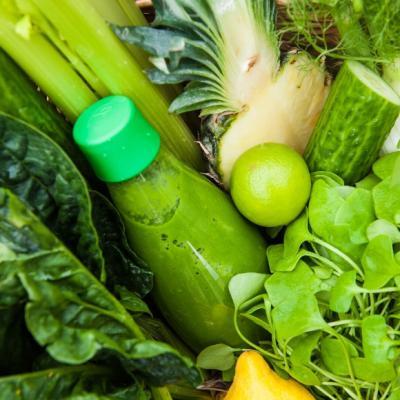 Ingredients
1

handful of wild herbs

in our case: nettle, dandelion, ground ivy

1/2

bunch of parsley

1

handful of spinach

1/2

cucumber

1/4

avocado

1

banana

ripe

1

slice of pineapple

2 cm

1

apple

1

pear

ripe

piece of lemon

with peel

a little lemon juice

piece of ginger

2

dates

TIP: add the dates at the end of the blending process. This way you get small sweet pieces that are delicious and encourage you to chew

a little water

or freshly squeezed orange juice
Instruction
Wash the ingredients and cut them into pieces that fit into your container.

Cut the avocado in half, remove the core and put the flesh in the container.

Add all other ingredients to the container and blend for about 45-60 seconds until the smoothie has a creamy, fine consistency.

Enjoy your cucumber smoothie with all your heart!
Green smoothie recipes as a PDF file
Yes, I would like to subscribe to the newsletter and receive the 10 Green Smoothies Recipes for Beginners as a printable PDF file for free.

Please send me e-mails, according to the privacy policy, on a regular basis. The Newsletter contains information about kitchen appliances, utensils, recipes and preparation tips, this is revocable at any time.
We appreciate your Feedback!