2008 - 2023 | 15 years GrueneSmoothies.com - the original
The Bianco Panda is no longer available in our store.
Our recommendation: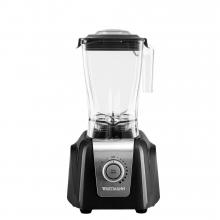 Wartmann Blender
Price From:
Regular Price: 299.90
Special Price 266.57 €
The
Wartmann blender
is powerful and comes with a lightweight container that allows smaller quantities. We can recommend the Wartmann blender as an alternative, its price and technical features are comparable to the Bianco di Puro Panda.
Smoothie maker with intuitive operation
The Bianco Panda is a powerhouse that produces up to 2 liters of smoothies in a single blending process. The easy to use jog dial lets you choose between 3 time programs.
If you like shakes and fruit smoothies in small quantities, you should consider purchasing the Bianco Tri-set. The Tri-set allows you to blend and drink from the same cup. The Panda is the cheapest Bianco di Puro model that is compatible with the Tri-Set.
Highlights of the Bianco di Puro Panda
Powerful: max. 30000 revolutions per minute - 1400 watts
Easy operation with jog dial: left time programs, right manual speed control
3 time programs for green smoothies, fruit smoothies (also for cleaning) and soups
Ideal for (green) smoothies, soups, vegetable milk, (nut) butter, fruit ice cream, pestos, baby mush, crushed ice
Overview
Preparation possibilities with the Bianco di Puro Panda
The Intelligent speed control helps the Bianco Panda find the perfect speed for all kinds of preparations, whether they are sticky and viscous or liquid and easier to process. The following preparations are made in no time at all:
Smooth, creamy green smoothies
Fruit and vegetable smoothies
Delicious vegan milk, such as almond or hazelnut milk
Healthy, vegan wholefood juices
Fresh pestos, dips and sauces
Sinfully delicious ice creations (fruit and milk ice cream, vegan ice cream), sorbets (fruit ice cream), frozen yogurt and nicecreams
Crushed Ice
Hot soups, sauces, fondues and chocolates heated by friction heat in minutes
Raw food: creations of all kinds, such as chunky salsa, Italian pesto, chopped vegetables, soups or slivered nuts and almonds
Healthy, fresh, vital baby porridge
Homemade nut butter or nut puree
Chopped root vegetables
The variety of applications is almost limitless: raw and natural food preparations of all kinds as well as cooked dishes can be prepared in no time! This characterizes a good high-speed blender.
Operation and handling of the Bianco di Puro Panda
The Binaco Panda is operated via a jog dial that offers 10 manually adjustable speed levels. Furthermore there are three time programs: green smoothies, fruit smoothies (also good for cleaning) and warm soups. The pulse button can be found in the center of the jog dial.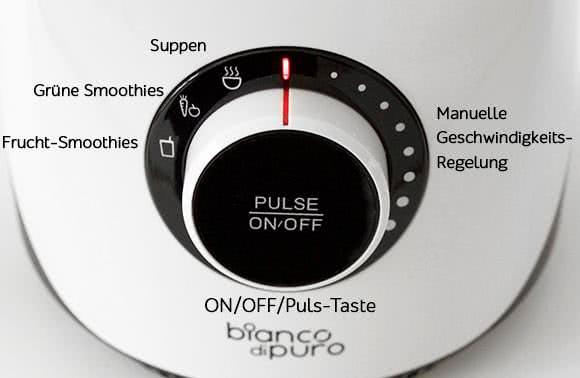 Bianco di Puro Panda time programs
Warm soups (4:20 minutes): It's great to be able to leave the kitchen while the blender prepares a delicious raw vegetable soup. The soup program stops automatically when the time is up.
Green Smoothies (1:26 minutes): As an alternative to using the manual mode, which takes about 1 minute at maximum speed, there also is a smoothie program.
Fruit Smoothies (30 seconds): This program can be used as an alternative to manual control for simple fruit smoothies.
Is the Bianco di Puro Panda loud?
In terms of volume, the Bianco di Puro Panda is within the normal range: In our test series, we filled the containers with 1.5 liters of water and had them running at maximum speed. With 84 dB (decibels), the Bianco di Puro Panda is within the normal range for comparable high-speed blenders in its performance class.
Cleaning the Bianco di Puro Panda
Cleaning the Bianco di Puro Panda container
The cleaning of the Bianco Panda is very simple. After emptying the container, simply rinse with water, done. If you have used greasy ingredients, such as avocado, nuts or oil, you can fill the container with water and a drop of detergent and activate the fruit smoothie program or blend on the highest speed level. After completion of the program or 30 seconds at maximum speed, a short rinse with water is enough.
Cleaning the Bianco di Puro Panda motor block
The rubber mat, on top of the motor block, can be wiped with a damp cloth. Unlike previous models the Bianco Panda, is equipped with magnetic container detection, you will not find any openings through which water or food residues could enter the motor base. TOP!
The rest of the motor block can easily be wiped with a damp cloth. The jog dial can also be cleaned easily, unlike the Bianco Puro Originale, there are no grooves here.
Recommended accessories for the Bianco di Puro Panda
We recommend buying the power-saver-plug with almost all our devices. Some devices do not have a real on/off switch and therefore consume energy when plugged in/standby mode. The power-saver-plug disconnects the devices from the power grid.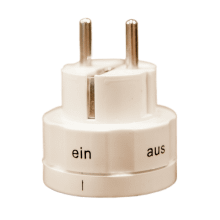 Those who like creamy (green) smoothies should take a look at the Bianco Square container.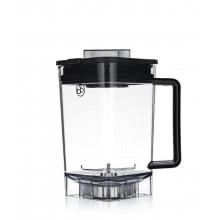 Bianco di Puro Square+ Container
Regular Price: 149.00
Special Price 139.00 €
Technical specifications of the Bianco di Puro Panda
Power: 2 horsepower; 220 - 240 volts / 50 Hz - 60 Hz; 1400 watts
Revolutions: 1500 rpm. (level 1) to 30000 rpm. (level 10)
Dimensions (width x height x depth): 21,4 x 49,4 x 23,45 cm
Weight: approx. 5.4 kg
Material: 100 % Tritan plastic (BPA-free); Suitable for temperatures up to 100°C
Controls: jog dial with 10 variable speed levels, pulse function, 3 time programs (green smoothies, fruit smoothies and warm soups)
Container: Bianco Solito container incl. T42M tamper
Volume of container: 2.0 liter
Blade type and material: 6 stainless steel blades; HCS (Japan)
Safety features: overheating and overload protection, container detection
Certification / Standard: CE, EMC, CB, LVD, CCC, PAH
Safety features of the Bianco di Puro Panda
Overheat protection: to protect the motor from overheating, the Bianco di Puro Panda shuts down the motor in case of overheating. The blender is ready for use again after a few minutes of cooldown. This only happens with viscous-sticky preparations, such as dough, nutt butter,… - viscous preparations slow down the blades, this results in heat generation.
Container sensor: The Bianco Panda can only be activated when a compatible container is firmly in place.
Bianco di Puro Scope of delivery:
Motor block Panda white
2.0 liter Bianco Solito container made of BPA-free plastic (Tritan)
Tamper T42M incl. patented temperature indicator
Lid incl. lid insert
Instruction manual in English incl. recipe ideas
When choosing the set with additional blending & grinding container Square:
1.5 liter container made of BPA-free Tritan
Lid
Cleaning brush
Warranty of the Bianco di Puro Panda
Motor block: 5 years
Container: 2 years
Tamper: 2 years (battery excluded)
Bianco di Puro Panda alternatives
Bianco di Puro Panda vs. Bianco di Puro Piano
Bianco di Puro Panda advantages over the Piano:
The operation is intuitive. The jog dial puts everything in the palm of your hand. The buttons of the Bianco Piano seem to be complicated at first glance.
The motor is better. The IPMS precisely maintains the speed level selected with the jog dial. The speed may deviate for devices without iPMS, e. G. if the container is "fully" loaded. This gives you more control and is certainly the modern technology, but the everyday usefulness is limited.
The Panda is compatible with almost all containers of Bianco di Puro. Just to name a few highlights: Uno container for small quantities (pesto, dips, dressings, etc.), Canto container for super creamy smoothies, Tri-Set for shakes and as a coffee grinder.
Now let's move on to the disadvantages of the Panda:
The cord wrap is missing.
The container of the Piano is more versatile - small and large quantities can easily be prepared.
Bianco di Puro Panda vs. Bianco di Puro Primo Plus
The two blenders do not differ much. However, the Panda has a few minor advantages:
Container volume: With up to 2.0 liters, the binaco panda is capable of producing more smoothie in a single go.
Warranty: The motor block of the Primo only has a 2-year warranty. Both blenders come with a 2-year warranty on the container.
Disadvantages compared to the Bianco di Puro Primo Plus:
Size: The Bianco Primo Plus is more compact. After all, it is 7.4 cm smaller than the Bianco Panda - it fits under any kitchen counter.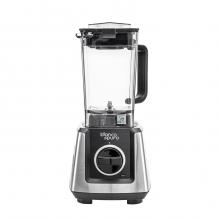 Primo S Blender by bianco di puro
"Small but nice"
What does the media think about the Bianco di Puro Panda?
Haus & Garten 03/2016: "Winner price/performance", "Perfect for green smoothies, highest ease of use", "Final score: 1.3, very good".
Questions & Answers about the Product
Ask a question
Total 5 question(s)
Hello,
we have been grooming our Panda for more than 5 years now, several times a day. You can hear and see that. I think the container has suffered a lot, we actually always put it upside down to dry. We have simply forgotten.
Anyway, we procured the Flower as a replacement, but it does not run at full power, the magnets are also quite different? Is it because our Panda is older and therefore incompatible, although it is actually recommended for this?
The Panda will probably go into retirement soon – maybe you can recommend a blender that definitely is compatible with the flower container?
Question submitted by Fränny on May 19, 2021 at 22:42 o'clock
Hello Fränny,
thank you very much for your request.

The Flower container is compatible with the Panda, but it is a special container designed for grinding and stirring and is less suitable for blending smoothies and other liquids. Therefore, it cannot replace the Solito container. You will find all the preparation possibilities of the Flower container, as well as all Bianco blenders that are compatible with it, on the product page of the Flower container.

Best regards,
Your GrueneSmoothies.com Team
Beanwortet am 19.05.2021 um 11:16 Uhr
Hello!
Since I got the Panda (great blender!), I'm wondering why the instructions manual says not to put it down with the opening facing down for drying?

Thanks and best regards
Jürgen
Question submitted by Jürgen on March 25, 2021 at 10:26 o'clock
Hello Jürgen,

Thank you very much for your message!:-)

As a rule: you can place the container upside down to let it drip-dry. However, you must briefly dry the bottom of the container with a cloth, as water can always accumulate there and then damage the blade base. The consequence is that the oil will eventually leak out of the blade base and the blades will no longer be able to rotate properly.

Bianco Di Puro therefore proactively advises customers not to place the container upside down. This way, the container will last longer!

Kind regards,
Your GrueneSoothies.com team
Beanwortet am 25.03.2021 um 12:24 Uhr
Hello, I'm interested in the Panda. However, I would like to make smaller portions (2 people). I heard that you can also use the Cube + container instead of the Solito container, making the blender shorter in the overall height. Is the Cube+ container also suitable for the preparation of smaller quantities? I would also like to use the Panda to grind grains and wild herbs. Would this also be possible with the Cube+ container, or do I need the Square - or Flower - container for this?
Question submitted by Susanne on July 24, 2019 at 09:25 o'clock
Hello Susanne,

thank you for your question.

Yes, you can use the Cube+ with the Panda, but it hardly helps with small quantities. The Cube+ has a quite large footprint, just like the Square and Solito.

You can grind grains and prepare wild herb smoothies in the Solito and Cube+ .

2 people quantities: It depends on whether you want to prepare a fresh pesto or a drink. 2x 300 ml smoothie, so a total of 600 ml is no problem in the Solito. It's more difficult with pesto.

We recommend the Uno container as a supplement, as it can also process small quantities and thus compensates for the weaknesses of the Solito.

Kind regards,

Your GrueneSmoothies.com team
Beanwortet am 24.07.2019 um 11:11 Uhr
Good day,
first of all, congratulations on your great website. It is the most informative on the subject of high-speed blenders that I have found. Based on the description, I'm now considering buying the Panda and sending my WMF into retirement, even though it still does a good job every day.
You have written here, the Bianco di Puro original would be more suitable for smaller quantities. Does it not speak for the Panda that he can also work at lower speed? That is a big advantage for smaller quantities and Nicecreams. Or am I mistaken?
However, I have now come across the BOSCH Vitaboost. The price and the performance data look good, and I wonder if he could get the job done. Too bad you guys don't offer that one.
Is there still a good argument for the Panda that makes me forget the Bosch ;- )?

Many greetings
Peter
Question submitted by Peter on June 27, 2019 at 20:13 o'clock
Hello Peter,

first of all, thank you very much for your feedback! We will be happy to answer your questions:

The original and the Panda can be easily distinguished: The Panda has the better motor and the Original has the more versatile container because the container bottom is smaller. This allows for the smaller volumes because the tamper reaches deeper into the corners. In case of doubt, we would give priority to the more versatile container.

Lower speeds help with thick preparations, e.g. Nicecream. This is because air bubbles form quickly at high speeds. However, Nicecreams can be made at high speeds. You simply have to push down the ingredients back to the blades frequently and as quickly as possible.

The Panda is rather unsuitable for smaller quantities because of its container. The Vitaboost has the same problem. For usual amounts of Nicecream, both models are not recommended, although the engine would not be a problem. At least you can still buy the Uno container for the Panda, which in turn is very well suited for Nicecreams and smaller quantities...

If you want a Bianco mixer that can also make smaller quantities (Nicecream) with the supplied container, Puro Originale or Piano would be preferable. The latter is available again from mid-July and should also be attractively priced.

Hopefully, we were able to help you!

Best regards,

Your GrueneSmoothies.com Team
Beanwortet am 28.06.2019 um 15:12 Uhr
Hello :) I am interested in the Bianco Panda, but I wonder if it can also make small portions of nice cream, smoothies, or pesto? Thanks for the answer! :)
Question submitted by Katharina on July 18, 2018 at 14:27 o'clock
Hello Katharina,

thank you for your question.

Due to the wide container bottom, the Panda is more suitable for larger quantities. The Vitamix TNC 5200 or the Bianco Puro Originale would certainly be more recommended...

Best regards,

Your GrueneSmoothies.com team
Beanwortet am 01.04.2019 um 22:46 Uhr
Ask a question
Reviews
[5 of 5 Stars]


Super high speed blender!

I love my Bianco di Puro Panda! Is a great device which I can really recommend. The lid is super easy to open and close, which is not always the case with much more expensive products. Such subtleties are very important to me personally since they already have a big impact in daily use in practice if they are difficult to open every time. He mixes green smoothies very fine, good and much faster than is often indicated in recipes. It should be noted that he mixes the material quickly up through the mixing process. If you prefer to drink a smoothie cold, as I do, then you can store the cereal milk used in the refrigerator before use or add ice cubes. Or if you use water then take cold water. Is a matter of taste, for me a warm smoothie is not so fine. But these things you just have to keep in mind to get a suitable result. I am very grateful and happy about this great device. My kids get a smoothie almost every day and I love it. The price-performance ratio I find good, considering what high-speed blenders often cost.

[5 of 5 Stars]


A blender where you can't go wrong in my opinion.

Dar Panda is a great, very easy to use high performance blender. I bought the Panda a month ago and he grinds everything very well and the smoothies are very creamy, as far as I can assess this as a beginner. I also bought the UNO container in addition - recommended for small quantities.
Can recommend the Bianco di Puro Panda with a clear conscience. Price-performance ratio fits in my estimation and for my requirements.

[5 of 5 Stars]


My purchase decision was correct

Hello to all interested! For months I have compared devices and testimonials on the internet, because though high-speed blenders are expensive, 300-400 euros is already a lot of money. For a week I have the device now in operation, have made hummus, yogurt-banana mix, scrambled eggs, smoothie and raw barf vegetables for the dog - and am absolutely thrilled. It starts with the volume. which has often been described as unpleasant. I am thrilled how quiet the blender is in relation and say it like this: A high-horsepower car is usually also significantly quieter than a tin can. The mix results so far absolutely creamy fine, although I have not even mixed the allotted time. What you have to take into account is that the mixture due to the high rotation of the blade (friction) really quickly becomes warm. But if you have time, you can work in intervals.
The only minus point: the blender jar signals the motor block via magnetic contacts that it is sitting on top, but I would have preferred if the container was also held via these magnets. You should therefore be careful not to accidentally bump into the container during the mixing process.

[5 of 5 Stars]


I love my PANDA

A few weeks ago I bought the Panda and since then it is used daily: mainly for green smoothies, but also soup, salsa, cream, nice cream, everything goes super fast and with very good results.

I use the programs rather rarely. The program for green smoothies warms it too much for my taste (I rarely add ice cubes and if I do, then only 2-3 small ones); but the result is super creamy
The soup program is great, but about 83 decibels over 4 min, you can only leave the kitchen and close the door behind you. However, this is probably in the nature of a high-performance blender when it runs on the highest level.

The Panda is really universally usable and I can no longer imagine what my life was like without it.
Only if you want to blend only small quantities, the included container is not so well suited. Therefore, I have now reordered the container UNO and hope now to be prepared for everything. This adds another € 149 to the price of the Panda. I would certainly not have spent that at first, but now I am so excited and sure that the expenditure is worth it.


[5 of 5 Stars]


Am satisfied

Can only recommend. Great blender!
Write Your Own Review