2008 - 2023 | 15 years GrueneSmoothies.com - the original

From passion to profession

More "
Our website went live in 2008, since then we blog about our experience, this has led to a rise in popularity of Green Smoothies in Germany. Over time, our passion became our profession and we became the largest distributor of high-performance blenders in Europe. ;-)

" less
What can I do with the Bianco di Puro Flower?
The Bianco Flower grinding and stirring container is particularly suitable for making so-called "energy balls" based on dried fruits and nuts.
Furthermore, all forms of grinding (for example, cereals, lentils, rice, coffee or dried wild herbs) can be done in this container.
The container is also well suited for making dough (for example, pancake batter).
The Bianco Flower is not made for kneading dough (bread dough, sour dough or yeast dough). High-speed blenders are not designed for these tasks. It is better to knead yourself or use a food processor.
Overview
Explanation of terms
The Flower container is often referred to as a dry container. We think this term is inappropriate - besides dry applications (primarily ground), wet applications can also be carried out. To put it in other words, the container is leak-proof. We have therefore named the Flower container after what it does best: Grinding and stirring.
Which blenders does the Bianco Flower go with?
The Bianco Flower is compatible with all Bianco di Puro appliances except the Bianco Piano, the Bianco Forte 2.0 and the Bianco Attivo!
Recommended accessories
The scope of delivery does not include a tamper. The suitable tamper for the Bianco Flower is the TL tamper.
If you purchased the Bianco di Puro Originale, you do not need to order a additional tamper as it is included in the scope of delivery. Alternatively, the tamper with additional temperature display: T42L can also be used.
The spatula is used to scrape the blended mixture from the bottom and sides of the container. A very useful accessory, especially for sticky, viscous energy balls.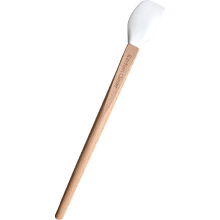 Kitchen Clever Spatula 3 cm wide
Conclusion
The Flower container is our recommendation for the preparation of Energy Balls. Its easy emptying, the 2-winged blade leaves enough space to remove the residues under the blade, make this container particularly suitable for viscous products.
If you want to regularly grind flours from cereals, coffee, rice, etc., you may consider buying the blending & grinding container Bianco Square, which is known for excellent grinding results and the finest green smoothie cosistency achieved with a Bianco blender.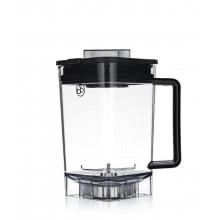 Bianco di Puro Square+ Container
Regular Price: 149.00
Special Price 139.00 €
Technical specification
Material: BPA-free Tritan; Suitable for temperatures up to 100°C
Volume of container: 2.0 liters
Blade type: 2 blades with stirring hooks
Blade material: stainless steel; HCS (Japan)
Scope of delivery
Flower mixing and grinding container made of BPA-free Tritan
Lid with measuring cup insert
NO tamper
Questions & Answers about the Product
Ask a question
Total 3 question(s)
Hello dear gruenesmoothies team, I am looking for a container for energy balls, sauces and dressings. I don´t want to buy the Bianco di Puro Uno container. Therefore, my question: can sauces and dressings also be made in the Flower container? And does the container also fit on the old model of the Volto? Many kind regards, Julie
Question submitted by Julie on December 9, 2021 at 10:39 o'clock
Hi Julie,

thank you very much for your message.

The Flower container is not so suitable for sauces and dressings. The container can grind the ingredients but the result is not creamy. The blades of the Flower container are shaped so that they can grind hard ingredients.

The Bianco di Puro Flower container is compatible with your Volto :-)

Feel free to let us know if you have any further questions!

Best regards from Berlin,

Betsy from the GrueneSmoothies.com team
Beanwortet am 13.09.2021 um 10:35 Uhr
I have the Primo+ and would like an additional container with which I can grind smaller quantities of cereals to flour and also coffee beans. I also want to be able to prepare small quantities of dips, or peanut butter. Which container would you recommend: Uno or Flower?
Question submitted by Macohe on February 20, 2021 at 15:01 o'clock
Hello Macohe,

thank you very much for your request.

Since you mainly want to prepare smaller quantities, the UNO container definitely is better suited for you and makes more sense as a supplement to the Cube container.
You can also use the UNO container to grind grain and coffee.

Best regards,
Your GrueneSmoothies.com Team
Beanwortet am 20.02.2021 um 15:54 Uhr
Hello,
I have the Panda. I often prepare hazelnut puree
made with it. However, it did not work with almonds. The mass turned out crumbly. Is this container better for nut purees?
Question submitted by Nadine Lippe on December 13, 2018 at 09:04 o'clock
Hello Nadine Lippe,

thank you for the question.

If the oil does not come out, it may be because the almonds are not roasted or have been roasted too long. In addition, it may also be due to the type of almond – rather less to the container.

If we had to recommend a container for thick preparations, it would be the UNO container.

Best regards,

Your GrueneSmoothies.com Team
Beanwortet am 13.12.2018 um 09:53 Uhr
Ask a question
Reviews
[5 of 5 Stars]


Poppy seed and flax seed?

Can you also grind poppy seeds (poppy seed cake) and flax seeds with the mixing attachment Uno? Thank you and best regards, Birgit

Editor's note: Yes, of course. This is not a problem! Both with the Uno container and with the Flower container.
Write Your Own Review