Wheatgrass Smoothie Recipe: "Grasshopper"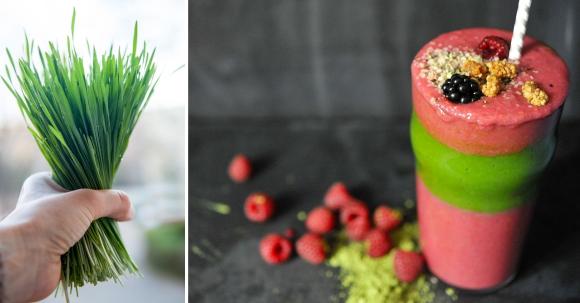 As the name suggests, wheatgrass plays the key role in the wheatgrass smoothie. Easily home-grown from sprouted grains (e. G. from the health food store), the 10-15 cm long stalks can be harvested for the first time after one week. Indoors, wheatgrass can be grown all year round - outdoors only until the first frost. Hildegard von Bingen or raw food pioneer Dr. Ann Wigmore, have recognized the potential of wheatgrass long time ago. Most people know wheatgrass juice, but its stalks can also be used for smoothies. With a chlorophyll content of 70 %, it by far surpasses many vegetable colleagues in terms of nutrient density.
Wheatgrass contains:
"60 times more vitamin C than oranges
50 times more vitamin E than spinach
30 times more vitamin B1 than cow milk
11 times more calcium than raw milk
5 times more iron than spinach
5 times more magnesium than bananas" *
* Source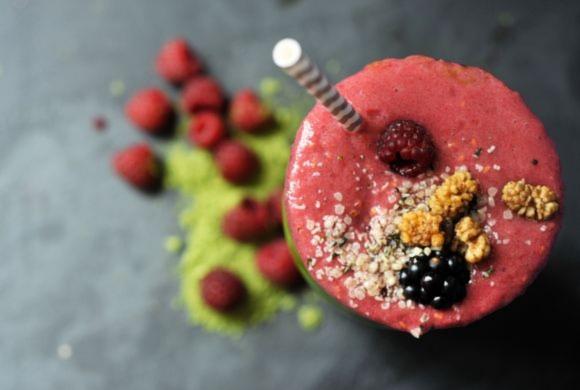 To really show off the precious wheatgrass smoothie, we layered it in a glass in combination with a raspberry banana smoothie. Two smoothies mixed together, not only is it fun to serve, but it's also a real eye-catcher. Perfect for introducing friends to the smoothie world - "wow" effect guaranteed.
Layered wheatgrass raspberry smoothie with fruit toppings
"Grasshopper"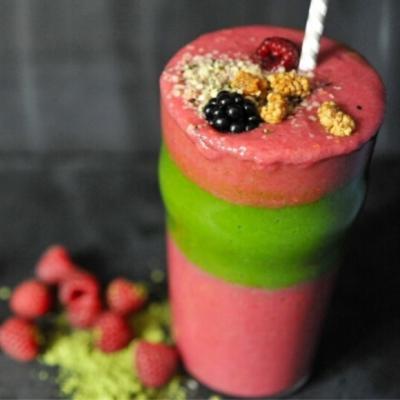 Ingredients
1

small handful of wheatgrass

1

small handful of spinach

1/2

avocado

without pit

juice of a quarter of a lemon

1/2

apple

with seeds

1/2

mango

without seed

125

g raspberries

frozen or fresh

2

ripe bananas

peeled

some water

as needed

optional toppings: mulberries, hemp seeds, raspberries and blackberries
Instruction
To get two different colored smoothies, you need to prepare two separate blends:

For the green blend, wash wheatgrass, spinach and apple.

Cut avocado in half, remove core and spoon the flesh directly into container. Peel mango and add one half to the container. Add apples, wheatgrass, spinach, lemon juice and a little water.

Do not add too much water otherwise you won't be able to layer the blends.

Blend on maximum speed until you have a uniform green smoothie color and consistency. Pour green smoothie mixture into a bottle. Rinse container briefly.

For the pink mixture: place raspberries and peeled bananas in the container, add a dash of water, and blend on maximum speed for about 1 minute.

Now layer the smoothie in 300 ml glasses. Pour the pink raspberry banana smoothie first, then the wheatgrass smoothie and so on.

You can repeat this as many times as you like!

Enjoy with all your heart!
Green smoothie recipes as a PDF file
Yes, I would like to subscribe to the newsletter and receive the 10 Green Smoothies Recipes for Beginners as a printable PDF file for free.

Please send me e-mails, according to the privacy policy, on a regular basis. The Newsletter contains information about kitchen appliances, utensils, recipes and preparation tips, this is revocable at any time.
We appreciate your Feedback here!